Blueberry Crumb Sticks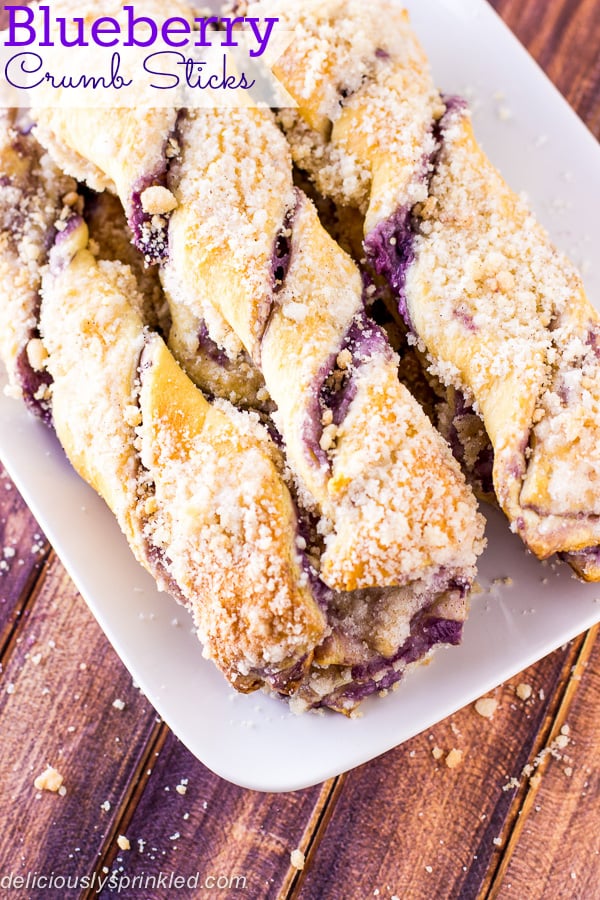 Do you love blueberry muffins? Do you like danishes? Well if you answered yes to any of those questions, I have a treat for you today. These Blueberry Crumb Sticks are the perfect on the go breakfast treat the whole family will love. I am always trying to come up with breakfast recipe like my  Chocolate Chip Scones, Sprinkle Money Bread Muffins, and Strawberry Cinnamon Rolls that don't take a lot of time to make because I don't know about you but I don't want to wait around for my breakfast to be done in the morning!
And there is no waiting around with these blueberry crumb sticks, they are made with Pillsbury Crescent Rolls filled with blueberry cream cheese and blueberry pie filling twisted up and topped with a cinnamon sugar crumble, just like the top of a blueberry muffin. I also served these blueberry crumb sticks with the leftover blueberry cream cheese for dipping. Delicious!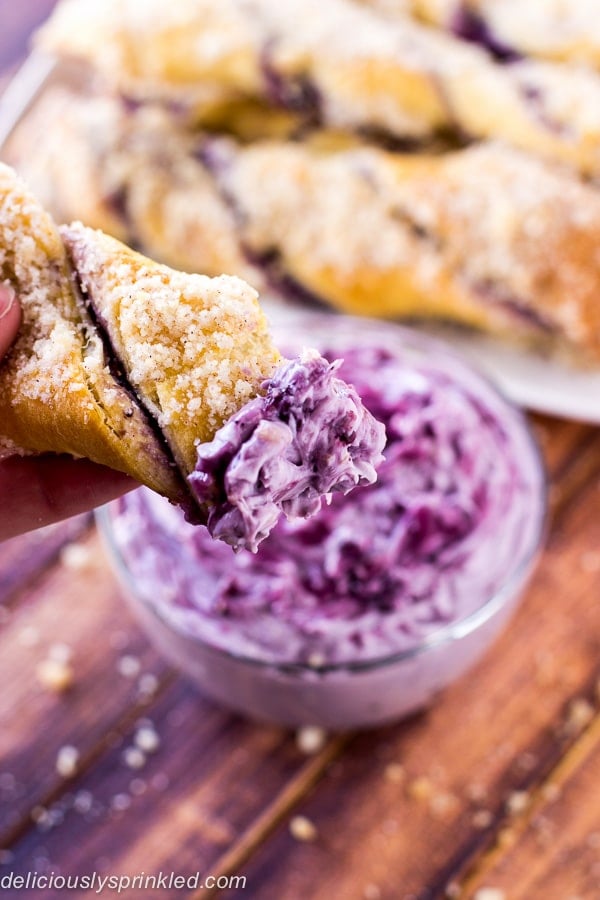 JUST A FEW BAKING TIPS:
✔  When cutting the Pillsbury crescent dough into strips, I find it easier to use a pizza cutter rather than a knife.
✔  To make the crumb on top, you will need room temperature butter. If you don't have time to wait for the butter to get to room temperature by setting it out, here is a trick that I use almost every time I need room temperature butter.
Place stick of butter on a microwave safe plate. Leave the paper wrapper on.
Place the plate into the microwave and heat on high power for 5 seconds. Open microwave and flip it over on its side and heat again for 5 seconds. Do this on all four sides of the stick of butter. After about 20 seconds your butter will be perfect to use for baking.
✔  Don't like blueberry!? No problem, mix it up, you can use your favorite pie filling or you can use peanut butter, Nutella, the options are endless!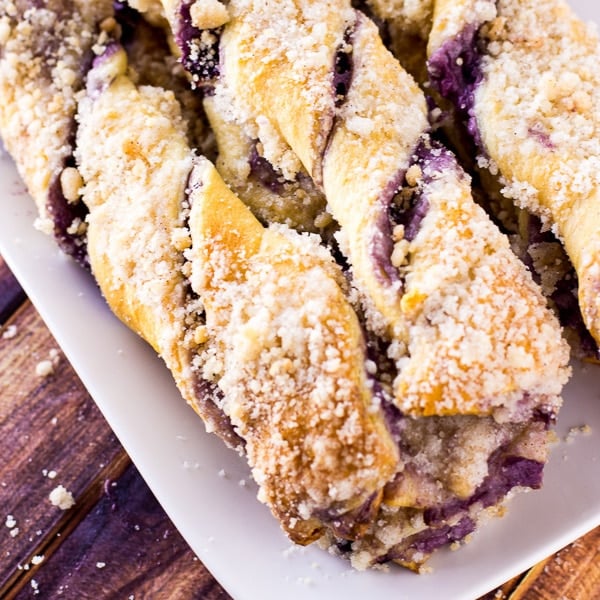 Yield: 16 Sticks
Blueberry Crumb Sticks
★ Make sure to read my BAKING TIPS above before you start baking!
Prep Time 10 minutes
Cook Time 12 minutes
Total Time 20 minutes
Ingredients
1 package Pillsbury refrigerated Crescent Rolls
1/4 cup Philadelphia Blueberry Cream Cheese Spread
1/4 cup blueberry pie filling
1/3 cup sugar
1/4 cup all-purpose flour
1 teaspoon cinnamon-sugar
2 Tablespoons butter, softened
2 Tablespoons butter, melted
Instructions
PRE-STEP: Preheat oven to 375F degrees. Line baking sheet with parchment paper or silicone baking mat. Set aside.
MAKE THE BLUEBERRY STICKS:
STEP 1: Separate crescent roll dough into four rectangles, press seams together to seal.
STEP 2: Spread blueberry cream cheese evenly on each of the four rectangles.
STEP 3: Spread blueberry pie filling on two of the rectangles and top with the remaining two rectangles.
STEP 4: Starting from a long side, using a pizza cutter, cut each rectangle into eight strips.
STEP 5: Twist each strip several times; seal ends together.
STEP 6: Place sticks on baking sheet, spaced a least 2 inches apart.
MAKE THE CRUMBLE TOPPING:
STEP 7: In a small bowl, combine sugar, flour, cinnamon-sugar and butter until crumbly.
STEP 8: Brush top of sticks lightly with melted butter and sprinkle crumb over the top of the sticks.
STEP 9: Bake 10-12 minutes or until golden brown. Let cool for 3 minutes before serving.
 Check out more delicious Breakfast Recipes…
And try my favorite Homemade Blueberry Muffins next!