Homemade Raspberry Cinnamon Rolls with Cream Cheese Frosting
This recipe for Homemade Raspberry Cinnamon Rolls with Cream Cheese Frosting is brought to you by Fleischmann's® Yeast.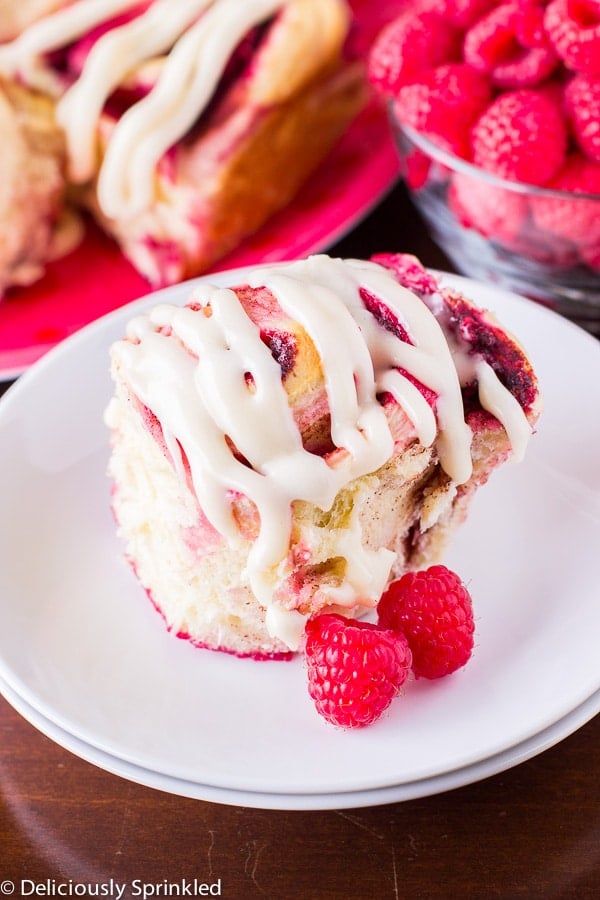 There is nothing better than waking up to Homemade Raspberry Cinnamon Rolls topped with a generous amount of cream cheese frosting. It always makes for a great start to the day.
These rolls are so tender, soft, fluffy and exploding with tart raspberry flavor! They take the classic homemade cinnamon roll to the next level. I made these cinnamon rolls with my favorite time-saving ingredient – Fleischmann's® RapidRise™ Yeast. I highly suggest this yeast as it significantly cuts down on waiting/rising time. If you have ever made homemade cinnamon rolls before, you know that the "hardest" part about making them is the waiting.
With spring in full swing and summer just around the corner, these Homemade Raspberry Cinnamon Rolls are the perfect way to celebrate the warmer weather.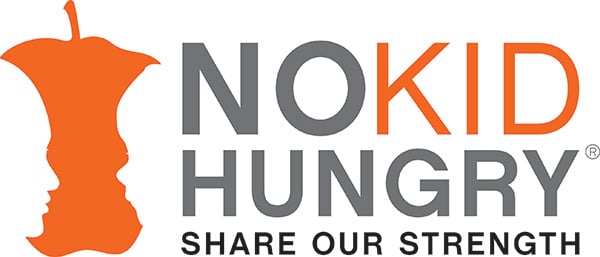 I mean, they're pink and they have cream cheese frosting! No one will be able to resist this bright, sweet treat, that's for sure. Fleischmann's® Yeast has launched the Baking A Difference campaign to benefit Share Our Strength's No Kid Hungry® cause. Together, we can all help bake a difference! All across America, families are struggling with hunger and children are often hit the hardest. Get the whole community involved by hosting a fundraising bake sale in your area. You can turn homemade cookies, brownies, and cupcakes and more into cash for a good cause! Trust me, these Homemade Raspberry Cinnamon Rolls will go fast. To find out more information, please click here for your Bake Sale Starter Kit. Enjoy! ❤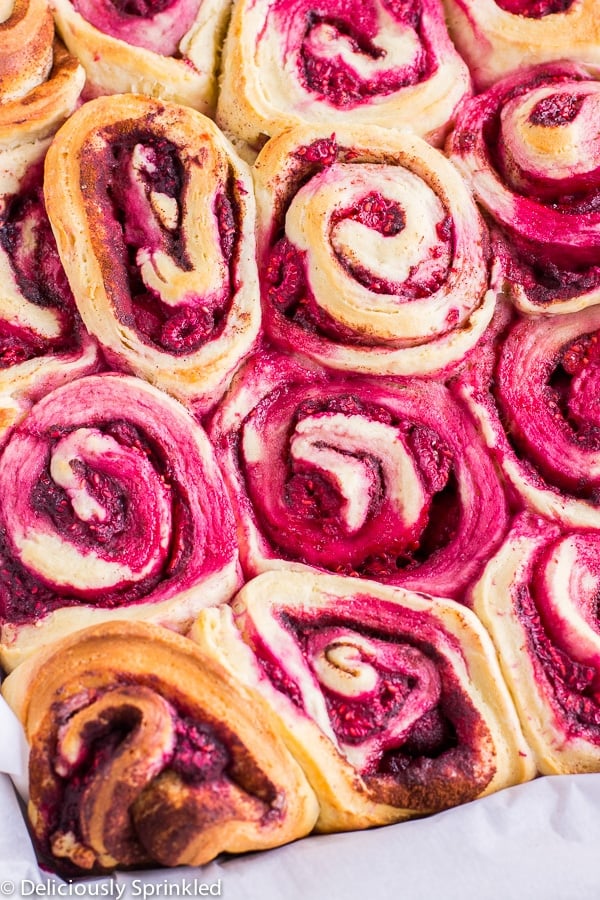 JUST A FEW BAKING TIPS:
✔ I highly recommend using Fleischmann's® RapidRise™ Yeast. This will cut down the rise time, which means you will be able to enjoy these Homemade Raspberry Cinnamon Rolls a lot sooner!
✔ When rolling out the dough, I like to first add a small amount of vegetable oil to my surface rather than using flour. I also rub a bit of vegetable oil onto my rolling pin, making it super easy to roll out the dough.
✔ I like to line my 13 x 9 inch baking pan with parchment paper. This makes it super easy to remove the cinnamon rolls from the pan, and making it easy to pull each cinnamon roll apart to enjoy!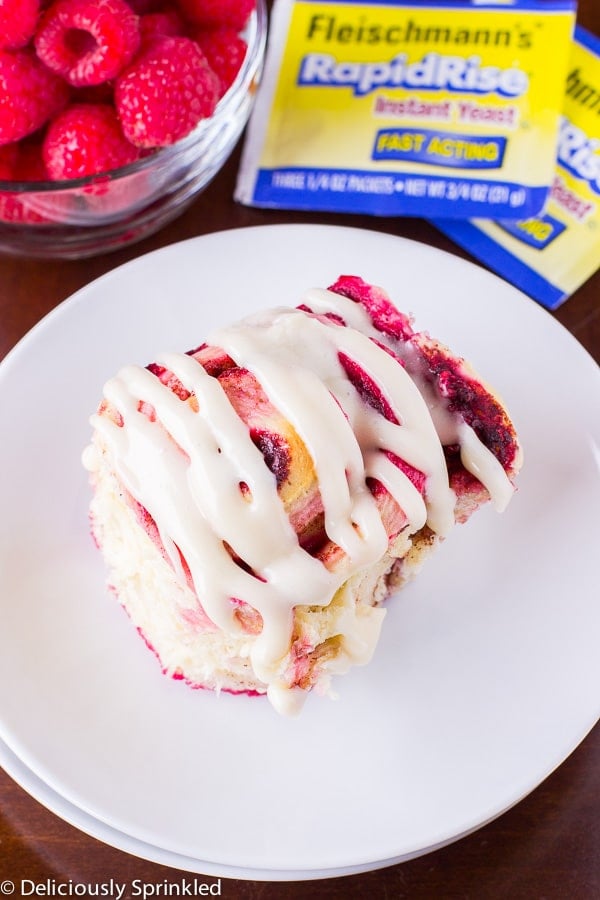 STEP-BY-STEP GUIDE ON HOW TO MAKE THESE HOMEMADE RASPBERRY CINNAMON ROLLS:
 MAKE THE DOUGH:

 AFTER REFRIGERATING DOUGH FOR 2 HOURS OR UP TO 2 DAYS: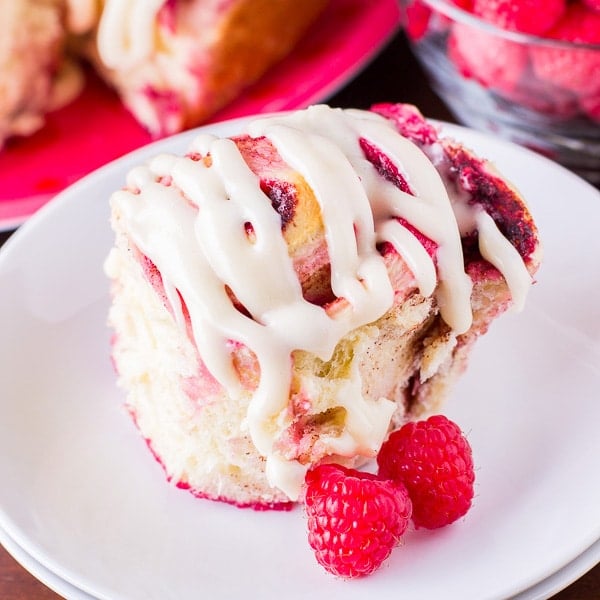 Yield: 15 Cinnamon Rolls
Homemade Raspberry Cinnamon Rolls with Cream Cheese Frosting
Prep Time 2 days 2 hours 25 minutes
Cook Time 45 minutes
Total Time 3 hours 10 minutes
Ingredients
4 1/2 cups all-purpose flour
1/3 cup granulated sugar
2 envelopes Fleischmann's® RapidRise™ Yeast
1 teaspoon salt
3/4 cup milk
1/2 cup water
1/3 cup butter
2 large eggs
1/2 cup granulated sugar
2 teaspoons cornstarch
4 cups powdered sugar
Instructions
MAKE THE DOUGH:
STEP 1: Combine 1 1/2 cups flour, granulated sugar, undissolved yeast and salt in a large mixing bowl.
STEP 2: Microwave milk, water, and 1/3 cup butter in a microwave safe bowl for 2 minutes or until warm; butter does not need to melt.
STEP 3: Add butter mixture to flour mixture. Beat for 2 minutes on medium speed.
STEP 4: Add eggs and 1/2 cup flour. Beat for 2 minutes on high speed.
STEP 5: Stir in remaining 2 1/2 cups flour until batter forms.
STEP 6: Cover dough tightly with plastic wrap. Refrigerate for 2 hours or up to 2 days.
AFTER DOUGH HAS BEEN REFRIGERATED, MAKE RASPBERRY CINNAMON FILLING:
PRE-STEP: Line a 13 x 9 inch baking pan with parchment paper. Set aside.
STEP 7: Remove dough from refrigerator and punch down dough. Place dough onto a lightly greased surface; divide in half. Roll dough into a 16 x 10 inch rectangle.
STEP 8: Sprinkle evenly with ground cinnamon, then top with frozen raspberries.
STEP 9: Roll dough up tightly. Using a sharp knife, cut roll into 13 equal pieces. Place cinnamon rolls into prepared pan. Cover and let rise for 30 minutes in a warm place until cinnamon rolls double in size.
TIP: I like to preheat the oven to 300F degrees, turn the oven off. Then I place the covered cinnamon rolls into the oven for 30 minutes to rise and double in size.
MAKE CREAM CHEESE FROSTING:
STEP 10: Using an electric mixer, beat together the butter and the cream cheese.
STEP 11: Slowly mix in the powdered sugar and vanilla, then beat for 2 minutes until smooth and creamy. Set aside.
BAKE CINNAMON ROLLS:
PRE-STEP: Pre-heat oven to 374F degrees.
STEP 11: Bake cinnamon rolls for 15 minutes.
STEP 12: Remove cinnamon rolls from pan and place onto wire rack. Frost tops of each cinnamon roll & enjoy!
This is a sponsored post in partnership with ACH Brands.  I'm thrilled to be partnering with them as a Become A Better Baker Ambassador to share some of my favorite baking recipes. All opinions are my own as always. Thanks for supporting the brands that help make Deliciously Sprinkled possible!