Banana Chocolate Chip Pancakes Recipe
Blueberry or chocolate…. how about Banana Chocolate Chip Pancakes? Pancakes are something everyone loves, but it's always fun to mix them up a bit. I love chocolate chip pancakes, but adding the bananas just gives it a healthy kick, and chocolate and bananas go perfectly together.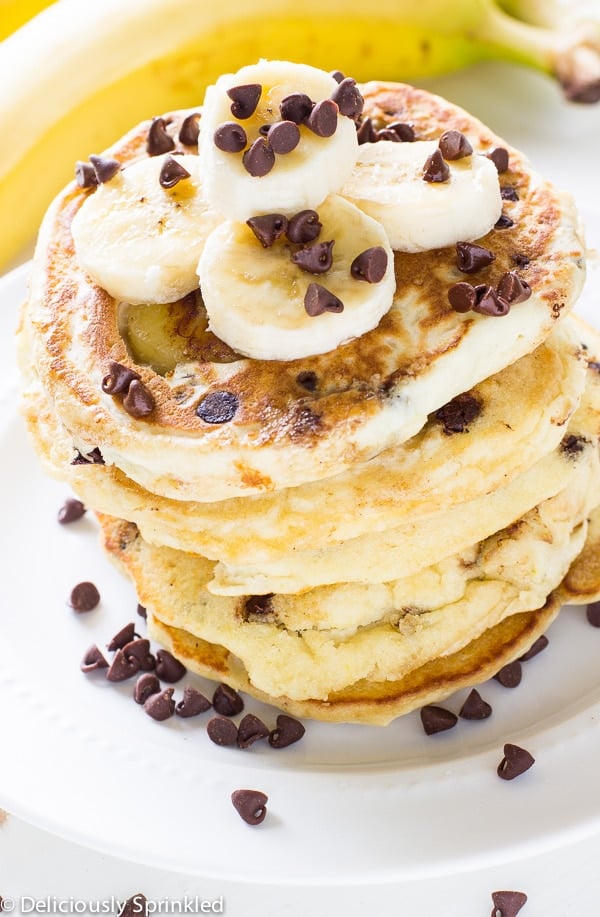 BANANA CHOCOLATE CHIP PANCAKES
Do your kids beg for pancakes, but bulk at the idea of bananas? If so, try these instead. They get a little fruit in their breakfast while still eating the foods they love. This is a recipe the whole family will love!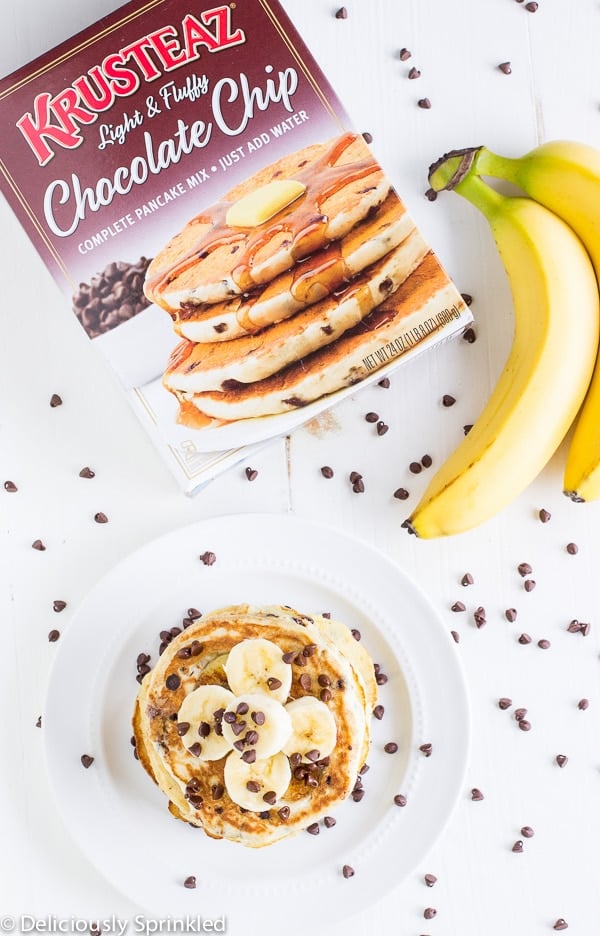 BUTTERMILK CHOCOLATE CHIP PANCAKES INGREDIENTS
You don't need a lot to make these delicious Banana Chocolate Chip Pancakes. In fact, you only need 4-ingredients.
KRUSTEAZ CHOCOLATE CHIP PANCAKE MIX: This is my favorite mix. It makes light and fluffy pancakes.
WATER: You can use cold water to wet the pancake mix.
BANANAS: You can't really have banana pancakes without bananas.
MINI CHOCOLATE CHIPS: Mini chocolate chips spread evenly giving you the perfect chocolate to pancake ratio.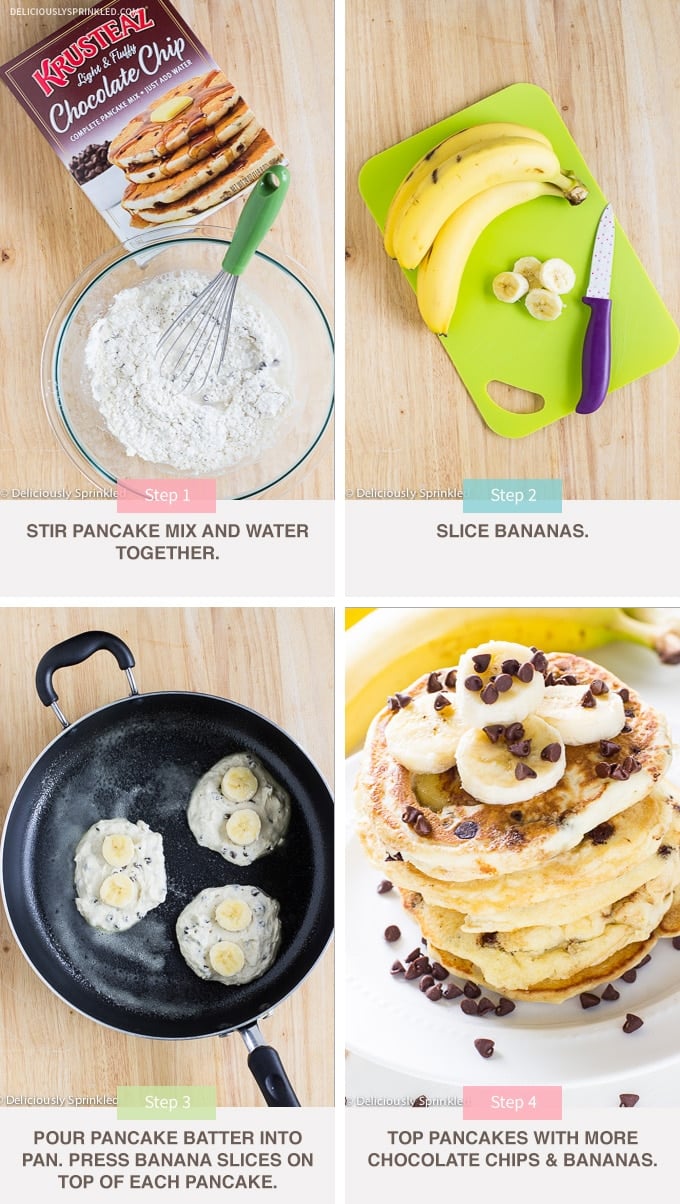 HOW TO MAKE PANCAKES
Scroll down for step by step printable recipe card.
PREPARE: First, spray your pancake griddle or pan with non-stick cooking spray. Heat your pancake griddle to 375 degrees (medium heat).
MIX INGREDIENTS: Stir pancake mix and water together with a whisk. Do not over mix. It will be lumpy. Let your batter stand for 2-minutes.
COOK: To cook your pancakes, pour a little less than 1/4 cup of batter onto your pancake griddle. Place two slices of bananas into the pancake batter. Cook pancakes for 1-minute per side or until golden brown.
TOP WITH GOODIES: Once pancakes are finished, top with additional banana slices and mini chocolate chips.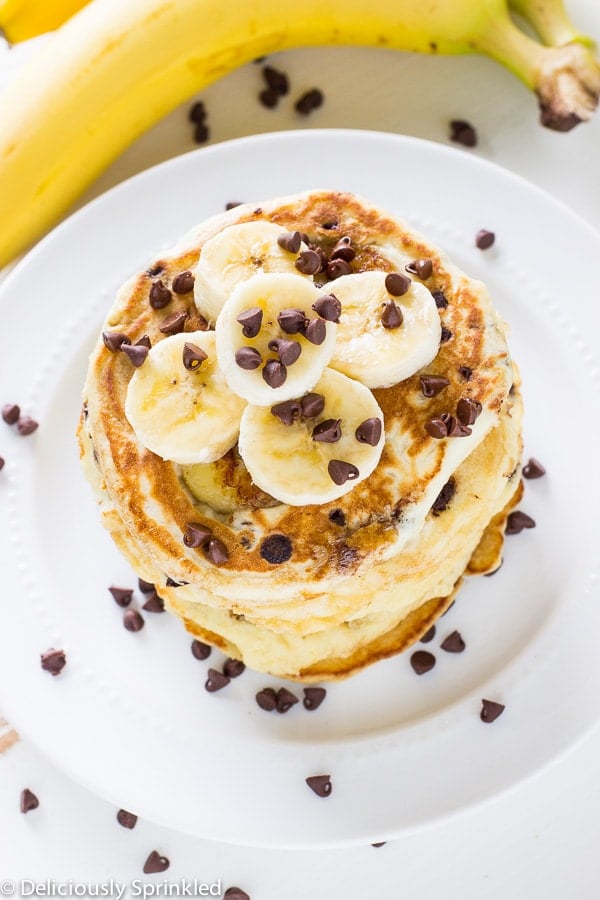 WHAT ARE THE BEST BANANAS TO USE FOR BANANA PANCAKES?
To make this recipe sweet, you want to make sure your bananas are super ripe. You want them to be almost brown. However, keep in mind that you don't want the banana to have brown spots when giving them to children. They have to be just perfectly ripe.
WHAT KIND OF CHOCOLATE CHIPS DO YOU USE TO MAKE CHOCOLATE CHIP PANCAKES?
Instead of regular-sized chocolate chips, mini chocolate chips are a better option. They spread on top of the whole pancake-making perfect chocolate to pancake ratio. If you want more of a chocolate taste, you can mix chips in with batter instead of just putting them on top
WHAT IS THE BEST WAY TO MIX PANCAKES?
Consider a Whiskware Pancake Mixer: I use a Whiskware Pancake Batter Mixer to make mixing ingredients and pouring batter on the griddle so much easier!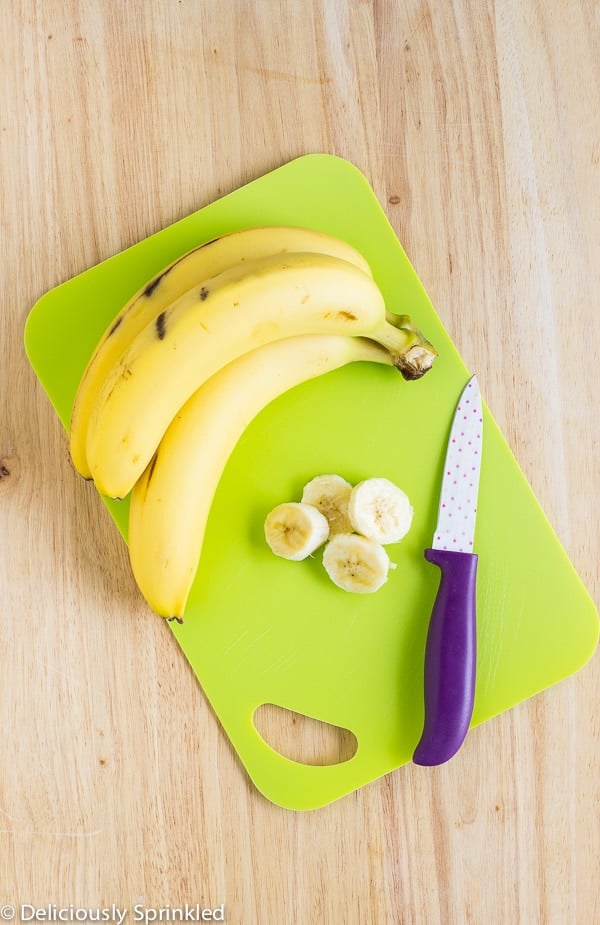 CAN I USE MILK INSTEAD OF WATER TO MAKE PANCAKES?
Some pancake mixes already have non-fat powdered milk in them which is why you only use water. But, if you want a richer flavor, you can substitute with milk instead of water. Milk not only adds flavor, but the fat used makes moist and fluffy pancakes. You can use any milk that you like. Use dairy, non-dairy, or even almond milk if you like.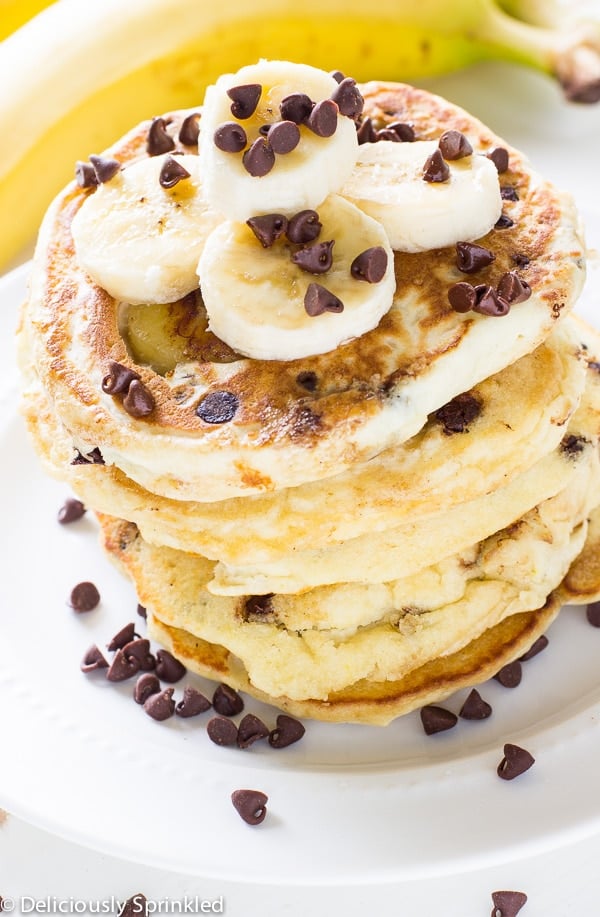 More Recipes to Try
Did you like this recipe? If so, check out some of our other pancake recipes! It never hurts to make a variety.
If you have tried these Banana Chocolate Chip Pancakes recipe, then please rate it in the recipe card and let me know how it turned out in the comments below!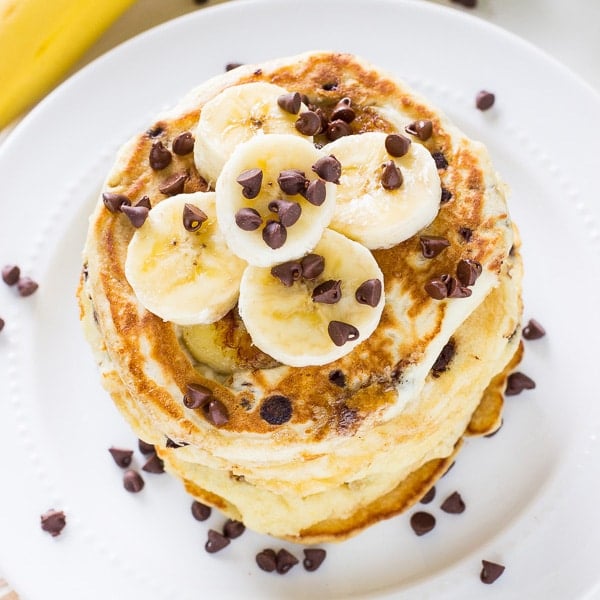 Yield: 6-7 pancakes
Banana Chocolate Chip Pancakes
Prep Time 10 minutes
Cook Time 2 minutes
Total Time 12 minutes
Ingredients
1 ½ cups Krusteaz Chocolate Chip Pancake Mix
2/3 cup cold water
5 bananas, sliced
¼ cup mini chocolate chips, for topping
Instructions
Lightly spray griddle with non-stick cooking spray. Heat pancake griddle to 375°F (medium heat).
In a medium bowl, stir pancake mix and water together with a wire whisk. The batter will be slightly lumpy. (DO NOT OVERMIX.) Let batter stand 2 minutes.
Pour slightly less than ¼ cup batter per pancake onto griddle. Press two slices of bananas into pancake batter.
Cook pancakes 1 minute per side or until golden brown, turning only once. Top pancakes with additional banana slices and mini chocolate chips.
Nutrition Information:
Yield:
7
Serving Size:
1
Amount Per Serving:
Calories: 227
Total Fat: 8g
Saturated Fat: 5g
Trans Fat: 0g
Unsaturated Fat: 3g
Cholesterol: 38mg
Sodium: 200mg
Carbohydrates: 38g
Fiber: 3g
Sugar: 18g
Protein: 4g
This blog post contains affiliate and/or referral links, which pay me a small commission for recommending my favorite products at no extra cost to you! Additionally, as an Amazon affiliate, I earn from qualifying purchases.