Strawberry Banana Oat Muffins
Are you tired of eating the same old thing for breakfast? Perhaps it's time to try your baking hand at something new. Introducing, Strawberry Banana Oat Muffins. Great for breakfast, but perfect for a snack or on the go!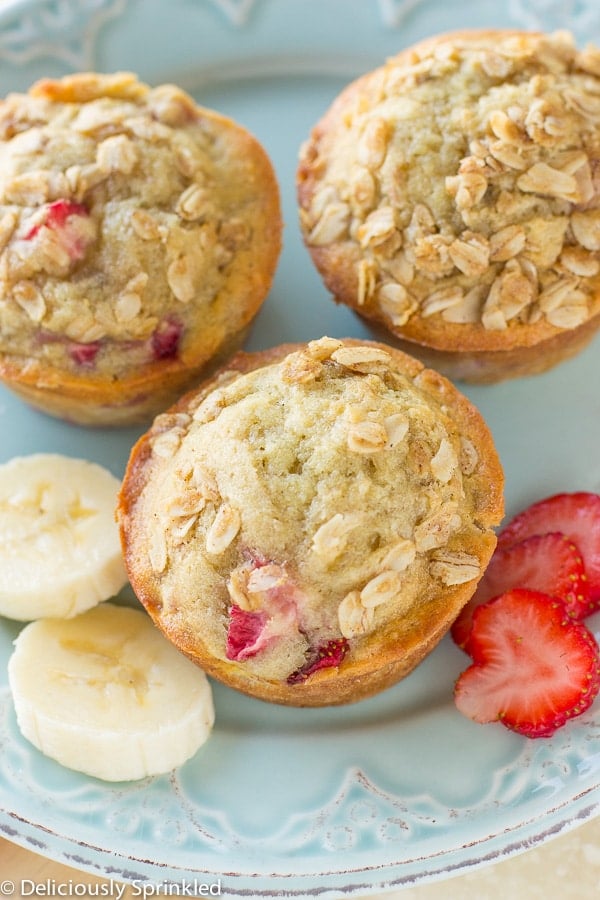 Easy Strawberry Banana Oat Muffins
In the past, I've been guilty of buying muffins from the store. However, once I realize how easy to make these Strawberry Muffins were, I had to give them a shot and start making my muffins from home. If you've never realized how easy it is to make muffins right from your kitchen, you're about to find out.
Whenever I make muffins at home, I feel a sense of accomplishment. Taking a bite out these sweet muffins makes me happy. And I'm going to do what makes me happy, so I say make all the muffins.
The oatmeal streusel topping on these Strawberry Banana Oat Muffins will make you squeal with delight. You'll wonder why you haven't added streusel to every other dessert you've ever made in the past.
One thing you won't have to wonder about is what you'll start bringing to potlucks and parties. These Strawberry Banana Oat Muffins will be a winner every single time. There are a lot of muffin recipes out there, but I am certain this particular recipe will be a family favorite in no time.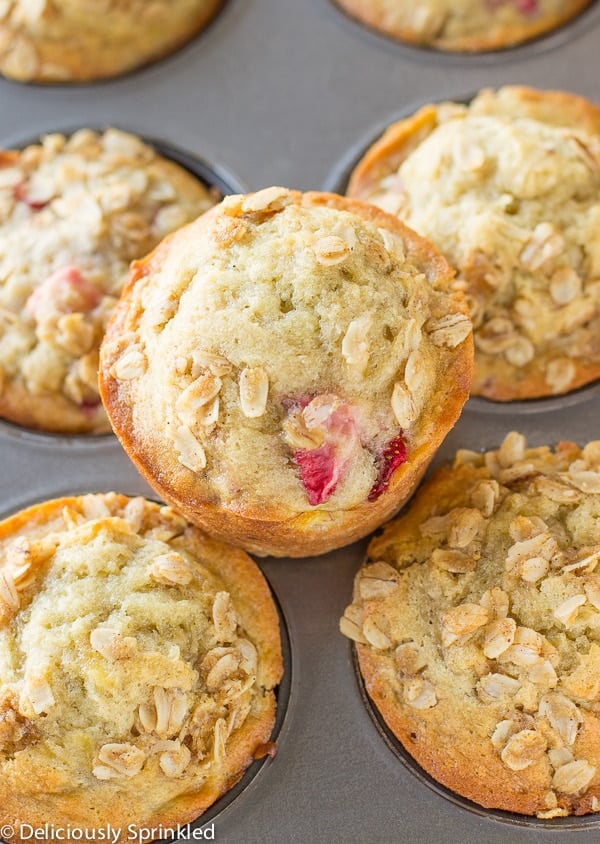 HOW TO MAKE STRAWBERRY BANANA MUFFINS
BUTTER & SUGAR: When mixing the butter and sugar together, make sure that you beat it for at least 2 minutes or until it starts to become light in color and creamy. This step is super important, so be patient and make sure it's light and creamy.
SCOOPING THE BATTER: I like to use an ice cream scooper to fill the muffin batter into each muffin tin. It makes it super easy and you know that each muffin will be the same size. Also, no need to use muffin liners because these muffins will actually stick to the liners.
LETTING THE MUFFINS COOL: After the muffins have baked, don't let the muffins "cool" in the hot muffin pan. After about 5 minutes take the muffins out of the muffin pan and place them on a wire rack to cool for another 5-10 minutes. Keeping the muffins in the muffin pan too long will lead to dry, overcooked muffins.
Can You Use Frozen Strawberries Instead?
If you are making these strawberry muffins, you may be wondering if you can use frozen strawberries, the answer is yes! Frozen strawberries will cook just fine in these muffins. Just make sure you follow the cooking directions.
What Kind of Oats Should I Use?
You may think you'll be using quick oats for this recipe, but you will be using old fashioned oats. Did you know that oats are one of my favorite things to cook with because they are so inexpensive? However, you can make some amazing recipes with oats! With old fashioned oats, we're making an Oatmeal Streusel Topping in this recipe.
How Do I Store Strawberry Banana Oat Muffins?
Once you get these muffins cooked, you may wonder how you can store them. First of all, invest if a few amazing airtight containers. These containers are where you will store these muffins. I think it's a matter of preference where people enjoy storing muffins. I prefer to store them in the fridge because they will keep longer. You could also get away with storing these on the counter.
What to Serve with Strawberry Banana Oat Muffins?
Oh, the possibilities! You can serve these muffins with almost anything. You could serve them as the main dish at breakfast or for dessert after a big dinner. You can serve these Strawberry Banana Oat Muffins with a cup of coffee or hot chocolate. Enjoy the muffins with a glass of milk or orange juice. The options are endless!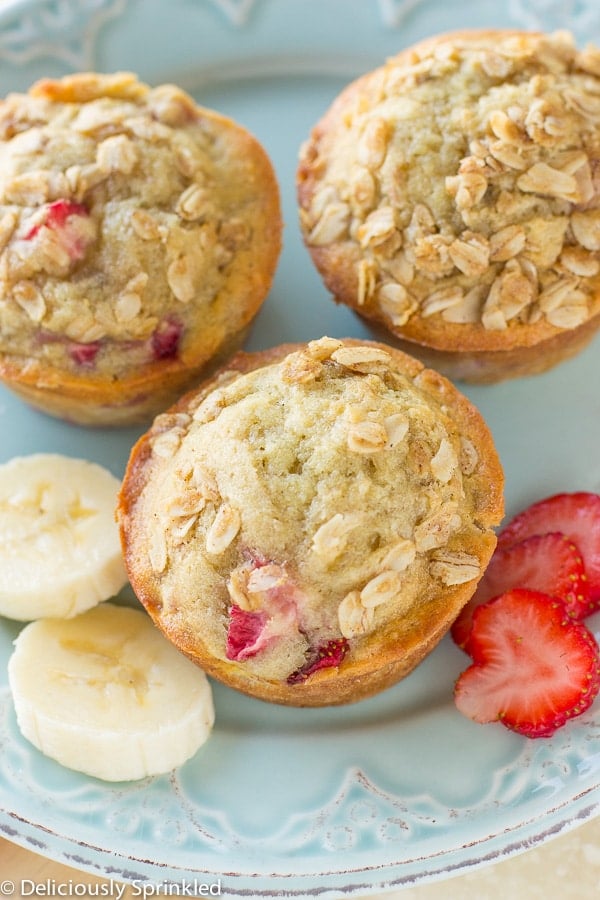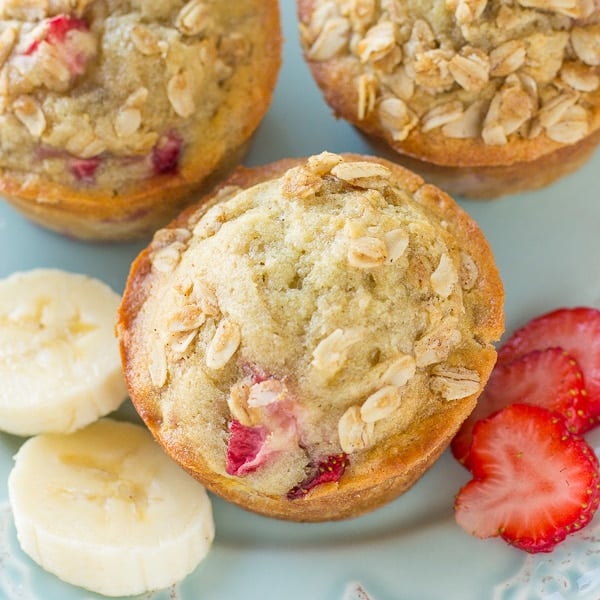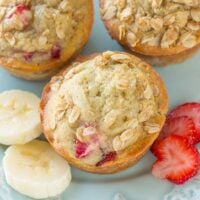 Leave a Review
Strawberry Banana Oat Muffins
Are you tired of eating the same old thing for breakfast? Perhaps it's time to try your baking hand at something new. Introducing, Strawberry Banana Oat Muffins. 
Print Recipe
Pin Recipe
Ingredients
OATMEAL STREUSEL TOPPING:
¼ cup old-fashioned oats
1 Tablespoon brown sugar
pinch of ground cinnamon
1 Tablespoon butter, melted
Instructions
Preheat oven to 425F degrees. Spray 12 muffins cups with non-stick cooking spray. Set aside.

Make Streusel: In a small bowl, combine oats, brown sugar, ground cinnamon, and melted butter. Set aside.

In a large bowl, using an electric or stand mixer with paddle attachment cream butter and sugar together until light and fluffy.

In a small bowl, beat eggs using a fork. Add eggs to sugar mixture and beat until combined. Add mashed bananas and mix until combined.

Sift all dry ingredients: flour, baking soda, and salt. Slowly add sifted dry ingredients to banana mixture and mix until flour is just combined. DO NOT OVERMIX! Fold in floured covered strawberries.

Using an ice cream scooper, scoop muffin batter into prepared muffin tins. Sprinkle tops of each muffin with streusel topping. Bake at 425F for 5 minutes. Keeping the muffins in the oven, reduce the oven temperature to 350F and continue to bake for 12-15 more minutes or until a toothpick inserted in the center comes out clean.

Let muffins cool on wire rack for at least 10 minutes before enjoying.
Notes
Tossing the strawberries in a touch of flour before stirring into the batter keeps them from all sinking to the bottom of the loaf.
Calories: 269kcal, Carbohydrates: 43g, Protein: 4g, Fat: 10g, Saturated Fat: 6g, Polyunsaturated Fat: 1g, Monounsaturated Fat: 3g, Trans Fat: 0.4g, Cholesterol: 50mg, Sodium: 268mg, Potassium: 176mg, Fiber: 2g, Sugar: 22g, Vitamin A: 326IU, Vitamin C: 13mg, Calcium: 16mg, Iron: 1mg
This blog post contains affiliate and/or referral links, which pay me a small commission for recommending my favorite products at no extra cost to you! Additionally, as an Amazon affiliate, I earn from qualifying purchases.