Strawberry Banana Oat Muffins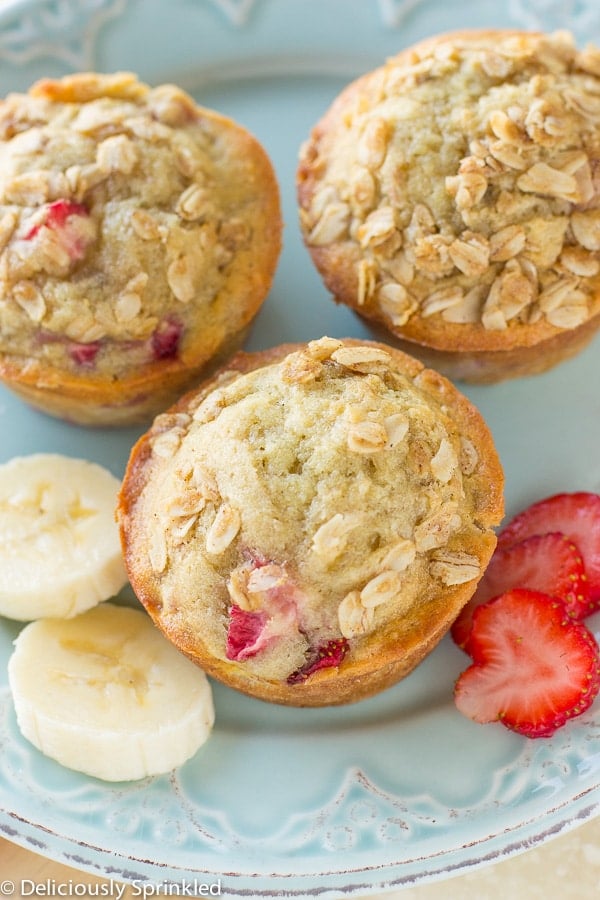 What is your New Year's resolution this year!?
Mine is to remember to eat breakfast every morning, I'm terrible about eating breakfast and I know it's the most important meal of the day.
So, I thought I would share with you one of my go-to breakfast these days which are these delicious Strawberry Banana Oat Muffins. These muffins are super moist, not too sweet, and almost healthy. The oatmeal streusel topping adds the perfect little crunch.
These muffins are super simple to make, so grab those ripe bananas off your kitchen counter and make these Strawberry Banana Oat Muffins, I know you are going to love them. ENJOY! ♥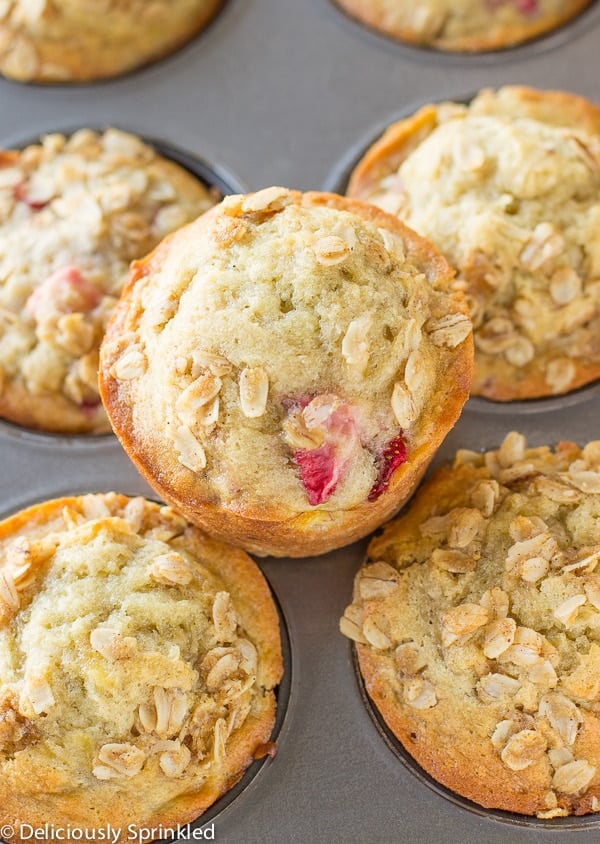 JUST A FEW BAKING TIPS:
✓ BUTTER & SUGAR: When mixing the butter and sugar together, make sure that you beat it for at least 2 minutes or until it starts to become light in color and creamy. This step is super important, so be patient and make sure it's light and creamy.
✓ SCOOPING THE BATTER: I like to use an ice cream scooper to fill the muffin batter into each muffin tin. It makes it super easy and you know that each muffin will be the same size. Also, no need to use muffin liners because these muffins will actually stick to the liners.
✓ LETTING THE MUFFINS COOL: After the muffins have baked, don't let the muffins "cool" in the hot muffin pan. After about 5 minutes take the muffins out of the muffin pan and place them on a wire rack to cool for another 5-10 minutes. Keeping the muffins in the muffin pan too long will lead to dry, overcooked muffins.
STEP-BY-STEP GUIDE ON HOW TO MAKE THESE STRAWBERRY BANANA OAT MUFFINS:
4 Responses to "Strawberry Banana Oat Muffins"
Leave a Comment