Homemade Chocolate Cake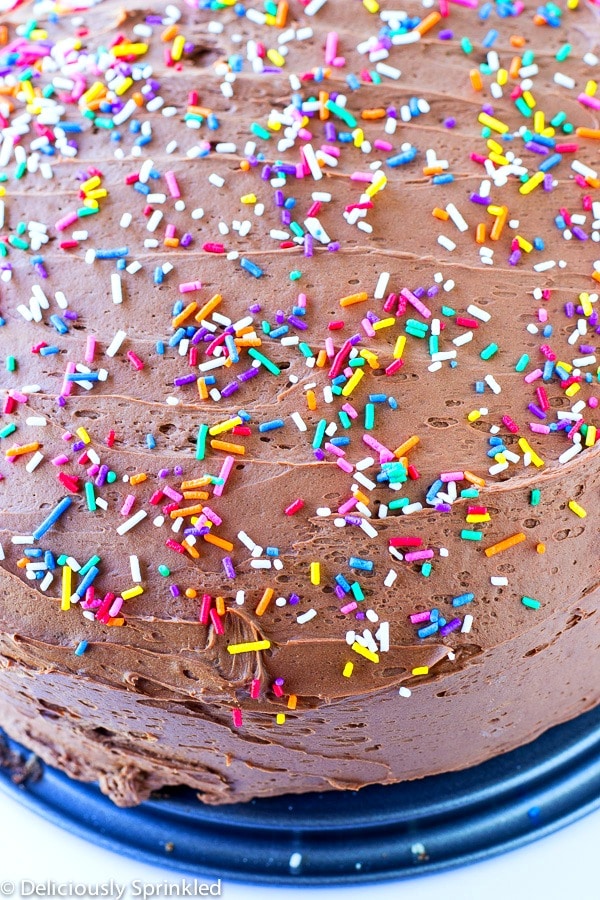 Calling all chocolate lovers! I'm so excited to share my favorite Homemade Chocolate Cake recipe with you today.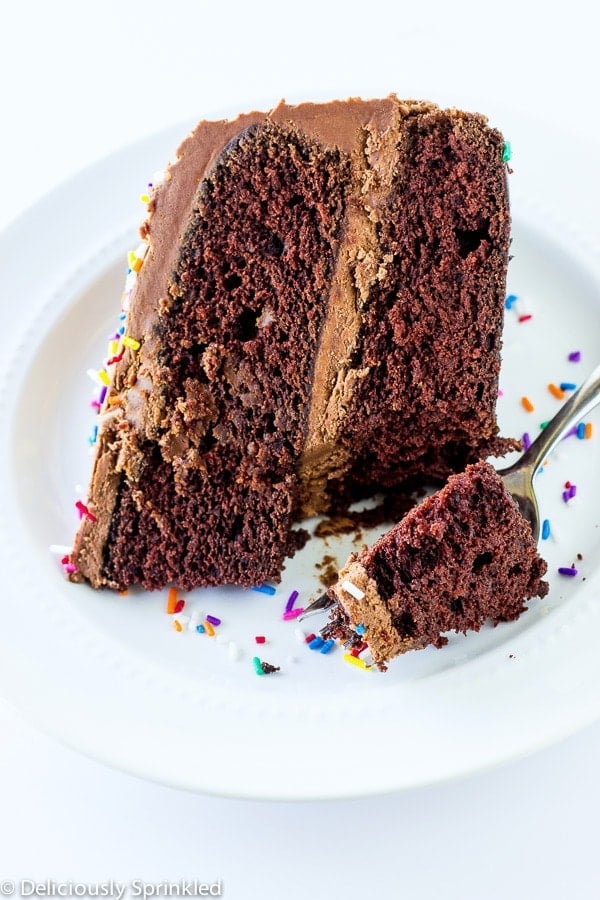 JUST A FEW BAKING TIPS:
✓ DO NOT OVERMIX THE CAKE BATTER: When mixing the cake batter, do not over mix it. Over mixing will lead to a dry, dense cake. So once you add the dry ingredients to the wet ingredients, only mix all the ingredients until just combined (you will still see some flour in the bowl!).
✓ SLICE OF BREAD TRICK: Once the chocolate cake is done, place the two cake pans on top of a wired rack to cool before frosting. A little trick I learned is to place a slice of bread on top of each cake, this keeps the cake super moist when it's cooling. You can also place two pieces of bread on each side of the cake, once you have cut the cake into to slices to help the leftover cake stay moist and not dry out. It's the best trick in the book!
✓ MILK CHOCOLATE BUTTERCREAM FROSTING: I used my favorite Milk Chocolate Buttercream Frosting recipe for this cake. Here is my step-by-step on how to make the frosting. Also, if your looking to buy more SPRINKLES, I buy all my SPRINKLES here.
STEP-BY-STEP GUIDE ON HOW TO MAKE THESE S'MORES BROWNIE BARS:

Yield: Serves 10
Homemade Chocolate Cake
Prep Time 10 minutes
Cook Time 40 minutes
Total Time 50 minutes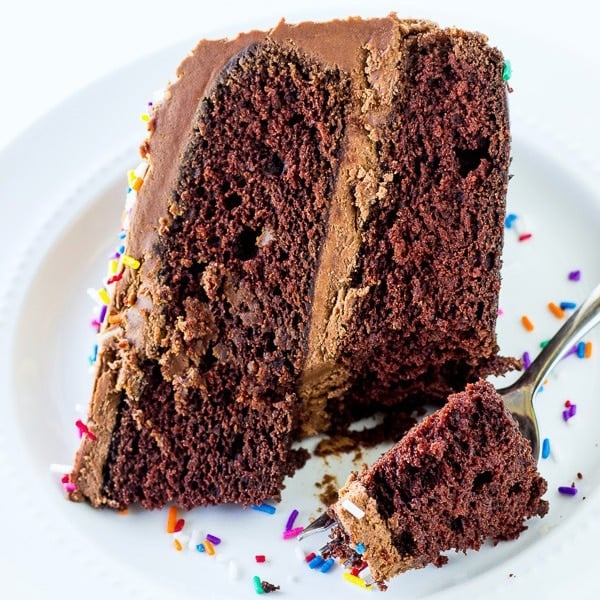 Ingredients
CHOCOLATE CAKE:
3/4 (12 Tablespoons) cup unsalted butter
1 3/4 cups granulated sugar
2 cups all-purpose flour
3/4 cup cocoa powder
1 1/4 teaspoon baking soda
1/2 teaspoon salt
2 large eggs
1 teaspoon vanilla extract
1 1/3 cup water
MILK CHOCOLATE FROSTING:
2 (4.4 ounce) extra large Hershey's Milk Chocolate candy bar*
2 cups (4 sticks) unsalted butter, softened
5 cups powdered sugar
1/2 cup heavy whipping cream
1 teaspoon vanilla extract
sprinkles
Instructions
PRE-STEP: Pre-heat oven to 350F degrees. Spray two 9-inch cake pans with non-stick cooking spray. Set aside.
STEP 1: Using a hand or stand mixer, cream together butter and sugar until light and fluffy.
STEP 2: In a medium sized bowl, whisk together flour, cocoa powder, baking soda, and salt. Set aside.
STEP 3: Add eggs and vanilla extract to butter mixture. Beat for 1 minute at medium speed.
STEP 4: Slowly, add the dry ingredients alternating with the water until creamy. Do Not Overmix!
STEP 5: Pour cake mix into prepared pan. Bake for 35-40 minutes or until a toothpick inserted into the center of each cake comes out clean. Let cool before frosting.
MAKE MILK CHOCOLATE FROSTING:
STEP 6: Place milk chocolate candy bar into small bowl. Microwave for 30 seconds intervals, stirring after each interval until the chocolate is melted and smooth. Set aside and allow to cool.
STEP 7: Using an electric or stand mixer, cream together butter and powdered sugar together until light and fluffy, scraping the sides of the bowl as needed.
STEP 8: Add heavy whipping cream and vanilla extract, and mix until combined. Fold in milk chocolate until fully incorporated into frosting.
STEP 9: Frost cooled cake. Top with sprinkles and enjoy!
Nutrition Information:
Yield:
12
Serving Size:
1
Amount Per Serving:
Calories: 851
Total Fat: 50g
Saturated Fat: 30g
Trans Fat: 0g
Unsaturated Fat: 16g
Cholesterol: 155mg
Sodium: 256mg
Carbohydrates: 99g
Fiber: 2g
Sugar: 79g
Protein: 6g