Caramel Pretzel Bars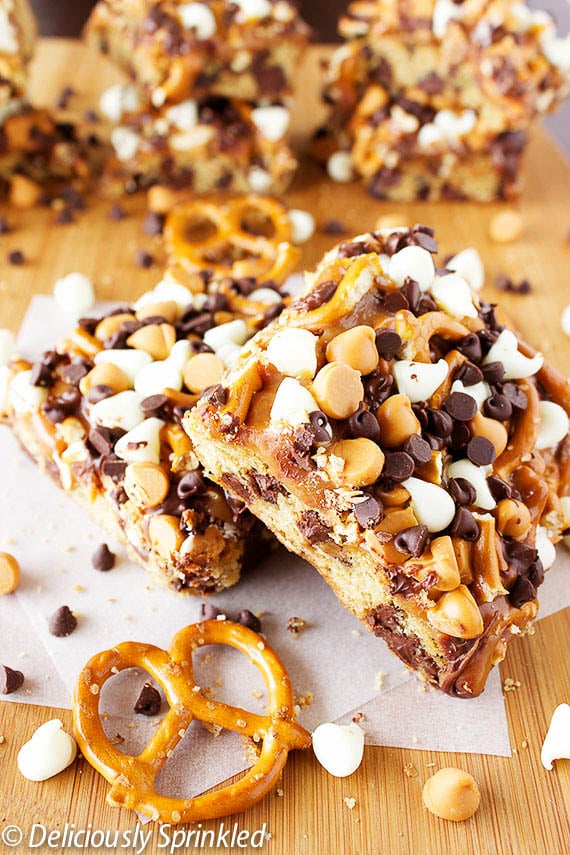 Sweet. Salty. Chocolate-y. These caramel pretzel bars have everything you could ever want and more. Just image the best chocolate chip cookie, but in a soft and chewy bar topped with caramel, loads of chocolate chips and the best part crushed pretzels.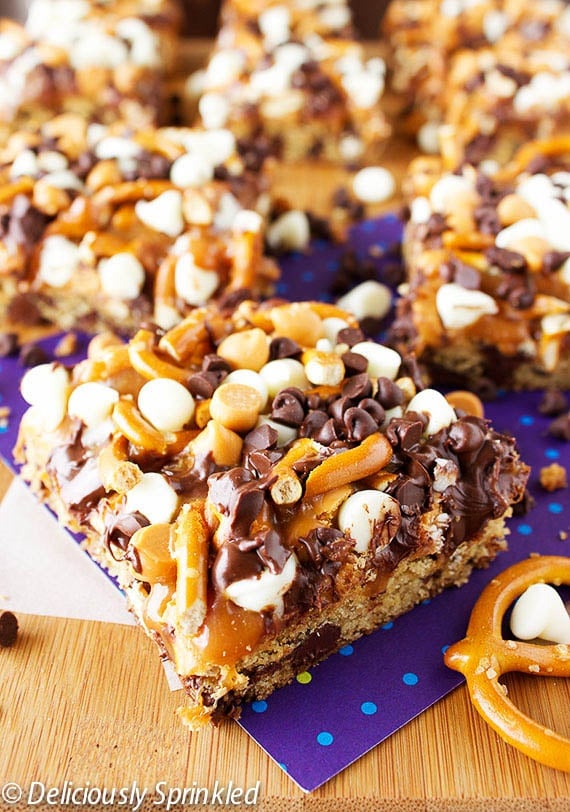 But these bars were way to delicious to give them all up. I loved the combination of a chocolate chip cookie loaded with caramel on top and SPRINKLED with mini chocolate chips, white chocolate chips, butterscotch chips, and salty pretzels….it doesn't get much better.
BAKING TIP
Make sure to line your 9×9 pan with tin foil, this makes it easier to remove the bars from the pan once you have loaded them up with caramel, chocolate chips, and pretzels.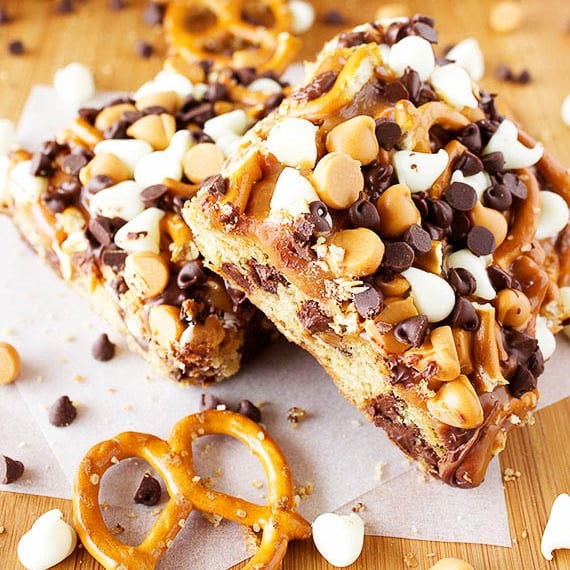 Yield: 16 Bars
Caramel Pretzel Bars
Prep Time 10 minutes
Cook Time 26 minutes 24 seconds
Total Time 36 minutes 24 seconds
Ingredients
1 cup all-purpose flour
1/2 teaspoon baking powder
1/8 teaspoon baking soda
1/4 teaspoon salt
1 cup light brown sugar
1/3 cup unsalted butter, melted
1 Tablespoon vanilla extract
1 large egg
1 cup semi-sweet chocolate chips
1 bag (11 oz) baking caramels
2 Tablespoons milk
1 cup pretzels, broken
1/3 cup mini chocolate chips
1/3 cup white chocolate chips
1/3 cup butterscotch chips
Instructions
Preheat oven at 350F degrees. Line an 9x9 inch baking pan with aluminum foil, leaving an overhang on the sides to lift the finished bars out.
In medium size bowl, mix together flour, baking powder, baking soda, and salt. Set aside.
In a separate bowl, whisk the melted butter, brown sugar, and vanilla together until well combined. Add egg and mix well. Slowly add in the dry ingredients and stir together until combined. Fold in the chocolate chips. Spread evenly into prepared baking pan.
Bake for 24-26 minutes or until lightly browned on top. Remove from the oven and allow to cool for about 5 minutes.
Meanwhile, in a medium microwavable bowl, microwave caramels and milk uncovered for 2 minutes, stirring once, until caramels are melted. Carefully pour and spread over warm brownies.
Sprinkle with mini chocolate chips, white chocolate chips, butterscotch chips, and pretzels. Cool completely before cutting bars into squares.
Notes
*Bars stay fresh covered at room temperature for up to 1 week.