White Chocolate Almond Truffles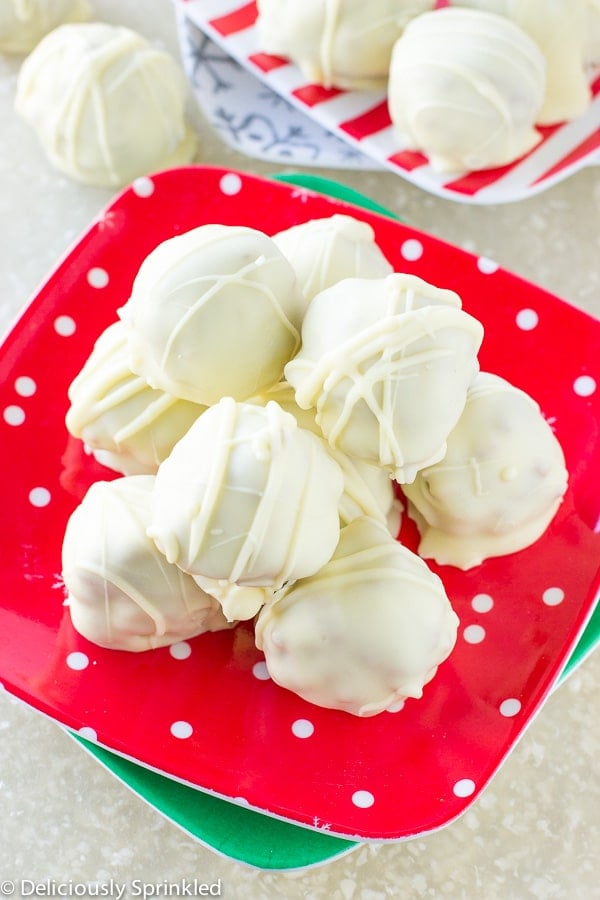 Holiday season is here and I have a quick, no-fuss recipe and the best part you don't even need to turn on your oven. Today, I'm sharing with you one of my favorite holiday treats White Chocolate Almond Truffles.
To make these truffles, you only need a few simple ingredients. You will need almond butter, powdered sugar, cocoa powder, and crisp rice cereal. Mix all these ingredients together, roll into balls, let freeze of 30 minutes and coat in melted white chocolate. That's it, easy-peasy.
So if you need an easy, last minute holiday party dessert these white chocolate almond truffles will be perfect. They also make cute gifts, too! ♥ ♥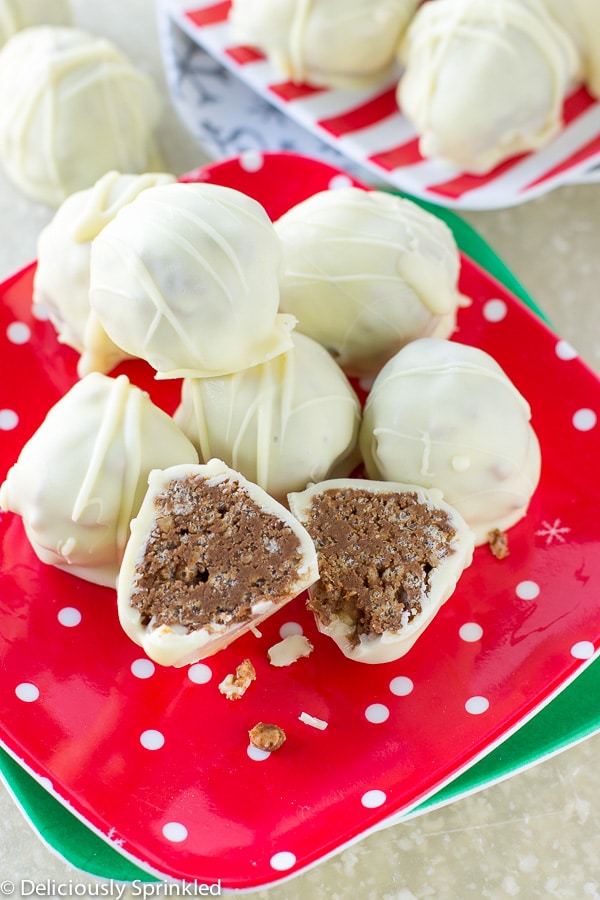 JUST A FEW BAKING TIPS:
✓ SCOOPING THE ALMOND BUTTER MIXTURE: To scoop the mixture into balls, I used a 1 Tablespoon cookie scoop but if you don't have a cookie scoop you can use a 1 Tablespoon measuring spoon.
✓ DIPPING TRUFFLES INTO WHITE CHOCOLATE:
Here's the EASIEST way to coat the White Chocolate Almond Truffles in chocolate:
(I like to use White Chocolate Baking Bars and Vanilla Candy Melts for these truffles. Do NOT use white chocolate chips, they will NOT coat the truffles properly.)
STEP 1: Drop one frozen truffle in the middle of the melted white chocolate mixture.
STEP 2: Using a fork, coat the entire truffle with the chocolate.
STEP 3: Pick up the truffle with a fork – do not pierce it, simply pick it up on top of the fork's prongs.
STEP 4: Tap the fork on the edge of the bowl to allow the excess chocolate to drip off. Place on a lined baking sheet.
STEP-BY-STEP GUIDE ON HOW TO MAKE THESE WHITE CHOCOLATE ALMOND TRUFFLES: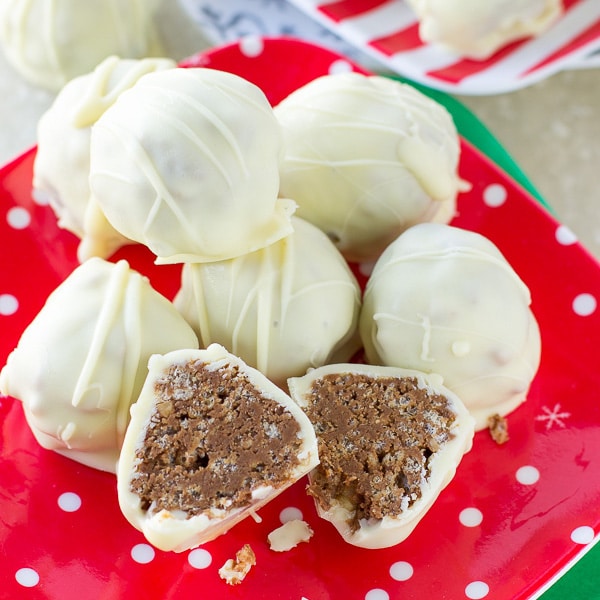 White Chocolate Almond Truffles
Ingredients
1 cup almond butter
1/4 cup butter softened
1 cup powdered sugar
2 Tablespoons unsweetened cocoa powder
4 cups crisp rice cereal
8 oz. white baking chocolate
4 oz. vanilla-flavor candy coating
2 teaspoons shortening
Instructions
Line a large cookie sheet with parchment paper or silicon baking mat. Set aside.
In a large bowl, beat almond butter and butter with a mixer on medium for 30 seconds. Gradually add powdered sugar and cocoa powder, beating until combined. Stir in rice cereal.
Shape mixture into 1-inch balls; place on prepared cookie sheet. Place in freezer until firm (about 30 minutes).
In a small bowl, microwave white baking chocolate, candy coating, and shortening until melted and smooth.
Using a fork, dip balls into melted white chocolate, place on prepared cookie sheet. Chill until firm (about 5-10 minutes).
Nutrition Information:
Yield:
8
Serving Size:
1
Amount Per Serving:
Calories: 700
Total Fat: 49g
Saturated Fat: 15g
Trans Fat: 0g
Unsaturated Fat: 29g
Cholesterol: 16mg
Sodium: 223mg
Carbohydrates: 49g
Fiber: 9g
Sugar: 18g
Protein: 13g