Triple Peanut Butter Cookies
Triple Peanut Butter Cookies filled with mini Reese's Pieces and drizzled with peanut butter for the ultimate peanut butter lovers cookie!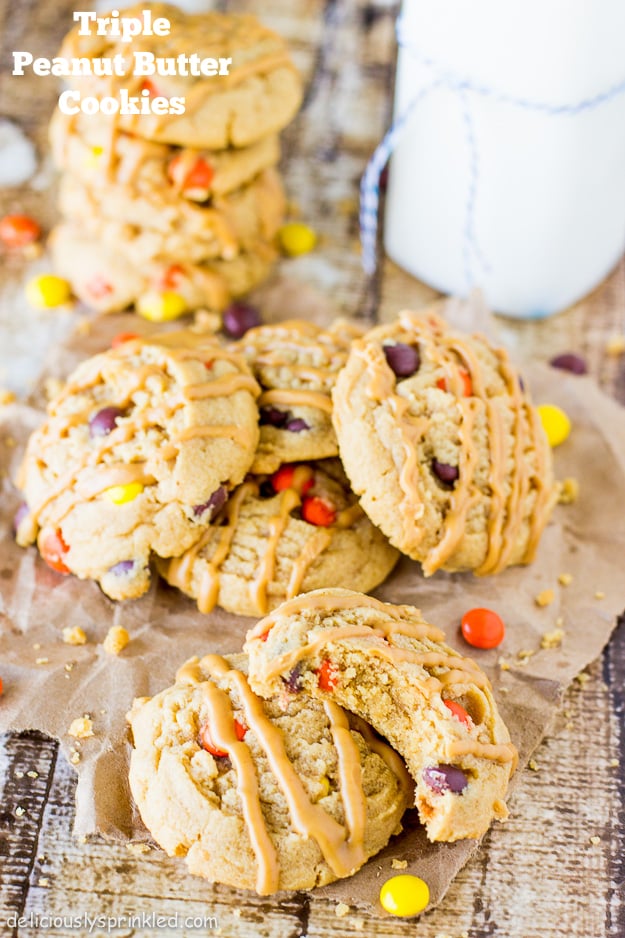 These triple peanut butter cookies are soft and will melt in your mouth. Plus, they are filled with mini Reese's pieces candies and drizzled with even more peanut butter goodness. I love the crunch and extra peanut butter kick the Reese's Pieces add to these cookies. And if your a peanut butter lover, like me, the extra drizzle of creamy peanut butter  on top makes these cookies a peanut butter lovers dream!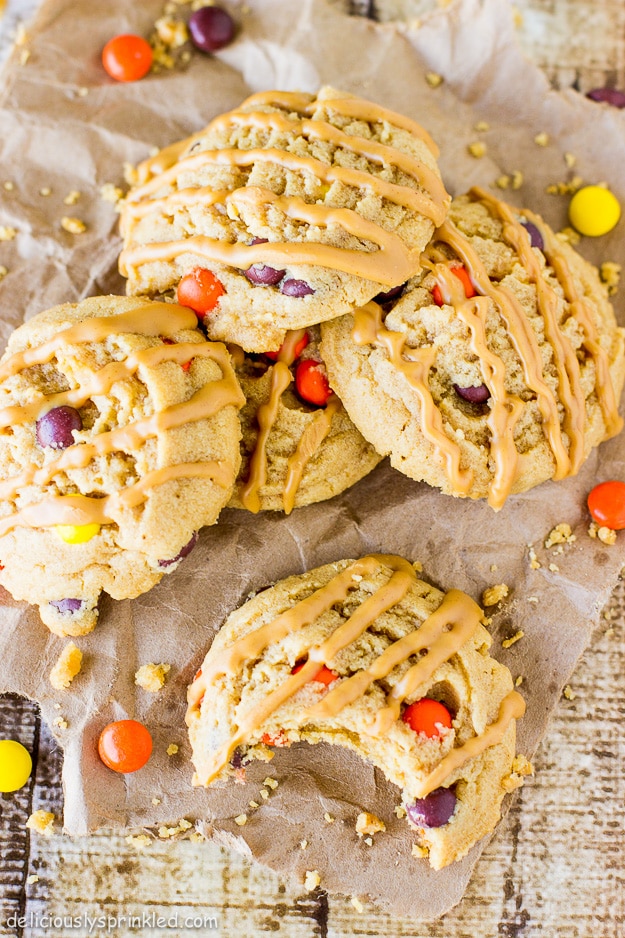 If you have followed my blog regularly, you may have noticed that I like to create recipes that are "semi-homemade" by using packaged mixes and refrigerated products that are jazzed up to create delicious treats that are simple to make! Because I don't know about you but I don't always have the time to make everything from scratch but I still want it to taste like it's from scratch!
Well these peanut butter cookies are the perfect example of how I take a packaged peanut butter cookie mix and jazz it up to make it even better! These cookies start out by using a peanut butter cookie mix, I used Betty Crocker's Peanut Butter Cookie Mix. To jazz them up, I  added cream of tartar, baking soda, and salt to the dry cookie mix to make them soft, puffy and taste just like I made them from scratch but without all the work. And that means I have more time to take our dog, Maddie for a walk to burn off all these amazing triple peanut butter cookies I will be eating! 🙂
Step-by-step on how to make these triple peanut butter cookies: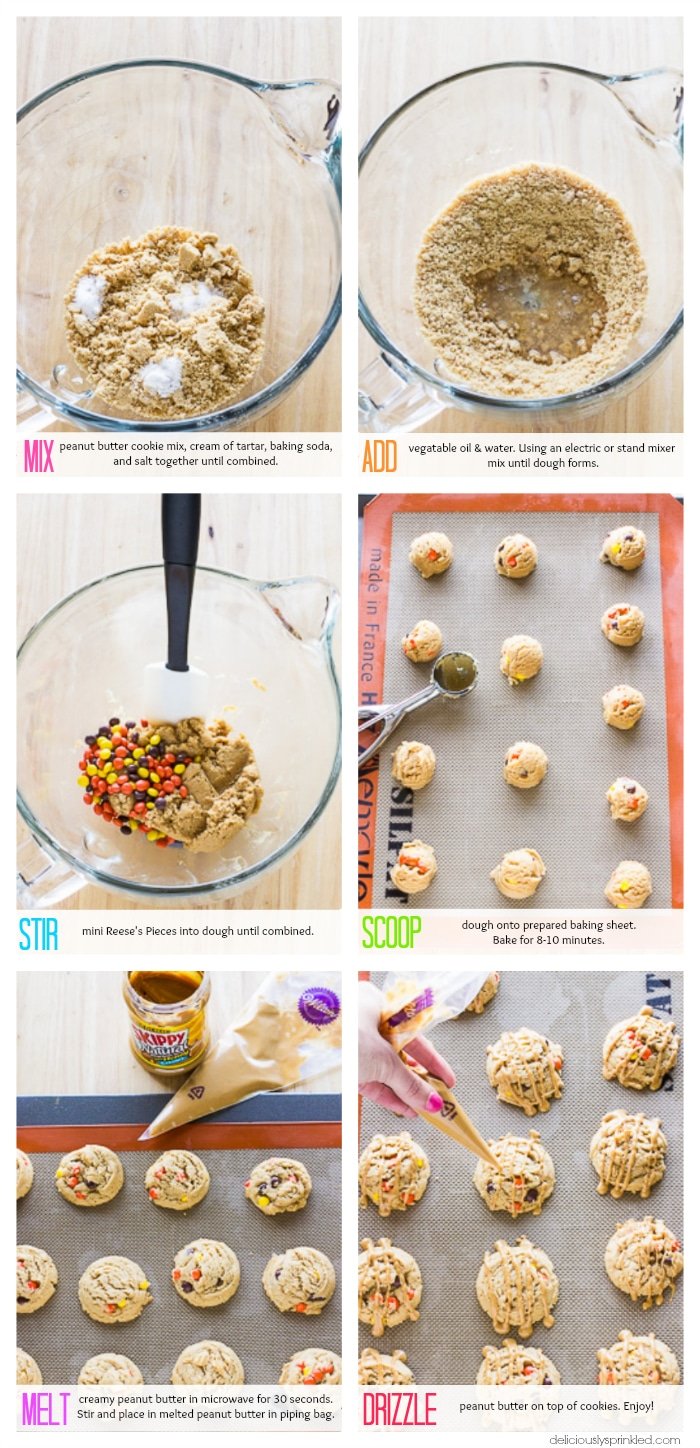 BAKING TIP
No need to wait hours for the cookie dough to chill! After scooping cookie dough balls onto prepared baking sheets, place baking sheets in the freezer for 10 minutes to chill cookie dough before baking!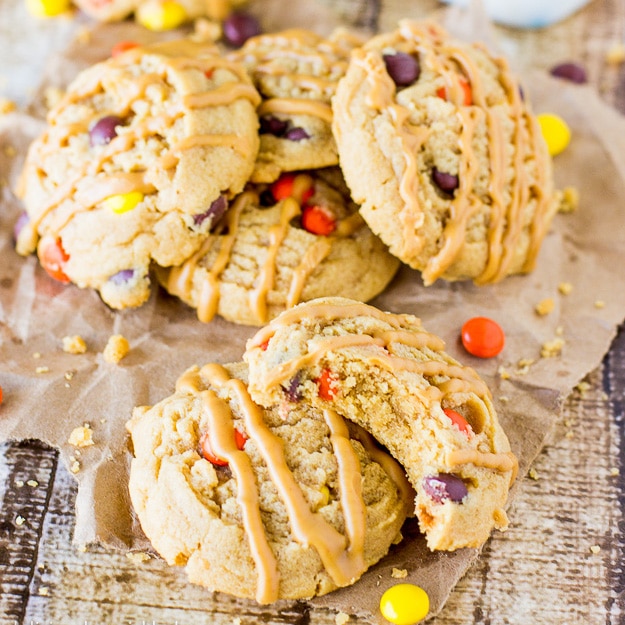 Yield: 12 Cookies
Triple Peanut Butter Cookies
Additional Time 15 minutes
Total Time 15 minutes
Ingredients
1/4 teaspoon cream of tartar
1/4 teaspoon baking soda
pinch of salt
2 Tablespoons vegetable oil
1 Tablespoons water
1/4 cup mini Reese's Pieces
1/2 cup creamy peanut butter,melted
Instructions
Preheat oven to 350F degrees. Line two large cookie sheets with parchment paper or silicone baking mats.
In a large bowl, mix together the peanut butter cookie mix, cream of tartar, baking soda, and salt until combined. Add vegetable oil and water and beat until dough forms. Add mini Reese's pieces and stir until combined.
Using a cookie scooper, scoop cookie dough on prepared baking sheet. Place baking sheet in freezer for 10 minutes. Bake for 8-10 minutes until edges are slightly brown. Allow the cookies to cool on the baking sheet for 2 minutes and transfer to a wire rack to cool completely.
In a small microwavable bowl, microwave creamy peanut butter for 30 seconds. Stir and pour melted peanut butter into a piping bag or storage bag. Cut a small tip at the end of piping bag and drizzle peanut butter on top of cooled cookies.
Notes
*If you use the regular size (17.5 oz) Betty Crocker Peanut Butter Cookie Mix, you will need to double this recipe. 1/2 teaspoon cream of tartar, 1/4 teaspoon baking soda, pinch of salt, 4 Tablespoons vegetable oil, 2 Tablespoons water, 1/2 cup mini Reese's Pieces, and 1 cup creamy peanut butter.