Toffee Bars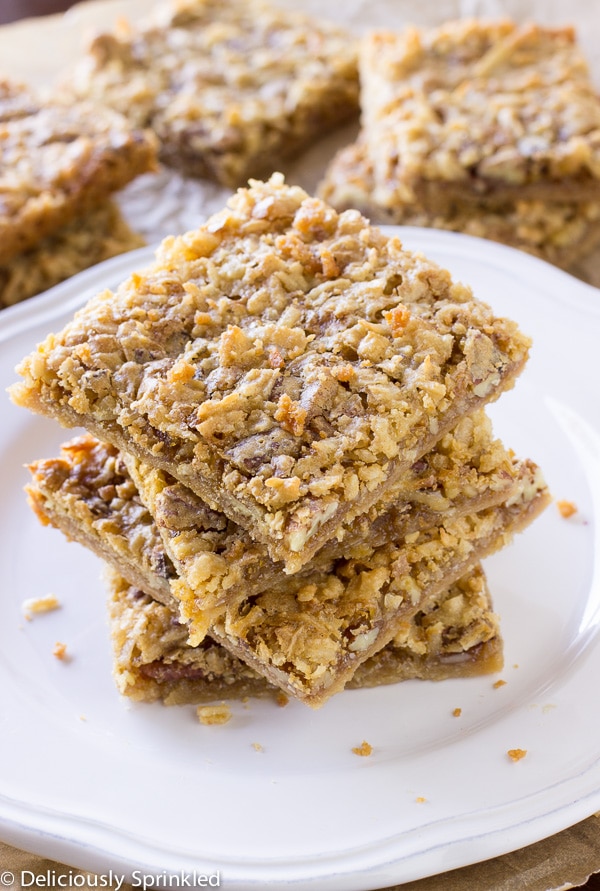 Holiday season (aka baking season) is right around the corner! ????????
I mean, Wal-Mart already has all their holiday decorations out on the shelves…I know, it's not even Halloween yet!
So today, I'm sharing my favorite Toffee Bars recipe with all of you. Your going to LOVE these unbelievably easy, incredibly delicious, sweet & salty, crisp, buttery Toffee Bars. I promise once you try them for yourself, you'll see what I mean. And they make perfect gifts! ????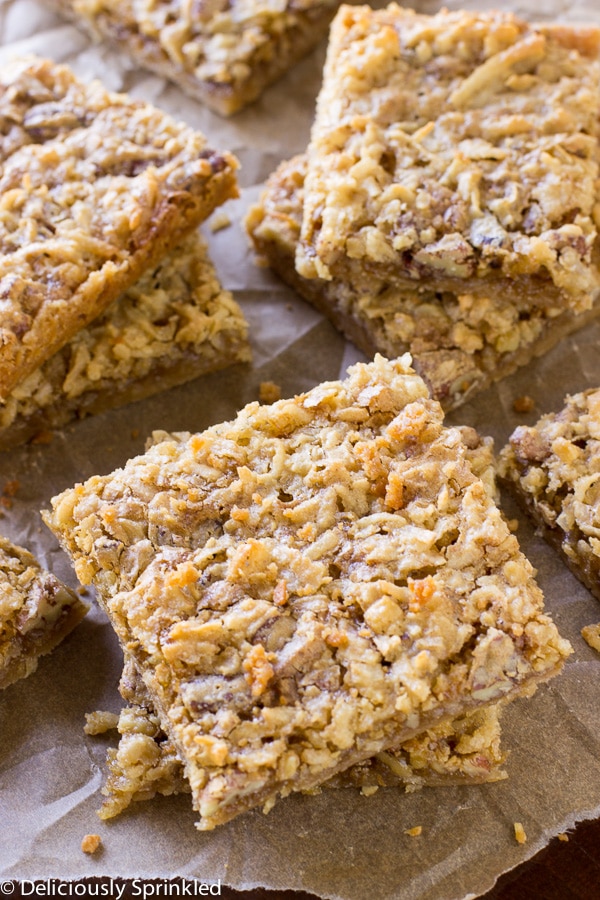 JUST A FEW BAKING TIPS:
✓ LINE YOUR BAKING PAN: To make it super easy for you to cut these bars into squares, line your 9×13 inch baking pan with aluminum foil, leaving enough overhang on the sides and spray the foil with non-stick cooking spray. Once the bars have cooled lift the bars out of the pan, folding down the aluminum foil sides. Use a sharp knife to cut these bars into squares.
✓ MAKING THE CRUST: To make the crust, you can either combine all the ingredients using your fingers until the mixture becomes crumbly. Or you can use a food processor, I personally like to use a food processor because it makes making the crust a lot faster.
✓ DON'T OVER BAKE: These bars may seem like they are not done, but they ARE. It's very easy to over bake these toffee bars and they will come out SUPER HARD. So I suggest only baking them for 15 minutes MAX, even if they "look" underdone.
STEP-BY-STEP GUIDE ON HOW TO MAKE THESE TOFFEE BARS: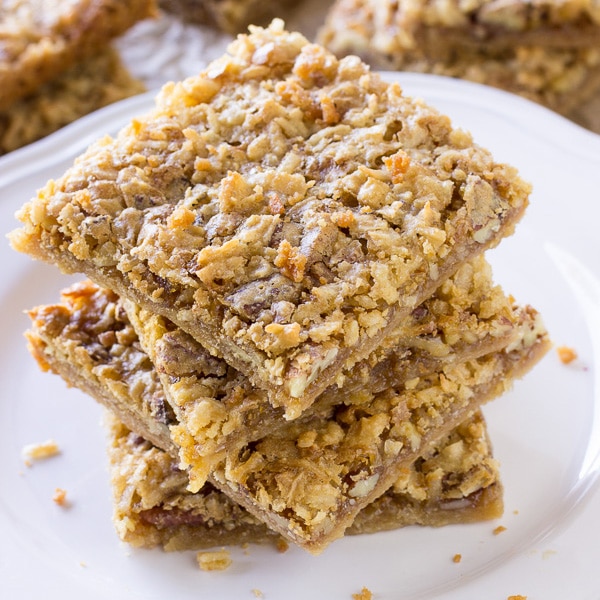 Yield: 12-14 Bars
Toffee Bars
Prep Time 15 minutes
Cook Time 20 minutes
Total Time 35 minutes
Ingredients
1 cup all-purpose flour
3/4 cup brown sugar
1/2 cup cold butter, cubed
1 large egg
1 cup brown sugar
1 teaspoon vanilla extract
1 teaspoon baking powder
1 cup flaked coconut
1/4 cup chopped pecans
1/4 cup chopped walnuts
Instructions
PRE-STEP: Preheat oven to 350F degrees. Line 9x13 inch baking pan with foil, leaving a 2-inch overhang on two sides; coat the foil with cooking spray. Set aside.
MAKE CRUST:
STEP 1: In a medium bowl, combine flour and brown sugar. Cut in butter until crumbly.
STEP 2: Press crust into prepared baking pan. Bake for 8-10 minutes. Let cool slightly.
MAKE TOPPING:
STEP 3: In a medium bowl, beat the egg, brown sugar, vanilla and baking powder.
STEP 4: Stir in coconut, pecans and walnuts.
STEP 5: Spread over crust. Bake for 12-15 minutes or until golden brown.
STEP 6: Cool on a wire rack. Cut into squares.
NOTES:
Notes
*STORE: Store bars in an airtight container at room temperature for up to 1 week.