Sugar Cookie Puppy Chow
This Sugar Cookie Puppy Chow is the BEST puppy chow recipe EVER!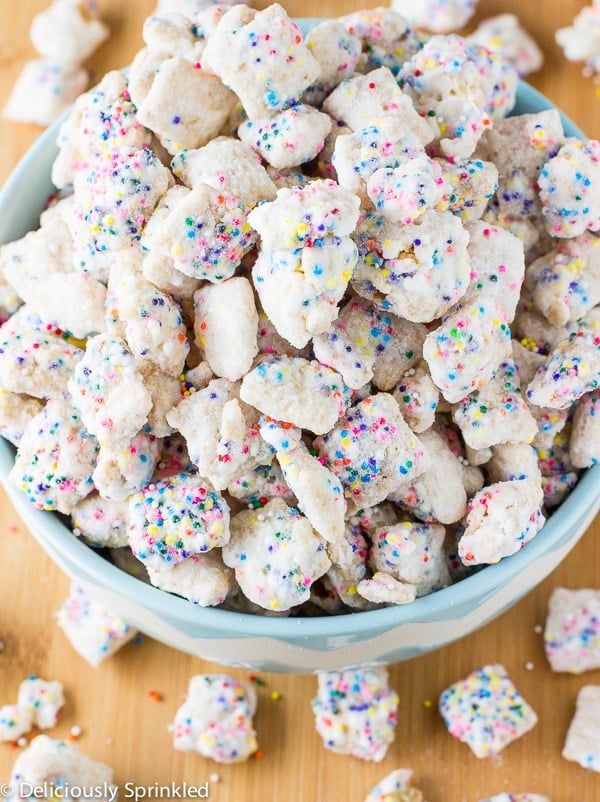 WARNING!
SUPER ADDICTING SNACK ALERT!
This Sugar Cookie Puppy Chow is a delicious, easy to make snack that everyone will love.
Every time I make this puppy chow for a party it's always the first thing to be gone like I warned you… it's super addicting.
I often make a double batch right away because I know one batch is not going to be enough.
I love that it taste just like a frosted sugar cookie with SPRINKLES!
No need to turn on your oven to make this delicious snack and it only takes about 15 minutes to make.
It's the perfect party snack, just change up the sprinkles to match your party theme!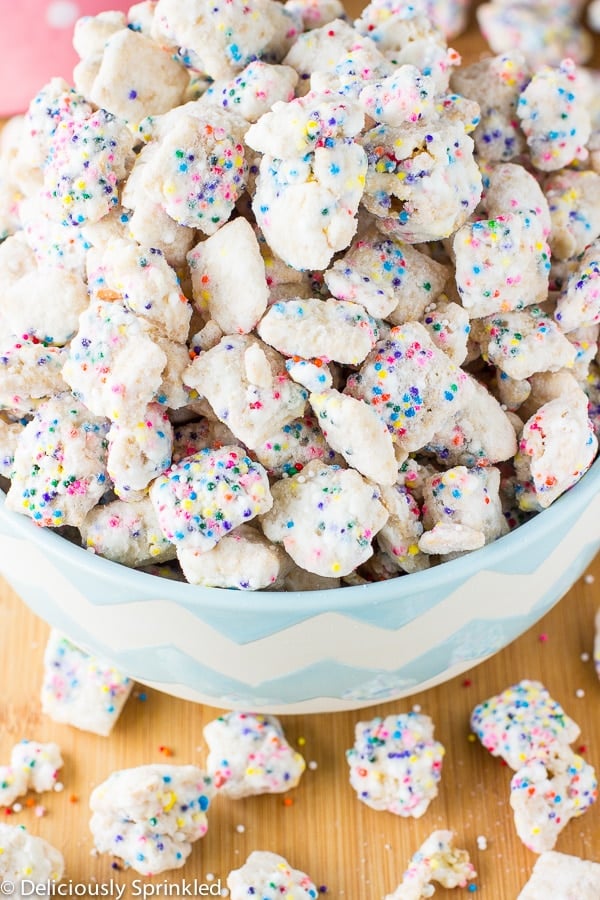 INGREDIENTS TO MAKE PUPPY CHOW
✓CHEX CEREAL
✓ALMOND BARK
✓ SPRINKLES
 ✓ FUNFETTI CAKE MIX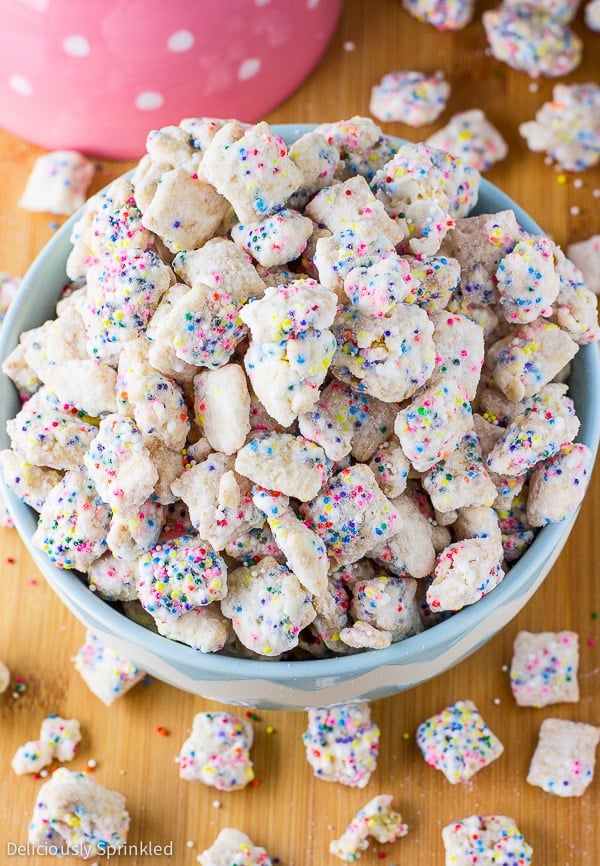 HOW TO MAKE PUPPY CHOW
ALMOND BARK: I used almond bark to give this sugar cookie puppy chow that "sugar cookie" flavor. But if you don't want to use almond bark, you can use white chocolate baking bars…just do NOT use white chocolate chips.
SPRINKLES:  like to use nonpareil sprinkles (the little balls) because they mix into the cereal a lot easier then if you would use "normal" rainbow sprinkles. Just be careful when folding the sprinkles into the puppy chow mixture because you don't want the colors from the sprinkles to run.
MAKE SAME DAY: I would also recommend making this puppy chow the day you are planning on enjoying it. The longer it sits the less crunchy the puppy chow is, so I like to make it the day of or the night before for the BEST results!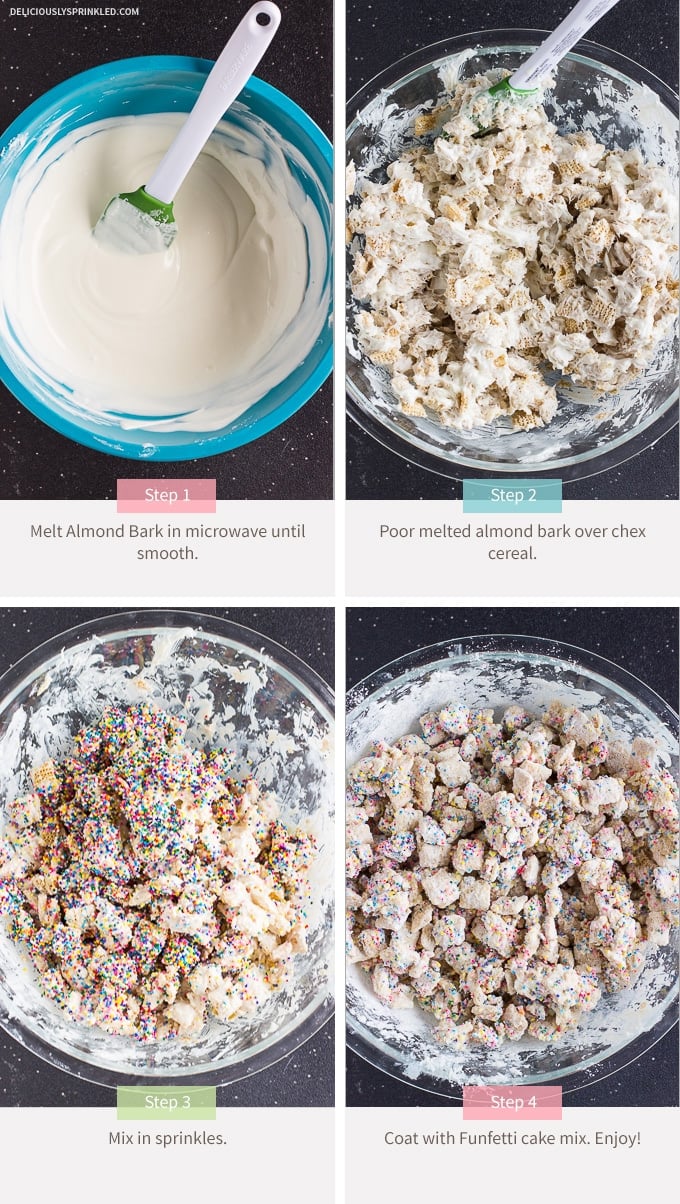 MORE BIRTHDAY PARTY SNACK RECIPES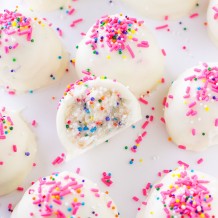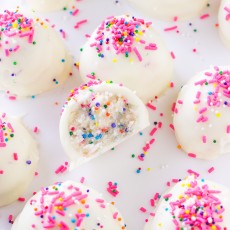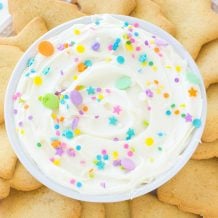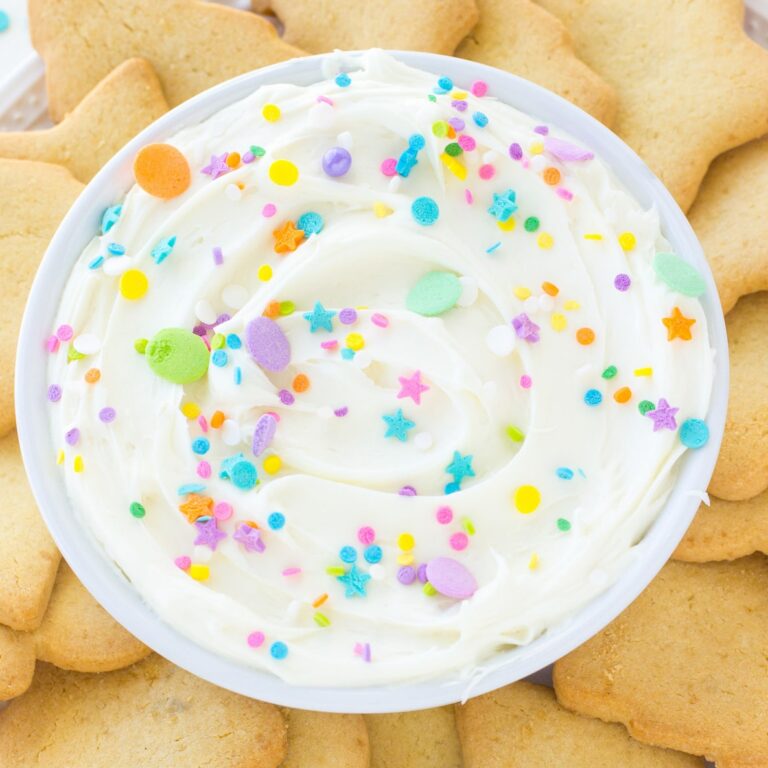 FUNFETTI PEANUT BUTTER COOKIES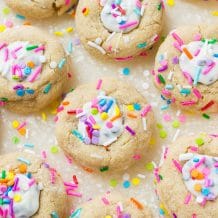 Sugar Cookie Puppy Chow
Yield: 6 cups
Prep Time:15 minutes
Total Time:15 minutes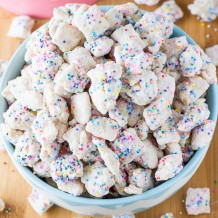 Ingredients:
4 1/2 cups Rice Chex cereal
8 ounces almond bark, melted
2/3 cups sprinkles
1 1/2 cups funfetti cake mix
Directions:
 STEP 1: Pour the Rice Chex cereal in a large bowl, set aside.
STEP 2: In a microwave safe bowl, melt almond bark according to package directions.
 STEP 3: Pour melted almond bark over cereal. Stir it all together gently, making sure not to break the cereal.
STEP 4: Gently, stir in sprinkles.
STEP 5: In a large zipped top bag or covered container, add the funfetti cake mix. Pour the almond bark covered cereal into the large bag or container. Seal the bag or container and shake until all the cereal is coated with the funfetti cake mix.
STEP 6: Discard excess funfetti cake mix and enjoy.
EXTRA NOTES:
* Store in a covered container at room temperature for up to 4 days.