Strawberry Upside Down Cake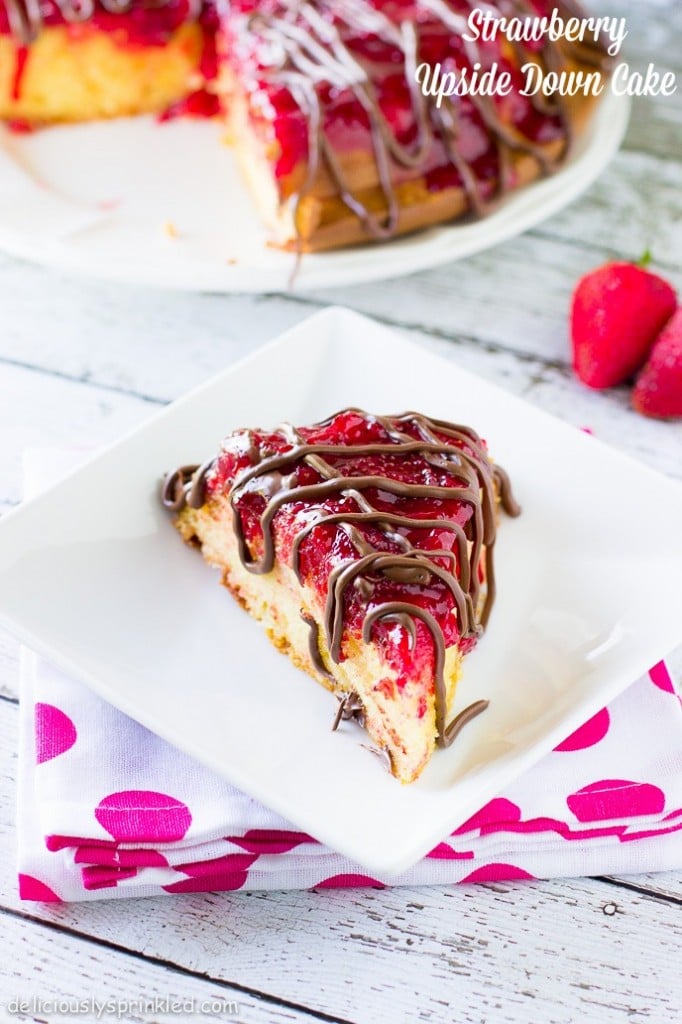 After a fun, relaxing week of vacation, it feels good to be back home! Even though I was on vacation, I did do some baking and this Strawberry Upside Down Cake topped with Nutella is one of the cakes I made for our families 4th of July party. And it really is true that Nutella makes everything taste even better.
My family said that Strawberry Upside Down Cake will never be the same without a drizzle of Nutella on top, and they were right, it tasted just like one big chocolate covered strawberry. I definitely Spread the Happy to my whole family this 4th of July weekend with this amazingly, delicious cake!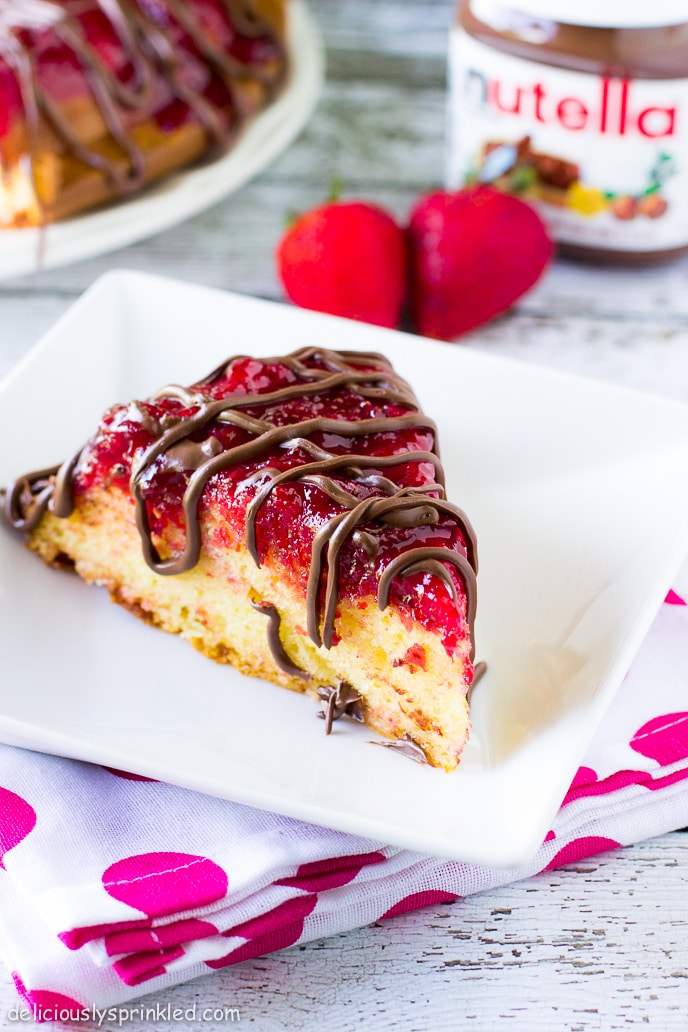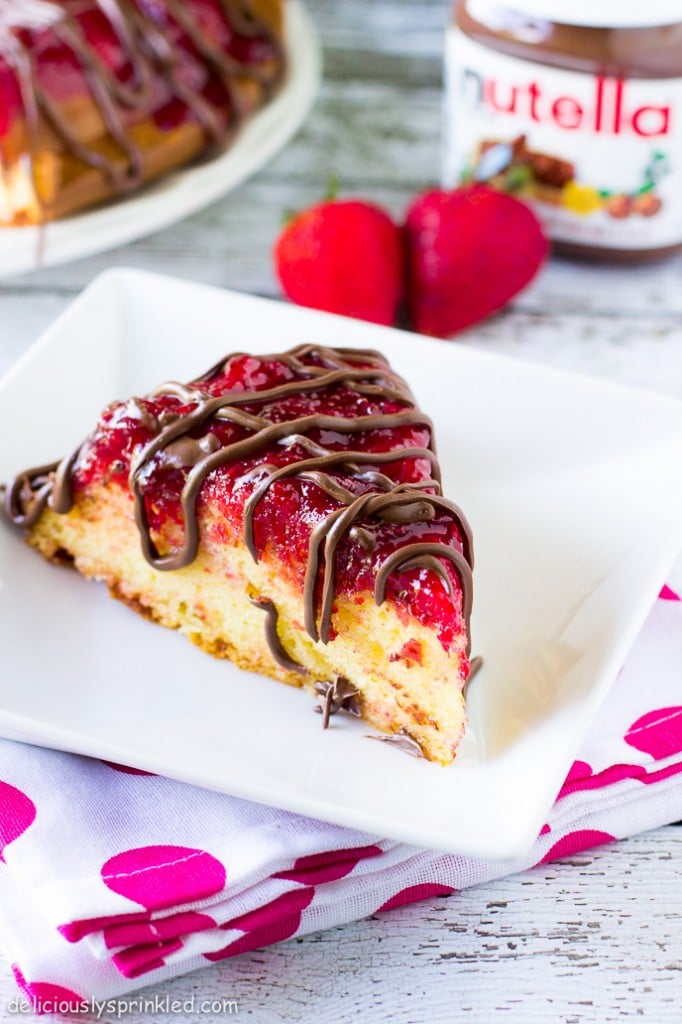 This cake is super simple to make, all you need is a box of yellow cake mix, buttermilk, eggs, strawberries, strawberry gelatin, and mini marshmallows. I like to make this cake in a deep pie dish but you can use a 9×13 cake pan as well.
Quick Tip: To crush the strawberries,  place the two cups of sliced strawberries in a large ziplock bag. Using a rolling pin on top of the strawberries to crush them up. I like to crush some of them up but keep some strawberries in tact because I think it makes the cake look prettier when you flip it upside down. But that's just me, you can crush them up however you would like!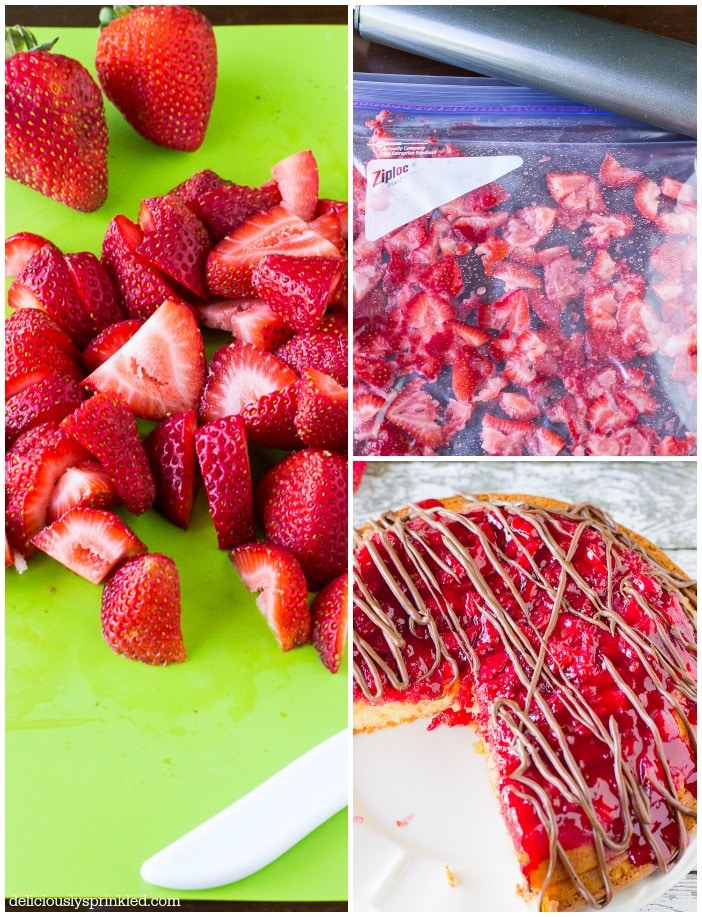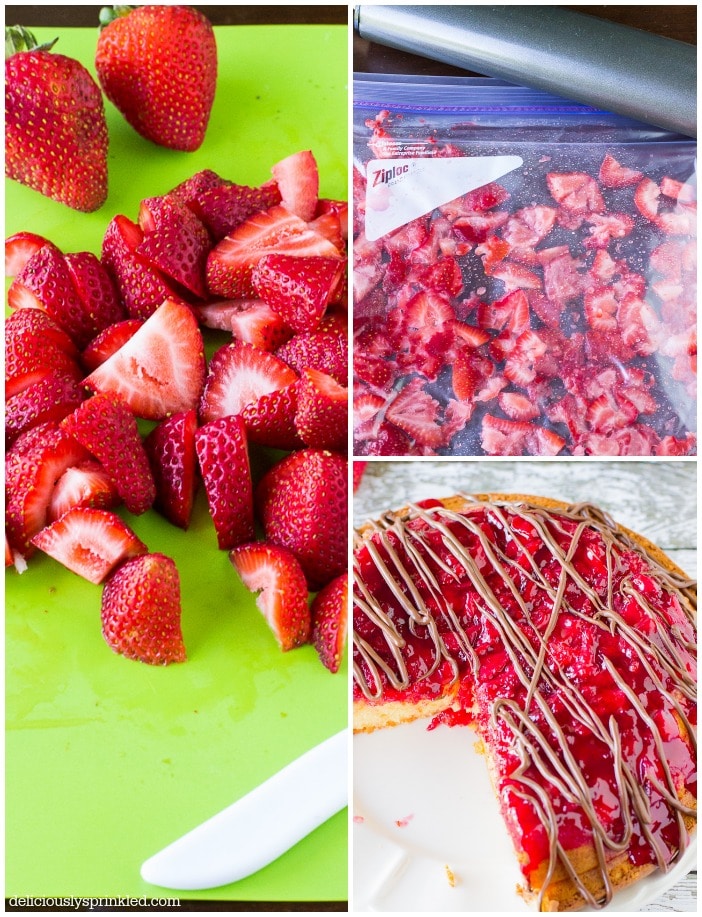 I also used my aunts yellow cake mix recipe for the first time, and I loved it, it's so simple and it made the cake taste just like homemade.
Here is the trick, I started off by using Betty Crocker Yellow Cake Mix, and rather than mixing the cake mix with vegetable oil and water, instead I used 1 2/3 cup buttermilk, you want to use slightly more buttermilk than a direct one-to-one ratio because of the volume of the buttermilk. I then added an extra egg to the mix making it a total of 4 eggs.
And that's it…you  now have a cake that taste just like homemade but without all the work and it's even easier than adding pudding mix, sour cream, milk, vegetable oil, vanilla extract, eggs, plus the cake mix.. like I have done in the past, to make cake mix taste like homemade.
But from now on I will be using the buttermilk substitute for all the liquids when using cake mix in my recipes from here on out, the only thing I might add next time is a couple drops of vanilla but other than that this cake was delicious!
Step-by-step on how to make this Strawberry Upside Down Cake: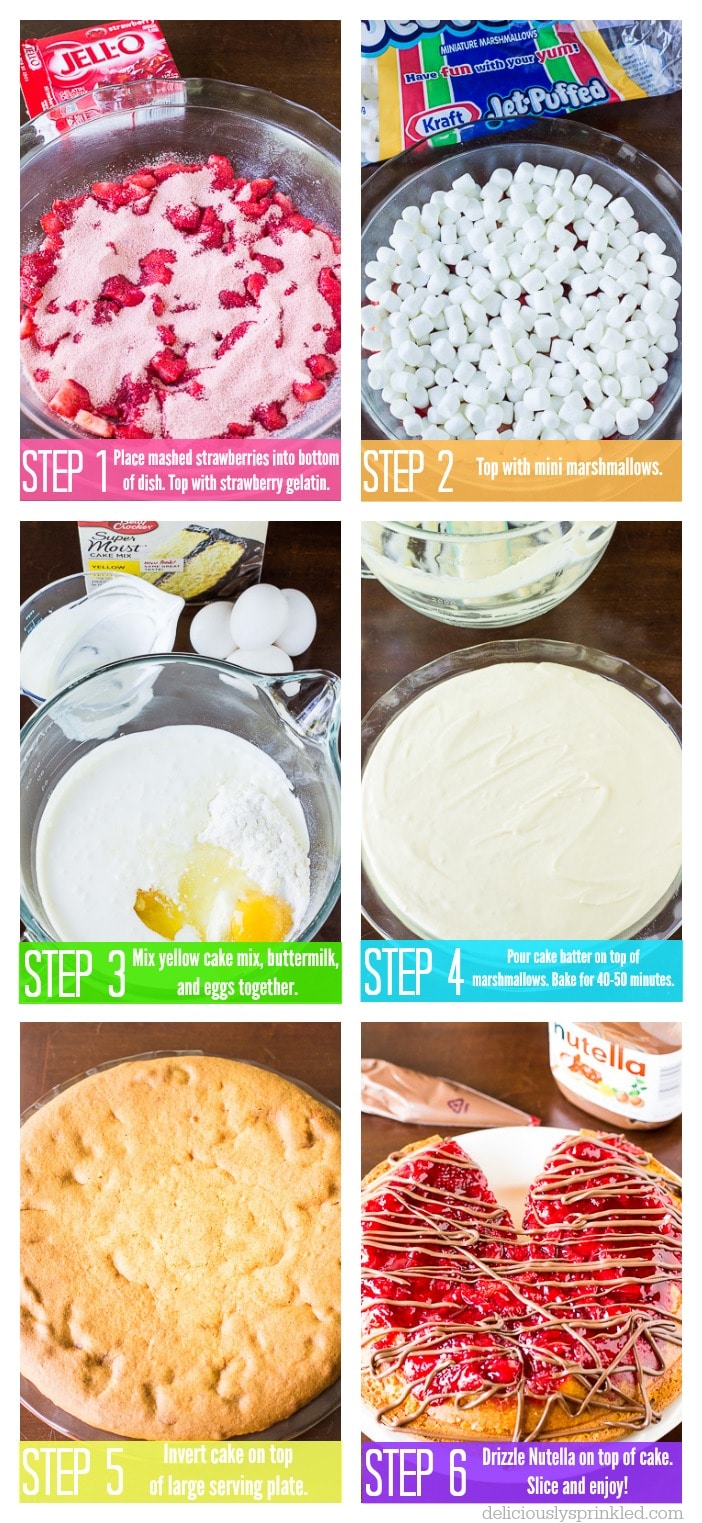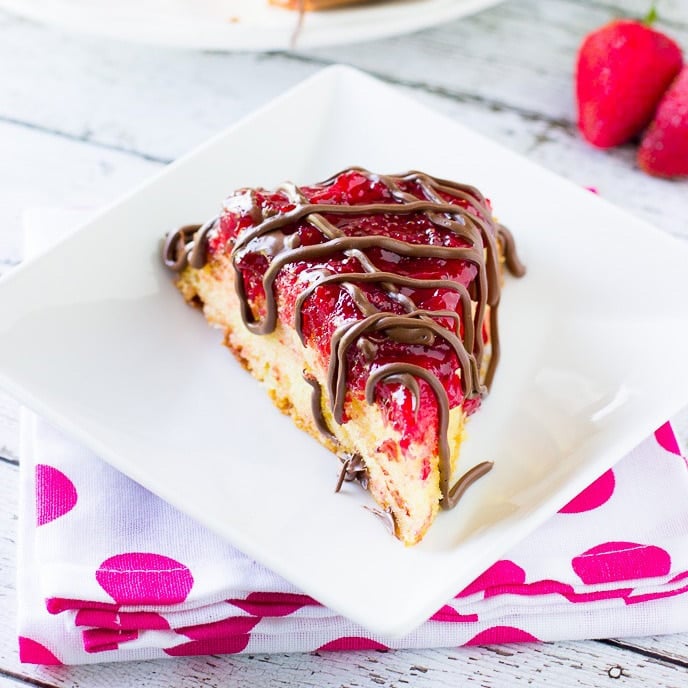 Yield: 8 Slices
Strawberry Upside Down Cake
Additional Time 1 hour 5 minutes
Total Time 1 hour 5 minutes
Ingredients
2 cups crushed fresh strawberries
3 cups miniature marshmallows
1 box yellow cake mix
1 2/3 cup buttermilk
4 large eggs
Instructions
Preheat an oven to 350F degrees. Lightly spray 9 1/2 inch pie dish or 9x13 cake pan with non-stick cooking spray. Set aside.
Spread crushed strawberries on the bottom of a pie dish or cake pan. Evenly sprinkle strawberries with the dry strawberry gelatin powder, and top with mini marshmallows.
Using an electric or stand mixer, mix together the cake mix, buttermilk and eggs until combined. Pour cake batter on top of the marshmallows. Bake for 40-50 minutes or until toothpick inserted into the center comes out clean.
Cool cake in the dish/pan for 15 minutes. Run a knife around the dish/pan to loosen the sides, and turn the cake out onto a large serving plate. Place Nutella in a piping bag or large ziplock bag with a small hole cut on one end, drizzle Nutella on top of cake.
Notes
*Don't have buttermilk!? No worries, all you need is 1⅔ cup heavy whipping cream or milk, 1 Tablespoon lemon juice or white vinegar. Stir the lemon juice or white vinegar into the heavy whipping cream or milk, let stand at room temperature for 5-10 minutes. When it's ready the milk mixture will be thicker and you will see small curd bites. Use in recipe as directed.

Nutella® hazelnut spread is a happy start to every day! Pick up a jar of Nutella in the spreads aisle and enjoy it with whole wheat toast, waffles, pancakes, strawberries, bananas and many other foods. Nutella. Spread the Happy™.
Disclosure: Compensation was provided by the makers of Nutella via Mode Media. The opinions expressed herein are those of the author and are not indicative of the opinions or positions of Nutella.