Strawberry Poke Cake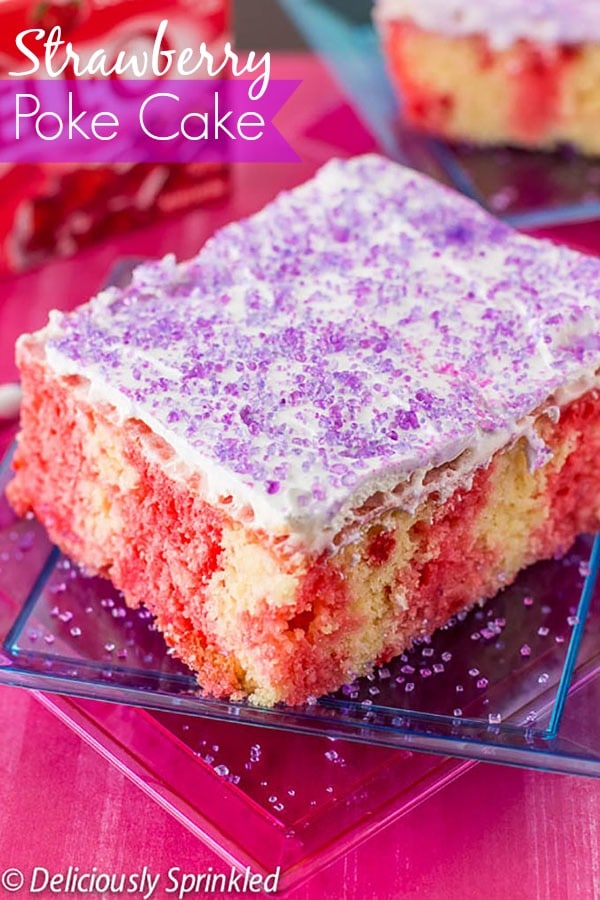 When I was growing up my favorite cake was JELL-O cake, especially strawberry! Now the new trend for these cakes are called Poke Cakes. I never knew what a poke cake was until just last year when I found a recipe for a poke cake on Pinterest, and realized I been eating these cakes called poke cakes my whole life without even really knowing it, we always called it a JELL-O cake!
I made this Strawberry Poke Cake this weekend for my family for our 1st Annual Family Snowmobiling Trip in Eagle River, WI and everyone loved it, especially my Dad, he almost ate the whole cake himself. Next time I will have to make two cakes one just for my Dad and the other one for the rest of us!
 I guarantee this Strawberry Poke Cake will be a family favorite in your house as well!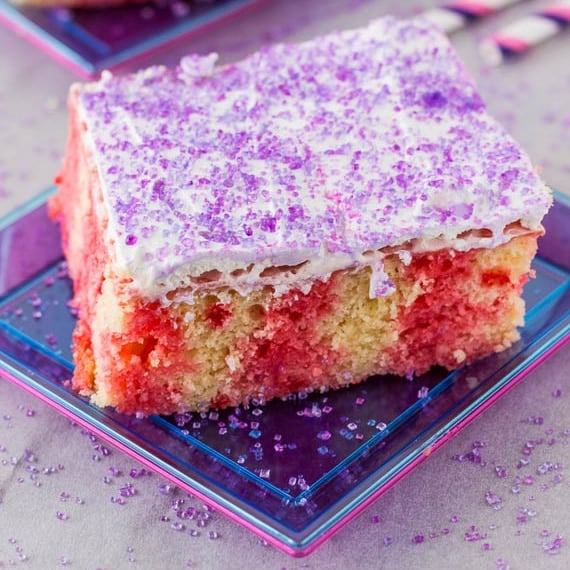 Yield: 13x9 inch sheet cake
Strawberry Poke Cake
Additional Time 4 hours 45 minutes
Total Time 4 hours 45 minutes
Ingredients
4 large eggs
1 cup milk
10 tablespoons unsalted butter, melted
1 box JELL-O strawberry gelatin mix
1 cup boiling water
8 ounces cool whip, thawed
sprinkles
Instructions
Pre-heat oven to 350F degrees. Spray 13x9 inch cake pan with non-stick cooking spray. Set aside.
Using a electric or stand mixer, mix the cake mix, vanilla pudding, eggs, milk, and melted butter until smooth.
Pour cake batter into prepared cake pan. Bake for about 35 minutes. Let cool completely.
Poke holes over cooled cake using a fork. In a small bowl, mix gelatin with boiling water. Stir until sugar is dissolved. Pour gelatin over cake slowly, allowing it to fill the holes in the cake. Top with Cool Whip and sprinkles. Refrigerate for 4 hours, or overnight.