Strawberry Lime Cheesecake Bars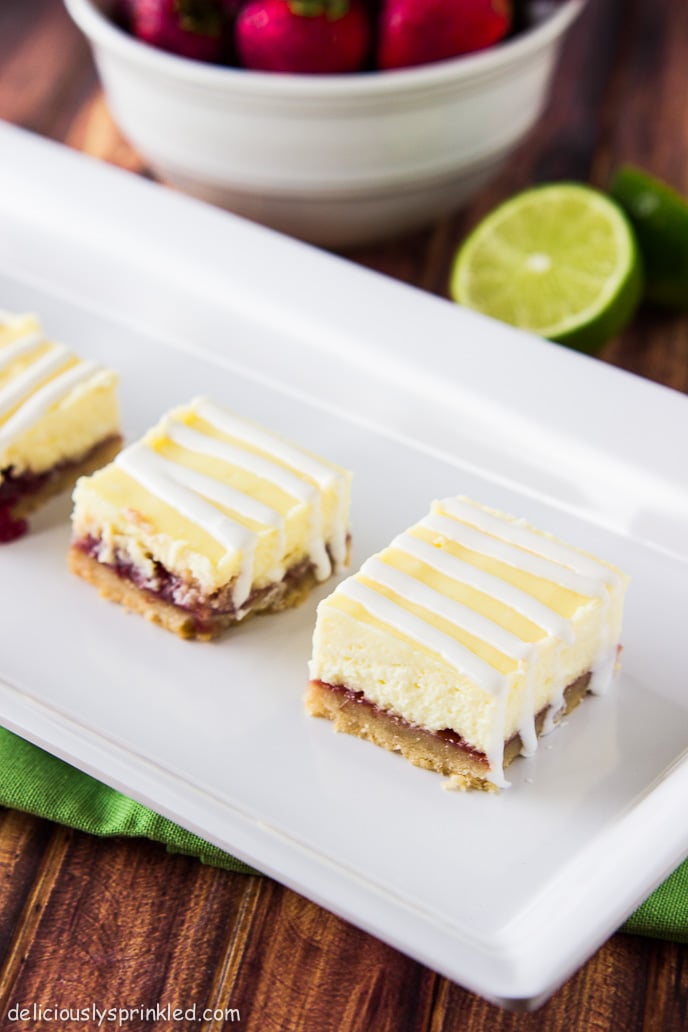 Cheesecake is one of those desserts people either love or hate. But if your like me and you love cheesecake, then your going to love these Strawberry Lime Cheesecake Bars.
These cheesecake bars remind me of a strawberry margarita, and I don't know about you but a dessert that taste like a margarita is like having the best of both worlds, especially in the summer! 🙂
As always, these bars are super simple to make with an easy homemade flour crust layered with strawberry preserve jam and topped with a creamy layer of lime cheesecake. The hint of lime in the cheesecake is so complimentary to the sweet strawberry jam layer, making this a light, refreshing and delicious dessert.
Step-by-step on how to make these Strawberry Lime Cheesecake Bars: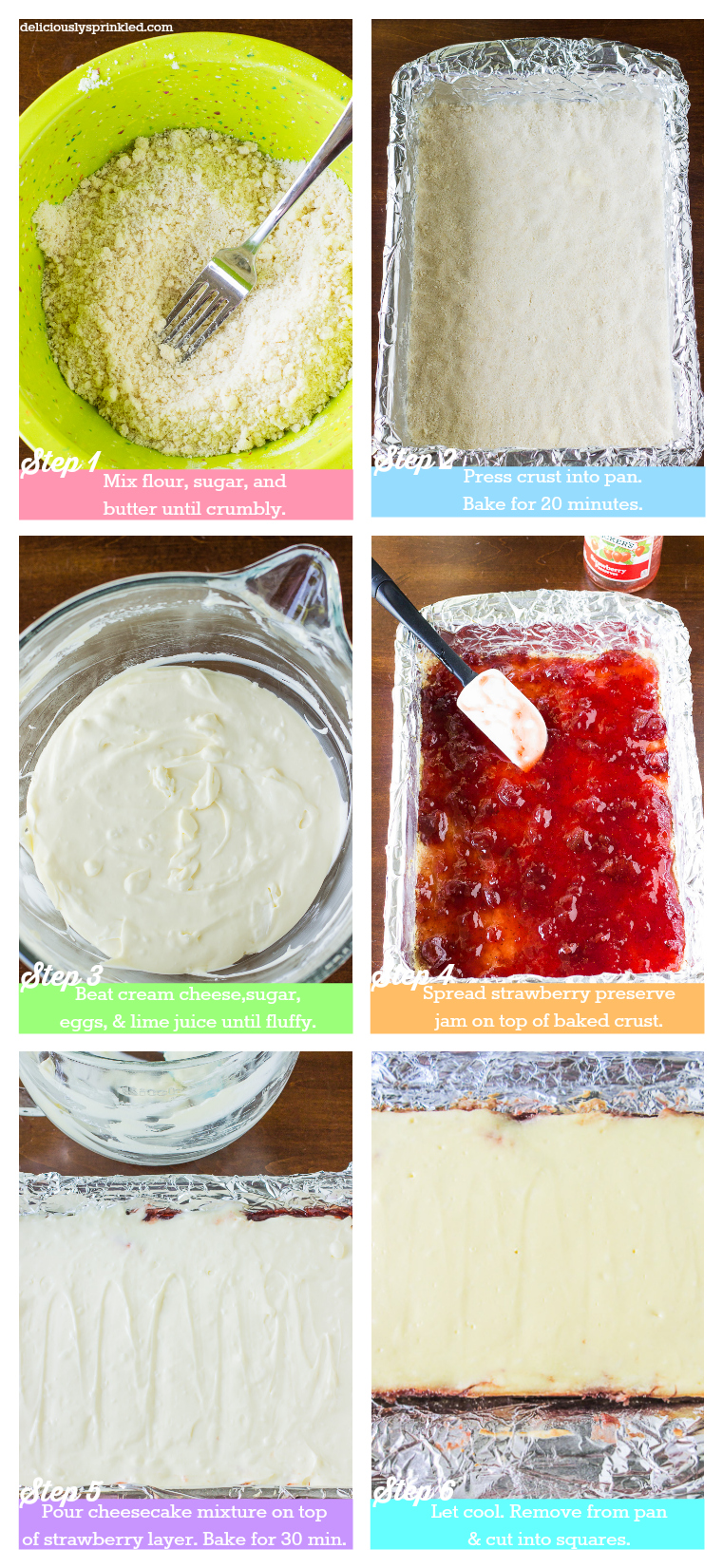 Here is what you will need to make these cheesecake bars:
A 9×13 inch baking pan and aluminum foil to make it easy to remove from the pan & cut into squares.
Two mixing bowls, a spatula, and a good cutting knife.
I drizzled Betty Crocker Vanilla Cookie Icing on top of each cheesecake bar, put they are just as good plain!
Or you could top them with a sliced strawberry or lime slice.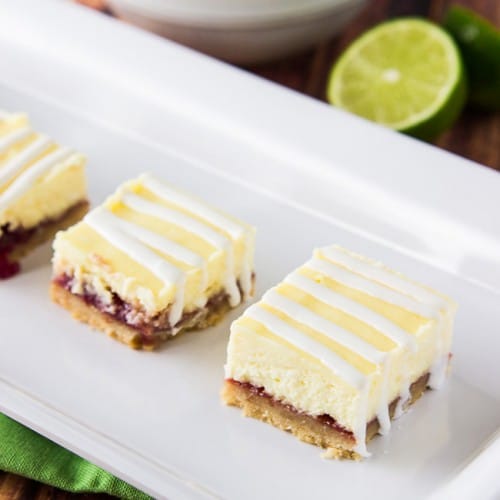 Yield: 2 dozen bars
Strawberry Lime Cheesecake Bars
Additional Time 1 hour 5 minutes
Total Time 1 hour 5 minutes
Ingredients
For the crust:
2 cups all-purpose flour
1 cup granulated sugar
3/4 (12 Tablespoons) butter, softened
For the filling:
1 (18 oz.) jar strawberry preserves
3 (8 oz.) packages cream cheese, softened
1 cup sugar
3 large eggs
4 Tablespoons lime juice
Instructions
Preheat oven to 350F degrees. Line 13x9 inch baking pan with aluminum foil and spray with non-stick cooking spray. Set aside.
To prepare crust:
In a medium bowl, combine flour, sugar and butter. Using a fork, cut into the butter into mixture is crumbly. Press mixture into prepared pan, and bake for 20 minutes or until edges are golden brown.
To prepare filling:
Spread strawberry preserves evenly over crust. In a large bowl, using a electric or stand mixer beat cream cheese and sugar at medium speed until fluffy. Add eggs, one at a time, beating just until combined. Mix in lime juice. Pour cheesecake mixture over strawberry preserves, and bake for 30 minutes or until center of cheesecake is set. Let cool in pan completely before cutting into squares.
Notes
*Store covered, in refrigerator for up to 3 days.
 Here are some more refreshing summer desserts!
These Lemon Pie Bars are a family favorite!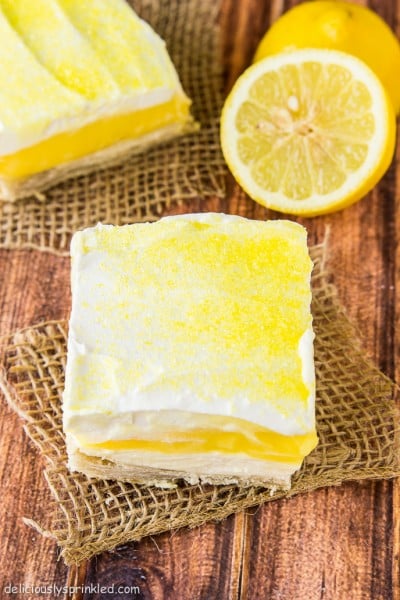 It's all about fresh fruit on this Very Berry Ice Cream Pie!
These no-bake Lime Cheesecake Parfaits are perfect for a party!