Strawberry Cupcakes
Simple, fresh strawberry cupcakes with bits of fresh strawberries throughout the cupcake and topped with creamy strawberry buttercream frosting!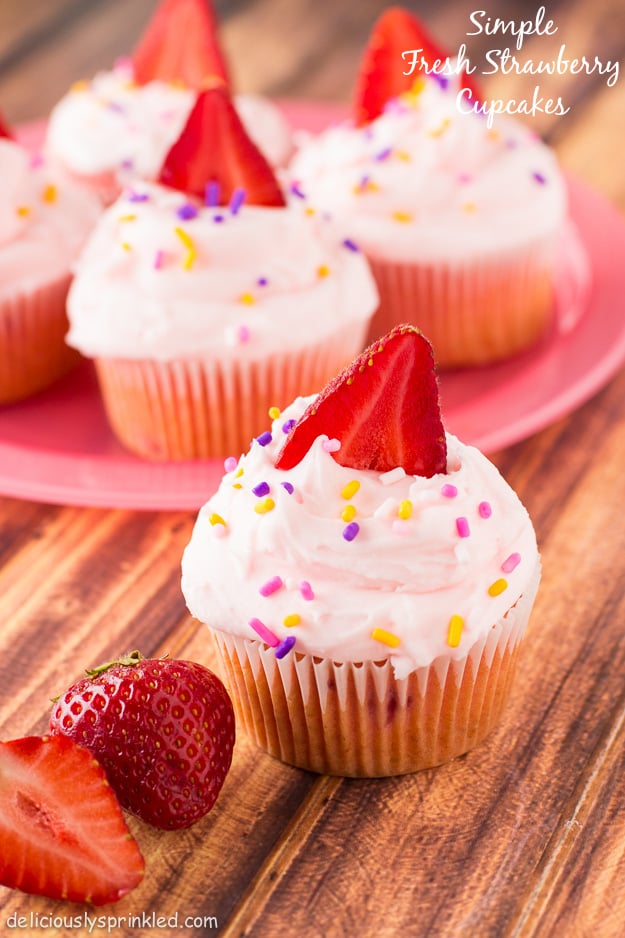 One of my favorite things about spring is that fresh berries start showing up in the produce section of the local grocery store. The prices finally lower and I find myself buying a ton of fresh produce. So last week when I saw that strawberries were on sale at our local grocery store I couldn't help myself from buying bunches of them. And I knew I had to make these simple, strawberry cupcakes with strawberry buttercream frosting to celebrate the return of fresh berries!
These cupcakes start out by using a vanilla cake mix, I like to use the Pillsbury Traditional Vanilla cake mix. I also used finely chopped fresh strawberries but you could use frozen strawberries, just make sure they are completely thawed before using them in the cupcake batter.
And these cupcakes would not be complete without a mound of fluffy strawberry buttercream frosting with SPRINKLES topped with a strawberry garnish for a delicious, light and fresh strawberry cupcake perfect for the warmer spring weather!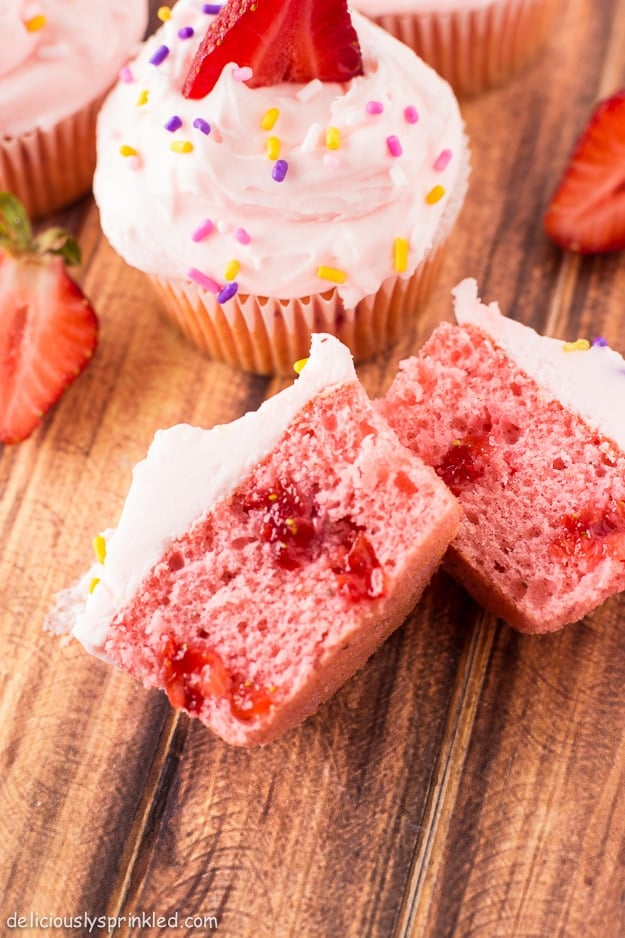 JUST A FEW BAKING TIPS:
✓ DON'T OVERMIX: This tip is SUPER IMPORTANT when it comes to making these cupcakes, if you overmix the cupcake batter, your cupcakes will come out SUPER DENSE.
✓ SCOOPING THE BATTER: I like to use an ice cream scooper to fill the cupcake batter into each cupcake tin. It makes it super easy and you know that each cupcake will be the same size.
✓ FROSTING: For the vanilla buttercream frosting, I recommend using heavy whipping cream because it gives the frosting that thick, creamy, texture that everyone loves on top of a cake. But if you don't have heavy whipping cream, you can use milk but just note that your frosting might not be as thick.
STEP-BY-STEP GUIDE ON HOW TO MAKE THESE STRAWBERRY CUPCAKES: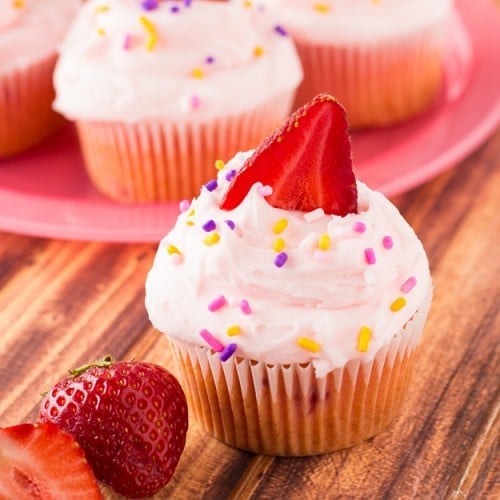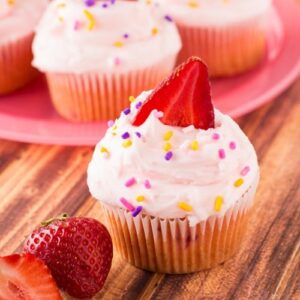 Leave a Review
Strawberry Cupcakes
Simple, fresh strawberry cupcakes with bits of fresh strawberries throughout the cupcake and topped with creamy strawberry buttercream frosting!
Print Recipe
Pin Recipe
Ingredients
1 cup butter, melted
½ cup fresh or frozen strawberries, finely chopped
½ cup milk
4 large eggs
1 ¼ cups unsalted butter, softened, 2.5 sticks
5 cups powdered sugar
⅓ cup heavy whipping cream*
3 teaspoons vanilla extract
2 tablespoon strawberry extract
¼ cup strawberries, finely chopped
strawberries, sliced for topping
sprinkles
Instructions
Pre-heat oven to 350F degrees. Line (2) 12 count muffin pan with cupcake liners. Set aside.
MAKE CUPCAKES:
Using an electric or stand mixer, mix the cake mix, strawberry gelatin, and melted butter until smooth.

Using a food processor or blender, chop strawberries until finely chopped. Add strawberries and milk to batter, beat until fully combined. Add the eggs, one at a time, beating well after each addition.

Fill each cupcake liner about 3/4 the way full with cupcake batter. Bake 15 to 20 minutes or until toothpick inserted in center comes out clean. Allow cupcakes to cool before frosting.
MAKE FROSTING:
Mix softened butter on medium speed with an electric or stand mixer. Beat for 30 seconds until smooth and creamy.

Add powdered sugar, heavy whipping cream, and strawberry extract. Increase to high speed and beat for 3 minutes. Add more cream if needed for spreading consistency.

Fold in chopped strawberries. Frost cooled cupcakes, sprinkle with candy sprinkles, top with sliced strawberry for garnish.
Notes
STORE: Cupcakes in an airtight container in the refrigerator for up to 3-4 days.
FROSTING: I highly recommend using heavy whipping cream because it will give the frosting a thicker texture, but you may use milk.
Calories: 277kcal, Carbohydrates: 26g, Protein: 1g, Fat: 19g, Saturated Fat: 12g, Polyunsaturated Fat: 1g, Monounsaturated Fat: 5g, Trans Fat: 1g, Cholesterol: 77mg, Sodium: 151mg, Potassium: 34mg, Fiber: 0.1g, Sugar: 25g, Vitamin A: 629IU, Vitamin C: 3mg, Calcium: 19mg, Iron: 0.2mg