Strawberry Banana Protein Pancakes
Strawberry Banana Protein Pancakes
Light & fluffy protein buttermilk pancakes filled with strawberries, bananas and sprinkles. These pancakes taste delicious and keep you full until lunch!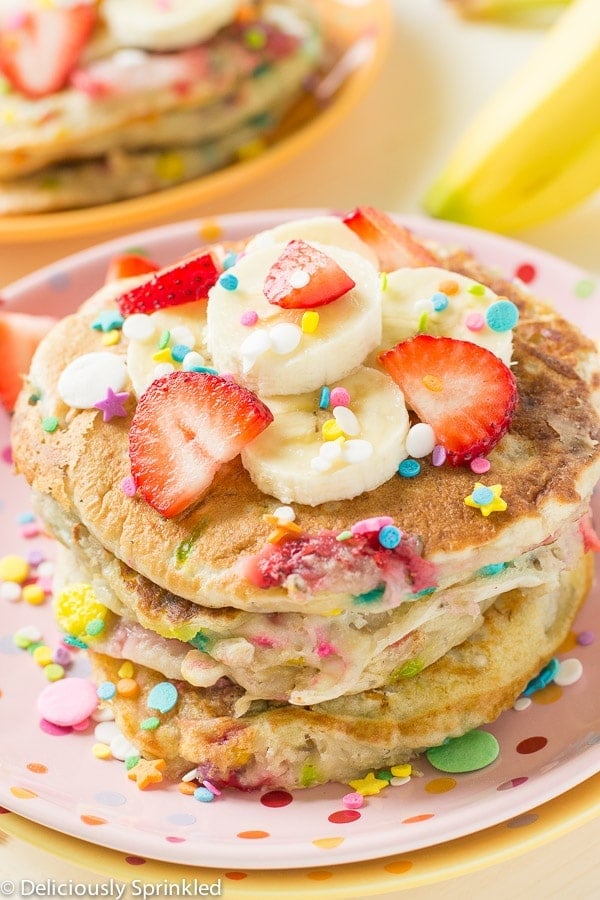 Buttermilk pancakes are one of my favorite things to eat for breakfast.
Sometimes, I just like to eat them plain and other times I like to load them up with fresh fruit or even chocolate chips!
Today, I decided to not only add strawberries and bananas but to make these Strawberry Banana Pancakes extra special…I added SPRINKLES!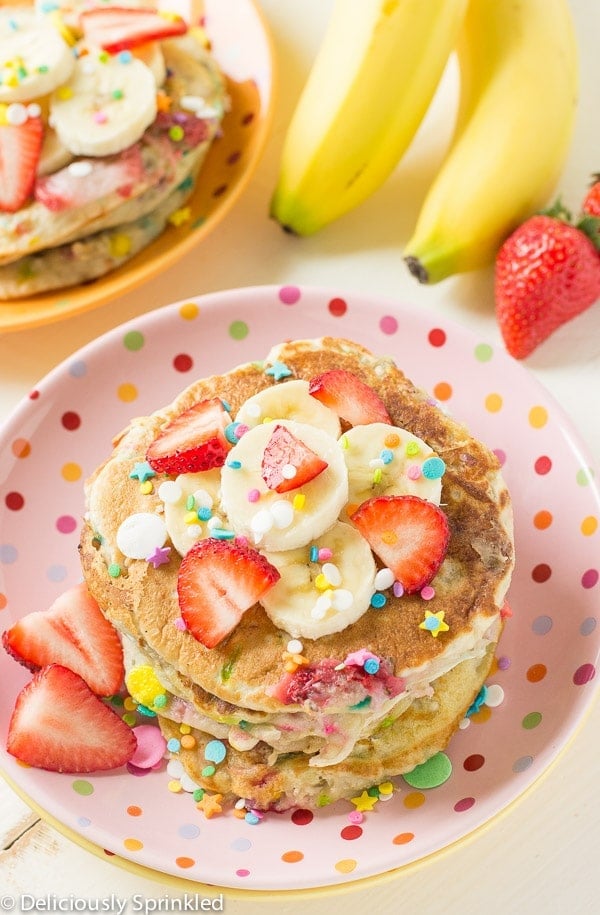 BUTTERMILK PROTEIN PANCAKES INGREDIENTS
STRAWBERRIES AND BANANAS: Mash up a couple bananas and add some fresh chopped strawberries to make these pancakes even better and full of flavor.
SPRINKLES: The best way to start your day is with SPRINKLES!
HOW TO MAKE PROTEIN PANCAKES
PANCAKE GRIDDLE: I love using this pancake griddle, it makes the perfect pancakes every time. When making pancakes, it's so important to make sure that the griddle is the right temperature. You want to set the griddle to 375F or medium heat.
WHISK IT: In a large bowl, whisk the pancake mix and milk together. Don't worry about the batter being lumpy. Let the batter sit for about 2 minutes before folding in the strawberries, bananas, and sprinkles.
COOK THEM: Cook each pancake for 1-2 minutes on each side. Top with more strawberries, bananas, sprinkles and enjoy!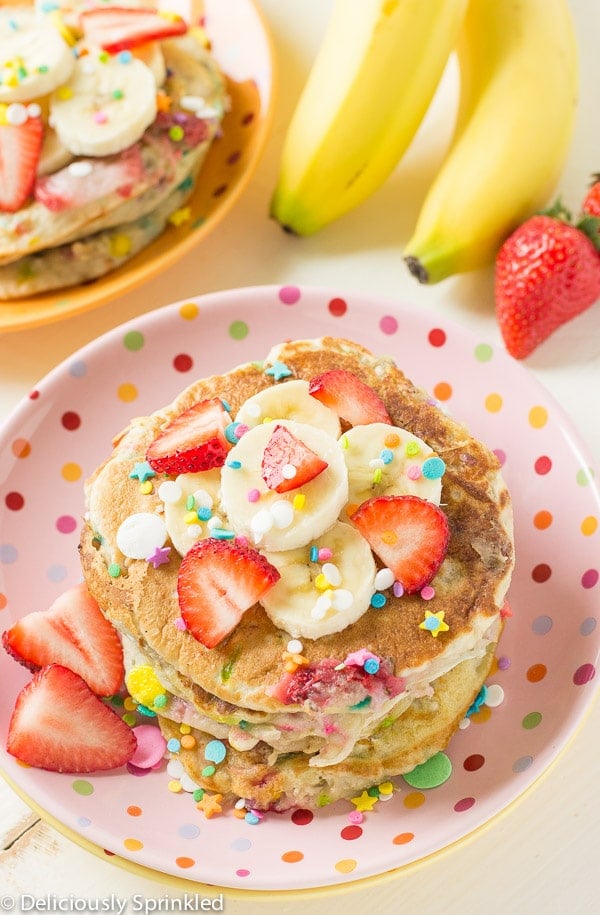 Yield: 5-6 pancakes
Strawberry Banana Protein Pancakes
Prep Time 5 minutes
Cook Time 4 minutes
Additional Time 1 minute
Total Time 10 minutes
Ingredients
1 cup protein pancake mix ( I use the Kodiak brand)
3/4 cup milk
1 cup fresh strawberries, chopped
2 large bananas, mashed
¼ cup rainbow sprinkles
fresh strawberries and bananas, sliced for topping
Instructions
In a large bowl, whisk together pancake mix and milk. Stir until batter is just blended but still LUMPY. DO NOT OVER MIX.
Fold in strawberries, bananas and sprinkles.
Pour batter by 1/3 cupfuls onto hot griddle or frying pan, spacing them about 2 inches apart.
Cook until bubbles break on surface, about 3 minutes. Turn pancakes over. Cook until bottoms are golden. Transfer to plates for serving. Top with sliced strawberries, bananas and more sprinkles.