Strawberry Banana Protein Pancakes
Strawberry Banana Protein Pancakes
Light & fluffy protein buttermilk pancakes filled with strawberries, bananas and sprinkles. These pancakes taste delicious and keep you full until lunch!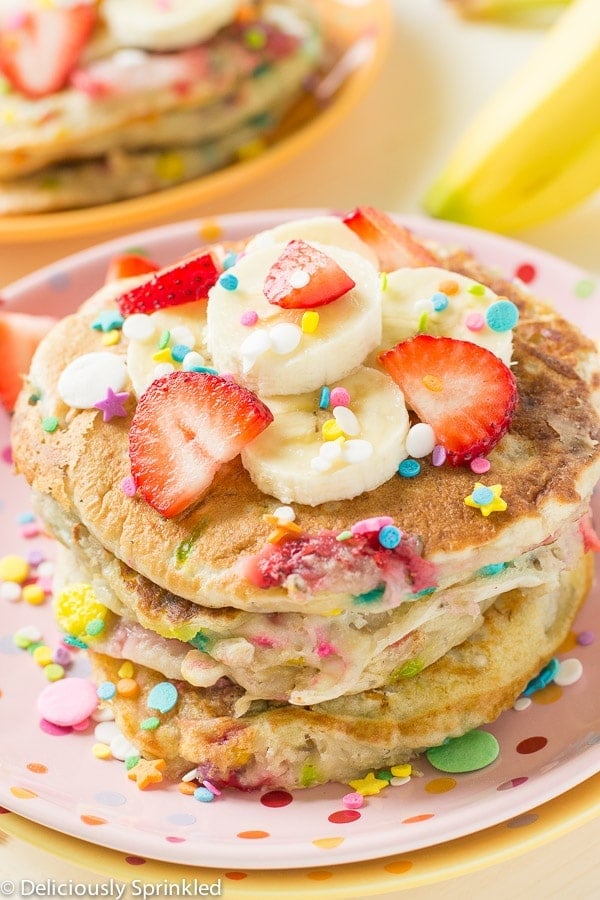 Buttermilk pancakes are one of my favorite things to eat for breakfast.
Sometimes, I just like to eat them plain and other times I like to load them up with fresh fruit or even chocolate chips!
Today, I decided to not only add strawberries and bananas but to make these Strawberry Banana Protein Pancakes ???????? extra special…I added SPRINKLES! ????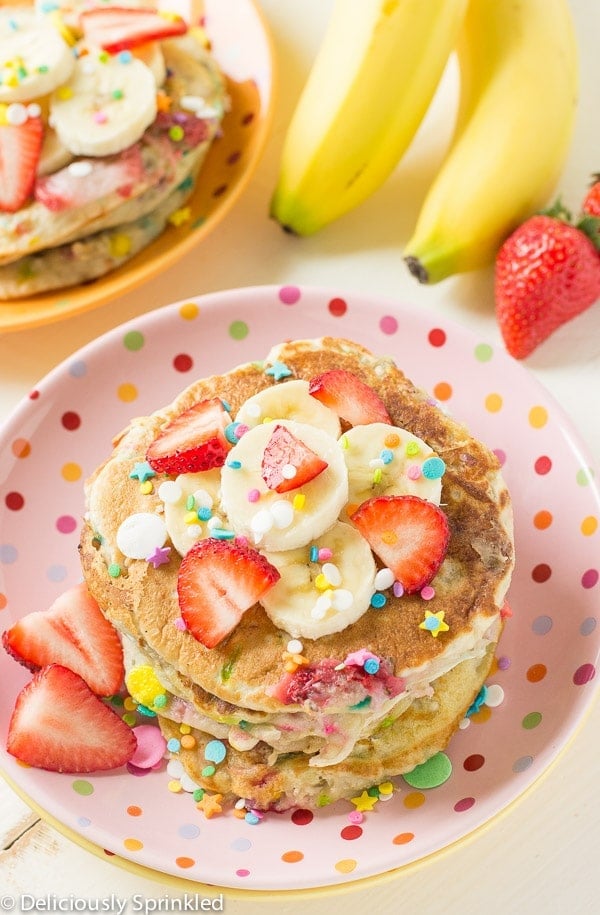 I made these pancakes for Bryan and I last weekend to celebrate our engagement! ???? ????
We are SOOO excited to spend the rest of our lives together! ????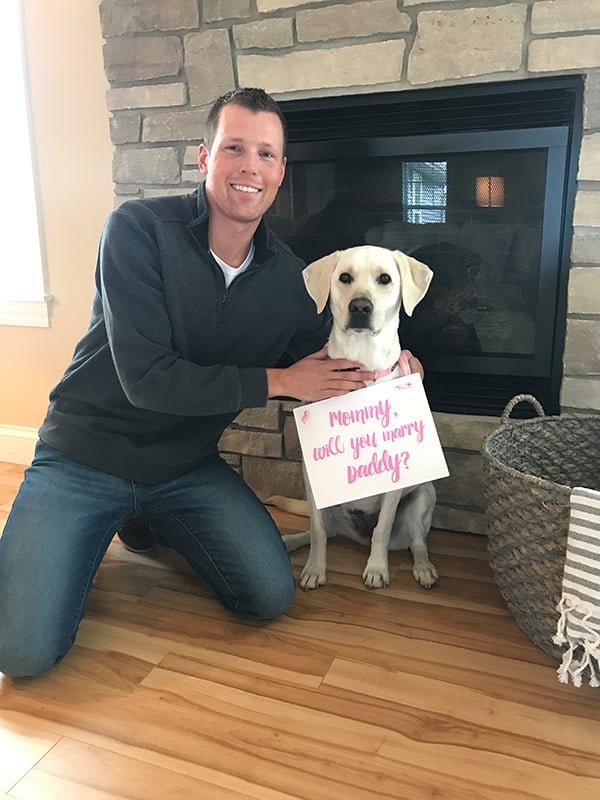 BUTTERMILK PROTEIN PANCAKES INGREDIENTS
✓ KRUSTEAZ BUTTERMILK PROTEIN PANCAKES MIX: This is my hands down FAVORITE protein pancake mix, these pancakes actually taste just like buttermilk pancakes but are packed with a ton of protein to fill you up. ????????❤
✓ MILK: I like to add milk to this pancake mix but you can also add water.
✓ STRAWBERRIES AND BANANAS: Mash up a couple bananas and add some fresh chopped strawberries to make these pancakes even better and full of flavor.
✓ SPRINKLES: The best way to start your day is with SPRINKLES! I used these sprinkles in these pancakes.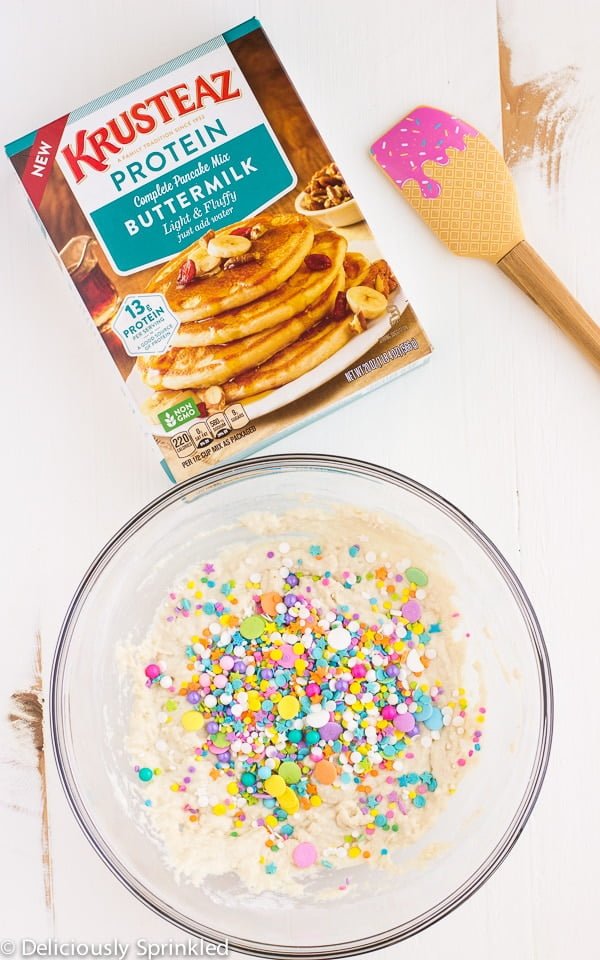 HOW TO MAKE PROTEIN PANCAKES
✓  PANCAKE GRIDDLE: I love using this pancake griddle, it makes the perfect pancakes every time. When making pancakes, it's so important to make sure that the griddle is the right temperature. You want to set the griddle to 375F or medium heat.
✓ WHISK IT: In a large bowl, whisk the pancake mix and milk together. Don't worry about the batter being lumpy. Let the batter sit for about 2 minutes before folding in the strawberries, bananas, and sprinkles.
✓ COOK THEM: Cook each pancake for 1-2 minutes on each side. Top with more strawberries, bananas, sprinkles and enjoy!
If You Love These Strawberry Banana Protein Pancakes, Try These Pancake Recipes too…
Pumpkin Spice Buttermilk Pancakes ????
Funfetti Pancakes ????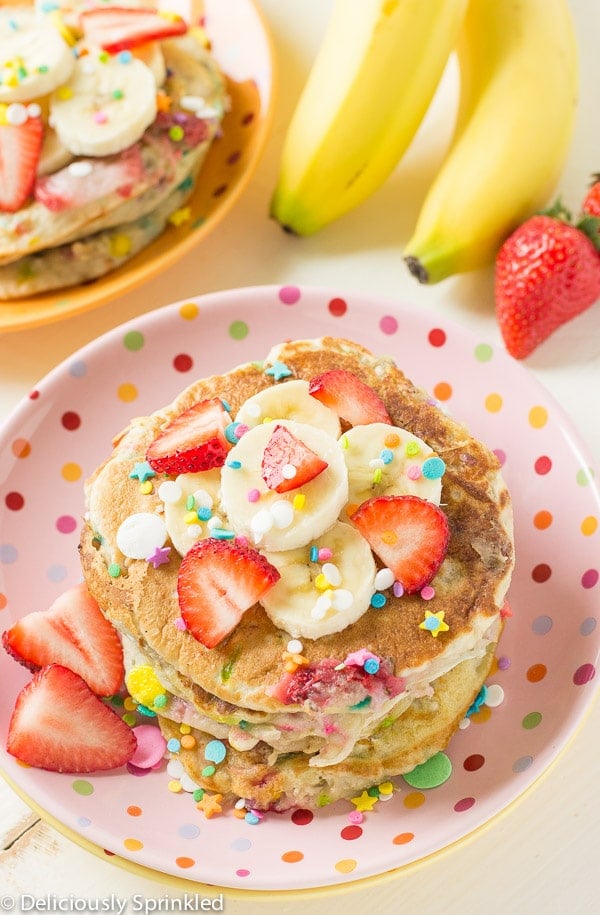 Yield: 5-6 pancakes
Strawberry Banana Protein Pancakes
Prep Time 5 minutes
Cook Time 4 minutes
Additional Time 1 minute
Total Time 10 minutes
Ingredients
2/3 cup milk
1 cup fresh strawberries, chopped
2 large bananas, mashed
¼ cup rainbow sprinkles
fresh strawberries and bananas, sliced for topping
Instructions
COMPLETE INSTRUCTIONS:
I am a proud member of the Krusteaz® Baker's Dozen program. I was hired by the brand as an ambassador and content creator. Thank you for supporting my wonderful sponsors. They make it possible for me to keep the ideas coming! All content, ideas, photography and opinions are that of my own and I'd have it no other way!