Sprinkle Monkey Bread Muffins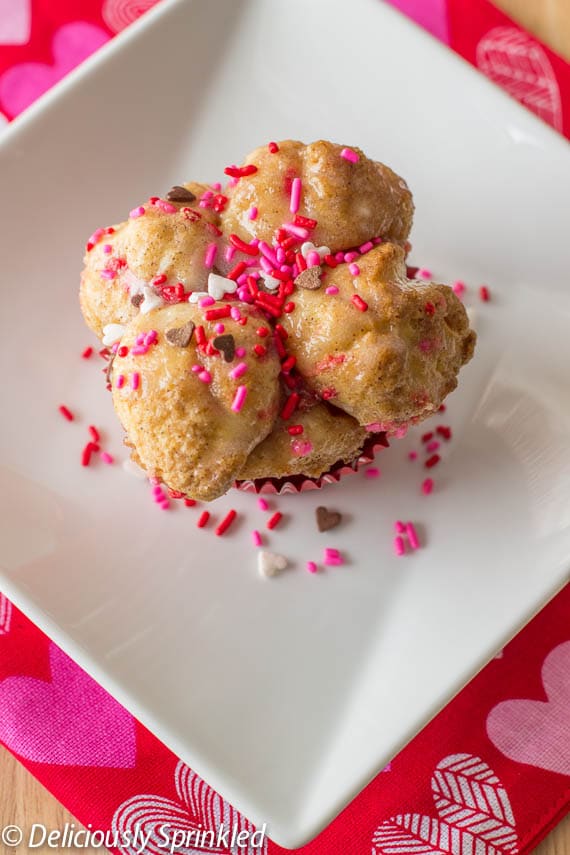 So now that the Super Bowl is over, it's all about Valentine's Day and looking forward to Spring being right around the corner. (oh, and Mr. Groundhog you could of just stayed in hibernation yesterday because I did not need to know that we still have 6 more weeks left of winter, thanks!) 
After that depressing news that winter will be around for awhile, I thought I would make some delicious sprinkle monkey bread muffins for breakfast.
These Sprinkle Monkey Bread Muffins are super simple, all you need is one can of Pillsbury Homestyle Grands Biscuits, vanilla cake mix, melted butter, brown sugar, cinnamon sugar, and SPRINKLES. 
Sprinkled Monkey Bread Muffins
Yield: 6 muffins
Total Time: 30 minutes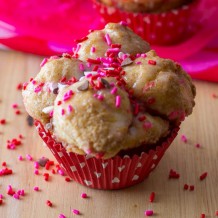 Ingredients:
For the Muffins:
1 can Pillsbury® Grands!® Homestyle refrigerated biscuits
1/2 cup butter, melted
1/2 cup packed brown sugar
1/3 cup vanilla cake mix (dry)
2 tablespoons cinnamon sugar
Sprinkles
For the Cake Batter Icing:
1/4 cup butter
1/3 cup milk
1/2 cup vanilla cake mix (dry)
1/3 cup granulated sugar
Directions:
Preheat oven to 375F degrees. Spray 6 regular size muffins tins with cooking spray.
Separate dough into 8 biscuits. Cut each biscuit into 8 pieces. Roll into balls. Place melted butter in small bowl. In another small bowl, mix brown sugar, vanilla cake mix, the cinnamon sugar and sprinkles. Dip each ball of dough into melted butter, then roll in sugar mixture. Place 8 balls in each muffin tin.
Bake for 9 to 11 minutes or until puffed up and browning on edges.
For the icing:
Meanwhile in 2-quart saucepan, melt butter over medium heat. Add milk, vanilla cake mix and the granulated sugar. Mix with whisk to form thick glaze. Remove from heat. Cool 5 minutes. Drizzle on each muffin. Top with sprinkles.
5 Responses to "Sprinkle Monkey Bread Muffins"
Leave a Comment