Spring Chocolate Covered Pretzels
Fun, simple and delicious Chocolate Covered Pretzels dipped in white chocolate and sprinkled with peanut butter M&Ms and drizzled with candy melts for the perfect springtime snack!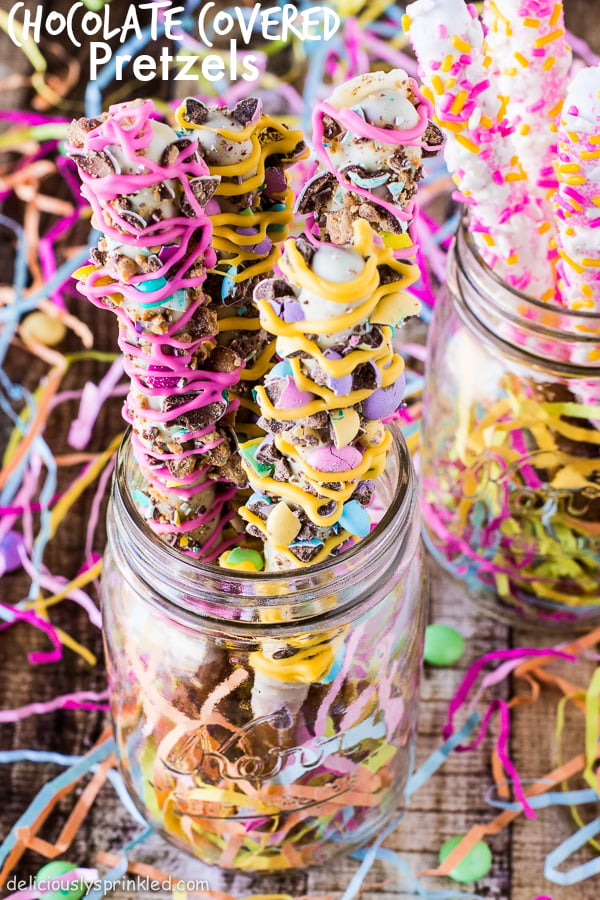 I think homemade chocolate covered pretzels almost always trump those bought at a store.
And they way cheaper to make yourself!
They also make for a pretty and edible centerpiece, when stacked in a mason jar or hurricane vase, perfect for Easter brunch!
Chocolate-dipped pretzels have always been one of my favorite treats and because this week has turned out to be unexpectedly hectic, I decided to make something that didn't even require an oven.
I simply melted white chocolate , dipped in some pretzel rods and decorated them with some peanut butter M&Ms, SPRINKLES and drizzled with pink and yellow candy melts, making these pretzel rods an easy, fun treat for spring.
They also make great gifts, too!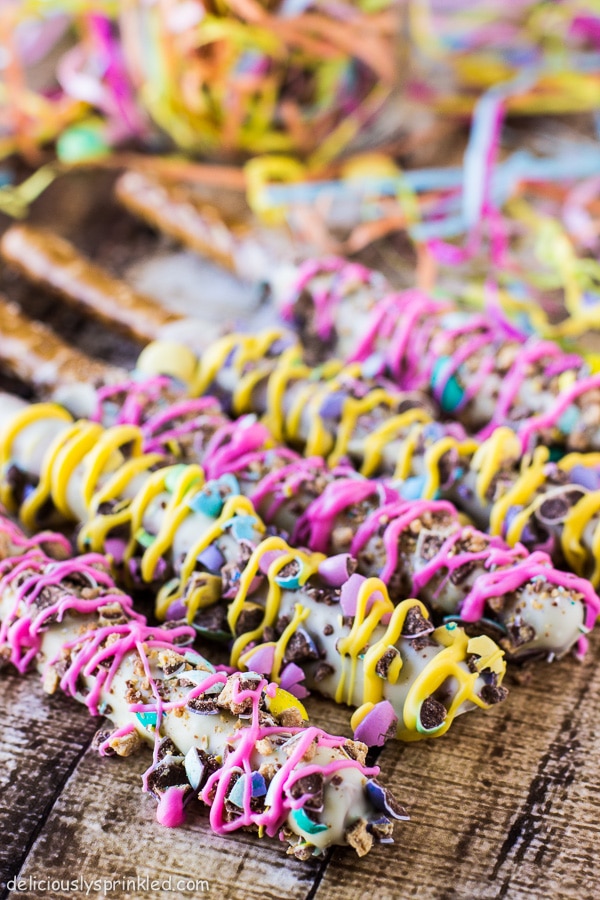 INGREDIENTS TO MAKE CHOCOLATE COVERED PRETZELS
✓BAKING CHOCOLATE
✓SHORTENING
✓ PRETZEL RODS
 ✓ SPRINKLES
✓M&MS
✓WILTON CANDY MELTS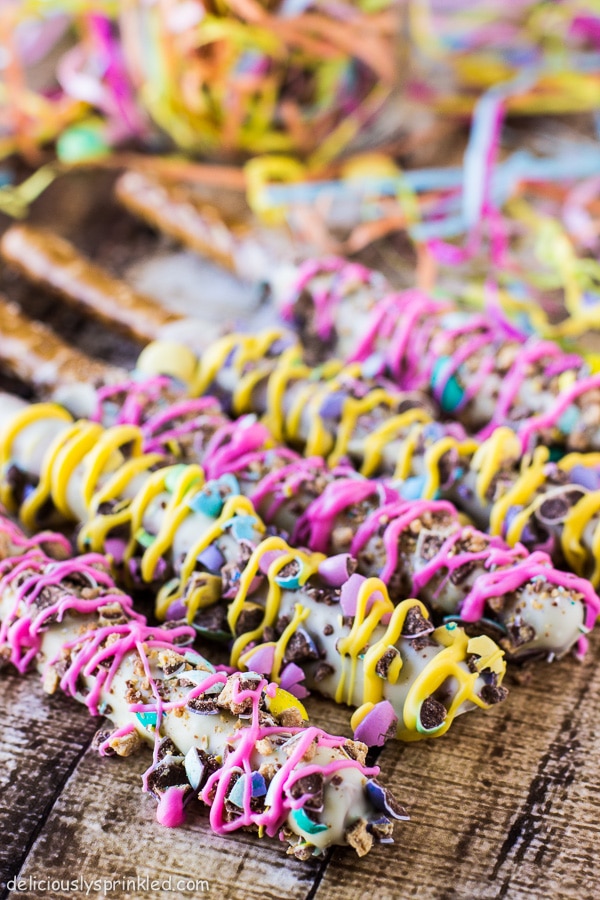 HOW TO MAKE CHOCOLATE COVERED PRETZELS
MELT THE CHOCOLATE: To melt your chocolates, use a TALL coffee cup as this accommodates the depth needed to cover most of the pretzel.  Put the chocolate baking bars into the mug along with a tablespoon of shortening and microwave for 30 seconds.  Stir and continue to microwave in 30-second intervals until almost melted.  (Be sure not to overheat as this will ruin the chocolate).  Place the mug in a pan of warm water to hold the chocolate temperature.
WILTON CANDY MELTS: I used the bright pink and yellow candy melts. You can find them at Wal-Mart in the "holiday" aisle or at any craft store like JoAnn Fabrics. Change up the colors to go with the holiday or party theme!
CANDY TOPPINGS: I used peanut butter M&Ms but you can use any candy you would like or keep it simple with just sprinkles.
MORE NO-BAKE RECIPES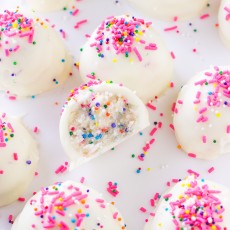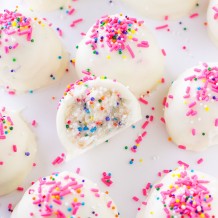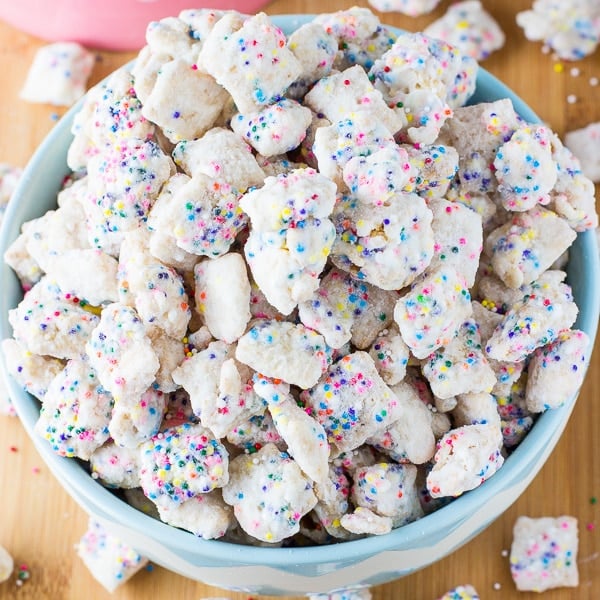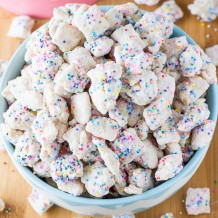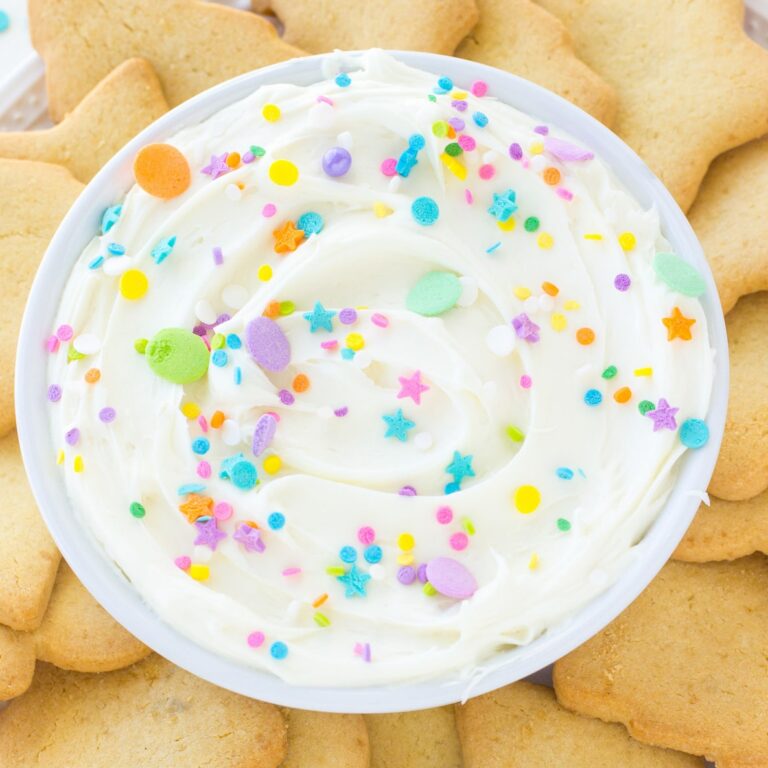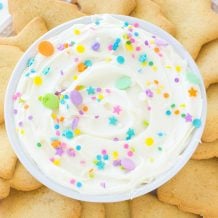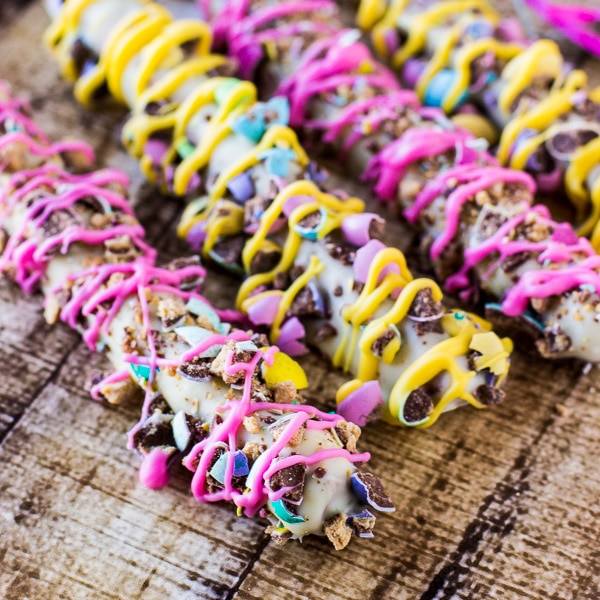 Yield: 24 Pretzel Rods
Spring Chocolate Covered Pretzels
Additional Time 30 minutes
Total Time 30 minutes
Ingredients
8 oz Bakers Baking Chocolate Squares
1 tablespoon shortening
1 bag pretzel rods
sprinkles
peanut butter M&Ms
Wilton candy melts, bright pink and yellow
Instructions
STEP 1: Line a large baking sheet with parchment paper. Set aside.
STEP 2: In a TALL mug/glass, break up the chocolate bars into small pieces so they melt easily and add 1 tablespoon of shortening. Microwave on high for 30 seconds. Remove and stir for about a minute. The chocolate will continue to melt as you stir. If needed, microwave in 30 second increments until all is melted and smooth. Fill a pan with warm water and put the mug/glass into the pan to hold the chocolate temperature.
STEP 3: Take a pretzel rod and dip into chocolate.Shake the pretzel a bit to remove any excess chocolate. Immediately cover the chocolate with sprinkles, and M&Ms before the chocolate hardens. Place each pretzel on parchment paper lined baking sheet. Melt the pink,and yellow candy melts in separate microwavable bowls in the microwave for 30 seconds, stirring until smooth. Drizzle each color on top of cupcake using a fork, and refrigerate for about 10 minutes for the chocolate/candy melts to harden before serving.