Spinach Artichoke Dip
This cheesy, easy to make Spinach Artichoke Dip is the perfect holiday party dip that everyone will love.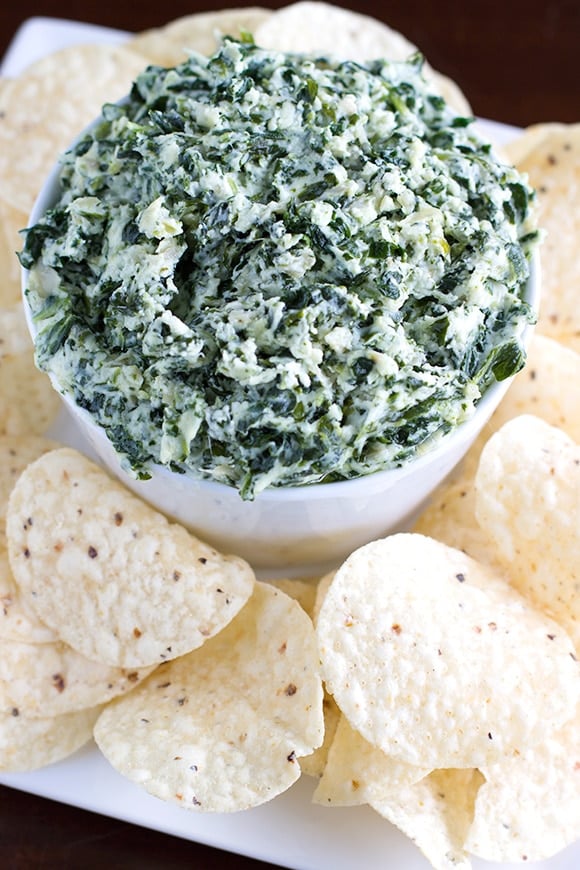 This warm, gooey, and cheesy spinach artichoke dip is one of my favorite dips to make not only for the holidays but all year round. It the perfect appetizer to enjoy before dinner or if your like me, I sometimes just make this dip for my dinner (don't judge me!). It's so delicious and super addicting, it's hard to stop dipping another chip into this dip.
And with the holiday season right around the corner this spinach artichoke dip is always a popular appetizer that everyone will love and the best part is that it's super easy to make.
I love that I can make this dip ahead of time and right before I'm ready to serve it to my guest, I can just heat it up quick on the stove. I like to serve this dip in bowl with some tortilla chips and a side of salsa.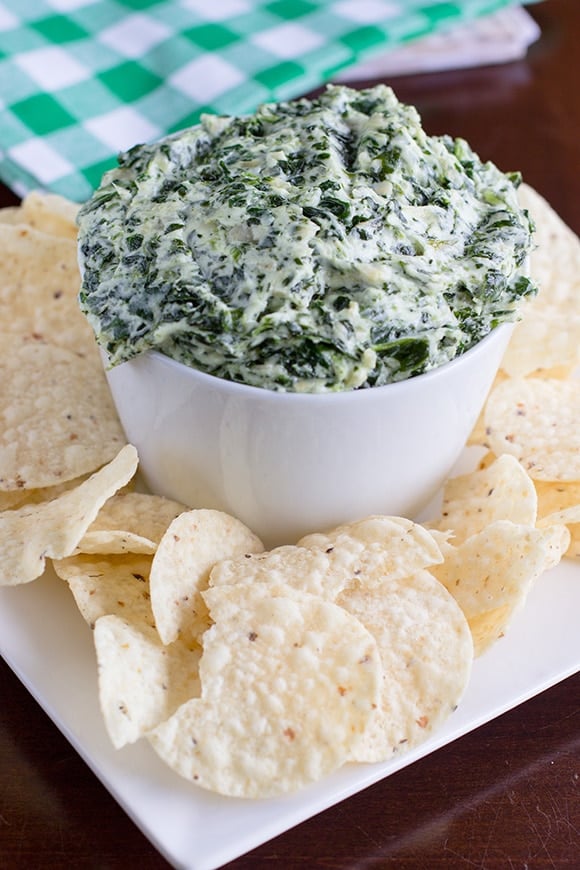 JUST A FEW BAKING TIPS:
✔ Make sure to drain the artichoke hearts and frozen chopped spinach VERY WELL. You don't want any excess water to go into this dip, but if for some reason your wondering why your dip isn't as thick as it should be, it may be because the artichoke hearts or the spinach was not drained well enough.
✔ If you are reheating this dip, make sure to reheat it in a large pot over the stove on medium heat until the cheese is melted again. DO NOT REHEAT IN THE MICROWAVE, it will make your dip really DRY. And no one likes dry spinach artichoke dip, GROSS! 🙁
✔ Serve with tortilla chips, toasted french bread, sour cream, and salsa.
STEP-BY-STEP GUIDE ON HOW TO MAKE THIS SPINACH ARTICHOKE DIP: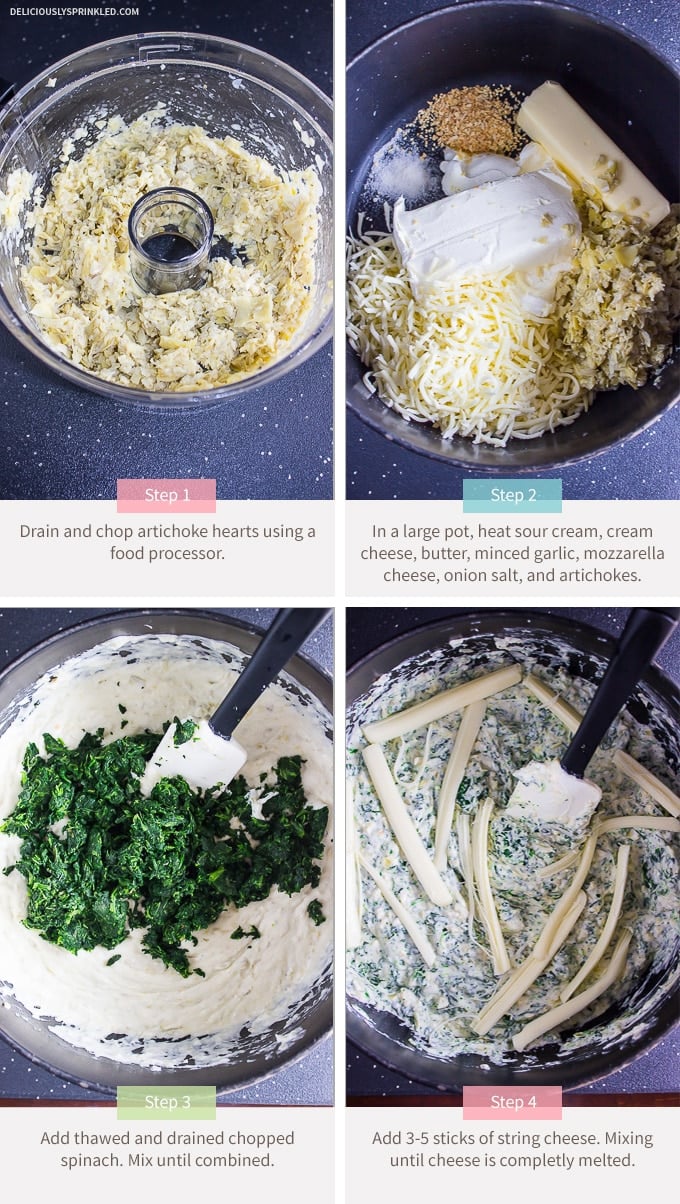 Enjoy, you and your guest are going to love this spinach artichoke dip! ♡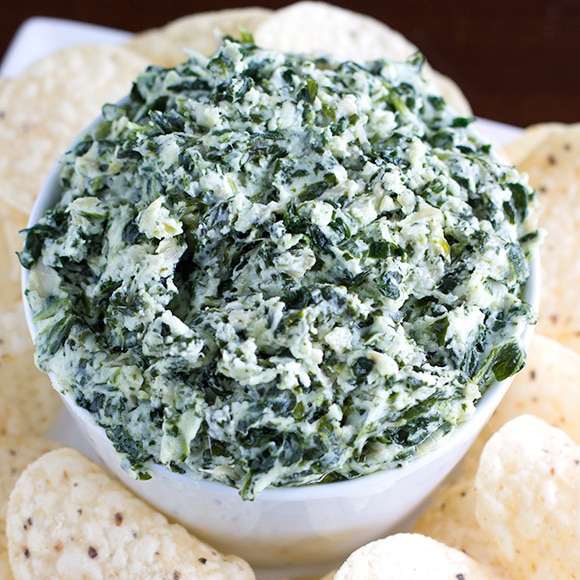 Yield: Serves 8-15
Spinach Artichoke Dip
★ Make sure to read my BAKING TIPS above before you start baking!
Prep Time 10 minutes
Cook Time 10 minutes
Total Time 20 minutes
Ingredients
2 cups sour cream
1 (8 oz.) package of cream cheese, softened
1/2 cup (1 stick) butter
1/2 Tablespoon minced garlic
1 can of artichoke hearts, drained and chopped
2 cups mozzarella cheese, shredded
1/4 teaspoon onion salt
1 cup frozen chopped spinach, thawed and drained
3-5 sticks of string cheese
Instructions
STEP 1: Drain artichoke hearts. Place drained artichoke hearts into a food processor and pulse 3-5 times until artichoke hearts are chopped. Set aside.
STEP 2: In a large pot, add the sour cream, cream cheese, butter, minced garlic, mozzarella cheese, onion salt, and chopped artichoke hearts and heat on medium until completely melted.
STEP 3: Mix in chopped spinach to melted cheese mixture.
STEP 4: Add 3-5 sticks of string cheese to the dip, stirring until the string cheese is completely melted. Serve in a bowl with tortilla chips or toasted french bread.
* To reheat- place dip back into large pot and heat on medium heat until cheese is melted again. DO NOT REHEAT IN MICROWAVE!
Notes
❤ I'd love to see what you have baked! Just snap a photo and hashtag it #DELICIOUSLYSPRINKLED or tag me @deliciouslysprinkled on Instagram!
Check out more of my delicious Appetizer & Dip Recipes…
And this Cheesy Bacon Ranch Dip is always a popular dip recipe!