Snickerdoodle Cupcakes with Cinnamon Frosting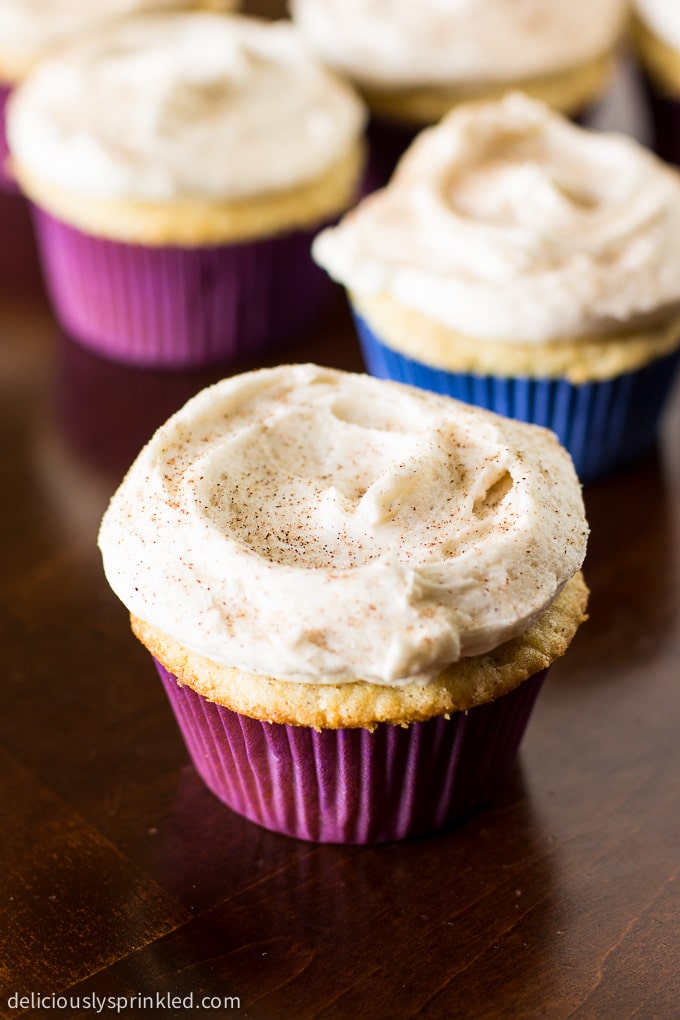 This past weekend I went to visited my parents to spend time on the lake boating, skiing, tubing, and soaking up some rays before summer is really over. But before I left I made some of my family's favorite recipes from the blog. Like my Chocolate Chip Cookies, Cinnamon Roll Funfetti Cake, Taco Dip, and these delicious Snickerdoodle Cupcakes with Cinnamon Frosting!
Whew! That's a lot of baking and after spending all day in the kitchen baking and having fun in the sun out on the lake this past weekend, my skin took a little bit of a beating.
I normally only talk about baking, but today I'm mixing it up because I'm so excited about my new favorite beauty products from Vichy Idealia, I just had to share it with all of you.
The products are designed to fix the damage of you skin that is already done and help prevent future skin damage, whiling living your life to the fullest. It's my secret to having two of these Snickerdoodle Cupcakes and spending all weekend on the lake without worrying about if my skin will show it! 🙂
I use the Idealia Serum which smells amazing and absorbs instantly. It makes my skin feel smoother, look brighter, and just have that healthy glow to it. I also use the Idealia Eyes, it works miracles on dark circles, which is perfect for a food blogger like me who wakes up in the middle of the night because I thought of a new delicious dessert recipe!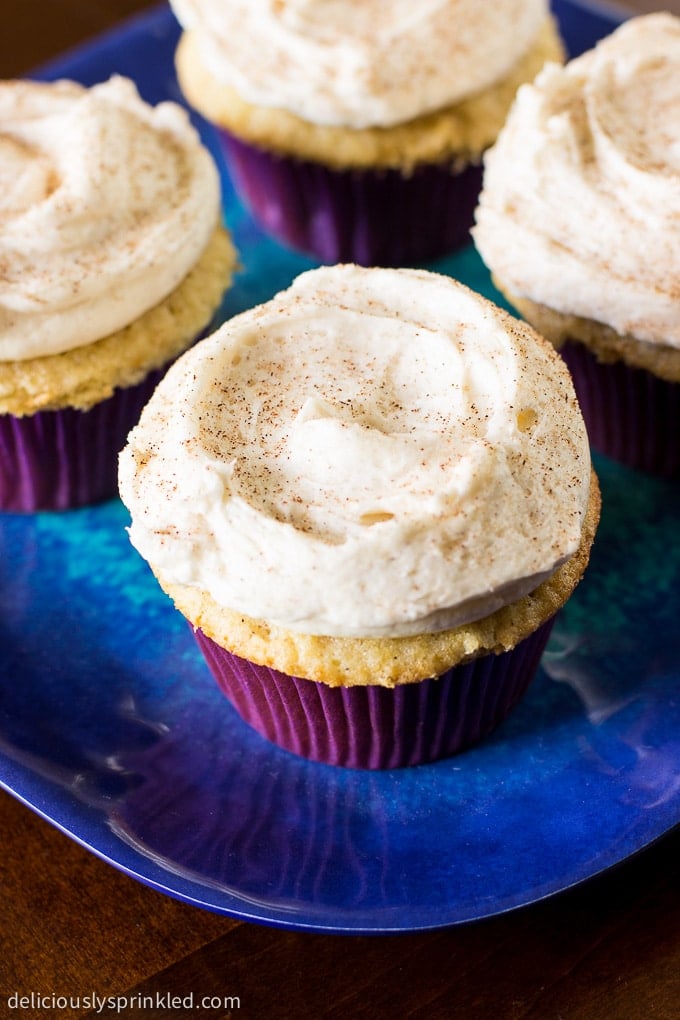 And speaking of desserts, these Snickerdoodle Cupcakes are not only a family favorite but also a favorite with all my readers! So I thought now that my skin has had a complete makeover, thanks to Vichy Idéalia, these Snickerdoodle Cupcakes also needed a makeover from the ugly photos I took of them when I first started blogging, yikes!
I retook the photos of my original Snickerdoodle Cupcakes and added step-by-step photos…same great recipe you love but now they look so much prettier! 🙂
Here is a step-by-step on how to make these Snickerdoodle Cupcakes with Cinnamon Frosting:

Check out the step-by-step on how to make the buttercream frosting…
Yield: 24 Cupcakes
Snickerdoodle Cupcakes with Cinnamon Frosting
Additional Time 35 minutes

Total Time 35 minutes
Ingredients
2¾ cups all-purpose flour
3 teaspoons baking powder
1 teaspoons ground cinnamon
½ teaspoons salt
¾ cup shortening
1⅔ cups granulated sugar
5 large eggs
2½ teaspoons vanilla extract
1¼ cups milk
1 (2 sticks) cup unsalted butter, softened
2 1/2 cups powdered sugar
2 Tablespoons vanilla extract
1 Tablespoon heavy whipping cream*
1 Tablespoon ground cinnamon
Cinnamon-sugar to sprinkle on top
Instructions
Preheat oven to 350F degrees. Line (2) muffin tins with 24 cupcake liners. Set aside.

In a medium bowl, mix flour, baking powder, 1 teaspoon cinnamon, and salt. Set aside.

In large bowl, beat shortening with electric mixer on medium speed for 30 seconds. Gradually add sugar. Add eggs, one at a time, beating well after each addition. Beat in vanilla extract. Slowly add flour mixture, and milk and mixing until just combined. DO NOT OVERMIX!

Pour the cupcake batter into the cupcake liners (about 3/4 the way full). Bake 18 to 20 minutes or until toothpick inserted in center comes out clean. Allow cupcakes to cool before frosting.
To make the frosting:
Mix softened butter on medium speed with an electric or stand mixer. Beat for 30 seconds until smooth and creamy.

Add powdered sugar, heavy whipping cream and vanilla extract. Increase to high-speed and beat for 3 minutes. Add more cream if needed for spreading consistency. Mix in ground cinnamon.

Frost cupcakes using a piping bag or knife. Sprinkle top of cupcakes with cinnamon-sugar.
Notes
*I highly recommend using heavy whipping cream because it will give the frosting a thicker texture, but you may use milk.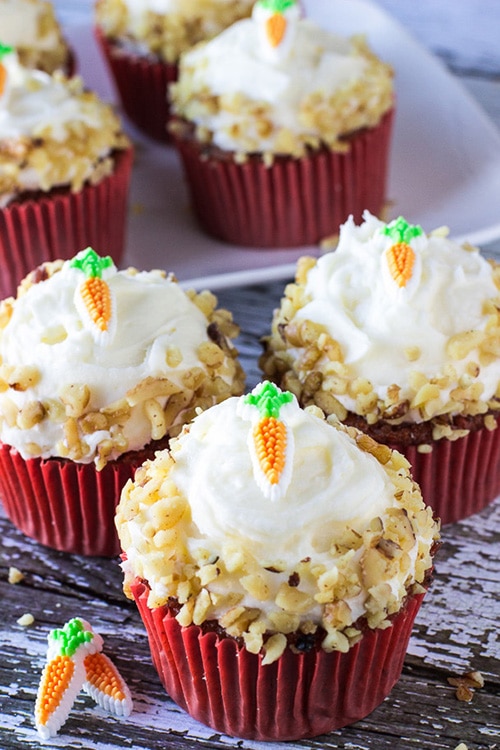 Check out these delicious Cupcake Recipes, too…
ENJOY!