S'mores Cups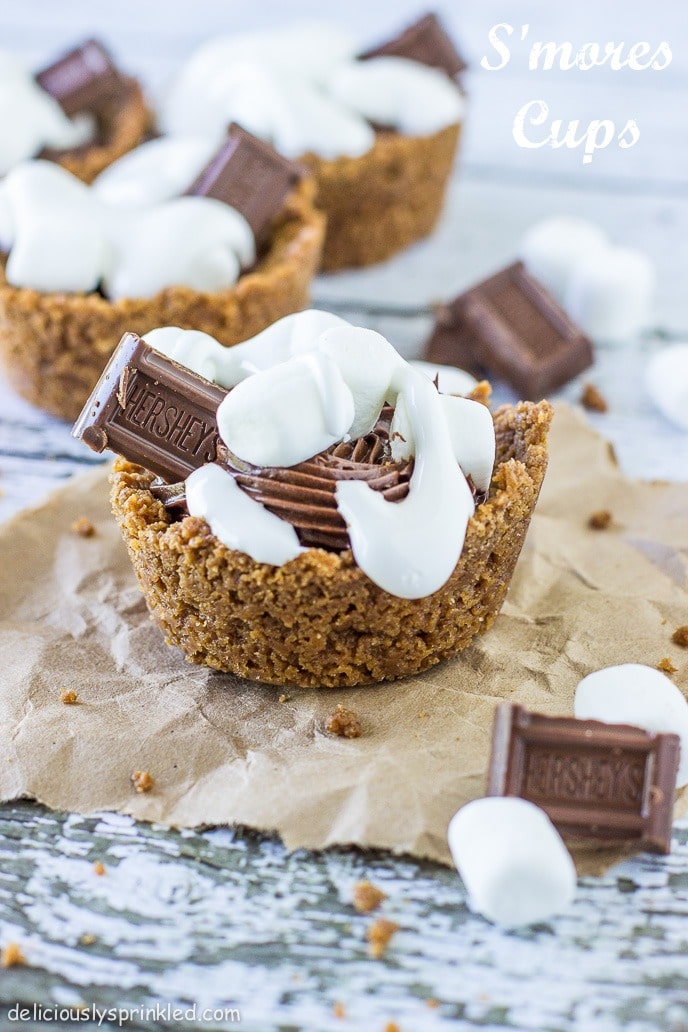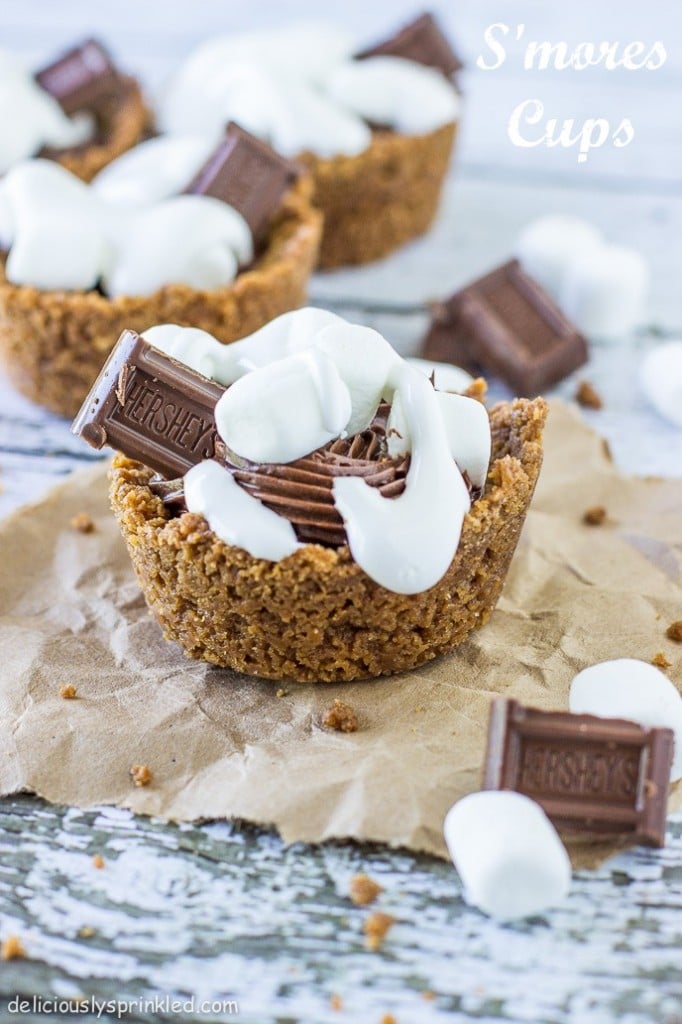 No campfire required for these S'mores! Now, you can enjoy the delicious taste of  traditional s'mores with these easy, less messy S'mores Cups. Perfect for when you have that craving for the graham cracker, chocolate, and marshmallow-y treat but don't have a campfire or it's just way too hot outside to sit by the fire.
These  bite sized s'mores cups are so easy to make, and you can even have everyone build there own s'mores cups. All you will have to do is bake the graham cracker cups and supply all the fun toppings. Easy peasy! 🙂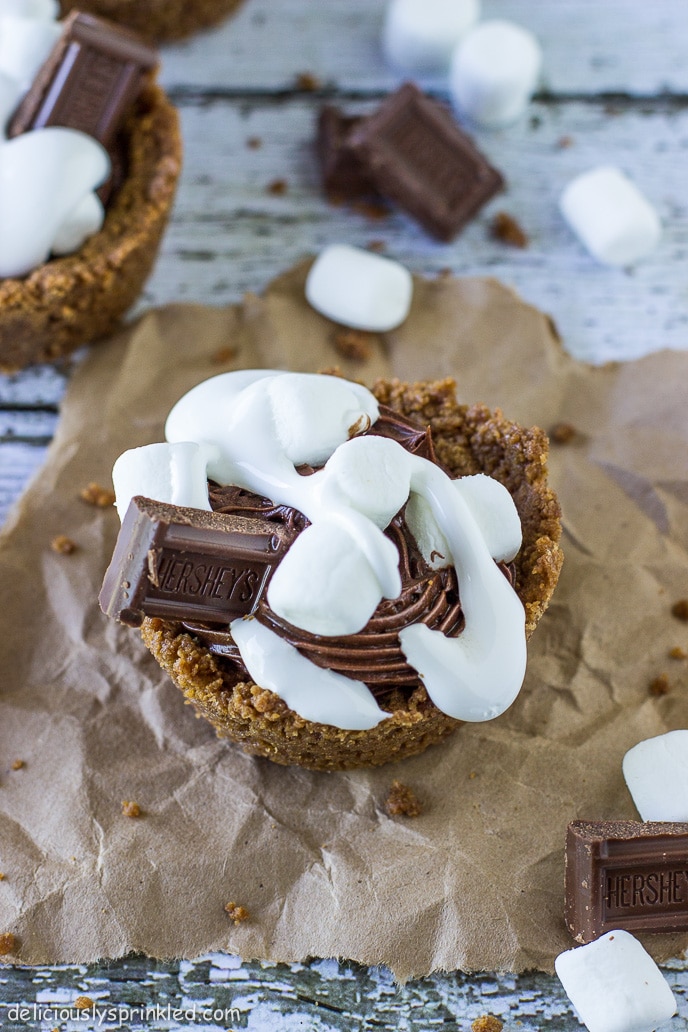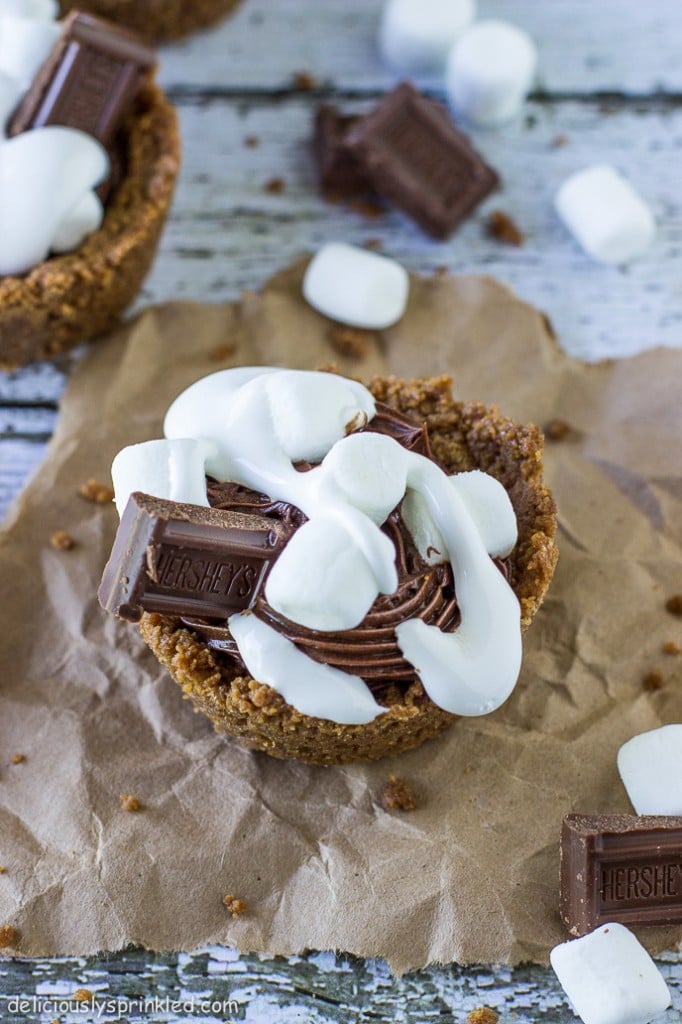 The ingredients are simple and you probably have all of them already  in your pantry  or at least most of them!  You will need graham crackers, powdered sugar, melted butter, chocolate whipped frosting, mini marshmallows, marshmallow creme, and snack size Hershey bars.
Or any other fun toppings you want to add to these cups, like mini M&Ms, nuts, caramel sauce, SPRINKLES…the options are endless.
I know I will be making these at least a couple times this summer, everyone loves s'mores no matter if they are over the campfire or in these cute little cups. Enjoy!
Step-by-Step on how to make these delicious S'mores Cups: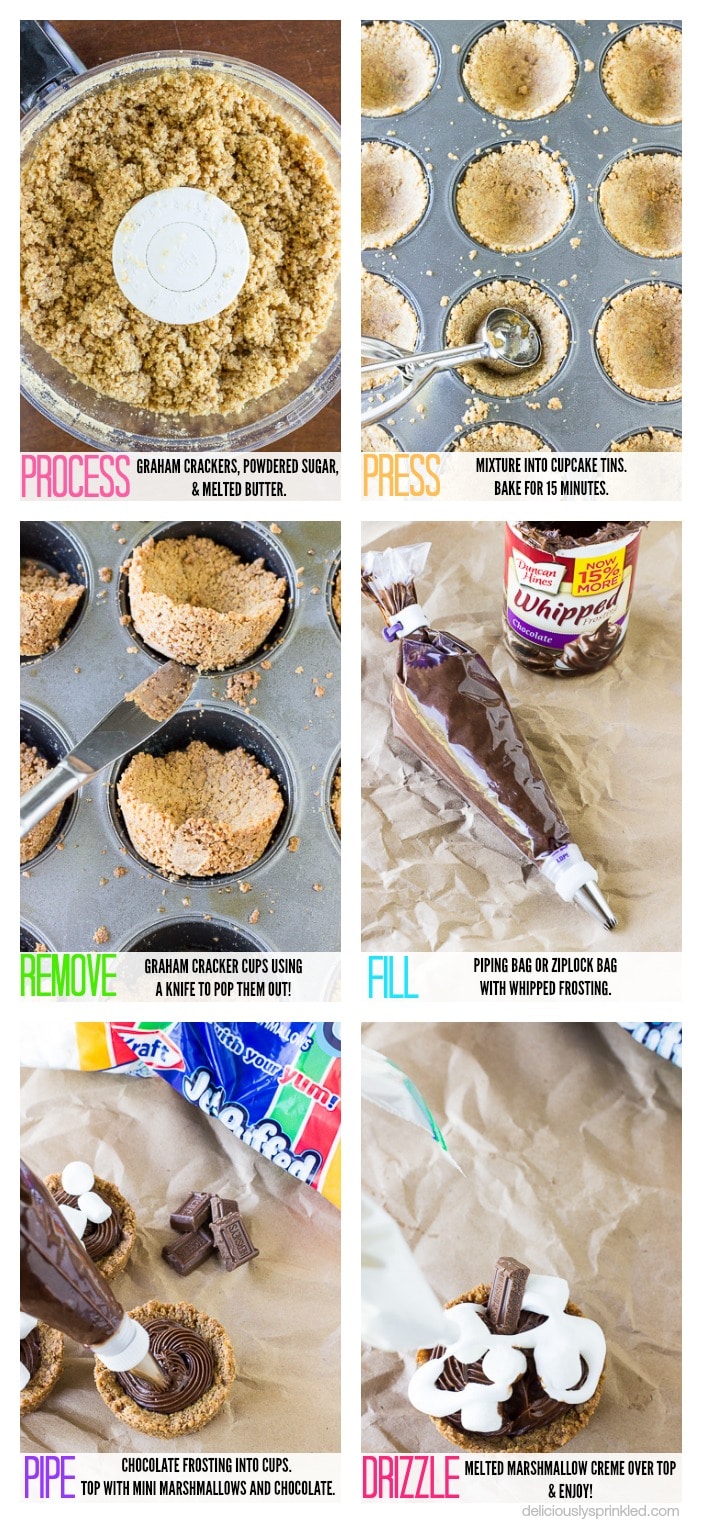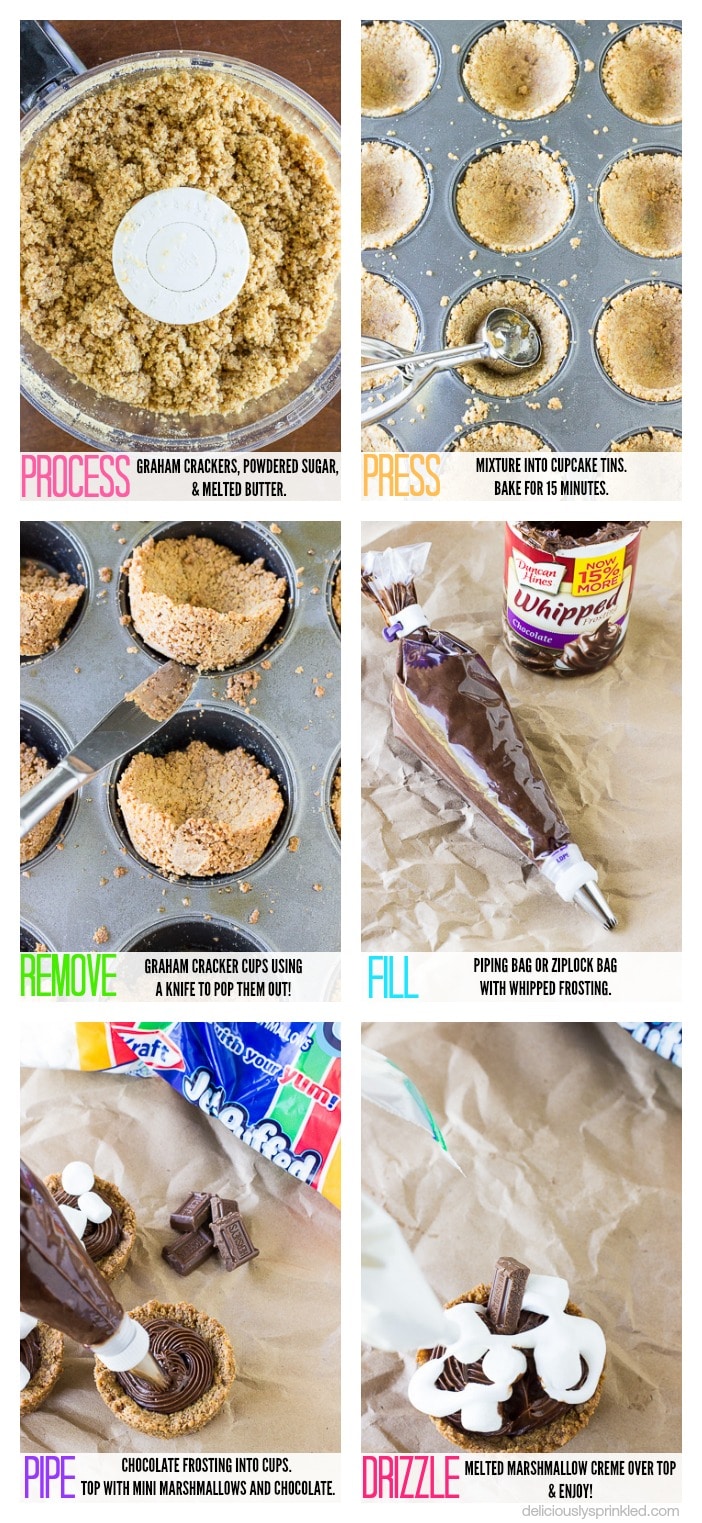 BAKING TIP
Make sure spray each cupcake tin with a generous amount of non-stick cooking spray to ensure the graham cracker cups with pop out easily once cooled. You can also use the tip of a knife to CAREFULLY pop the graham cracker cups out of the cupcake tin.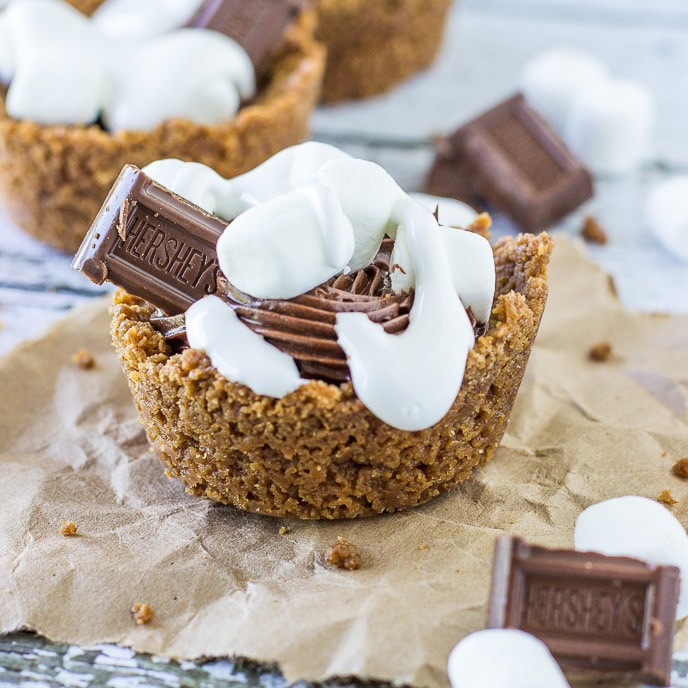 Yield: 12 S'mores Cups
S'mores Cups
Additional Time 25 minutes
Total Time 25 minutes
Ingredients
36 graham crackers squares
3/4 cup powdered sugar
1 tub whipped chocolate frosting
2 cups mini marshmallows
4 snack sized Hershey chocolate bars
1 tub marshmallow creme
Instructions
Preheat oven to 350F degrees. Spray 12 count cupcake pan with non-stick cooking spray. Set aside.
Using a food processor, place graham crackers, powered sugar, and melted butter into processor. Process on high until the graham crackers are finely chopped.
Press graham cracker mixture evenly into the bottom and up the sides of each prepared cupcake tin using the back of a cookie scoop or with your fingers.
Bake for 15 minutes or until light brown. Let cool completely.
Once cooled use a knife to pop them out of the cupcake tins. Spoon whipped chocolate frosting into a piping bag (I used a Wilton 1E tip)or a storage baggie. Pipe frosting into each graham cracker cup and top with (5) mini marshmallows and place a piece of the Hershey chocolate bar into the frosting.
Spoon tub of marshmallow creme In a small microwaveable bowl, microwave marshmallow creme for 30 seconds, stirring until creamy. Pour marshmallow cream into a storage baggie, cutting a small hole at one end of the baggie. Drizzle over top of each smore cup. Serve and enjoy!