Skinny Cherry Limeade Slushies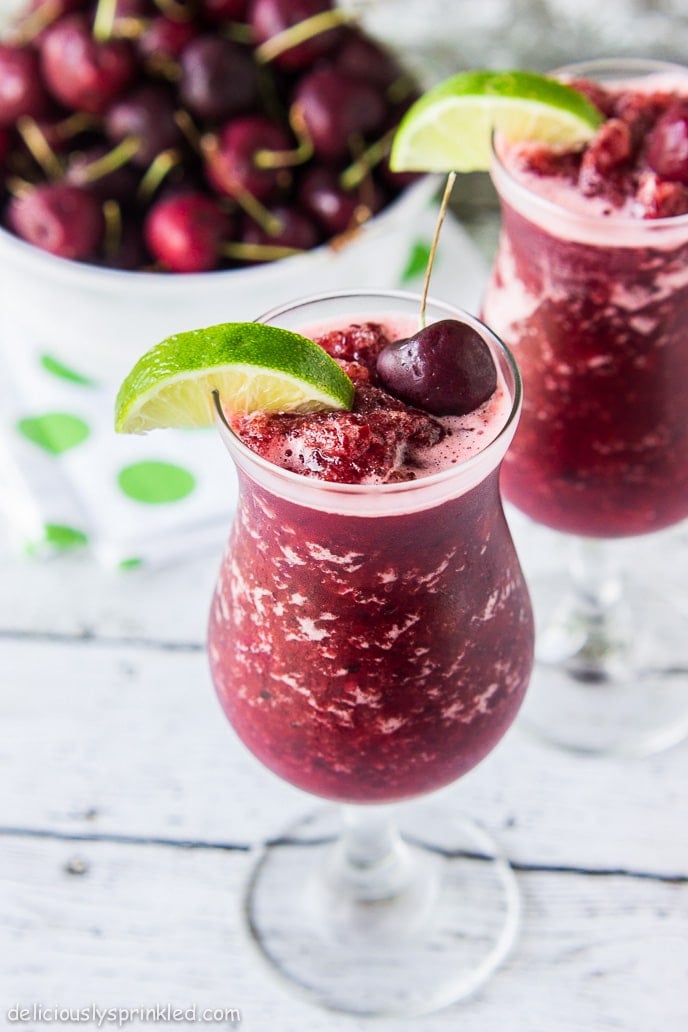 After cooling off with some S'mores Fudge Pops, celebrating National Cheesecake Day with my Strawberry Lime Cheesecake Bars and enjoying a slice or two of my Glazed Peach Bread each morning. I decided I would make these Skinny Cherry Limeade Slushies before I go into a sugar coma!
And it made a perfect drink after a fun day in the sun at the waterpark with my parents and brother who are here to visit us this week. I didn't tell my Dad that this was a "skinny" drink because then he wouldn't drink it. He always says skinny drinks are for girls, but little did he know, he had about four or five of these delicious "skinny girl" drinks. 😉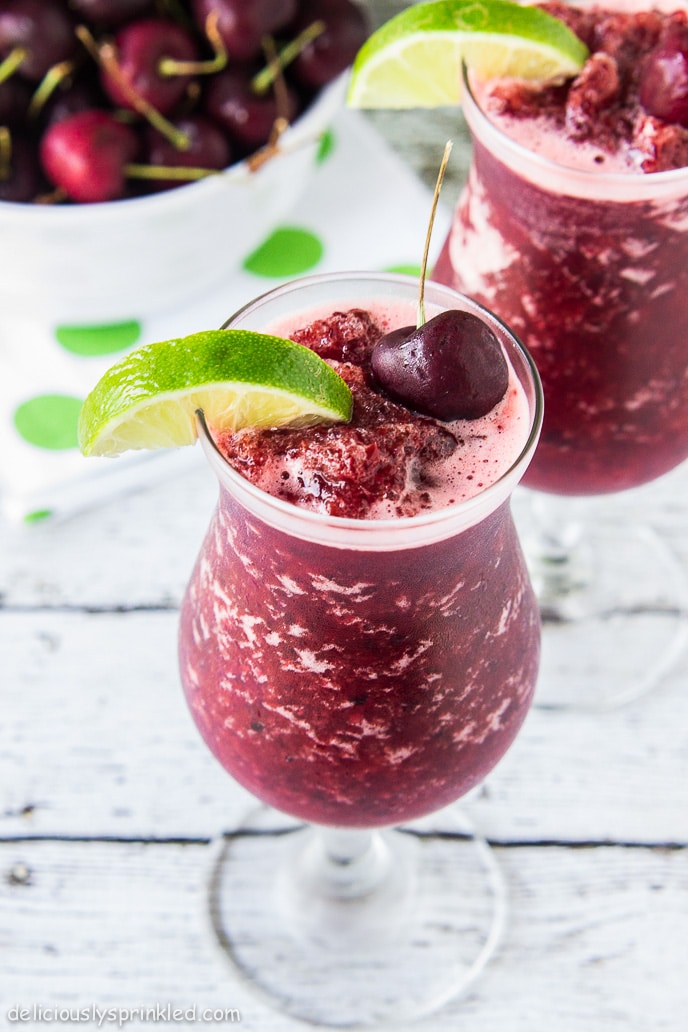 These slushies are super simple to make, all you need is cold water, Sweet'N Low, fresh lime juice, ice, and frozen cherries. Blend it all together and you will have yourself a refreshing, zero calorie and guilt-free drink.
Add a slice of lime and a cherry on top of these slushies to dress them up. Now all you need  is one of those cute drink umbrellas and this drink will make you feel like your on vacation. Enjoy!
Step-by-step on how to make Skinny Cherry Limeade Slushies: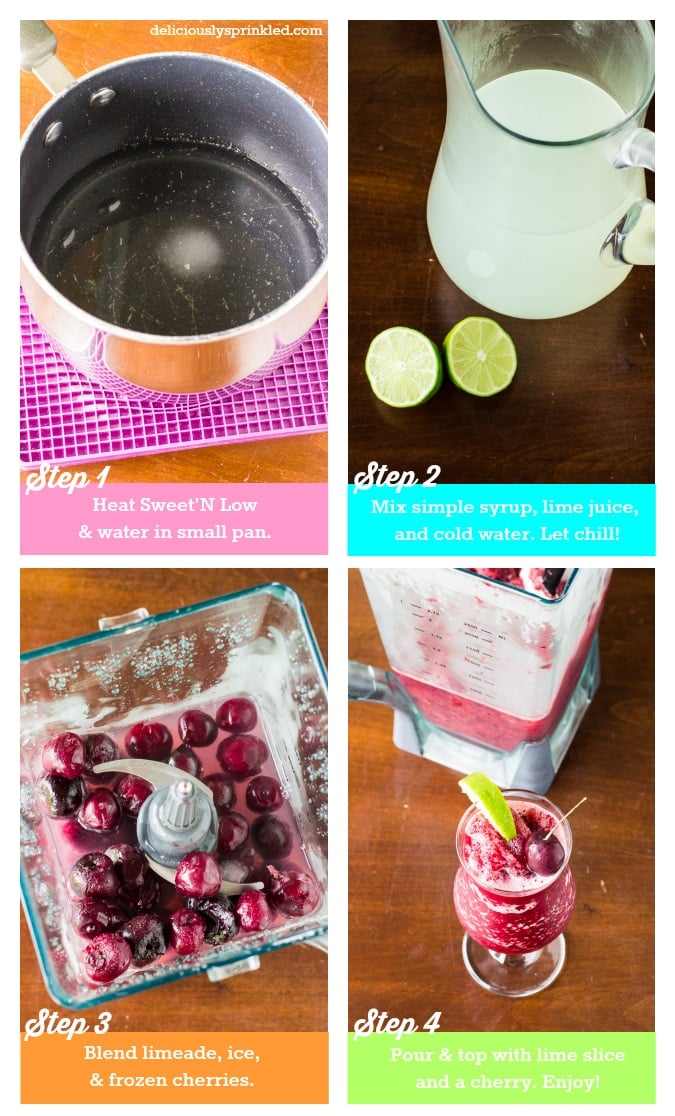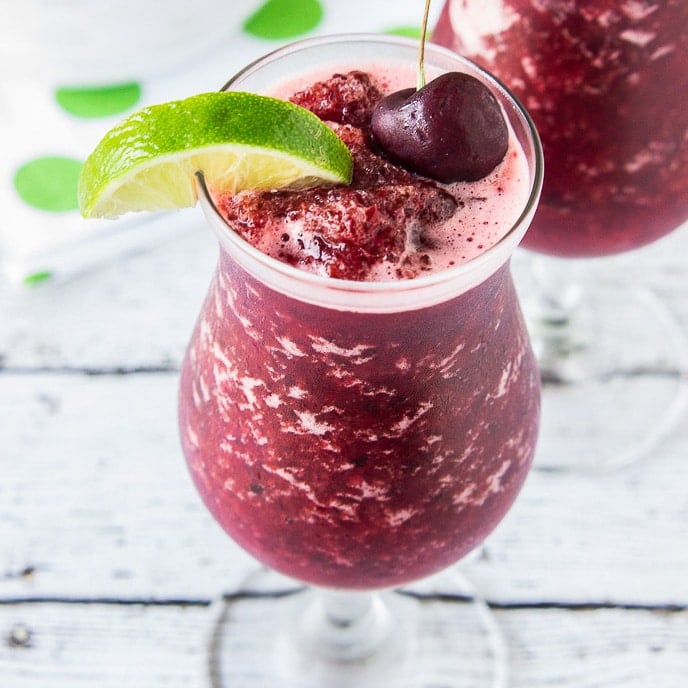 Yield: 4 Glasses
Cherry Limeade Slushies
Additional Time 20 minutes

Total Time 20 minutes
Ingredients
2 Tablespoons Sweet'N Low (24 packets)
1 cup of water
1 cup fresh lime juice
3 cups cold water
2 cups Limeade
1- 2 cups ice
1 1/2 cups frozen cherries, pitted
Instructions
First, make the limeade: Combine the Sweet'NLow and 1 cup of water in a small saucepan to make a simple syrup. Cook over medium heat until the sugar has dissolved. Let cool. In a pitcher, combine the simple syrup, lime juice, and cold water. Let chill in refrigerator for about 15 minutes before making the slushies.
To make the slushies:
Combine 2 cups limeade, ice, and frozen cherries in a blender. Start with 1 cup crushed ice and add additional ice until desired slushy-ness is achieved. Puree until blended to slushy consistency. Pour into tall glasses and garnish with a lime slice and a cherry, serve immediately and enjoy!
Next try this delicious Raspberry Lemonade!