Raspberry Chocolate Chip Muffins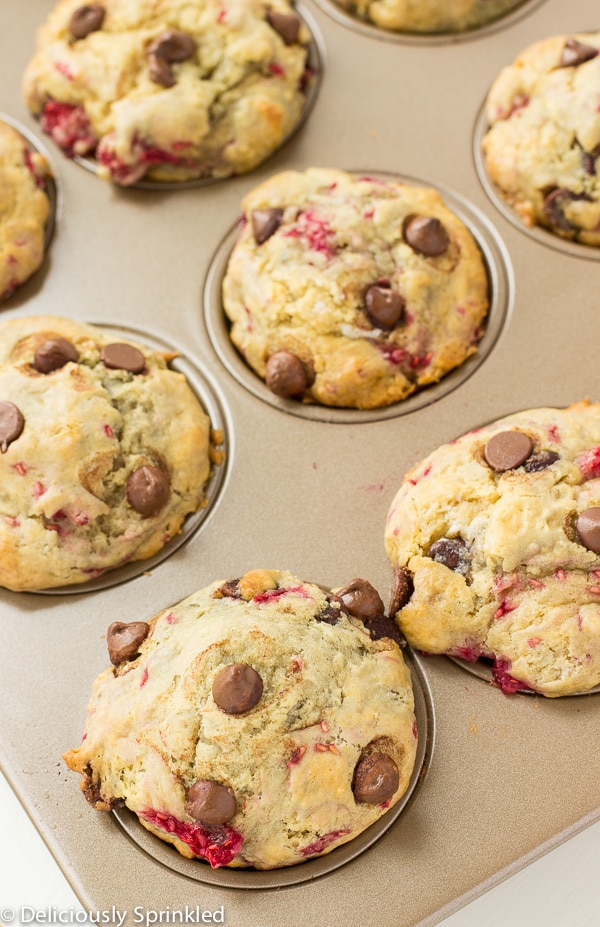 Good Morning, friends!
I made Raspberry Chocolate Chip Muffins today using my favorite and (one of my most popular) muffin recipes. These muffins are seriously better than any coffee shop muffin you can buy. They are super soft, buttery and loaded with fresh raspberries and chocolate chips.
I love having a homemade muffin with my cup of coffee or as an afternoon snack! ♥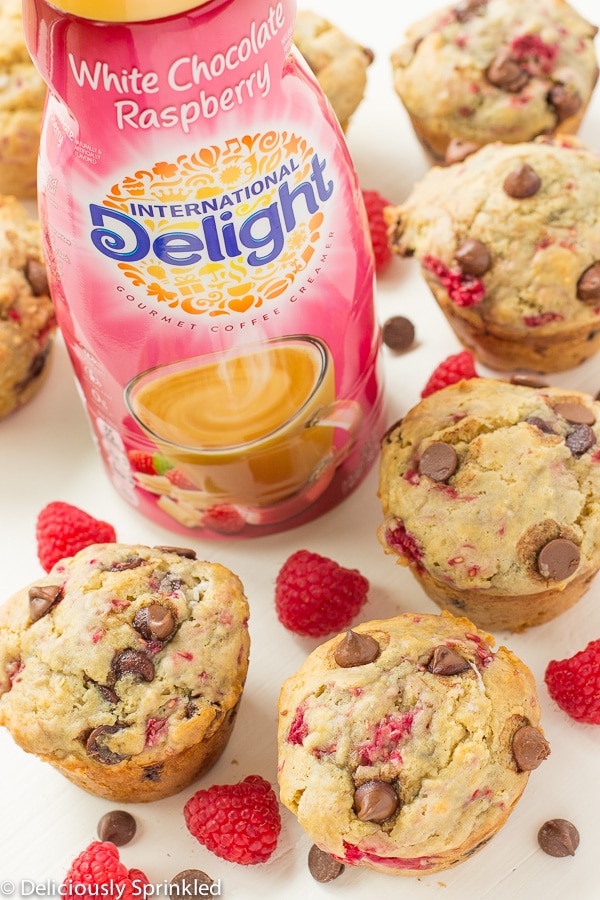 JUST A FEW BAKING TIPS:
✓ INTERNATIONAL DELIGHT CREAMER INSTEAD OF BUTTERMILK: I love using  International Delight creamer in place of buttermilk in my muffin recipes. I used the white chocolate raspberry creamer flavor in these Raspberry Chocolate Chips Muffins and the creamer just adds just the right amount of raspberry flavor to these muffins.
✓ SCOOPING THE BATTER: I like to use an ice cream scooper to fill the muffin batter into each muffin tin. It makes it super easy and you know that each muffin will be the same size.
✓ LETTING THE MUFFINS COOL: After the muffins have baked, don't let the muffins "cool" in the hot muffin pan. After about 5 minutes take the muffins out of the muffin pan and place them on a wire rack to cool for another 5-10 minutes. Keeping the muffins in the muffin pan too long will lead to dry, overcooked muffins.
STEP-BY-STEP GUIDE ON HOW TO MAKE THESE RASPBERRY CHOCOLATE CHIP MUFFINS: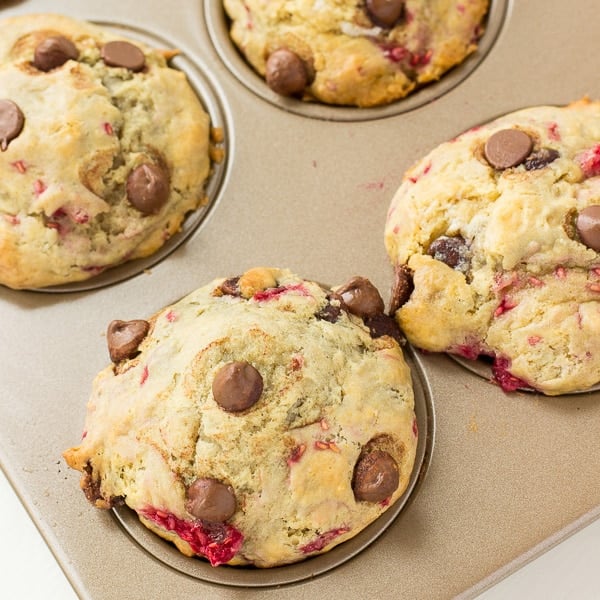 Yield: 12 Muffins
Raspberry Chocolate Chip Muffins
Prep Time 10 minutes
Cook Time 20 minutes
Total Time 30 minutes
Ingredients
2 1/2 cups all-purpose flour
1 teaspoon baking soda
1 teaspoon baking powder
1/2 teaspoon salt
1 1/4 cups brown sugar
1 large egg
2 teaspoons vanilla extract
1 cup International Delight White Chocolate Raspberry Creamer
1 1/2 cups fresh or frozen raspberries
1 1/2 cup chocolate chips
Instructions
PRE-STEP: Preheat oven to 425F degrees. Lightly spray 12 muffin cups with non-stick cooking spray or line with muffin liners.
STEP 1: In a medium bowl, whisk together flour, baking soda, baking powder, and salt. Set aside.
STEP 2: In a large bowl, using an electric or stand mixer combine brown sugar, butter, egg, vanilla extract, and buttermilk, mix until combined.
STEP 3: Mix flour mixture until just combined. MUFFIN BATTER WILL BE THICK!
STEP 4: Gently, fold in raspberries and chocolate chips.
STEP 5: Using an ice cream scooper, scoop muffin batter into prepared muffin tins.
STEP 6: Bake at 425F for 5 minutes. Keeping the muffins in the oven, reduce the oven temperature to 350F and continue to bake for 12-15 more minutes or until a toothpick inserted in the center comes out clean.
STEP 7: Let muffins cool for 5-10 minutes before enjoying!
NOTES:
Notes
*STORE: In an airtight container at room temperature for up to 5 days. Muffins can be frozen for up to 3 months.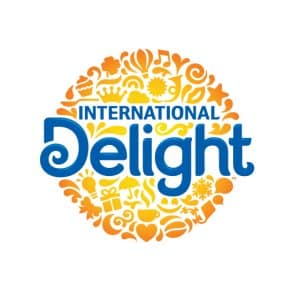 International Delight Hashtag: #CreamerNation
This is a sponsored conversation written by me on behalf of International Delight. The opinions and text are all mine.