Pumpkin Spice Buttermilk Pancakes
This is a Sponsored post written by me on behalf of Millstone Coffee for Socialstars by Crowdtap. All opinions are 100% my own. 
Pumpkin season is in full swing and that means making a batch of my pumpkin spice buttermilk pancakes. These pancakes are full of pumpkin flavor and spiced up with just the right amount of pumpkin pie spice, and they are super easy to make.
If you love pumpkin, like I do, these pancakes are right up your alley. These pancakes are  moist, light, fluffy, and full of pumpkin flavor. I love to eat them plain with a cup of my favorite gourmet coffee. But of course, pouring warm syrup all over the top of these pancakes is delicious, too!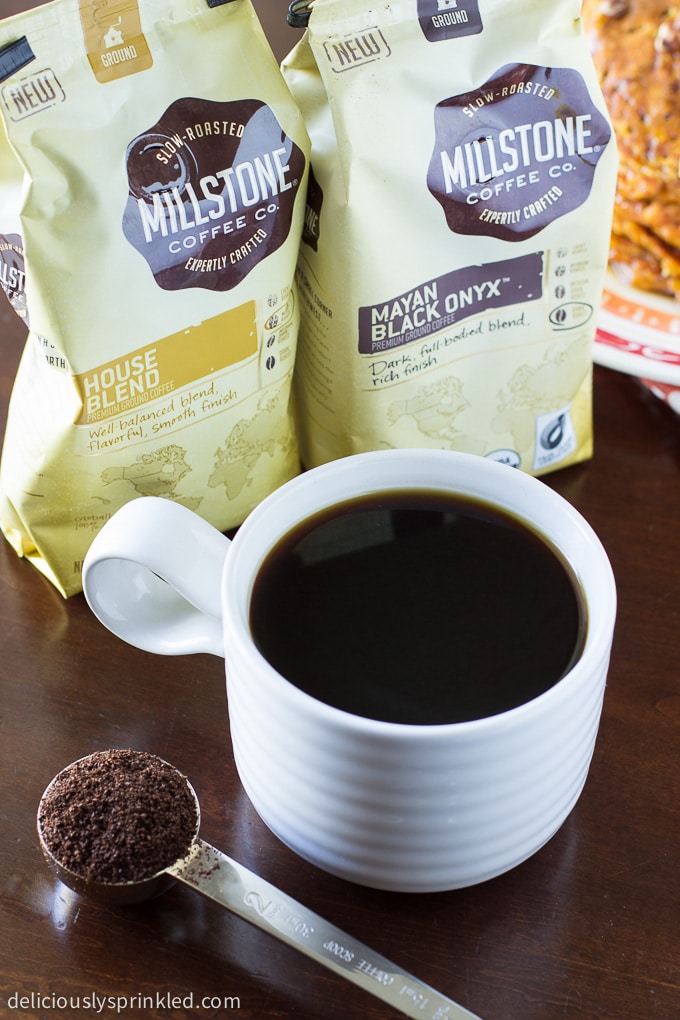 Speaking of my favorite gourmet coffee, which is Millstone Coffee. Seriously, it's the best gourmet coffee you can find at the grocery store. And I'm loving their new House Blend and Mayan Black Onyx.
The Mayan Black Onyx is a dark, full bodies blend, with a rich finish. And the House Blend, which is my favorite, is a medium roast that is a perfectly balanced blend with a flavorful smooth finish. It's amazing! 🙂
So for all you coffee lovers out there, the next time your going to the grocery store, make sure that  Millstone Coffee is the first item on your list.
And of course, all the ingredients to make these Pumpkin Spice Buttermilk Pancakes too!
Step-by-step on how to make these Pumpkin Spice Buttermilk Pancakes: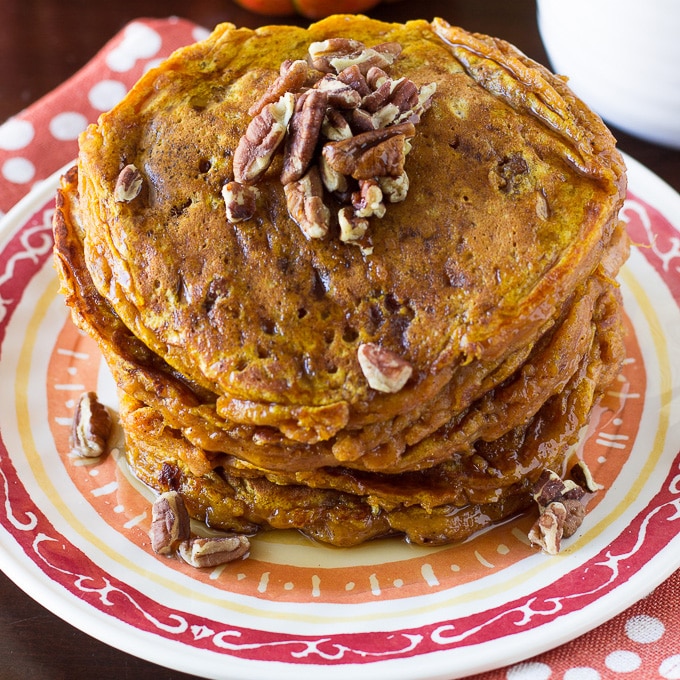 Yield: 12 pancakes
Pumpkin Spice Buttermilk Pancakes
Prep Time 10 minutes
Cook Time 20 minutes
Total Time 30 minutes
Ingredients
1 1/4 cups all-purpose flour
1/4 cup granulated sugar
2 Tablespoons light brown sugar
1/2 teaspoon baking soda
1 1/2 teaspoon Pumpkin Pie Spice
1/4 teaspoon salt
1 1/4 cup buttermilk*
2 large eggs, beaten
1/4 cup unsalted butter, melted
3/4 cup canned pumpkin
1/4 cup pecans, chopped
Instructions
In a large bowl, whisk together the flour, granulated sugar, light brown sugar, baking soda, pumpkin pie spice, and salt. Set aside.
In a medium bowl, whisk together 1 cup of buttermilk, eggs, melted butter, and vanilla until combined.
Add wet ingredients to the dry ingredients and whisk until just combined. DO NOT OVERMIX!
In another medium bowl, Stir together the remaining 1/4 cup buttermilk, canned pumpkin, and pecans until combined. Gently fold pumpkin mixture into pancake batter.
Heat a griddle or skillet over medium-high heat. Lightly spray griddle/skillet with non-stick cooking spray and then cook the pancakes in batches, about 1/4 cup batter per pancake. Cook until edges look bubbly and dry on the sides. Flip and cook on the other side until pancakes are cook through. Spray griddle/skillet again with non-stick cooking spray for each batch of pancakes.
Transfer pancakes to a baking sheet, cover with foil, and keep pancakes warm in the oven preheated to 250F degrees. Serve warm and top with some additional pecans, butter, and syrup.
Try some of my other pumpkin recipes!