Pineapple Guacamole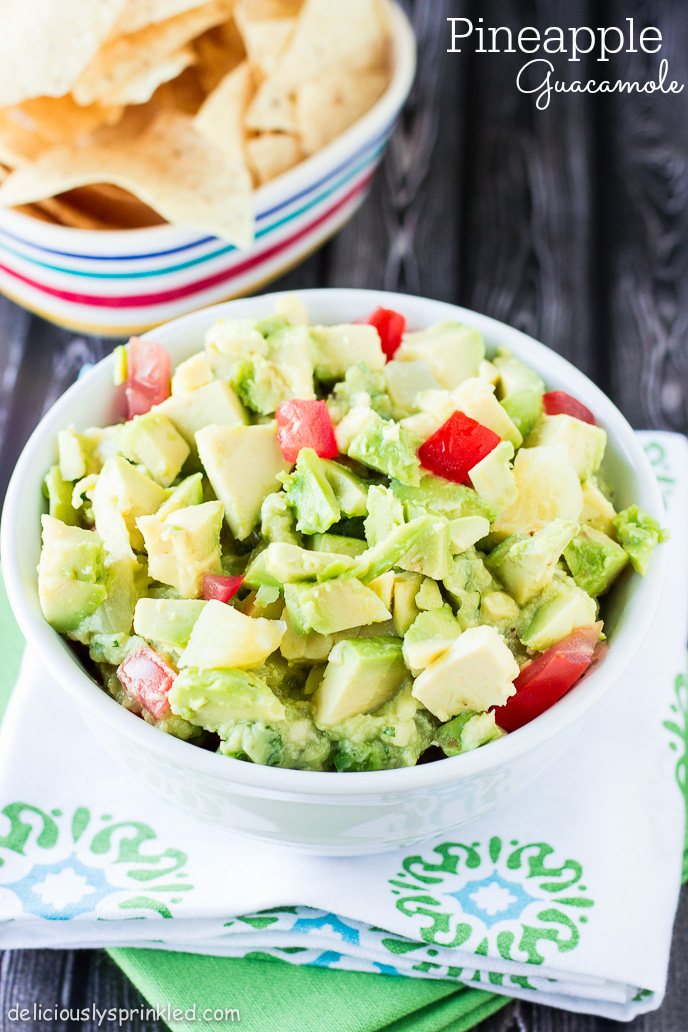 After enjoying the delicious Cinnamon Roll Funfetti Cake, (if you missed it make sure you check it out! It is one of my all-time favorite recipes on my blog so far), I thought I would switch it up a bit today, so we all don't go into a sugar coma with my Pineapple Guacamole recipe.
This classic guacamole recipe is jazzed up for summer by adding the sweet and tangy fruit, pineapple for a refreshing twist.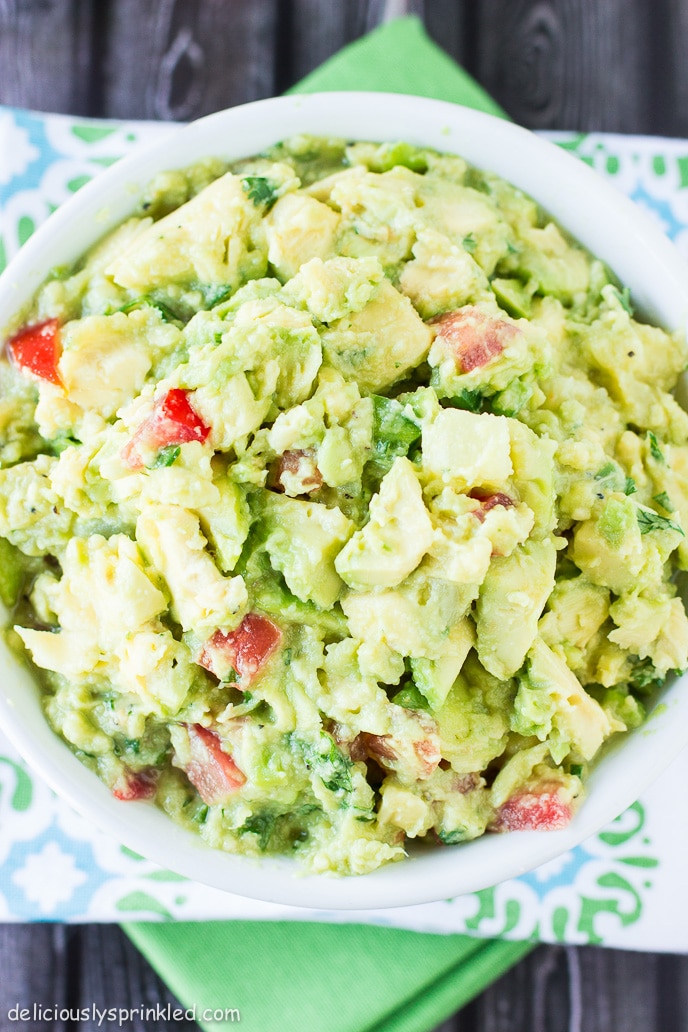 I love adding pineapple to  guacamole, the pineapple is sweet, and it goes well with the rich flavor of the avocados. And when you dip a tortilla chip into the guacamole you get a delicious salty and sweet combination that is to die for.
And as always it's super simple to whip up to bring to a party or to enjoy by  yourself with a margarita in your hand!
Step-by-step on how to make this Pineapple Guacamole: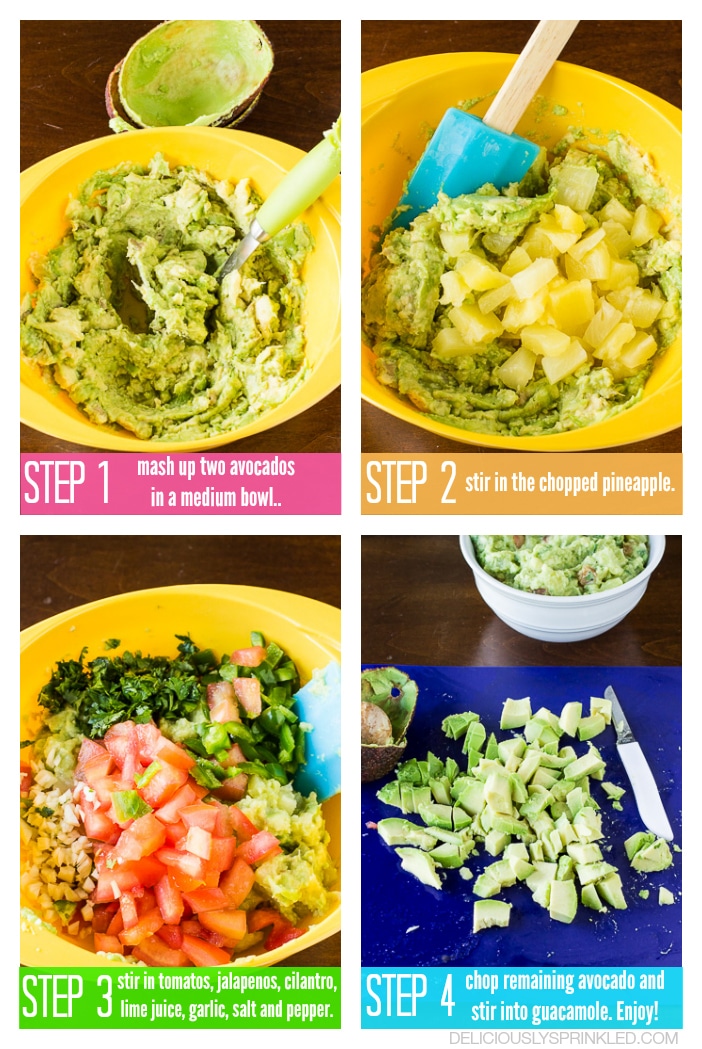 BAKING TIP
Don't forget to wear gloves when chopping the garlic cloves, no one likes to have garlic hands for days! Also, this pineapple guacamole is best served on the day you make it.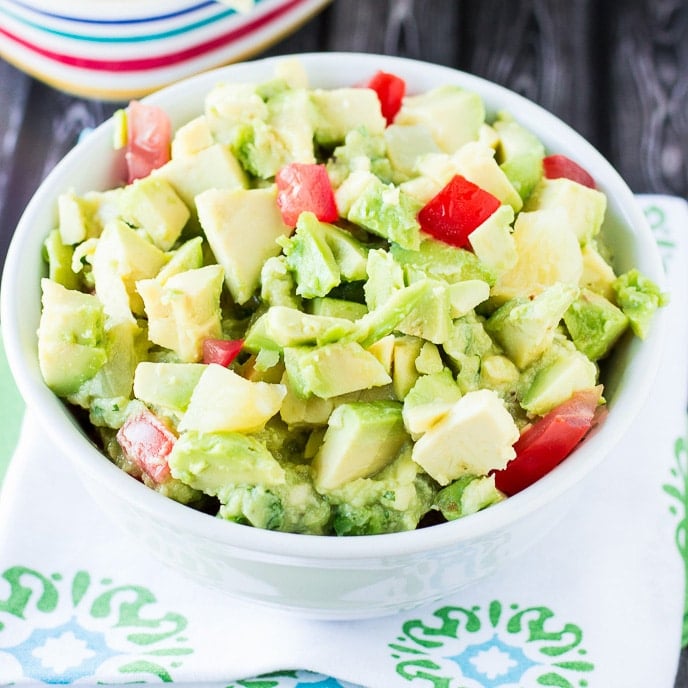 Yield: 3 Cups
Pineapple Guacamole
Additional Time 15 minutes

Total Time 15 minutes
Ingredients
3 ripe avocados, peeled
1/2 cup finely chopped pineapple
1 tomato, seeded and chopped
2 jalapeño peppers, seeded and chopped
1/3 cup minced fresh cilantro
2 Tablespoons lime juice
3 garlic cloves, minced
1 teaspoon salt
1/2 teaspoon ground pepper
tortilla chips
Instructions
In a medium size bowl, mash up two avocados. Stir in the pineapple, tomato, jalapeños, cilantro, lime juice, garlic, salt and pepper.

Chop remaining avocado into small chunks and gently stir into guacamole.

Serve with tortilla chips and enjoy!
QUESTION FOR YOU!
If you have followed my blog for sometime now, you will notice that this Pineapple Guacamole is my first savory recipe. I am not going to lie it was a little hard for me not to add SPRINKLES on top of this dip but it was nice to switch things up a bit from all the sugary sweets.
So my question for YOU is, would you like to see more savory recipes like dips, appetizers, snacks (I can't cook so I will never have a recipe for a main dish! Frozen pizza is as good as it gets around here!) a couple times a month, so we all don't go into a sugar coma or do you like all the sweet treats and don't want to see any savory recipes?
Please leave a COMMENT below and let me know what you would like to see because ultimately Deliciously Sprinkled is for YOU and I want to share recipes YOU want! THANKS so much, you all are the BEST! 🙂