Pimento Cheese and Sausage Bites
Pimento Cheese and Sausage Bites- delicious summer sausage topped with a crispy Pimento Cheese Bite that's easy to eat with a pretzel stick, making these an easy to eat holiday party appetizer.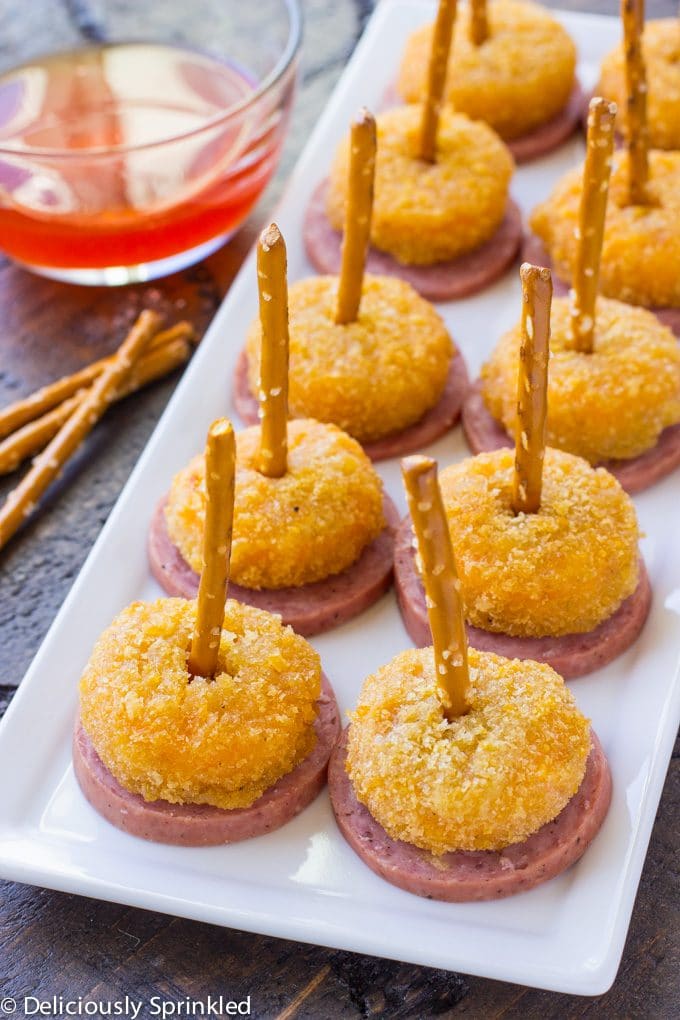 Who's ready for all the holiday parties? ???????? We just started to receive some invites in the mail and my husband and I are still trying to decide if we want to host a holiday party this year in our new home.
But if we do decide to throw a holiday party, I already know that I'm going to make… these Pimento Cheese and Sausage Bites. These bites are seriously so delicious, I don't think I'll ever be able to eat just the boring slice of cheese and sausage again.
These are made with new special edition Farm Rich Pimento Cheese Bites,which are packed with real cheddar cheese and pimentos and coated in a crisp, golden breading. These Bites are authentically Southern, made with South Carolina's popular Palmetto Cheese, "The pimento cheese with soul". ????❤ Oh, and the red pepper jelly that comes in the box is to die for!
So this holiday season if you're hosting a party or need to bring something, I've got you covered with these easy to make and guest friendly Pimento Cheese and Sausage Bites!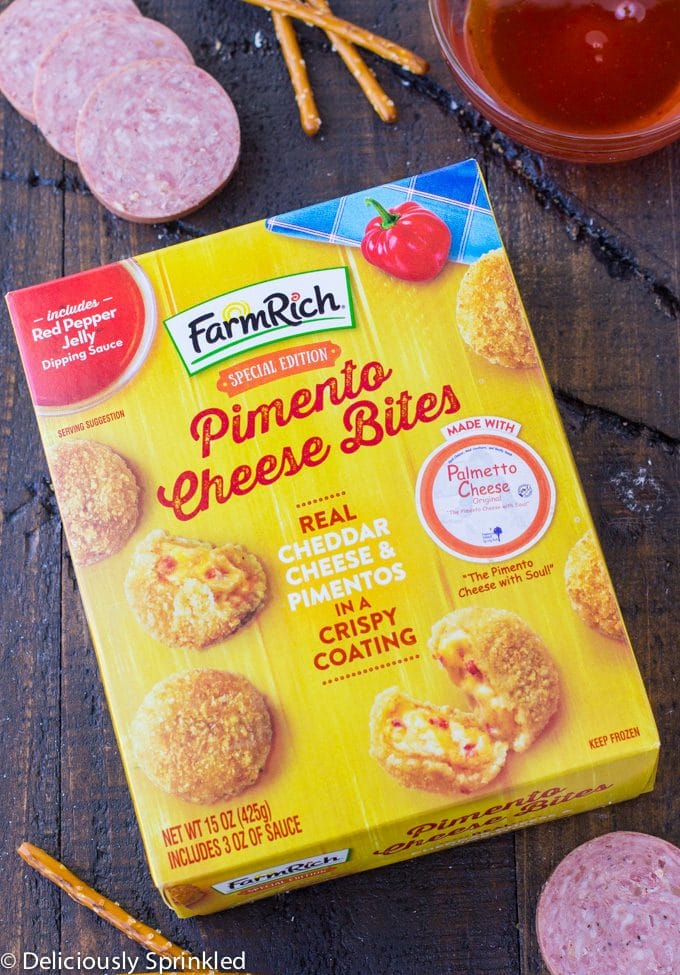 WHY I LOVE FARM RICH SNACKS
FAMILY FAVORITE: Farm Rich is one of America's favorite snacks and appetizers brands.
QUICK & EASY: Farm Rich products offer quick solutions for snacks, appetizers and meals that families can feel good about serving. They range from America's favorite Mozzarella Sticks to a lineup of tasty Bakery items. Today's busy families have enough to deal with trying to get through the day, so Farm Rich helps make mealtime easier and more fun!
PERFECT FOR ENTERTAINING: Farm Rich products are a go-to, easy and convenient solution for fall and holiday gatherings. From football tailgates to Halloween and holiday parties, Farm Rich has the best snacks for any occasion, like NEW Avocado Slices, Meatballs, Mozzarella Sticks, Donut Holes, Loaded Potato Skins, Cheddar Cheese Curds, NEW Pimento Cheese Bites and Fiesta Chicken Roll Ups, and more!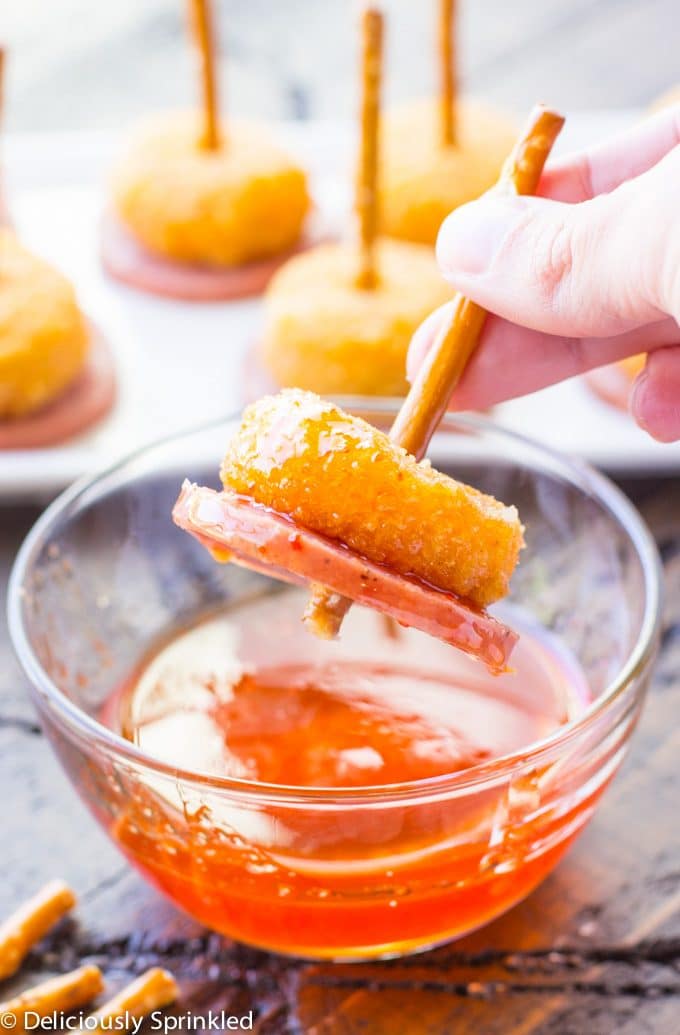 PIMENTO CHEESE AND SAUSAGE BITES INGREDIENTS 
ADD TO YOUR GROCERY LIST:
✓ 1 box Farm Rich® Pimento Cheese Bites
(Available in select Meijer , Walmart and Kroger stores and more soon!)
✓ Summer Sausage
✓ Pretzel Sticks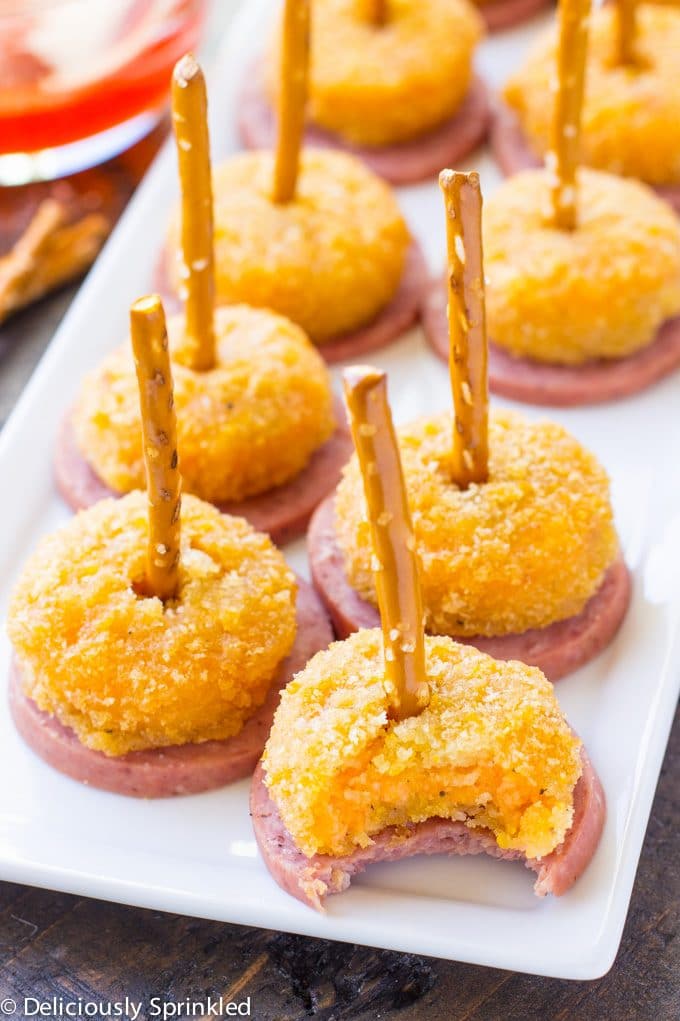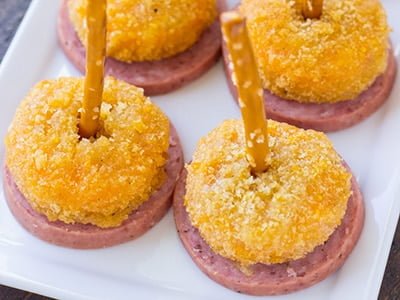 Yield: Serves 12-16
Pimento Cheese and Sausage Bites
Prep Time 5 minutes
Cook Time 11 minutes
Total Time 15 minutes
Ingredients
16 oz. fully cooked summer sausage
1 bag pretzels sticks
Instructions
STEP 1: Follow cooking instructions on the back of the Pimento Cheese Bites box.
STEP 2: Slice 12-16 pieces of summer sausage.
STEP 3: Once Pimento Cheese Bites are cooked, place each Pimento Cheese Bite on top of summer sausage slice, insert pretzel stick into middle of each bite. Serve with red pepper jelly.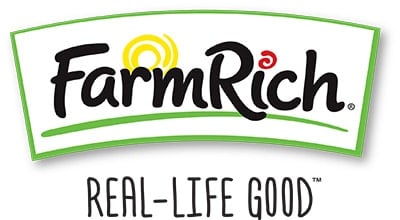 Follow Farm Rich On Social Media
This is a sponsored conversation written by me on behalf of Farm Rich. The opinions and text are all mine.