Peppermint Brownie Trifles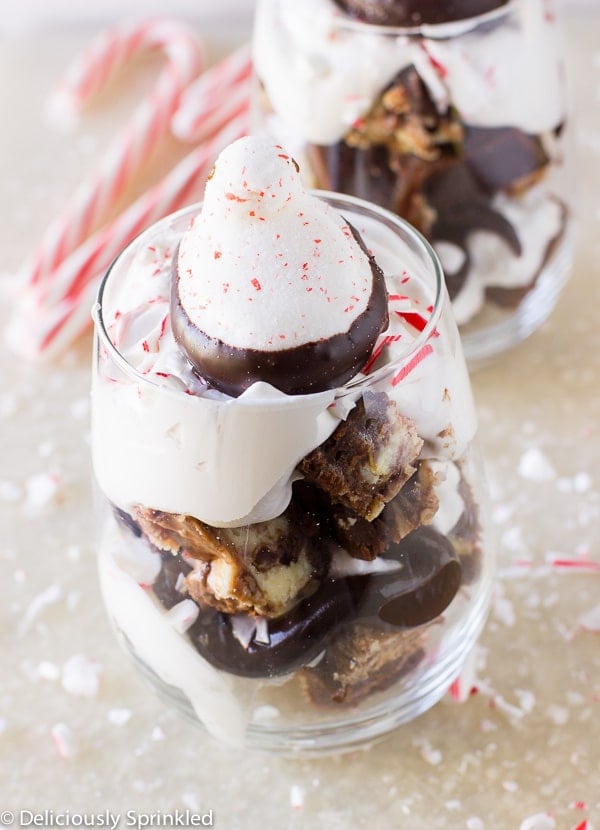 Peppermint might be one of my favorite flavors, especially during the holiday season! ♥
And another FAVORITE of mine is PEEPS®, if you know me, you know that I love Peeps®. During the holiday season my favorite kind of PEEPS® is their PEEPS® Chocolate Dipped Candy Cane Flavored Chicks, seriously they are delicious.
So today, I thought I would make a super easy holiday dessert using my favorite PEEPS®. These Peppermint Brownie Trifles are layered with cheesecake brownie bites, whip cream, hot fudge, and crushed candy canes. Top of the brownie trifles with a PEEPS® Chocolate Dipped Candy Cane Flavored Chick to make them super cute and even more delicious!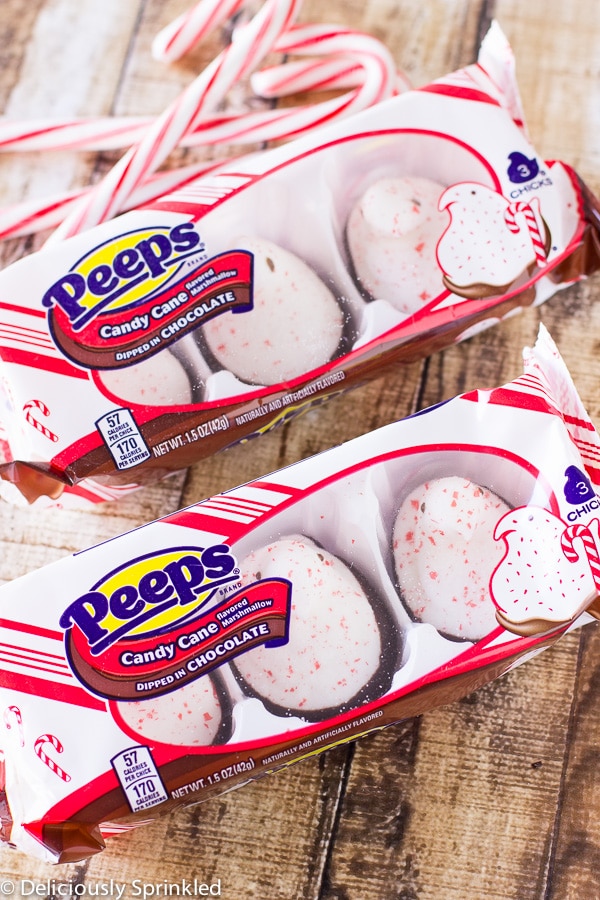 JUST A FEW BAKING TIPS:
✓ LINE YOUR BAKING PAN: To make it super easy for you to cut these brownies into squares, line your 9×13 inch baking pan with aluminum foil, leaving enough overhang on the sides and spray the foil with non-stick cooking spray. Once the brownies have cooled lift the brownies out of the pan, folding down the aluminum foil sides. Use a sharp knife to cut these brownies into squares and enjoy!
★ Here is a step-by-step guide on how to make my Cheesecake Brownie recipe!  
✓ CRUSHING CANDY CANES: To crush the candy canes, I like to use a food processor but if you don't have a food processor you can place the candy canes in a ziplock bag and using a rolling pin smash the candy canes. 
STEP-BY-STEP GUIDE ON HOW TO MAKE THESE PEPPERMINT BROWNIE TRIFLES: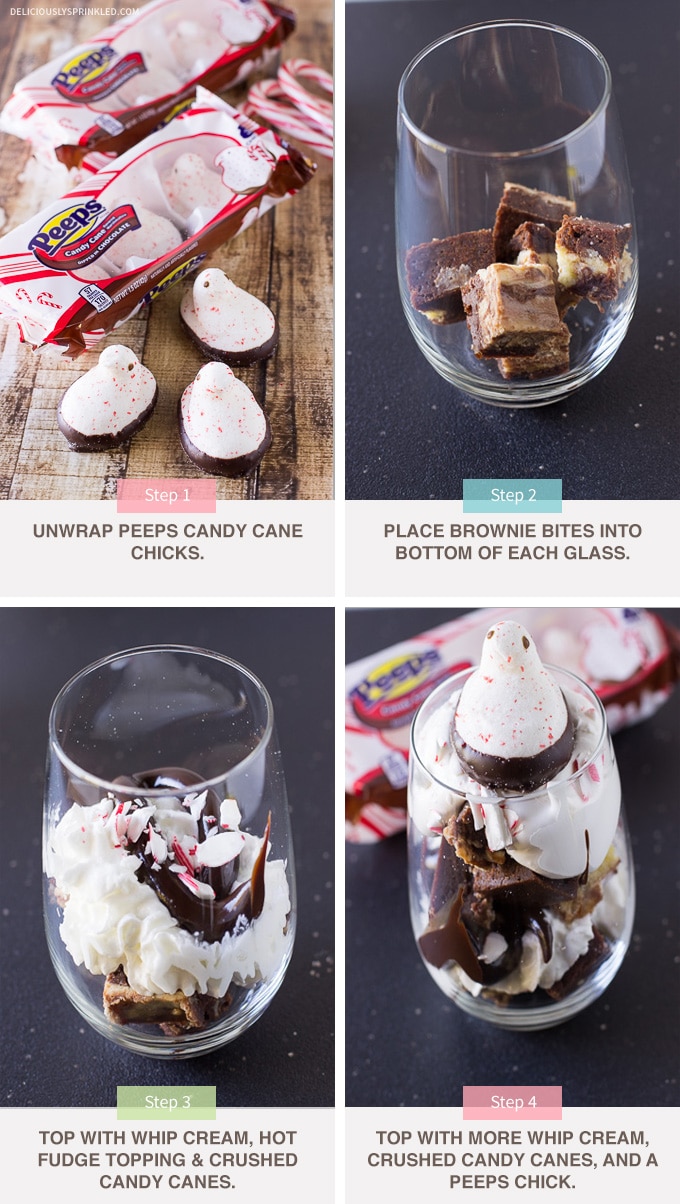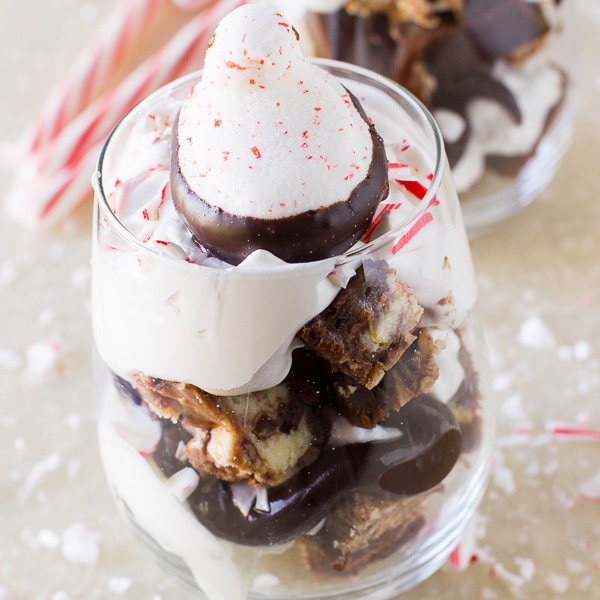 Yield: 6 Trifles
Peppermint Brownie Trifles
Prep Time 15 minutes
Cook Time 40 minutes
Additional Time 5 minutes
Total Time 1 hour
Ingredients
1 cup (2 sticks) butter
4 ounces semisweet chocolate bars, chopped
2 cups granulated sugar
4 large eggs
1 1/2 cups all-purpose flour
1/3 cup unsweetened cocoa powder
1/2 teaspoon salt
12 ounces cream cheese, softened
1/3 cup granulated sugar
1 large egg
1/4 teaspoon peppermint extract
peppermint brownie bites
1/2 cup hot fudge topping
1 (8oz.) tub cool whip, thawed
1/2 cup candy canes, crushed
6 PEEPS® Chocolate Dipped Candy Cane Flavored Chicks
Instructions
PRE-STEP: Preheat oven to 350F degrees. Line 9x13 inch baking pan with foil, leaving a 2-inch overhang on two sides; coat the foil with cooking spray. Set aside.
MAKE THE BROWNIES:
STEP 1: In a medium bowl, melt butter and chopped semisweet chocolate together. Let cool slightly.
STEP 2: Stir in sugar and eggs.
STEP 3: Whisk in flour, cocoa powder, and salt.
STEP 4: Pour brownie batter into prepared pan. Set aside.
MAKE CHEESECAKE:
STEP 5: Using an electric mixer, beat cream cheese, sugar, egg and peppermint extract until smooth.
STEP 6: Swirl the cream cheese mixture into the brownie batter in the pan. Bake for 35-40 minutes or until a toothpick inserted into the center comes out clean. Let cool before cutting into squares.
MAKE THE TRIFLES:
STEP 7: In 6 small dessert cups, alternately layer brownie bites, hot fudge topping, whip cream, and crushed candy canes, ending with whip cream, crushed candy canes, and a PEEPS® Chocolate Dipped Candy Cane Flavored Chick. Serve immediately.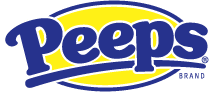 You can visit PEEPS® on Facebook, Twitter, Instagram, and Pinterest! Don't forget check out their website for more ideas and recipes, too!
This post is sponsored by my friends at PEEPS®.