Peanut Butter Oreo Rice Krispie Treats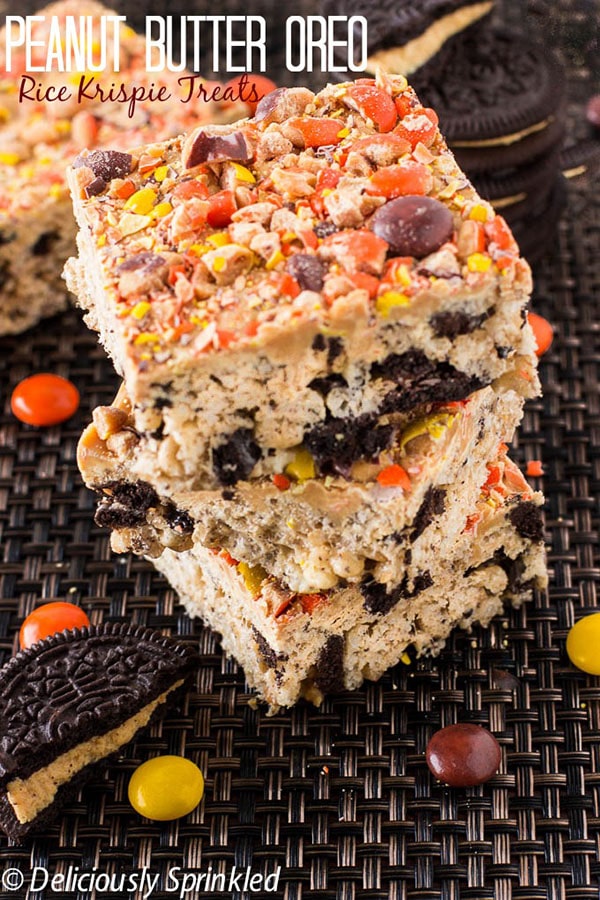 Rice krispie treats have always been one of my favorite dessert. My mom still makes them for me every time I come visit. And today, I'm loading up my favorite treat with peanut butter Oreos and topping them with melted peanut butter chips and crushed Reese's Pieces. Seriously….DELISH!! 🙂
I love making desserts with peanut butter and Oreos. As  you can tell by my Peanut Butter Oreo Pretzel Bites and Chocolate Chip Peanut Butter Bars recipes that I have shared with you so far.
 These are by far my favorite rice krispie treat, the Peanut Butter Oreos add the perfect flavor and the peanut butter and Reese's Pieces topping adds an extra crunch to this classic treat. I can never just have one, actually I could eat the whole pan myself. They are so addictive.
If you love Oreos and peanut butter you will be making this recipe over and over again because they will become your favorite rice krispie treats, too!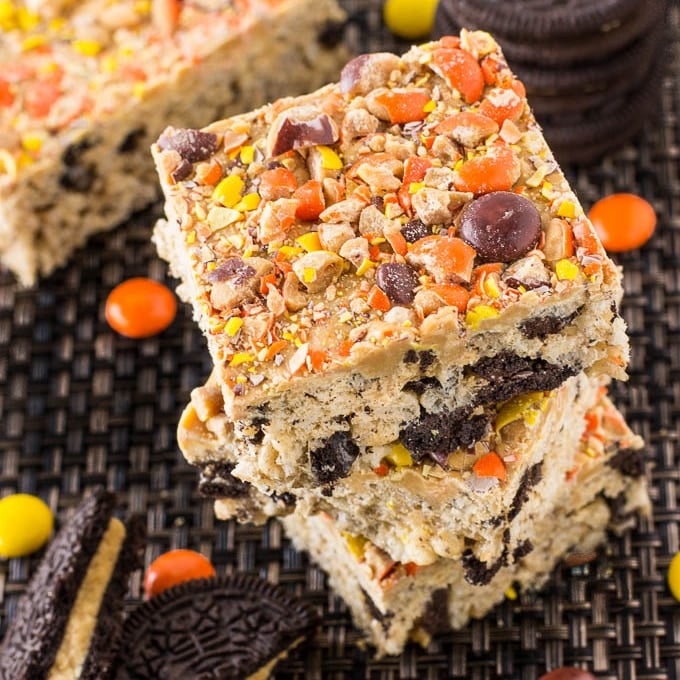 Yield: 18 Bars
Peanut Butter Oreo Rice Krispie Treats
Additional Time 15 minutes
Total Time 15 minutes
Ingredients
6 cups Rice Krispie Cereal
10 Peanut Butter Oreos, chopped*
5 cups mini marshmallows
4 Tablespoons butter
1 2/3 cup peanut butter chips
1/2 cup Reese's Pieces, chopped*
Instructions
Spray a 13 x 9 inch baking pan with non-stick cooking spray. Set aside.
In a large bowl, stir Rice Krispie Cereal and Oreos together until combined.
In a medium sauce pan, heat butter and marshmallows together over medium heat, stirring constantly, until they melt together.
Pour melted marshmallows over cereal and Oreos, using a spatula sprayed with non-stick cooking spray to quickly combine all the ingredients.
As soon as all the cereal is combined, spread mixture into the prepared baking pan. Use spatula to press the mixture around the dish, and flatten as needed.
In a medium bowl, melt peanut butter chips in microwave for 30 seconds. Stir, and repeat for 30 more seconds. Spread over rice krispie treats and immediately sprinkle crushed Reese's Pieces on top.
Notes
*Chop and mash Oreos. You can do this by putting them in a ziplock bag to help keep the mess under control. You want the Oreos to be a variety of sizes from chunky to finely crushed.
*Chop Reese's Pieces by putting them in a ziplock bag and using a rolling-pin to chop Reese's Pieces as shown in the picture above.