Monster Cookies
These homemade Monster Cookies are oatmeal cookies loaded with M&Ms, chocolate chunks, and toffee bites.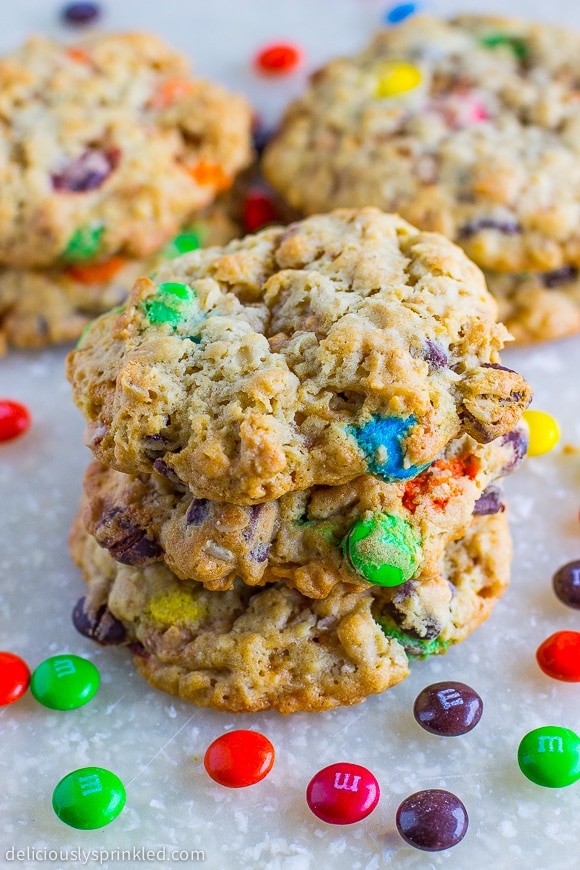 Happy Halloween! I hope you are all celebrating by dressing up and stuffing your face with as much candy as you can. But if your like me who always gets way too much Halloween candy and your stuck with a ton of leftovers. No worries, because now you can make these delicious Monster Cookies with all your leftover candy.
Well, at least you will be able to use your leftover M&Ms. These Monster Cookies are soft in the middle and crispier on the edges, which in my opinion, is the perfect way to bake a cookie. And they're loaded with M&Ms, chocolate chunks, and toffee pieces which makes these cookies extra special.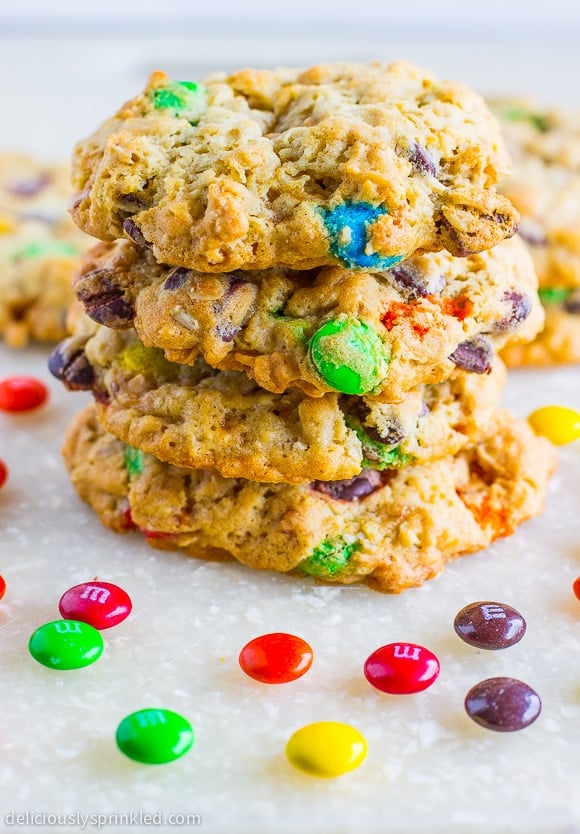 JUST A FEW BAKING TIPS:
✔ I used old-fashioned oats in these cookies because old-fashioned oats give these cookies a more chewier texture but if you want a less chewy texture you can use quick-minute oats.
✔ I also used chocolate chunks in these cookies but you could use milk chocolate chocolate chips as well.
✔DO NOT OVERMIX!! Don't stir together the dry ingredients and wet ingredients too much, you just want to mix it until JUST combined. Also, don't stir too much when mixing in the M&Ms, chocolate chunks, and toffee bites. Or you will have flat, not so delicious cookies! 🙁
STEP-BY-STEP GUIDE ON HOW TO MAKE THESE MONSTER COOKIES: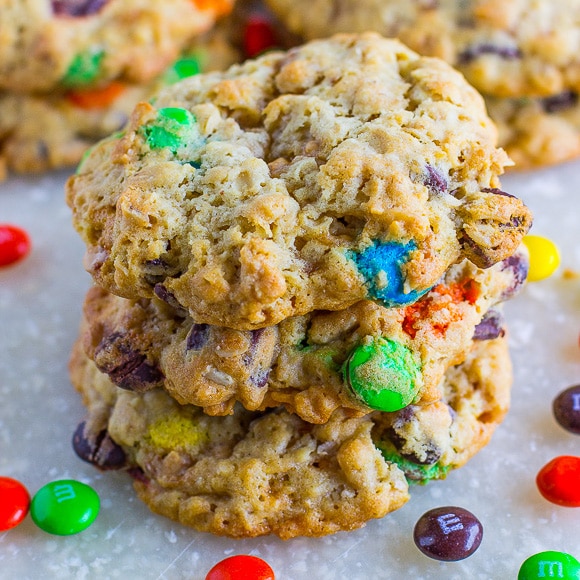 Yield: 16 Large Cookies
Monster Cookies
★ Make sure to read my BAKING TIPS above before you start baking!
Prep Time 15 minutes
Cook Time 15 minutes
Additional Time 5 minutes
Total Time 35 minutes
Ingredients
1 teaspoon baking soda
1/2 teaspoon salt
3/4 cup old fashion oats
12 Tablespoons unsalted butter, softened
1/2 cup granulated sugar
3/4 cup light brown sugar, packed
1 Tablespoon vanilla extract
2 large eggs
1/2 cup M&Ms
1/2 cup chocolate chunks or chocolate chips
Toffee bites
Instructions
PRE-STEP: Preheat oven to 370F degrees. Line two large baking sheets with parchment paper or silicone baking mats. Set aside.
STEP 1: Whisk together the flour, baking soda, salt, and old fashioned oats in a medium size bowl. Set aside.
STEP 2: In a large bowl, using an electric or stand mixer, cream together the butter, granulated sugar, light brown sugar, and vanilla extract until combined.
STEP 3: Add eggs one at a time, mixing between each egg.
STEP 4: Add flour mixture and mix until just combined. DO NOT OVERMIX!
STEP 5: Using a spatula, stir in M&Ms, chocolate chunks, and toffee bites until combined.
STEP 6: Using a 1 Tablespoon cookie scoop, scoop dough into balls about 2 Tablespoons each and place onto prepared baking sheet. Place baking sheet with cookie dough balls in the freezer for 10 minutes. Once chilled, slightly press down the cookie dough balls and place back onto prepared cookie sheet.
STEP 7: Bake for 10 minutes, rotate baking sheet clockwise and bake for additional 4-5 minutes or until golden brown around the edges. Let cool for 5 minutes on baking sheet before moving them to a wire rack.
Notes
❤ I'd love to see what you have baked! Just snap a photo and hashtag it #DELICIOUSLYSPRINKLED or tag me @deliciouslysprinkled on Instagram!
BAKING TOOLS I USED:
Check out more of my delicious Cookie Recipes…
And if you love these cookies, you will also love my Cherry Chocolate Chip Oatmeal Cookies!