Molasses Cookies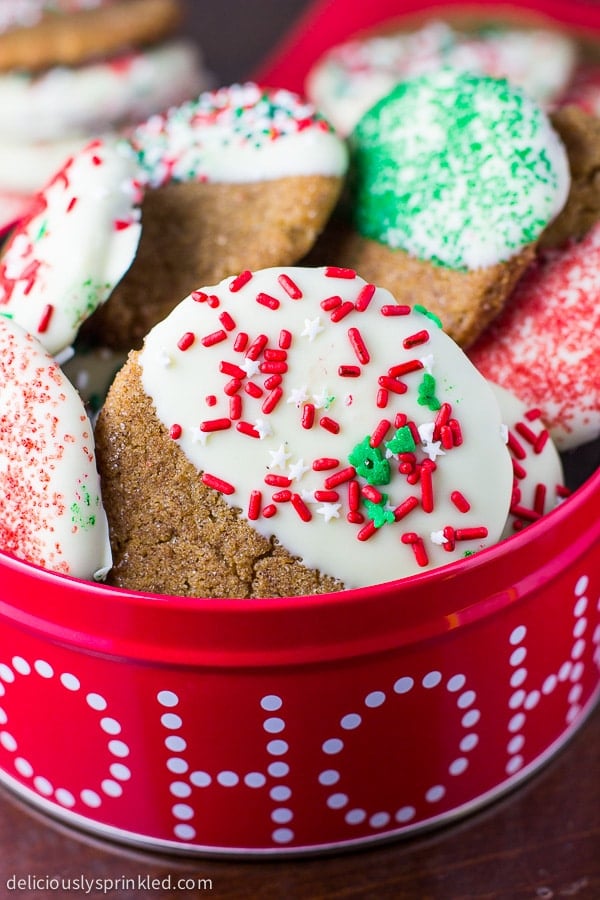 I'm so excited for today's recipe because not only are these Molasses Cookies dipped in white chocolate one of my favorite Christmas cookies but I get to tell you about The Great Food Blogger Cookie Swap that I participated in this year!
So what is the The Great Food Blogger Cookie Swap!? Well it's a fun way to bring food bloggers from all over the world together to share our favorite cookies with each other for a great cause! And the best part, The Great Food Blogger Cookie Swap benefits Cookies For Kids' Cancer, a national non-profit organization committed to funding new therapies used in the fight again pediatric cancer. This year their were 566 participates who helped raise $12,335 for Cookies For Kids' Cancer, which is pretty awesome and I'm so honored to be apart of such a great cause!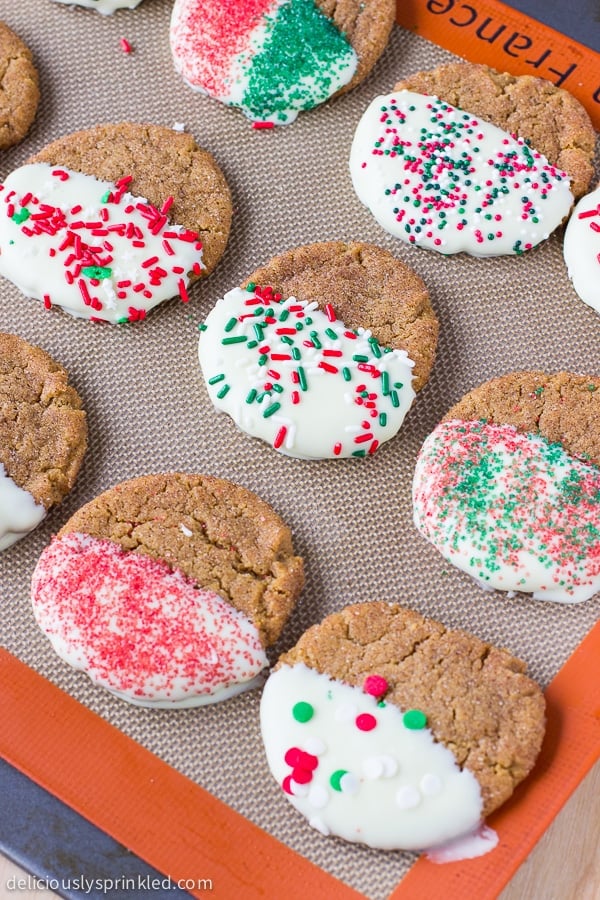 So when it came time for me to decide which cookies I was going to make to send to my matches this year, I didn't realize it was going to be so hard choosing just one cookie recipe because I love so many. But after many sleepless nights, I decided to make one of our families favorite Christmas cookies, Molasses Cookies dipped in white chocolate and SPRINKLED with holiday sprinkles!
These Molasses Cookies are super soft and chewy with a slight "crunch" from the white chocolate. I love that the white chocolate adds a bit of sweet to all the spices in these molasses cookies. Not only are these cookies perfect for Christmas but they're also delicious anytime of year, just change up the SPRINKLES and you have a cookie recipe that is a guaranteed hit no matter what time of year. ENJOY!
STEP-BY-STEP GUIDE ON HOW TO MAKE THESE MOLASSES COOKIES:

Molasses Cookies
Yield: 24 Cookies
Prep Time:10 minutes
Cook Time:10 minutes
Total Time:20 minutes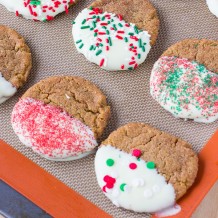 Ingredients:
MOLASSES COOKIES:
3/4 cup shortening
1 cup granulated sugar
1/4 cup dark molasses
1 large egg
2 cups all-pupose flour
2 teaspoons baking soda
1 teaspoon ground cinnamon
1/2 teaspoon ground cloves
1/2 teaspoon ground ginger
1/2 teaspoon salt
8 ounces white chocolate baking bars
sprinkles
CINNAMON SUGAR:
1/4 cup granulated sugar
1 teaspoon ground cinnamon
Directions:
PRE-STEP: Preheat oven to 350F degrees. Line two large baking sheets with parchment paper or silicone baking mats. Set aside.
STEP 1: In a large bowl, mix shortening, sugar, molasses, egg, flour, baking soda, cinnamon, cloves, ginger, and salt together until combined. DO NOT OVERMIX!
STEP 2: In a small bowl, mix the sugar and ground cinnamon together. This will be used to roll the cookie dough balls into.
STEP 3: Using a 1 Tablespoon cookie scoop or 1 Tablespoon measuring spoon, scoop cookie dough into balls. I make my cookie dough balls 2 Tablespoons each, which makes the perfect sized cookie. Roll the cookie dough balls into the small bowl of cinnamon-sugar. Then using your hands, slightly press down cookie dough ball to form a mini "hockey puck" and place on prepared baking sheet.
STEP 4: Bake for 10-12 minutes or until edges are golden brown. Let cool for 3-5 minutes on baking sheet before moving them to a wire rack to cool for at least 15 minutes before dipping.
STEP 5: In a small microwave safe bowl, melt the white chocolate in 15 second increments, stirring after each time until completely smooth. Dip half of each cookie into white chocolate and top with sprinkles, as shown in Step 6 image above.
STEP 6: Place cookies on baking sheet and allow the chocolate to set. I placed my cookies in the refrigerator for 15 miuntes to help the chocolate set faster.
*Store cookies in an container at room temperature for up to 7 days. Cookie dough balls can be frozen for up to 2 months. When your ready to bake the frozen cookie balls, you will not need to thaw them, just place the cookie dough balls onto baking sheet and bake for 12-14 minutes.
❤ I'd love to see what you have baked! Just snap a photo and hashtag it #DELICIOUSLYSPRINKLED or tag me @deliciouslysprinkled on Instagram!
BAKING TOOLS I USED TO MAKE THESE COOKIES:
Check out more delicious Cookie Recipes…
And try these Snickerdoodle Cookies next!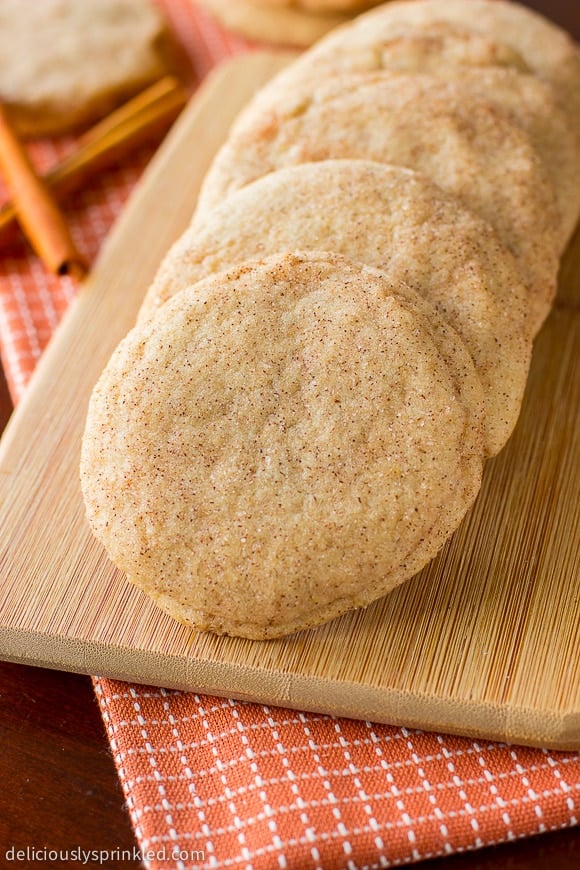 5 Responses to "Molasses Cookies"
Leave a Comment