M&M Cookie Bars
M&M Cookie Bars
Soft, chewy M&M Cookie Bars have a nutty shortbread crust with a sweet cream cheese filling topped with crumble topping and M&M's.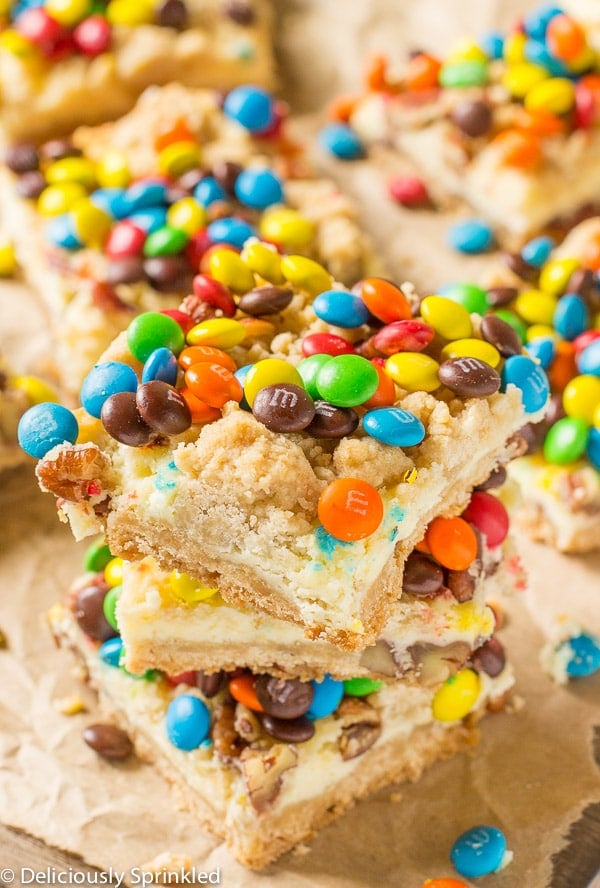 These M&M Cookie Bars have everything you love about desserts.
shortbread crust
cheesecake
crumble topping
M&M's
All in a super easy to make dessert bar. These are the perfect dessert to bring to any party, especially upcoming Halloween parties.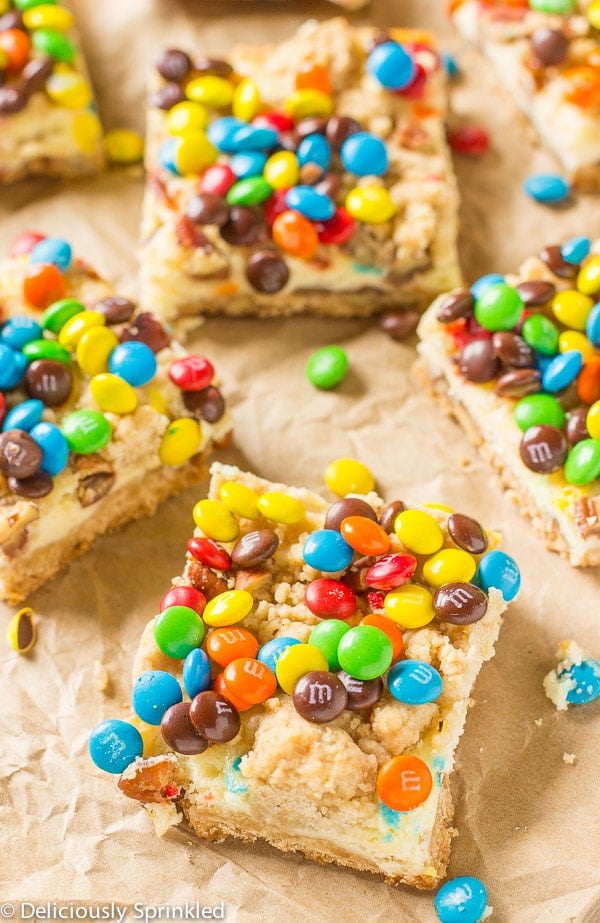 Speaking of Halloween, I know it's still over a month away but I've already bought some candy because this is our first year we will have trick-or-treaters at our new home and I'm just so excited. I wish I could make one of my fun Halloween desserts for all the kids, like my Monster Brain Halloween Bark or my Mummy Hazelnut Brownies but I know homemade treats are "not allowed". So I'll just stick with giving out candy!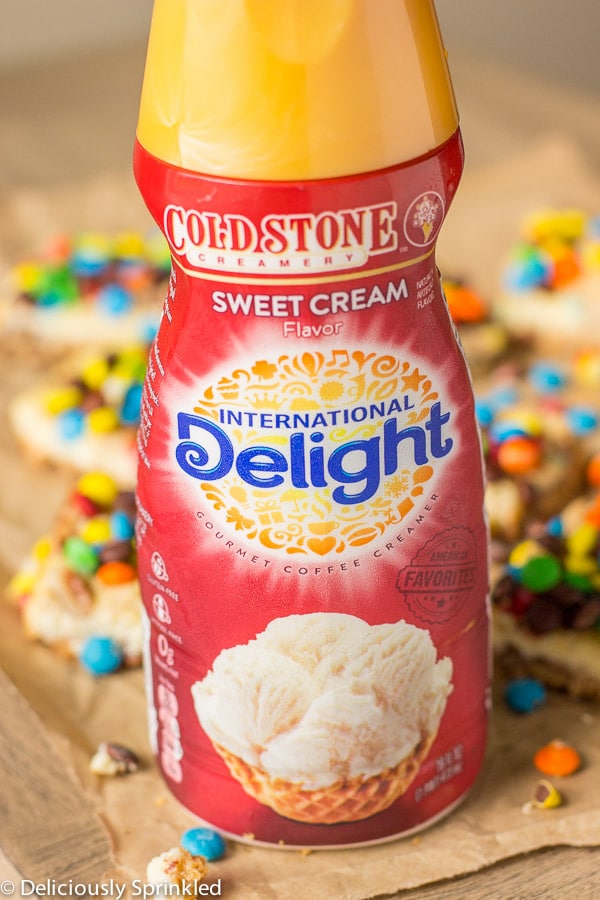 M&M COOKIE BAR INGREDIENTS
INTERNATIONAL DELIGHT CREAMER: For the cheesecake layer, I used my favorite creamer flavor, Coldstone Sweet Cream instead of using heavy whipping cream. It gives the cheesecake a sugar cookie flavoring that's so delicious!
CREAM CHEESE: Make sure to set out your cream cheese for about an hour before making these bars. You want the cream cheese to be soft, so that you don't have any clumps in your cheesecake layer.
M&M BAKING BITES: I used M&M baking bites to top these bars but you could top them with your favorite candy or any leftover Halloween candy you might have.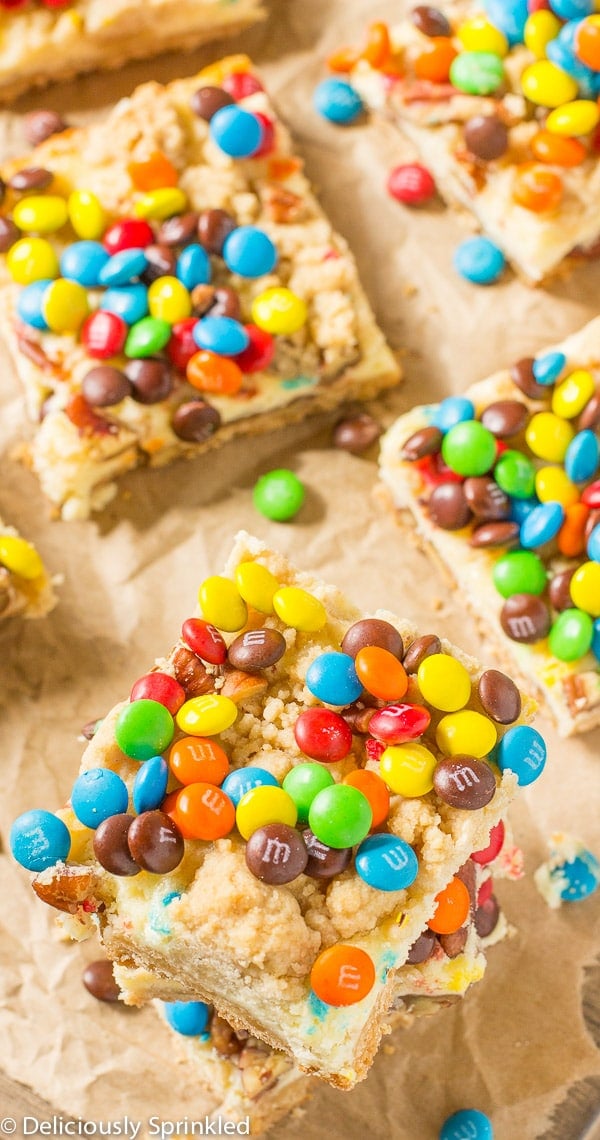 HOW TO MAKE COOKIE BARS
BAKE THE CRUST FIRST: I used a 9-inch baking pan and lined it with aluminum foil, leaving enough overhang on the sides and don't forget to spray the foil with non-stick cooking spray. Press the crust mixture into the prepared pan and bake for about 12-15 minutes or until the edges are lightly browned.
CHEESECAKE LAYER: Using an electric hand or stand mixer, beat cream cheese and sugar together. Add egg, creamer and vanilla; mix well. You don't want to see any clumps in your cheesecake mixture. Then pour the cheesecake mixture over the warm crust.
TOP WITH M&M'S: As soon as the bars are done baking, sprinkle the top with M&M's or your favorite candy. Let cool on a wire rack. Once the bars have cooled lift the bars out of the pan, folding down the aluminum foil sides and cut them into squares using a sharp knife or a large pizza cutter which is my favorite way to cut bars into squares. Enjoy!
If You Love These M&M Cookie Bars, Try These Bar Recipes too…
Mint Chocolate Chip Cheesecake Bars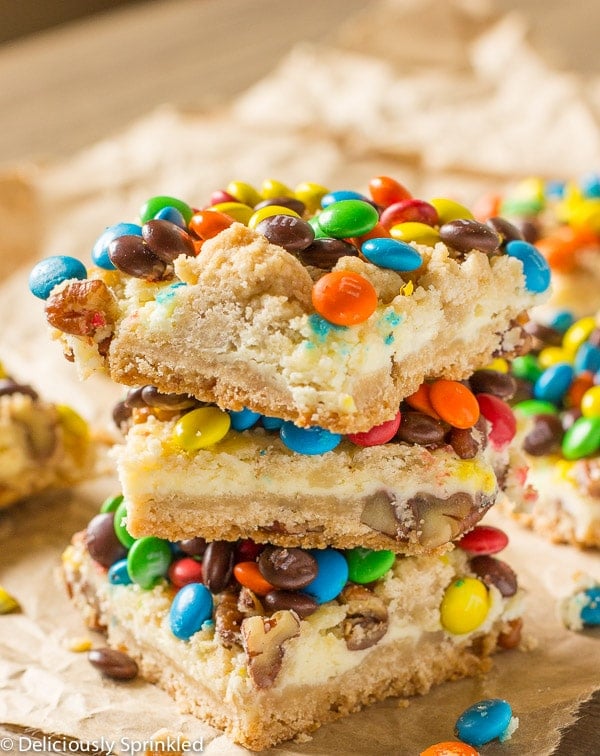 Yield: 16 Bars
M&M Cookie Bars
Prep Time 15 minutes
Cook Time 30 minutes
Total Time 45 minutes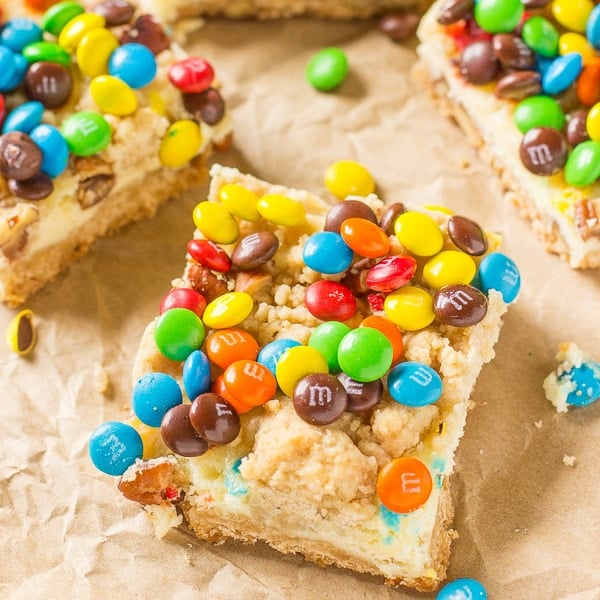 Ingredients
1 cup all-purpose flour
1/3 cup packed brown sugar
1/2 cup butter
1/2 cup chopped pecans
1 package (8 ounces) cream cheese, softened
1/3 cup sugar
1 large egg
1/2 teaspoon vanilla extract
1 cup M&M's miniature baking bits
Instructions
PRE-STEP: Preheat oven to 350F degrees. Line a 9-inch baking pan with foil, leaving a 2-inch overhang on two sides; coat the foil with cooking spray. Set aside.
STEP 1: In a large bowl, combine flour and brown sugar.
STEP 2: Cut in butter until mixture resembles coarse crumbles. Stir in pecans.
STEP 3: Set aside 1/2 cup of crumb mixture. Press remaining crumb mixture into prepared pan. Bake for 12-15 minutes or until edges are lightly browned.
STEP 4: Using an electric hand or stand mixer, beat cream cheese and sugar together. Add egg, creamer and vanilla; mix well. Pour over warm crust. Sprinkle with remaining crumb mixture.
STEP 5: Bake for 25-30 minutes or until set. Immediately sprinkle with M&M baking bites. Cool on a wire rack. Cut into bars. Refrigerate leftovers.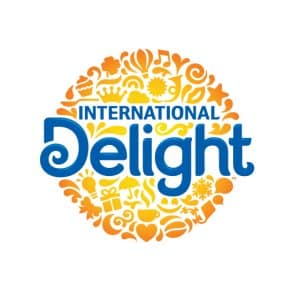 International Delight Hashtag: #CreamerNation
This is a sponsored conversation written by me on behalf of International Delight. The opinions and text are all mine.