Lemon Pie Bars
Summer would not be complete without making one of my favorite summer dessert recipe. These lemon pie bars have been a family favorite since as long as I can remember. The responsibility has been passed down to me to make this delicious dessert for all of our family get togethers, especially in the summer.
These lemon pie bars are already super simple to make, but I have made them even simpler by using Pillsbury Pie Crusts. Rather than making the crust from scratch, I cheated and used refrigerated pie crusts. And the best part, I had my whole family fooled because they kept coming up to me and telling me that I finally made a crust that was outstanding. Hahaha….little did they know, until now that I didn't make the crust…it's all thanks to Pillsbury!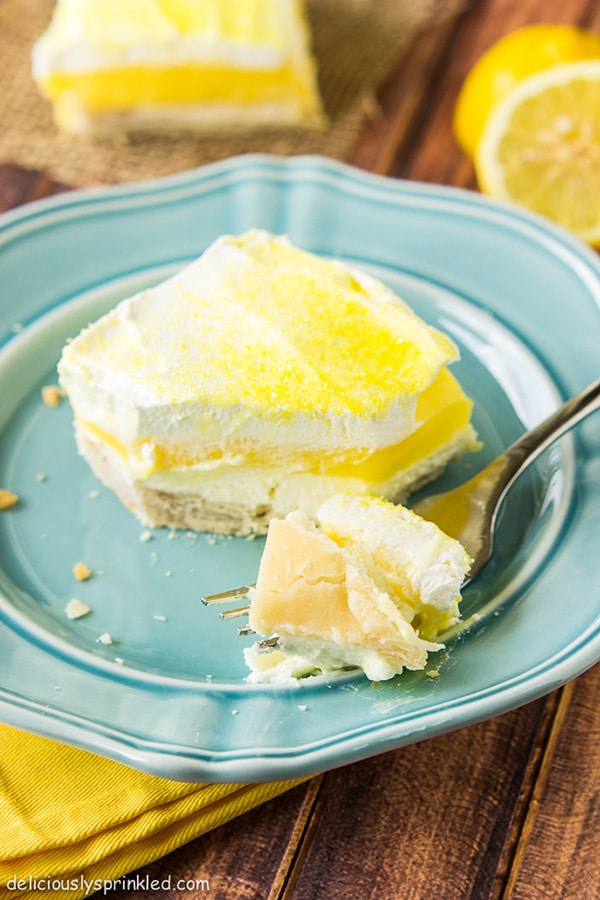 JUST A FEW BAKING TIPS:
✔  After you bake the pie crusts, make sure that you let the pie crust cool BEFORE you add the cream cheese mixture on top of the pie crust. To speed up the cooling process, I like to place the pie crust in the fridge for about 10 minutes to cool it down faster.
✔ Make sure you let these bars set for at LEAST an hour in the fridge before serving. You want to give these bars enough time to mold the flavors together, the longer in the fridge the better.
✔ If you want to switch it up, you can use chocolate pudding instead of lemon pudding for a delicious chocolate dessert. Both flavors are equally amazing and always a huge hit when I bring these bars to a party. And to make these bars even more fun top with SPRINKLES!
STEP-BY-STEP GUIDE ON HOW TO MAKE THESE
LEMON PIE 
BARS:
Lemon Pie Bars
Yield: 12 Lemon Bars
Prep Time: 25 minutes + 1 hour of chilling
Total Time: 1 hour 25 minutes
★ Make sure to read my BAKING TIPS above before you start baking!
Ingredients:
1 (2 crusts) package Pillsbury Refrigerated Pie Crusts
1 (8 oz.) package cream cheese, softened
1 cup powdered sugar
1 (8 oz.) tub Cool Whip, divided
2 (3.4 oz.) boxes instant lemon pudding, dry
3 cups milk
sprinkles, for topping
Directions:
PRE-STEP: Preheat oven to 450F degrees. Line a 9 x 9 inch baking pan with aluminum foil and spray with non-stick cooking spray. Set aside.
STEP 1: Unroll both refrigerated pie crusts. Press both pie crusts into the bottom of the prepared pan, folding pie crust edges down. Bake for 10 minutes. Let cool completely.
MAKE LAYER ONE:
STEP 2: In a medium size bowl, mix together the cream cheese, powdered sugar, 1 cup of Cool Whip from the 8 oz. tub of Cool Whip. Spread on top of cooled pie crust.
MAKE LAYER TWO:
STEP 3: In a medium size bowl, whisk together instant lemon pudding mix, and cold milk until pudding is thick. Spread on top of cream cheese layer.
MAKE LAYER THREE:
STEP 4: Spread remaining Cool Whip topping on top of lemon pudding layer and sprinkle with yellow colored sugar sprinkles.
STEP 5: Place pie bars in refrigerator for at least 1 hour before serving. Remove cooled pie bars from the baking pan using the aluminum foil overhang on the sides.
STEP 6: Cut into squares. Use a very sharp knife and wipe off with a paper towel between each cut to make neat, even cuts.
*Store pie bars in an airtight container in the refrigerator for up to 5 days.
Check our my other delicious Bar Recipes…
Try these Frosted Lemon Bars next!