Instant Pot Beef Chili
I love this quick and easy Instant Pot Beef Chili made with ground beef, tomatoes, beans and corn.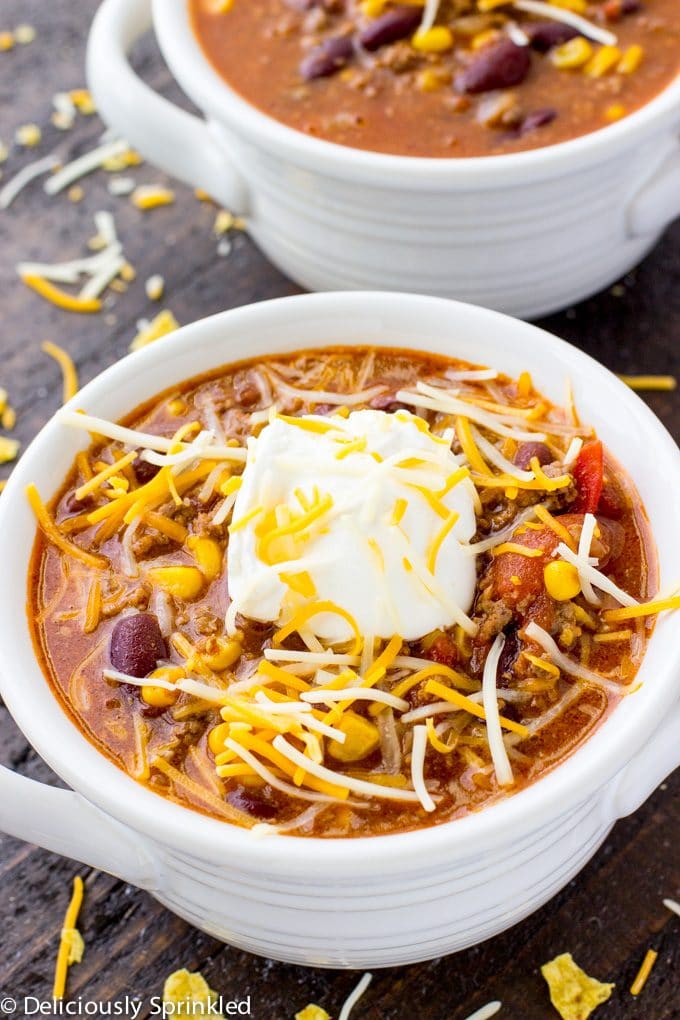 Winter is just around the corner and that means it's soup & chili season.
This is my families favorite beef chili recipe and guess what, you can make it in your Instant Pot or Slow Cooker.
I made this chili about a week ago. I usually make it in my slow cooker but I decided to try it in my Instant Pot. I was a little nervous because it was the first time I made my chili for my husband and I wanted it to be super good.
And you guys, I'm so glad I made it my Instant Pot because it only took 20 minutes to make and it tasted the same as I used to make it in the slow cooker for 4-6 hours! No more waiting around for the chili to be done all day…now I can make chili whenever I want.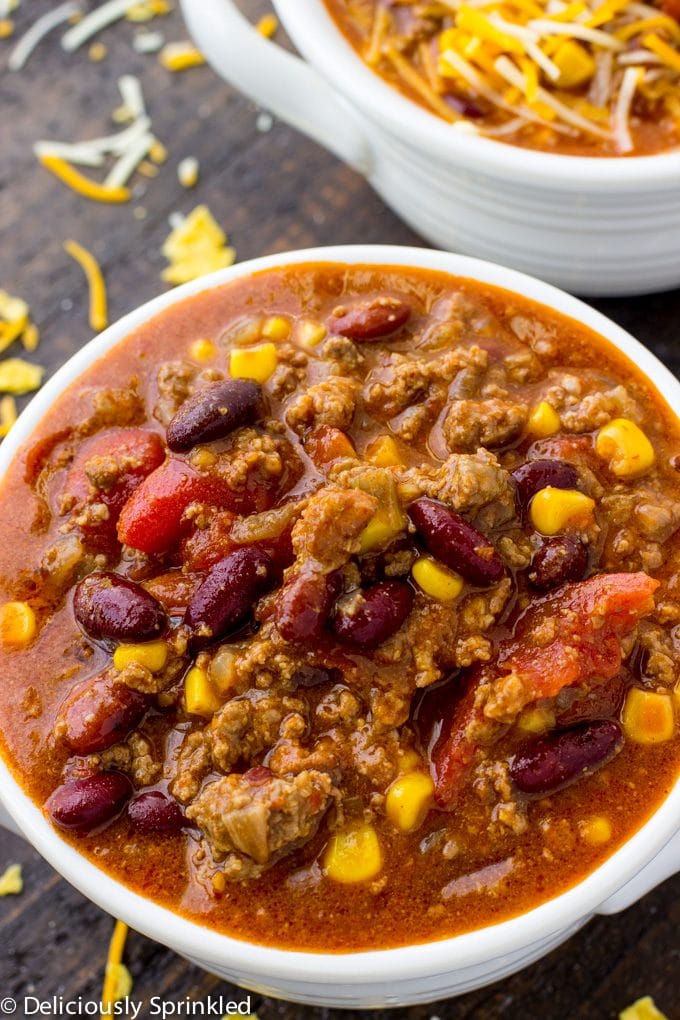 BEEF CHILI INGREDIENTS
✓ ONION
✓ GROUND BEEF
✓ CAN STEWED TOMATOES
✓ CAN DARK KIDNEY BEANS
✓ CAN CHILI WITH BEANS
✓ CAN TOMATO SOUP
✓ BBQ SAUCE
✓ GARLIC SALT
✓ GARLIC POWDER
✓ ONION SALT
✓ CHILI POWDER
✓ SUGAR
✓ SOUR CREAM
✓ SHREDDED CHEESE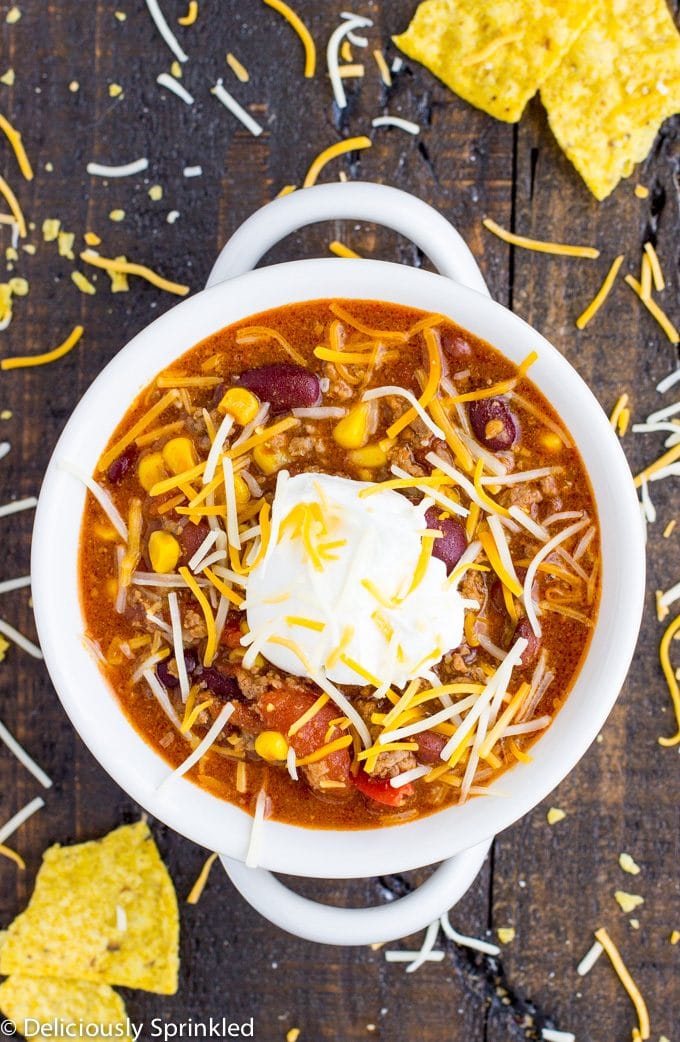 HOW TO MAKE INSTANT POT CHILI
MY FAVORITE INSTANT POT: I have this Instant Pot, it's a 6 quart and perfect for my husband and I. If you have a bigger family or your always hosting parties, I would HIGHLY recommend getting the 8 quart Instant Pot. You can also make more things in the 8 quart like whole chicken, whole turkey, cheesecake, brownies…I have the 8 quart Instant Pot on my Christmas wishlist.
INSTANT POT ACCESSORIES: I also, recommend getting the Instant Pot Non-Stick Cooking Pot…I just got mine in the mail and it makes a HUGE difference because things don't "stick/burn" to the bottom of the pot anymore.
CHILI TOPPINGS: One of the best parts about chili is the toppings. I love to add sour cream, shredded cheese, avocado and even tortilla chips.
PERFECT FREEZER MEAL: I love making this chili and then freezing it. Or you can make it ahead of time and place it in the refrigerator, it heats up perfectly in a saucepan or microwave.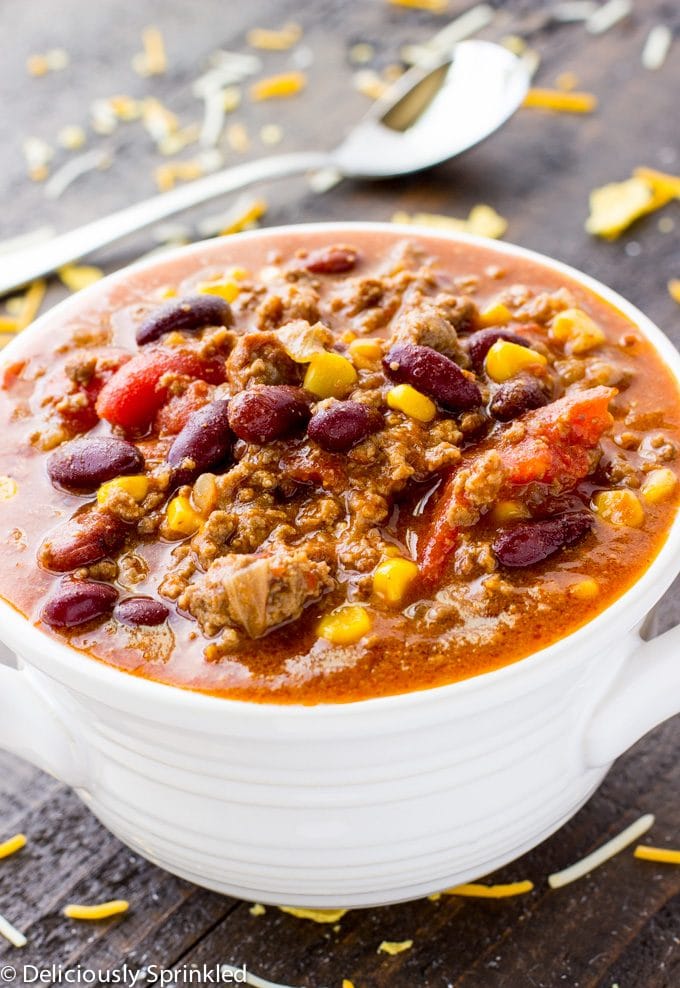 TRY THESE EASY INSTANT POT RECIPES TOO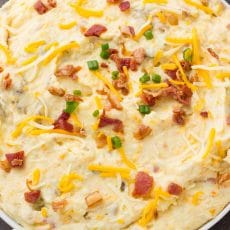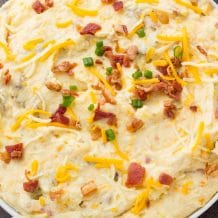 Instant Pot Brown Sugar-Glazed Carrots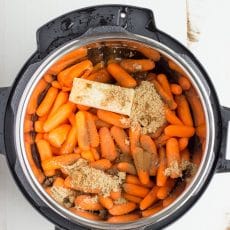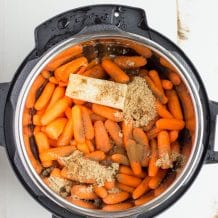 The BEST Instant Pot Macaroni and Cheese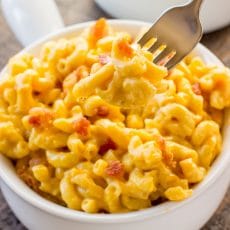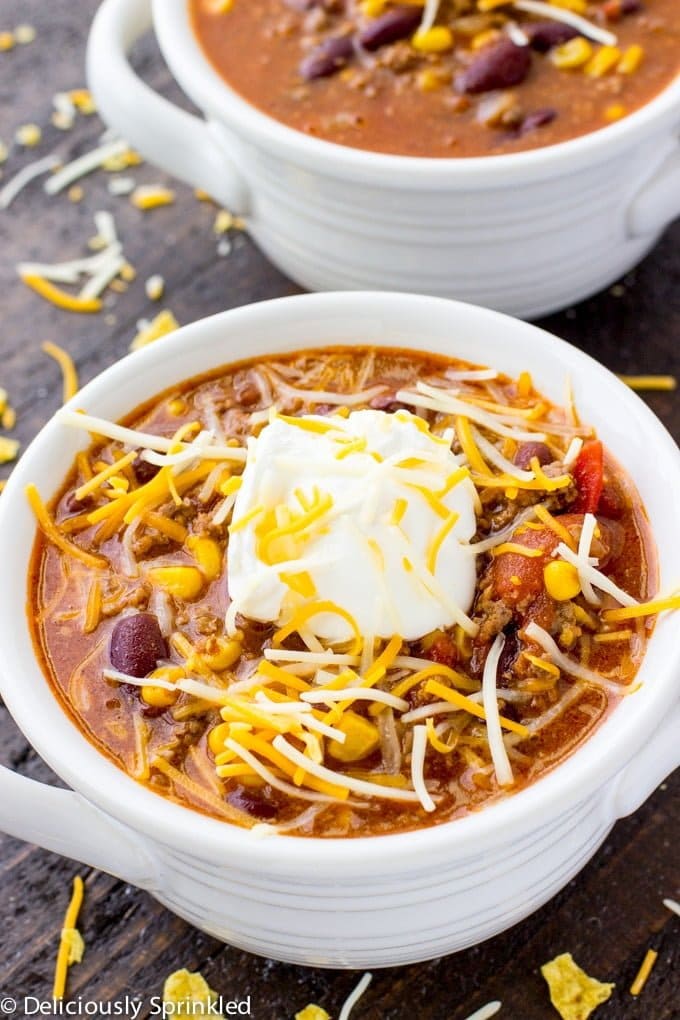 Yield: Serves 8
INSTANT POT BEEF CHILI
If you're looking for a quick and easy instant pot chili recipe - you will love this. It is the BEST instant pot chili made with ground beef, tomatoes, and beans.
Prep Time 20 minutes
Cook Time 20 minutes
Total Time 40 minutes
Ingredients
1 large onion, chopped
2 lbs. ground beef
28 oz. can stewed tomatoes
16 oz. can dark kidney beans, undrained
15 oz. can chili with beans
103/4 oz. can tomato soup
1 teaspoon BBQ sauce
1/4 teaspoon garlic salt
1/4 teaspoon garlic powder
1/4 teaspoon onion salt
1/4 teaspoon chili powder
pinch of sugar
Instructions
FOR THE INSTANT POT:
Press the "Saute" button, brown the beef and the onions.
Add the tomatoes, kidney beans, chili with beans, tomato soup, BBQ sauce, garlic salt, garlic powder, onion salt, chili powder and sugar.
Cover the pot and make sure the vent on the top of the cover is set to "Sealing". Press the "Pressure Cook" or "Manual" button on high pressure. Set timer to 20 minutes. Natural release.
Carefully open lid. Serve with toppings.
FOR THE SLOW COOKER:
In a skillet, brown ground beef and onions. Leave ground beef in larger chunks. Drain once ground beef is evenly cooked.
Spoon meat and onion into slow cooker.
Stir in stewed tomatoes, kidney beans, chili with beans, tomato soup, BBQ sauce, garlic salt, garlic powder, onion salt, chili powder and sugar.
Cover. Cook on HIGH for 4 hours. Serve with sour cream, shredded cheese and tortilla chips.
Notes
To freeze, place the chili in a covered airtight container or heavy-duty freezer bag up to 6 months.
Nutrition Information:
Yield:
8
Serving Size:
1
Amount Per Serving:
Calories: 480
Total Fat: 22g
Saturated Fat: 8g
Trans Fat: 1g
Unsaturated Fat: 11g
Cholesterol: 110mg
Sodium: 1013mg
Carbohydrates: 31g
Fiber: 6g
Sugar: 10g
Protein: 39g