Hot Cranberry Punch
Hello, Christmas… and hello, Hot Cranberry Punch! When the weather drops, curl up next to the fire and stay warm with this festive, fruity Christmas classic. Both sweet and slightly spiced, this hot, fresh cranberry punch is sure to keep you cozy all season long. Cheers!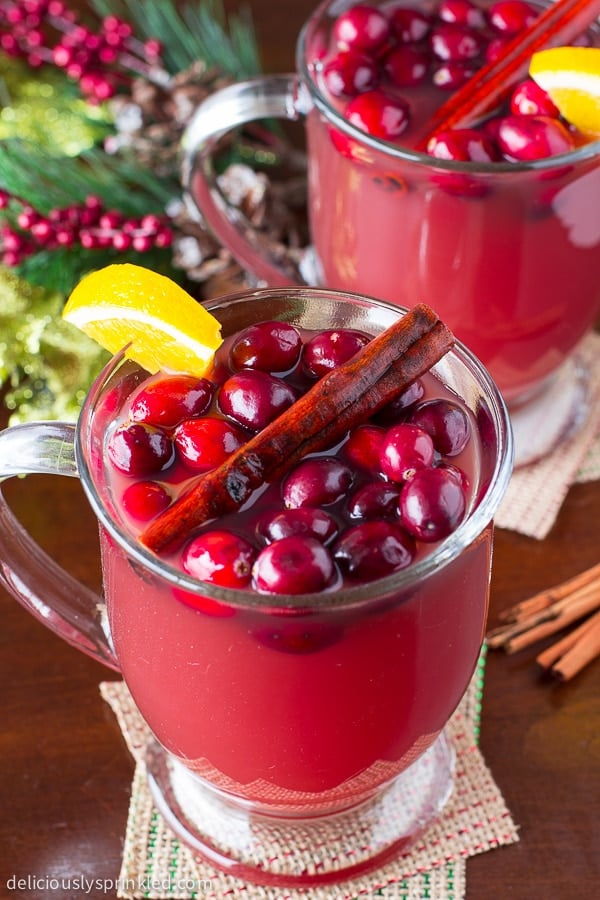 Hot Cranberry Punch
This hot cranberry punch is the perfect addition to any holiday party or gathering! It's sweetened with a medley of mouthwatering ingredients, and it also has a spiced depth to it from ingredients like cloves and cinnamon. With all of the different ingredients at play here, don't worry – cranberry is definitely still the most pronounced. If you love the taste of cranberry, you're going to be head over heels for this one. Trust me!
During the chilly holiday season, this is my go-to punch recipe for all my family gatherings. It's simple, so good, and it creates a batch big enough to share! And isn't that the beauty of Christmas, sharing things with each other that you love? Well, this easy to make punch is right up there with all of my favorite Christmas cookie recipes when it comes to things I love sharing.
Give this festive hot punch a try this holiday season. If you're a cranberry fan, I promise that you'll be so happy you stumbled upon this recipe! Make it for Christmas parties or just for cozying up on the couch with family and watching your favorite Christmas movies. It's spiced, sweet, and loaded with truly delicious cranberry flavor. It's so good, you might just want to leave a glass of it next to the cookies for Santa!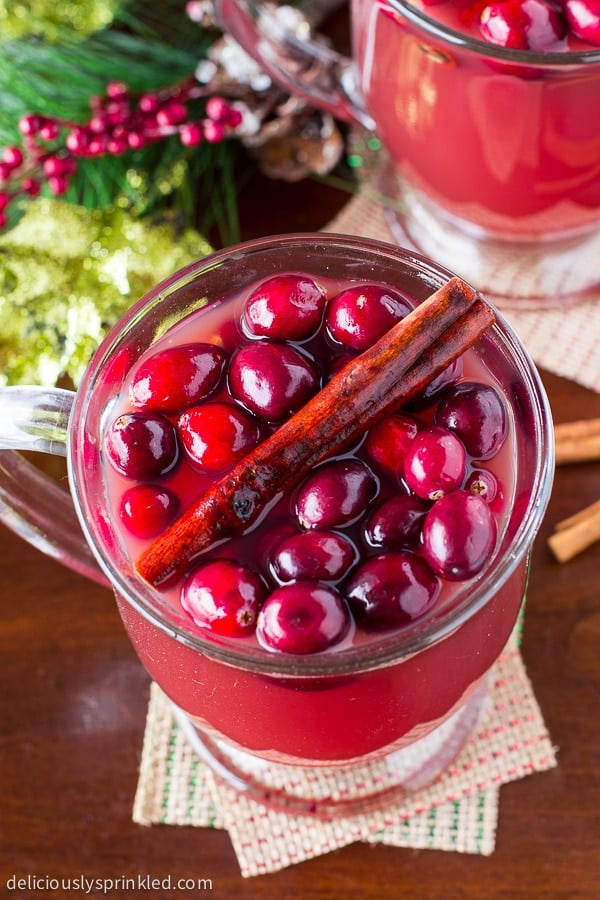 Hot Cranberry Punch Ingredients
● CRANBERRY JUICE: 4 cups of cranberry juice.
● APPLE JUICE: 2 cups of apple juice.
● ORANGE JUICE: 1/2 cup orange juice.
● SUGAR: 1 Tablespoon of granulated sugar.
● BROWN SUGAR: 1/4 cup light brown sugar.
● CINNAMON STICKS: about 4 cinnamon sticks.
● GROUND CLOVES: 1/2 teaspoon ground cloves.
● ORANGE SLICES: 1 orange cut into slices.
● APPLE SLICES: 1 or 2 apples cut into slices.
● CRANBERRIES: 1 cup of cranberries.

How to Make the Best Hot Cranberry Punch in the Crockpot

To make this comforting hot cranberry punch, simply:
POUR. Pour the cranberry, orange, and apple juices into your Crockpot (or whatever slow cooker you own).
SPICE IT UP. Add the brown sugar, cinnamon sticks, and ground cloves.
MAKE IT FRESH. Add the fresh orange slices, apple slices, and cranberries.
COOK. Cover and cook the punch on HIGH for 2 hours.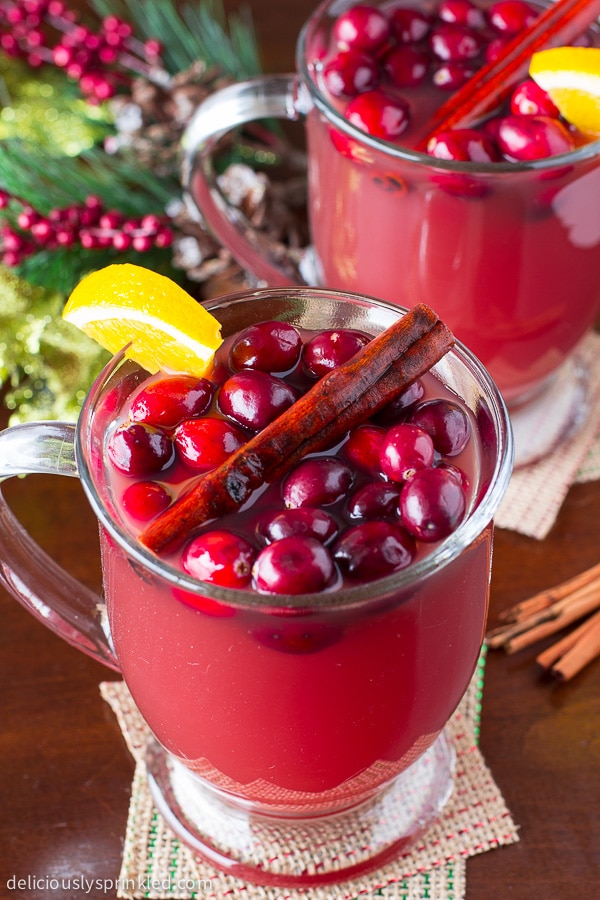 Tips for Hot Cranberry Punch
When you serve this warm punch, top it with fresh cranberries, a cinnamon stick, and an orange wedge. It's a delicious and pretty way to dress it up! The best part is, you can just keep the punch in the slow cooker and let your guests serve themselves.
Make this punch boozy by stirring in a shot of your favorite liquor when your pour the punch into a glass. I recommend starting with half a shot, doing a taste test, then adding more if you'd like to.
You can make this punch on the stovetop! If your slow cooker is on the fritz, you can make this festive punch in a Dutch oven. Just set the heat on your stove top to low, cover the pot, and let it cook. It should be ready in about two hours.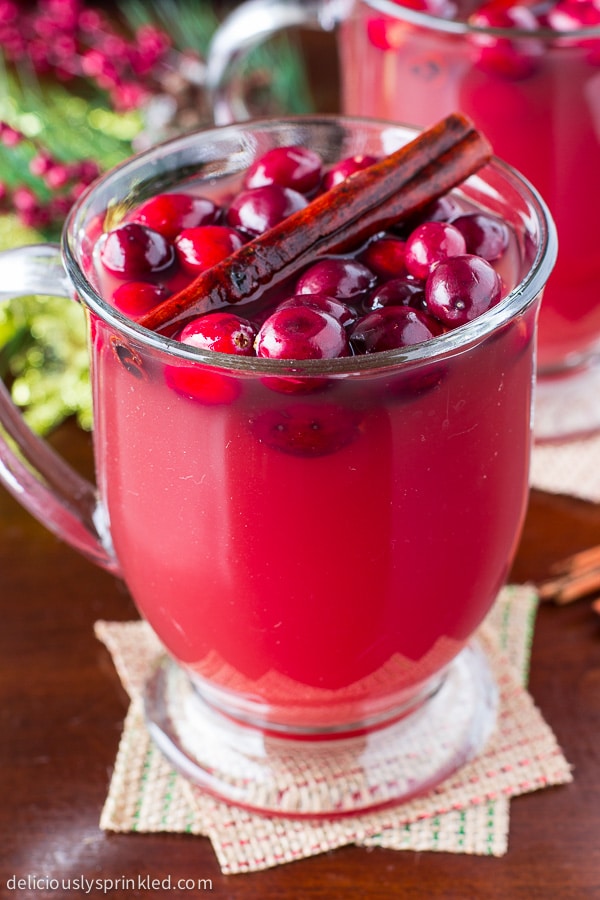 Kitchen Tools You'll Need for Hot Cranberry Punch

CROCKPOT: This is my favorite Crockpot! I really love that it's perfect for traveling with, too, especially during the holiday season when that's all I seem to do.
GLASSES: These are the cute glasses that I like to use when I serve this punch.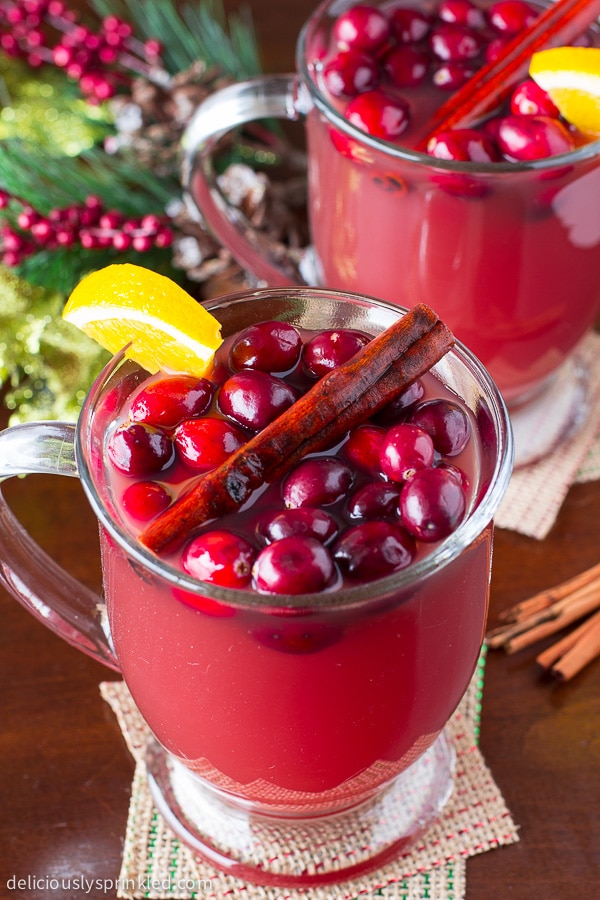 If you're also in the Christmas spirit, you need to make more of my favorite festive recipes! Be the best hostess at your neighborhood Christmas party by serving Holiday Punch, Eggnog Cut-Out Cookies, and Chocolate Peppermint Cookies.
Yield: 6-8 Servings
Hot Cranberry Punch
Prep Time 10 minutes
Cook Time 2 hours
Total Time 2 hours 10 minutes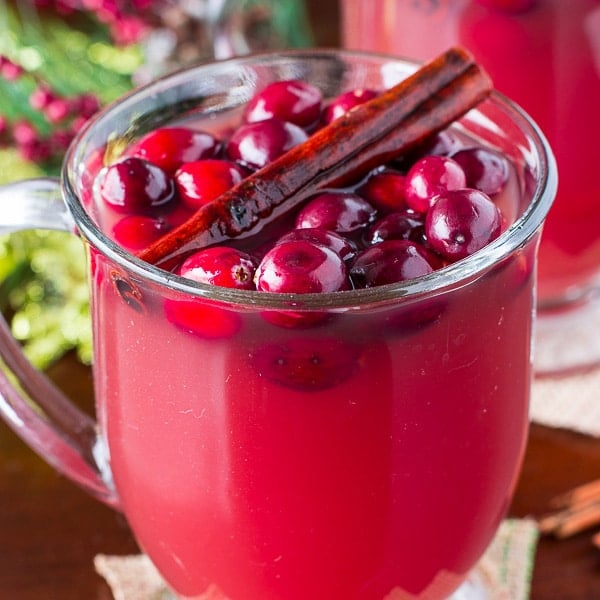 Ingredients
4 cups cranberry juice
2 cups apple juice
1/2 cup orange juice
1 Tablespoon granulated sugar
1/4 cup light brown sugar
4 cinnamon sticks
1/2 teaspoon ground cloves
1 orange, sliced
1 apple, sliced
1 cup cranberries
Instructions
Pour the cranberry, orange, and apple juice into crockpot.
Add brown sugar, cinnamon sticks and ground cloves.
Add orange slices, apple slices and cranberries.
Cover and cook on HIGH for 2 hours.
SHARE IT ON INSTAGRAM
WE LOVE SEEING WHAT YOU MAKE. 🍰
SHARE IT ON INSTAGRAM AND TAG US IN YOUR PHOTO!
USE HASHTAG #DELICIOUSLYSPRINKLED
PIN IT!
CLICK THE LINK BELOW TO PIN THIS RECIPE FOR LATER!
FOLLOW US ON PINTEREST!

Some of the links above are affiliate links, which pay me a small commission for recommending my favorite products at no extra cost to you! Thank you for supporting Deliciously Sprinkled.