Homemade Fudgy Brownies
These chewy, fudgy, homemade brownies are easy to make and so delicious you will never want to make brownies from a box again!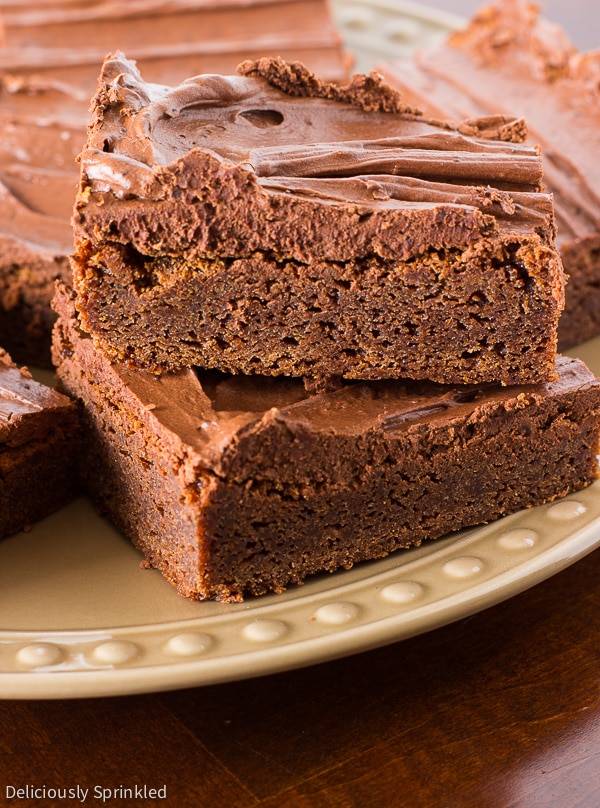 There is just nothing that compares to homemade fudgy brownies.
I love the smell that fills our whole apartment when these brownies are baking.
These brownies are made from scratch and I promise you that they're just as easy to make as brownies from a box but they taste a million times better.
I guarantee after you make these homemade fudgy brownies, you will never make a brownie box mix again!
These brownies have the perfect flakey crust with a gooey, fudgy center, just the way I like my brownies.
Sometimes I leave them plain or I top them with a milk chocolate frosting for even more deliciousness, but either way they are the best brownies ever!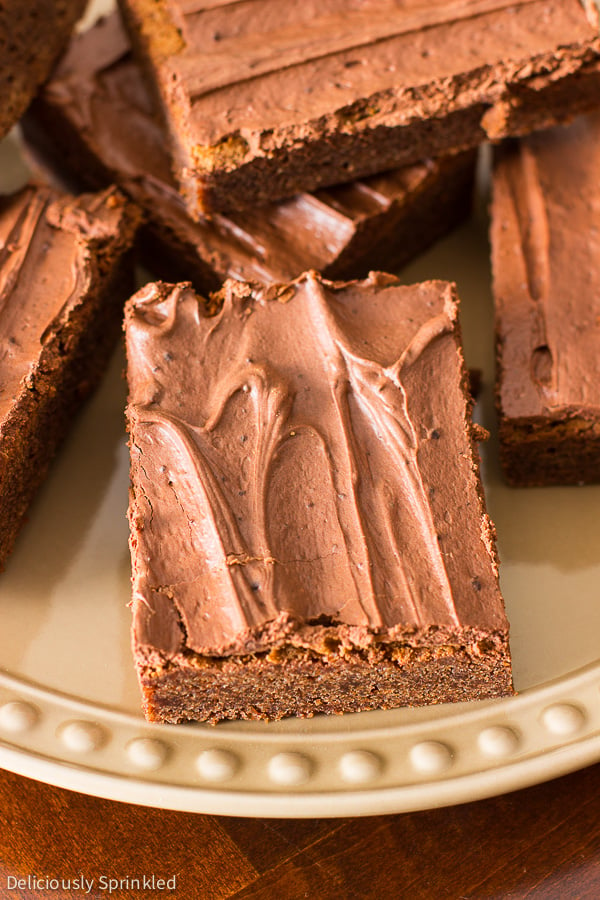 JUST A FEW BAKING TIPS:
✔ I like to use Milk Chocolate Chips to make these brownies, but you can also use semi-sweet chocolate chips or dark chocolate chips….it just depends on how rich you like your brownies to be.
✔ To make it super easy for you to cut the brownies into squares, line your 9×13 inch baking pan with aluminum foil, leaving enough overhang on the sides and spray the foil with non-stick cooking spray. Once the brownies have cooled, lift the brownies out of the pan, folding down the aluminum foil sides. Then use a sharp knife to cut the brownies into squares. SUPER EASY!
✔ You can leave these brownies plain or you can top them with milk chocolate frosting. Either way they are delicious.
STEP-BY-STEP GUIDE ON HOW TO MAKE THESE HOMEMADE FUDGY BROWNIES: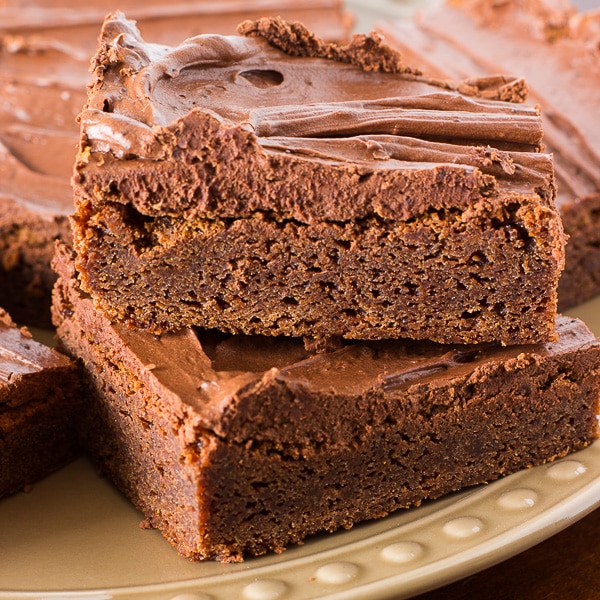 Yield: 15 Brownies
Homemade Fudgy Brownies
Prep Time 10 minutes
Cook Time 50 minutes
Total Time 1 hour
Ingredients
FUDGE BROWNIES:
1 1/2 cup granulated sugar
2/3 (11 Tablespoons) cup unsalted butter
1/4 cup water
1 (11.5 oz.) bag milk chocolate chips
2 teaspoons vanilla extract
4 large eggs
1 1/2 cup all-purpose flour
1/2 teaspoon baking soda
1/2 teaspoon salt
CHOCOLATE FROSTING:
6 Tablespoons unsalted butter, softened
1/2 cup cocoa powder
pinch of salt
1 1/4 cup powdered sugar
1/2 teaspoon vanilla extract
3 Tablespoons milk
Instructions
Preheat oven to 325F degrees. Line a 9x13 inch baking pan with aluminum foil leaving enough overhang on the sides and spray with non-stick cooking spray. Set aside.
In a medium sized saucepan, combine sugar, butter, and water. Bring to boil.
Remove from heat. Add chocolate chips and vanilla extract; stir until chocolate melts.
Pour chocolate mixture into a large mixing bowl. Using an electric or stand mixer, beat in eggs, mixing after each egg.
Mix in flour, baking soda, and salt until combined.
Pour brownie batter into prepared pan. Bake for 50 minutes.
Let brownies cool before frosting and/or cutting into squares.
MAKE CHOCOLATE FROSTING:
Using an electric or stand mixer, mix together butter, cocoa powder, and salt for about 3-5 minutes.
Add the powdered sugar, vanilla extract, and milk. Mix until frosting becomes light and fluffy.
Frost the cooled brownies, and cut them into squares.
Notes
*Store brownies in an airtight container at room temperature for up to 1 week. Unfrosted brownies can be frozen for up to 2 months.
BAKING TOOLS I USED TO MAKE THIS RECIPE:
Check out more delicious Brownie Recipes…
And try these delicious Peppermint Bark Brownies next!