Grasshopper Pie
I just can't get enough of the mint chocolate craze this time of year. After enjoying the delicious Mint Chocolate Chip Brownies, I decided I wanted to make my first grasshopper pie but put instead of making a traditional pie I made individual pies for a fun St. Patrick's Day dessert.
 The chocolate and mint flavors in this pie, begins with the crust. Instead of using regular Oreos, I used mint Oreos for an even bigger mint flavor. I did not have any creme de menthe, so I used mint extract and green food coloring to create the minty green color. The filling is a cross between a JELL-O dessert, and a cream pie. It's creamy,smooth and light. Top it off with a dollop of whip cream and chocolate SPRINKLES.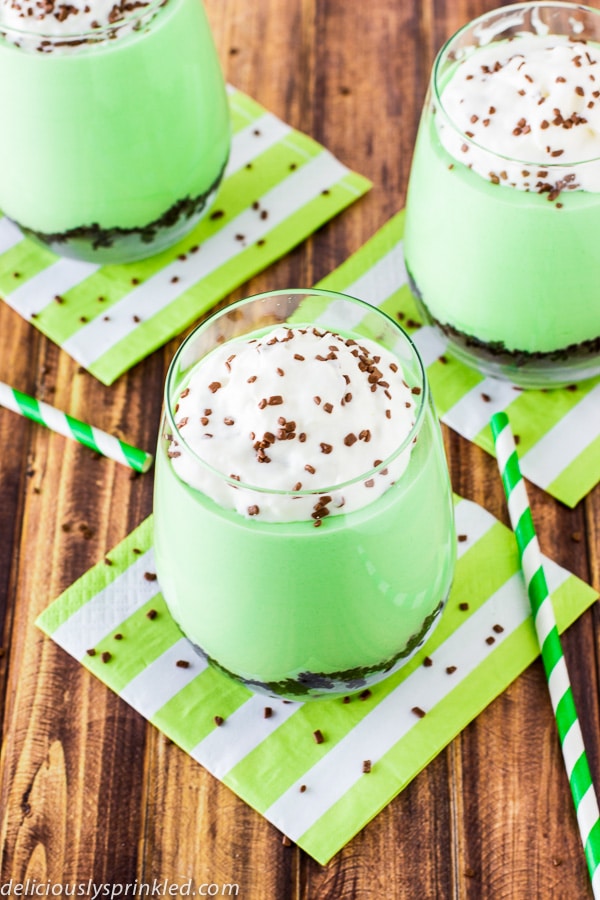 Not only does this make a great St. Patrick's Day pie, but it would also be a refreshing treat during the summer as well.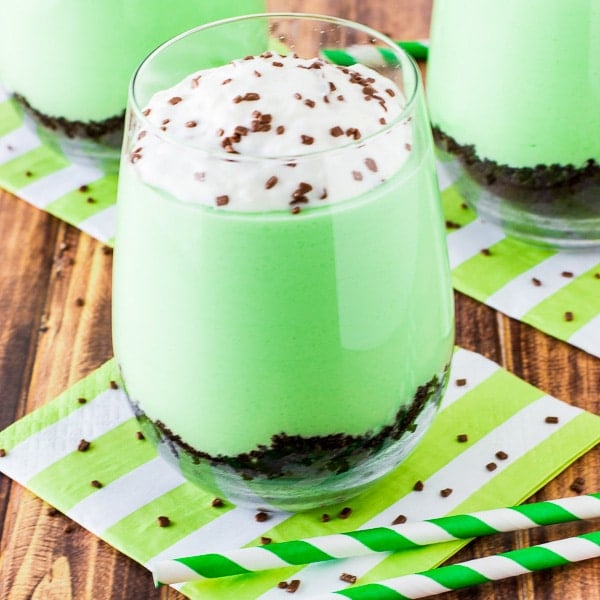 Yield: 8 Glasses
Grasshopper Pie
Additional Time 30 minutes
Total Time 30 minutes
Ingredients
2½ cups mint Oreo cookies, finely crushed
3 cups mini marshmallows
½ cup milk
1 teaspoon mint extract
6 drops of green food coloring
1½ cups heavy whipping cream
chocolate sprinkles
8 small glasses
Instructions
STEP 1: Using a food processor, coarsely grind the whole mint Oreos until finely crushed.
STEP 2: In a medium saucepan, melt the mini marshmallows with the milk over low heat. Once all the mini marshmallows have melted, place marshmallow mixture in fridge for 10 minutes to set.
STEP 3: Once the marshmallow mix has cooled and set, stir in the mint extract and a couple drops of green food coloring. Set aside.
STEP 4: Using an electric mixer, whip the whipping cream until soft peaks form. Then fold the whipped cream into the mint mixture. Set aside.
STEP 5: Put the pies together: for the crust, evenly spread the cookie mixture into the bottoms of your glass, then pack it down. Add the mint mixture on top of the cookie mixture, filling each glass halfway. Top the pies with a dollop of whip cream, and some chocolate sprinkles. Chill in fridge for at least 2 hours before serving.
 Check out more delicious Mint Chocolate Recipes…
And make these Mint Oreo Truffles next!