Funfetti Sugar Cookies
A soft, chewy, and puffy homemade Funfetti Sugar Cookies filled with SPRINKLES!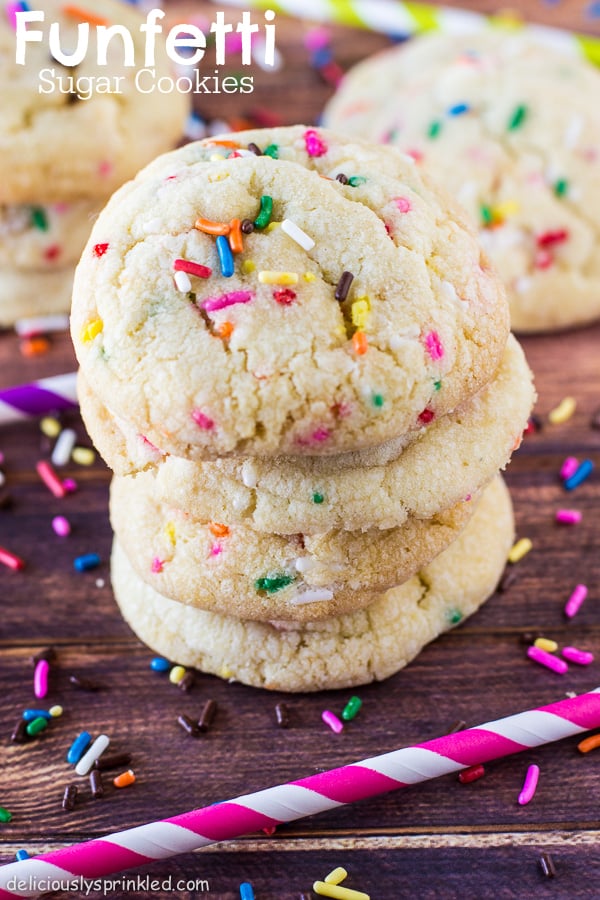 I'm so excited to share with all of you my favorite sugar cookie recipe, it took me about 100 dozen tries (ok, maybe not that many) to finally get this sugar cookie recipe just right!
Imagine a soft, thick sugar cookie filled with fun rainbow SPRINKLES sprinkled throughout. That is exactly what these delicious sugar cookies are!
These cookies are super easy to mix up, just one bowl is needed. I like to make the sugar cookie dough the night before I need them and place the dough in the refrigerator overnight. But if you just can't wait to bake up these delicious cookies, place the dough in the fridge for at least 30 minutes before baking. Trust me, the longer the dough is in the fridge the bigger, more puffy your cookies will be! 🙂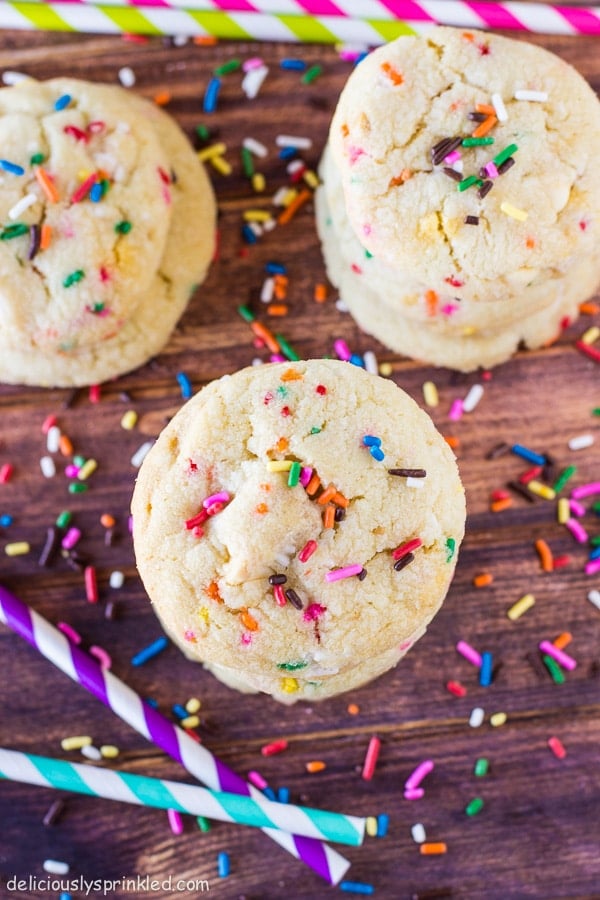 BAKING TIP
You want to make sure that you use  "jimmies" sprinkles in these cookies. They keep their vibrant colors once baked, unlike some of the other types of sprinkles I have tried.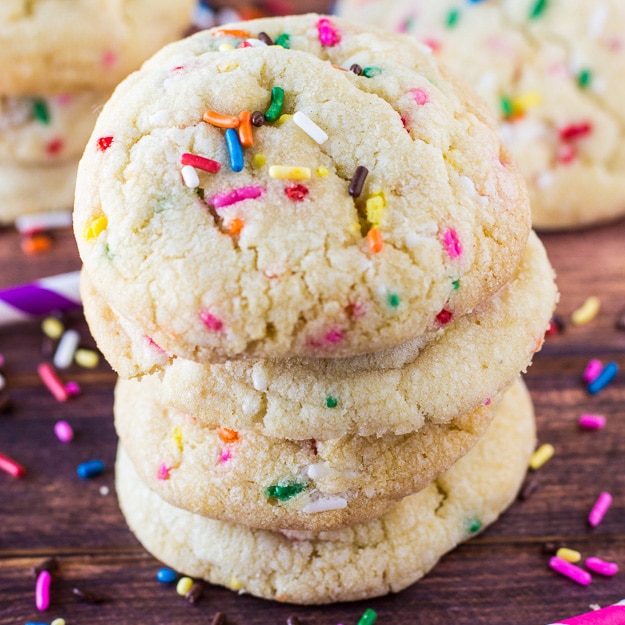 Yield: 3 Dozen Cookies
Funfetti Sugar Cookies
Additional Time 1 hour 10 minutes
Total Time 1 hour 10 minutes
Ingredients
1 cup unsalted butter, softened
1 cup vegetable oil
1 cup powdered sugar
1 cup granulated sugar
2 large eggs
1 teaspoon vanilla extract
4 1/2 cups all-purpose flour
1 teaspoon cream of tartar
1 teaspoon baking soda
1 teaspoon salt
1/2 cup  sprinkles
Instructions
In a large bowl, cream together thoroughly butter, oil, powdered sugar and granulated sugar. Add eggs and vanilla and beat until smooth.
Stir in flour, cream of tartar, baking soda, and salt until just combined. Do not OVERMIX the dough. Fold in sprinkles.
Cover and refrigerate dough for at least 30 minutes, or overnight. This step is mandatory.
Preheat oven to 350F degrees. Line two large cookie sheets with parchment paper or silicone baking mats.
Scoop rounded tablespoons of the cold dough onto the prepared baking sheet. Make sure to keep dough chilled when working in batches. Bake for 10-12 minutes until edges are slightly browned.
Allow the cookies to cool on the baking sheet for 2 minutes and transfer to a wire rack to cool completely.