Frosted Turtle Brownies
These Frosted Turtle Brownies are melt in your mouth delicious and are certain to steal the show!
If you've ever wondered what heaven is like, these Turtle Brownies may be the closest thing possible to heaven on Earth. With the gooey chocolate goodness of the brownie combined with the pecans and caramel drizzles, your mouth is going to be smiling for a very long time.
It's quite possible to eat an entire pan of these, without even realizing that you did. Bite after bite will happen, so prepare yourself ahead of time and get ready to fall in love with these amazing Turtle Brownies.
No matter if you love the edge pieces or the soft centerpiece, there isn't a bad bite or angle to have. Cut your piece large enough to ensure that you get the powerful combo of the pecans, caramel, and brownie perfectly molded together.
After you taste test this recipe, start planning out all the friends and family that you're going to share it with. Why keep such an amazing recipe all to yourself when you can share it with others who will appreciate it just as much as you do?
Taste test a couple batches to be certain that you've perfected your brownie craft, and then invite others over to share in the goodness. While it may be hard to do, one batch makes more than plenty to share!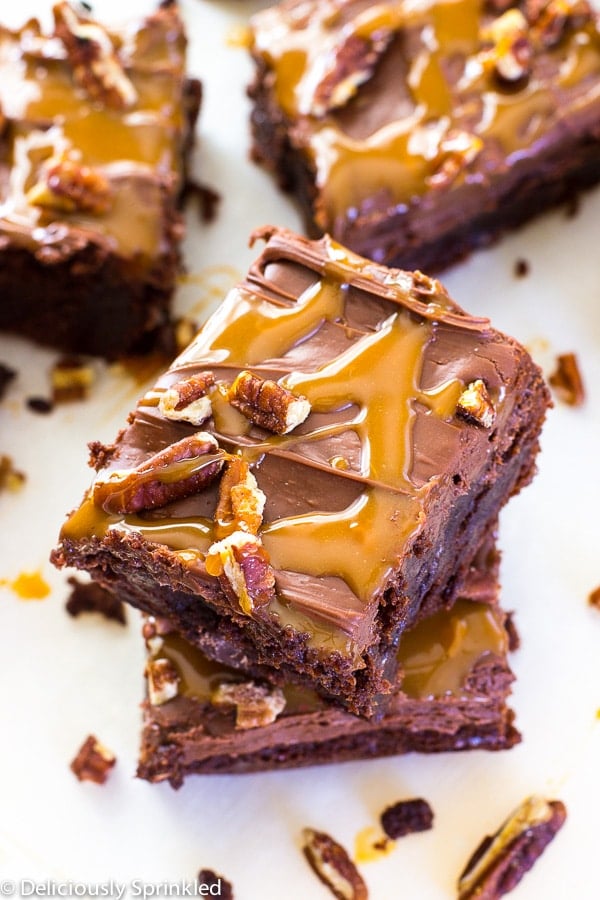 HOW TO MAKE BROWNIES
✓ LINE YOUR BAKING PAN: To make it super easy for you to cut these brownies into squares, line your 13×9 inch baking pan with aluminum foil, leaving enough overhang on the sides and spray the foil with non-stick cooking spray. Once the brownies have cooled lift the brownies out of the pan, folding down the aluminum foil sides. Use a sharp knife to cut these brownies into squares and enjoy!
✓ CUTTING BROWNIES INTO SQUARES: The secret to cutting brownies is to use a plastic knife or a silicone spatula because they don't have sharp edges for the brownies to stick to, so they cut more smoothly. Also, make sure that the brownies are COMPLETLY COOLED before cutting.
MORE BROWNIE RECIPES TO TRY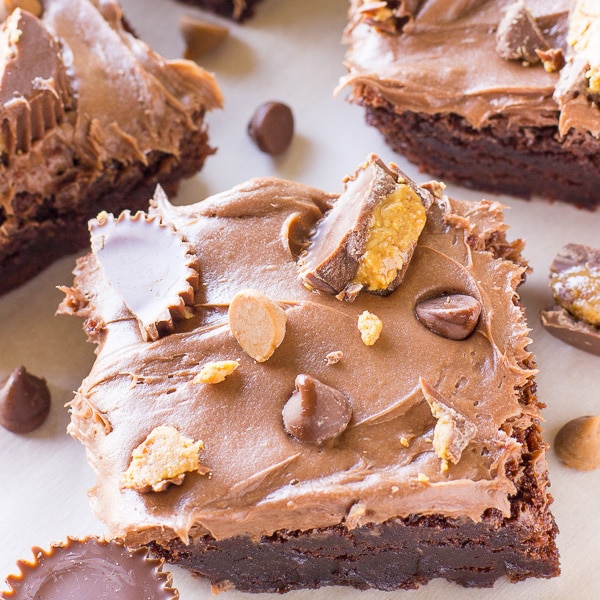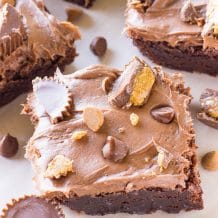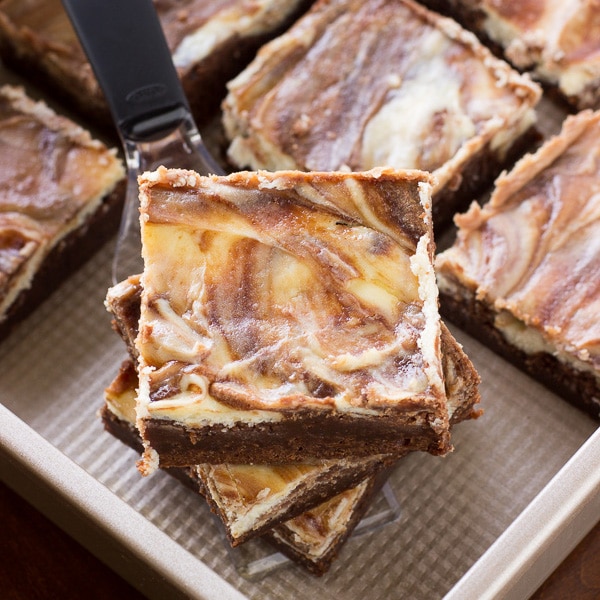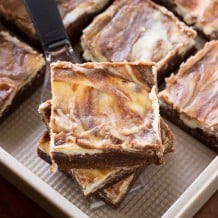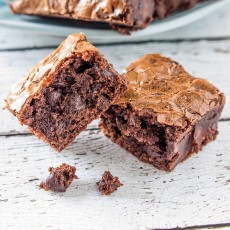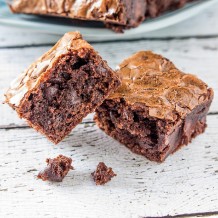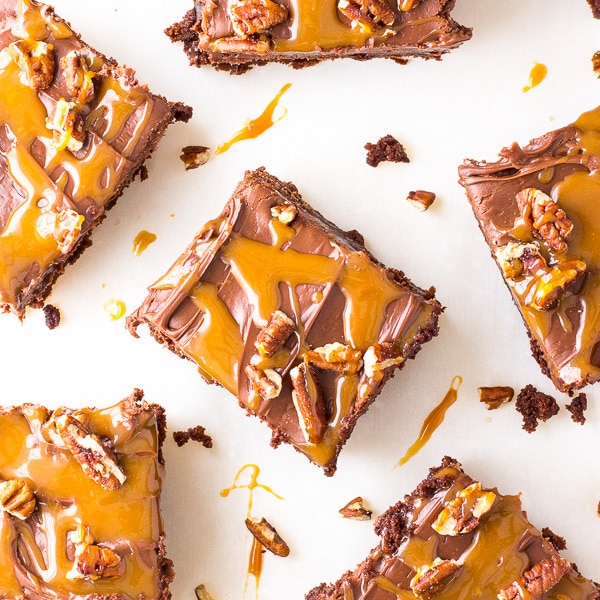 Yield: 2 Dozen
Turtle Brownies
Prep Time 10 minutes
Cook Time 40 minutes
Total Time 50 minutes
Ingredients
1 (19 oz.) milk chocolate brownie mix
1 (19 oz.) triple fudge brownie mix (I used Ghirardelli Triple Fudge)
½ cup water
½ cup vegetable oil
2 large eggs
1 (4.4 ounce) extra large Hershey's Milk Chocolate candy bar
1 cup (2 sticks) unsalted butter, softened
2½ cups powdered sugar
¼ cup heavy whipping cream
½ teaspoon vanilla extract
½ cup chopped pecans
12 soft caramels
1 Tablespoon heavy whipping cream
Instructions
PRE-STEP: Preheat over to 325F degrees. Line 9x13 inch cake pan with aluminum foil and spray with non-stick cooking spray. Set aside.
STEP 1: In a large bowl, using an electric or stand mixer, mix both brownie mixes, water, oil, and eggs until combined. Pour brownie mixture into prepared pan.
STEP 2: Bake for 40 minutes or until toothpick inserted into the center comes out clean. Let brownies cool before frosting.
STEP 3: MAKE FROSTING: Place milk chocolate candy bar into small bowl. Microwave for 30 seconds intervals, stirring after each interval until the chocolate is melted and smooth. Set aside and allow to cool. Using an electric or stand mixer, cream together butter and powdered sugar together until light and fluffy, scraping the sides of the bowl as needed. Add heavy whipping cream and vanilla extract, and mix until combined. Fold in milk chocolate until fully incorporated into the frosting.
STEP 4: Frost cooled brownies and sprinkle with chopped pecans. Place brownies in the fridge for about an 1 hour.
STEP 5: In microwave, melt the caramels with heavy whipping cream; stir until smooth. Drizzle over brownies. Cut into squares.