Frosted Turtle Brownies
Happy Thursday, everyone. Can you believe next week is Thanksgiving already!? Time flies when you're having fun, and speaking of fun these Frosted Turtle Brownies would make the perfect holiday dessert.
I didn't think brownies could get any better until I topped them with homemade milk chocolate buttercream frosting, drizzled with caramel and sprinkled with chopped pecans. Seriously, these brownies are AMAZING!
These brownies are super simple to make because I used two of my favorite boxed brownie mixes, that's my trick for homemade tasting brownies without all the work. And with the holiday season kicking off next week with Thanksgiving, I'm all about quick and easy desserts that taste and look like you have spent hours in the kitchen.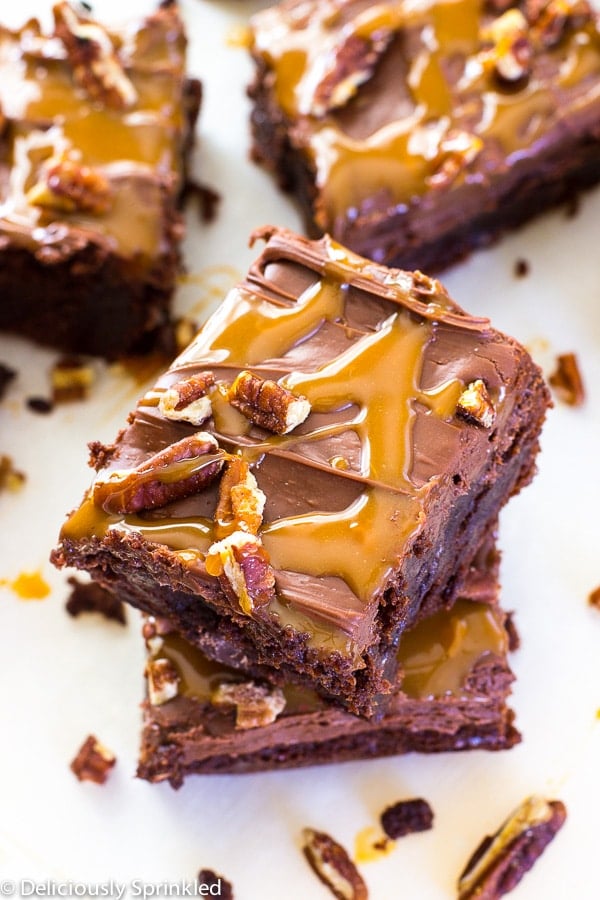 JUST A FEW BAKING TIPS:
✓ LINE YOUR BAKING PAN: To make it super easy for you to cut these brownies into squares, line your 13×9 inch baking pan with aluminum foil, leaving enough overhang on the sides and spray the foil with non-stick cooking spray. Once the brownies have cooled lift the brownies out of the pan, folding down the aluminum foil sides. Use a sharp knife to cut these brownies into squares and enjoy!
✓ CUTTING BROWNIES INTO SQUARES: The secret to cutting brownies is to use a plastic knife or a silicone spatula because they don't have sharp edges for the brownies to stick to, so they cut more smoothly. Also, make sure that the brownies are COMPLETLY COOLED before cutting.
STEP-BY-STEP GUIDE ON HOW TO MAKE THESE FROSTED TURTLE BROWNIES:
One Response to "Frosted Turtle Brownies"
Leave a Comment