Frosted Funfetti Cookies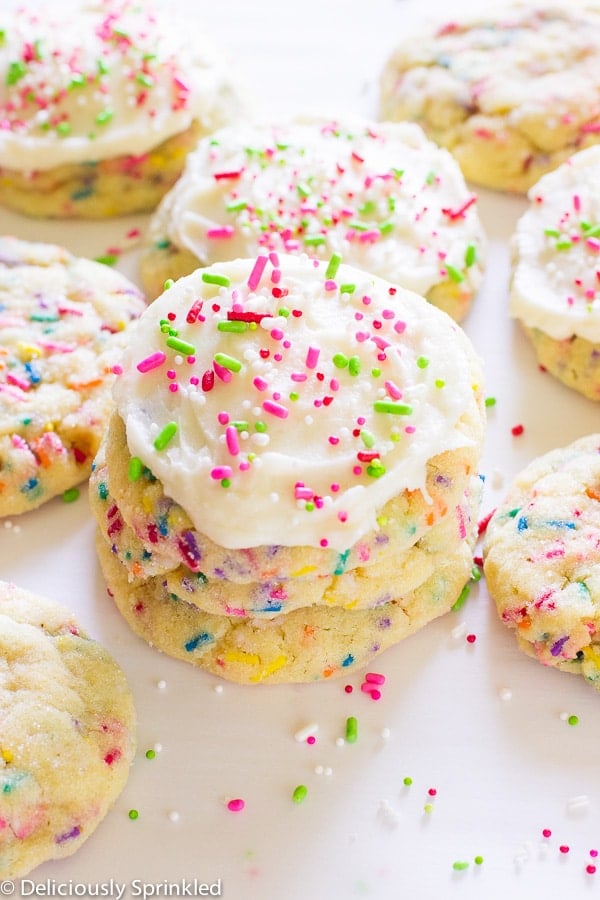 I have a new favorite cookie recipe!
These Frosted Funfetti Cookies are awesome in every way. I mean, how can they not be awesome with all these SPRINKLES! And speaking of SPRINKLES, these soft sugar cookies are loaded with bright colored sprinkles and topped with my favorite vanilla cookie frosting. These cookies are perfect for any party and with 4th of July just around the corner, these would make for a fun dessert for your 4th of July party….just switch out the rainbow sprinkles for red, white, and blue sprinkles.
You can never go wrong with a Frosted Funfetti Cookie!
JUST A FEW BAKING TIPS:
✓ DO NOT OVER MIX COOKIE DOUGH: With almost all my cookie recipes, I always make sure to remind you to not OVERMIX  the cookie dough. Meaning, when you mix the flour mixture into the wet ingredients, only mix them together until just combined…you should still see some flour in your mixing bowl.
✓ SCOOPING THE BATTER: I always use a 1 Tablespoon cookie scoop but if you don't have a cookie scoop you can use a 1 Tablespoon measuring spoon. After you roll the cookie dough balls in sugar and place them on the prepared baking sheet, I like to slightly flatten the cookie balls using the bottom of a glass or just the palm of my hand.
✓ VANILLA FROSTING: Once the cookies have cooled, frost each cookie with a thin layer of my favorite vanilla cookie frosting and top with SPRINKLES. Then place the cookies in the fridge for about 10 minutes to let the frosting set before enjoying.
STEP-BY-STEP GUIDE ON HOW TO MAKE THESE FROSTED FUNFETTI COOKIES: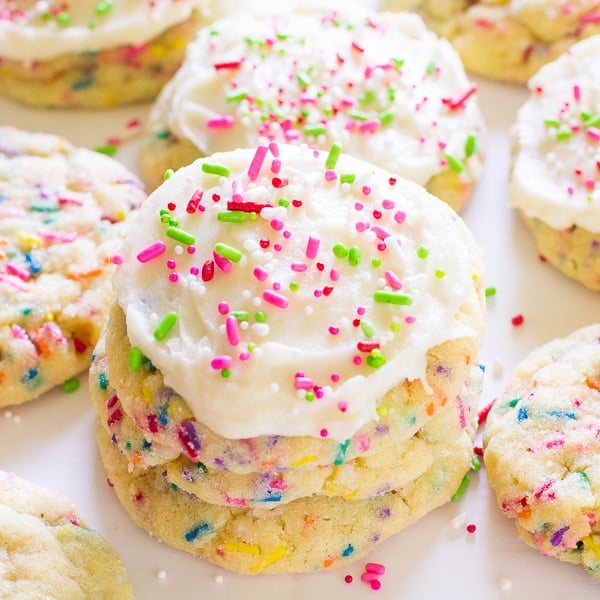 Yield: 2 Dozen
Frosted Funfetti Cookies
Prep Time 20 minutes
Cook Time 10 minutes
Total Time 30 minutes
Ingredients
2 cups all-purpose flour
3/4 teaspoon baking soda
1 teaspoon baking powder
 1/4 cup granulated sugar
3 egg yolks
1 teaspoon vanilla extract
1 cup sprinkles
1/4 cup granulated sugar, for rolling
3/4 cup unsalted butter, softened
2 1/4 cups powdered sugar
3 Tablespoons heavy whipping cream
1 teaspoon vanilla extract
pinch of salt
sprinkles, for topping
Instructions
PRE-STEP: Preheat oven to 350F degrees. Line two large baking sheets with parchment paper or silicone baking mats. Set aside.
STEP 1: Whisk together the flour, baking soda, and baking powder in a medium size bowl. Set aside.
STEP 2: In a large bowl, using an electric or stand mixer, cream together the butter, vanilla pudding mix, and granulated sugar until combined.
STEP 3: Add egg yolks and vanilla extract.
STEP 4: Add flour mixture and mix until just combined. DO NOT OVERMIX!
STEP 5: Mix in sprinkles.
STEP 6: Using a cookie scoop or ice cream scoop, scoop dough into balls about 2 Tablespoons each and place onto prepared baking sheet. Flatted each dough ball slightly using the bottom of a glass or just the palm of your hand.
STEP 7: Bake for 8-10 minutes or until tops of cookies start to crack. Let cool for 5 minutes on baking sheet before moving them to a wire rack. Let cool completely on wire rack.
MAKE VANILLA FROSTING:
STEP 8: Mix softened butter on medium speed with an electric or stand mixer. Beat for 30 seconds until smooth and creamy.
STEP 9: Add powdered sugar, heavy whipping cream, vanilla extract, and a pinch of salt. Increase to high-speed and beat for 3 minutes. Add more cream if needed for spreading consistency.
STEP 10: Frost the tops of each cooled cookie and top the frosting with additional sprinkles.
Notes
*Freezing the cookie dough: Roll the dough into balls and place them in an airtight container. You can freeze the cookie dough for up to 2 months. Once your ready to bake them, place frozen cookie dough balls onto prepared baking sheet and bake for 10-12 minutes.
* Storing the cookies: Cookies will stay fresh for up to 7 days in an airtight container, stored at room temperature.
SWEET DEAL!
To celebrate creativity and to help you make some fun treats like this at home Expressionery and The Bakers Party Shop are offering a special coupon code so you can save 25% off in BOTH shops now through June 28th!
Coupon code to use at checkout is: SUNSHINE25
Stop by Expressionery.com to see all of the fun stamps and accessories they offer and the fun designs from Laura Kelly. Don't forget to enter the code above to save 25% off your order there and in our shop!
GIVEAWAY TIME!
Enter to win a $250 Visa gift card and your own custom stamp from Expressionery so you can customize your own delicious treats!
Today's recipe is brought to you by my friends at Expressionery and The Bakers Party Shop. All opinions expressed are my own.