Easy French Toast Bake
If you're looking for a delicious french toast breakfast that everyone will love, you are going to LOVE this easy french toast bake recipe. The cinnamon streusel topping makes it the absolute best recipe EVER!!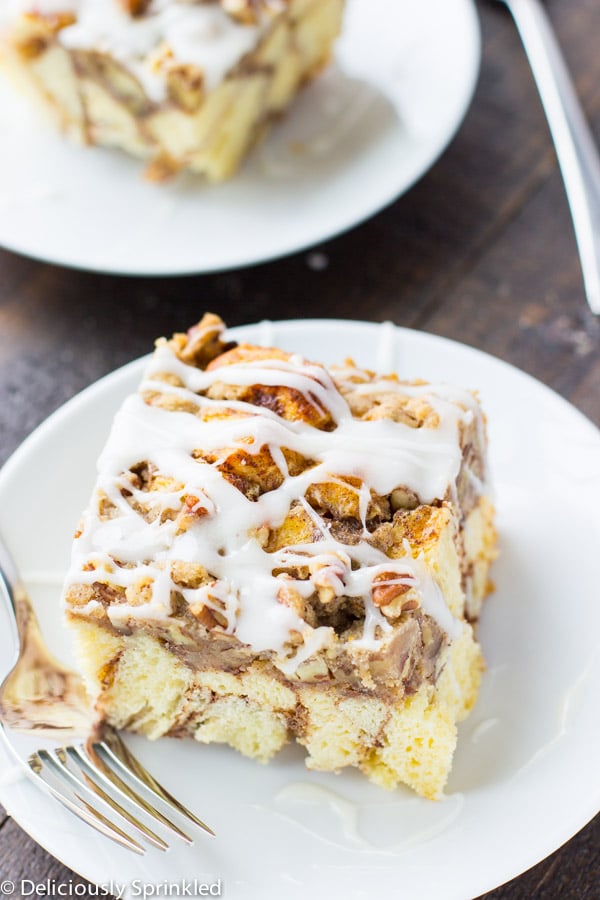 YUMMY OVEN FRENCH TOAST BAKE
This is the EASIEST breakfast that will feed your whole family that is so delicious! This easy french toast bake recipe is my favorite breakfast to make when we have guests over. It's so simple to make and I can even make it the night before so I don't have to get up early to make breakfast.
The cinnamon-pecan streusel topping is to DIE FOR! It gives the french toast that extra something-something, everyone always says the topping is what really makes this french toast bake over the top delicious.
FRENCH TOAST BREAKFAST
You can make this french toast bake in SO MANY ways! I've made a variation by adding apples to it and this Apple Streusel French Toast Bake is our go to Thanksgiving morning recipe!
You can also switch it up a bit by trying a different flavored creamer instead of the vanilla! I bet it would taste so good with seasonal flavors like pumpkin or smores! Just make sure not to throw away the icing that comes with the cinnamon rolls, that's what you will use to drizzle on top once it comes hot out of the oven.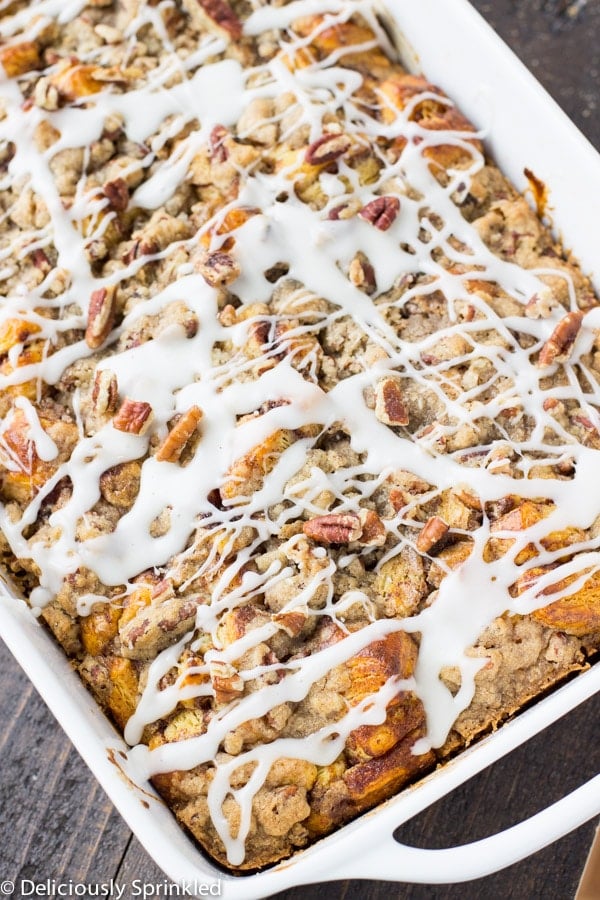 FRENCH TOAST BAKE INGREDIENTS
For this easy french toast bake recipe, you'll need these ingredients:
BUTTER: unsalted butter is best for baking recipes such as these!
SUGAR: light brown sugar will give your topping the best flavor.
FLOUR: you'll need flour for both the topping and french toast bake!
CINNAMON: I mean… can you possibly leave out cinnamon for a recipe like this?!
PECANS: pecans give it the perfect flavor and texture addition to the topping!
EGGS: you'll need a couple eggs to coat the french toast pieces in.
CREAMER: we used international delight vanilla creamer for this recipe!
VANILLA: just a bit of vanilla to give the egg mixture more flavor.
CINNAMON ROLLS: we used Pillsbury Flaky Grands but you can use any refrigerated cinnamon rolls.
HOW TO MAKE FRENCH TOAST BAKE
Scroll down for a step-by-step printable recipe for this easy french toast bake!
PREHEAT: start by preheating the oven and spraying a dish with nonstick cooking spray; set aside.
MIX TOPPING: combine the butter, brown sugar, flour, cinnamon, and chopped pecans; mix until crumbly and set aside.
MIX EGG MIXTURE: whisk the eggs, creamer, flour, cinnamon, and vanilla; set aside.
PREP CINNAMON ROLLS: slice cinnamon rolls and place into baking pan before pouring the egg mixture over the top.
BAKE: bake uncovered or until the top starts to brown and then drizzle the cinnamon roll icing over the top and enjoy!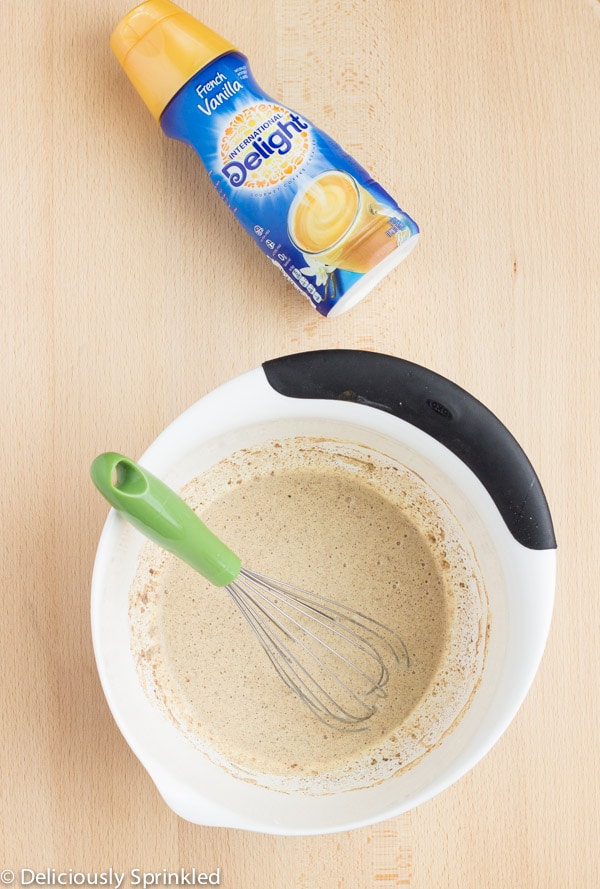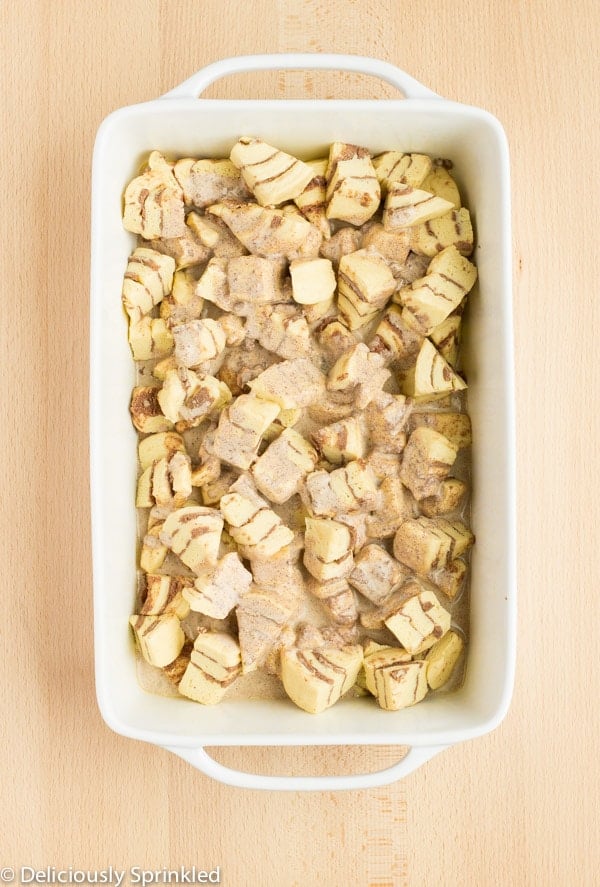 CAN I USE MILK INSTEAD OF CREAMER?
You could! Creamer is a bit different than milk so you may end up with a different result. I suggest adding some sugar and vanilla if you're in a pinch.
DO I HAVE TO USE FLAKEY GRANDS?
Nope! Any refrigerated cinnamon rolls will work just fine.
WILL MY FRENCH TOAST BAKE COME OUT SOGGY?
It shouldn't! So long as you don't have too much dairy liquid, it will come out quite delicious.
CAN FRENCH TOAST BAKE BE REHEATED?
It sure can! I put tin foil over the top so the top doesn't burn.
CAN I MAKE THIS FRENCH TOAST BREAKFAST AHEAD OF TIME?
Absolutely! I love that you can make this french toast bake the night before. Just cover it and place it in the refrigerator, then in the morning bake it and you'll have a delicious breakfast.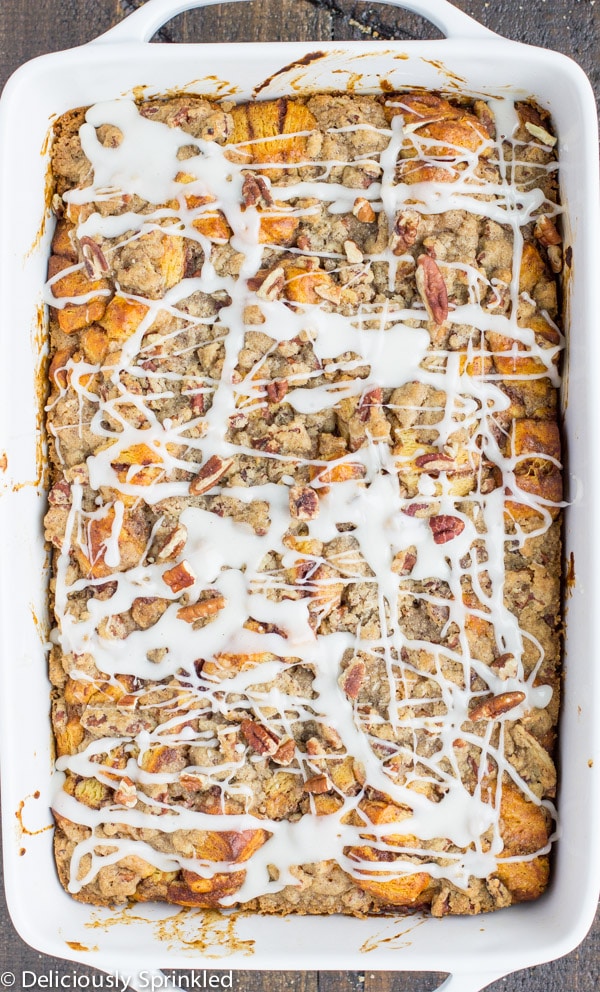 MORE BREAKFAST RECIPES:
If you have tried this French Toast Bake recipe, then please rate it in the recipe card and let me know how it turned out in the comments below!

Leave a Review
Easy French Toast Bake
The BEST french toast breakfast that everyone will love! Topped with a delicious cinnamon streusel - this recipe is HEAVEN!!
Print Recipe
Pin Recipe
Ingredients
STREUSEL TOPPING:
½ cup butter, softened
½ cup light brown sugar
½ cup all-purpose flour
½ teaspoon ground cinnamon
1 cup chopped pecans
FRENCH TOAST:
2 eggs
½ cup International Delight French Vanilla Creamer
2 Tablespoons all-purpose flour
3 teaspoons ground cinnamon
1 teaspoon vanilla extract
2 cans flaky cinnamon rolls
Instructions
Preheat oven to 350F degrees. Spray a 9x13 inch baking dish with non-sticking cooking spray. Set aside.
MAKE STREUSEL TOPPING:
In a small bowl, combine butter, brown sugar, flour, cinnamon and chopped pecans. Mix together until mixture becomes crumbly. Set aside.
MAKE FRENCH TOAST:
In a large bowl, whisk together eggs, creamer, flour, cinnamon and vanilla extract. Set aside.

Open canned cinnamon rolls, slice each cinnamon roll into eighths. Place cinnamon roll pieces into prepared baking dish.

Pour egg mixture over top of cinnamon roll pieces. Make sure that each piece is generously coated in egg mixture.

Sprinkle streusel topping over cinnamon roll pieces.

Bake uncovered for 45-60 minutes or until top becomes lightly brown. Drizzle cinnamon roll icing over top of french toast bake and enjoy!
Notes
Creamer is a bit different than milk so you may end up with a different result if you substitute it out. I suggest adding some sugar and vanilla if you're in a pinch
Calories: 216kcal, Carbohydrates: 16g, Protein: 3g, Fat: 16g, Saturated Fat: 6g, Polyunsaturated Fat: 2g, Monounsaturated Fat: 6g, Trans Fat: 0.3g, Cholesterol: 51mg, Sodium: 81mg, Potassium: 85mg, Fiber: 1g, Sugar: 10g, Vitamin A: 319IU, Vitamin C: 0.2mg, Calcium: 38mg, Iron: 1mg
This blog post contains affiliate and/or referral links, which pay me a small commission for recommending my favorite products at no extra cost to you! Additionally, as an Amazon affiliate, I earn from qualifying purchases.