Easy Baked Apple Pie Apples
These Easy Baked Apple Pie Apples have everything you love about a good apple pie, but just a lot cuter!
My mom and I made these last year for Thanksgiving and everyone loved them.
At first, I thought they were going to be super hard to make but to my surprise they were super easy to put together and they tasted just like a delicious, warm apple pie.
So last weekend when I went to Walmart, I noticed that they had a huge bin full of apples, and with the holiday season just around the corner I knew I had to share my Easy Baked Apple Pie Apples with all of you today because your going to want to make these this holiday season. I guarantee they will be a huge hit at your holiday party!

JUST A FEW BAKING TIPS:
✓ USE GRANNY SMITH APPLES: I recommend using Granny Smith Apples because they bake well and keep their shape, without turning into mush. Also, when your hollowing out the apples be very CAREFUL not to hollow them out too thin or the pie filling will spill out of the apples when they bake.
✓ PIE CRUST: For the pie crust, I used Pillsbury® Refrigerated Pie Crust which makes these Apple Pie Apples even easier to make. I'm all about making things as easy as possible!
✓ MAKE AHEAD OF TIME: You can also make these apples ahead of time, just place the pre-baked apple pie apples in the freezer. When you are ready to bake the apple pie apples, place them in a high walled baking dish with about 1/4 cup of water to cover the bottom of the apples, bake for 45 minutes. Serve warm with vanilla ice cream.
STEP-BY-STEP GUIDE ON HOW TO MAKE THESE BAKED APPLE PIE APPLES: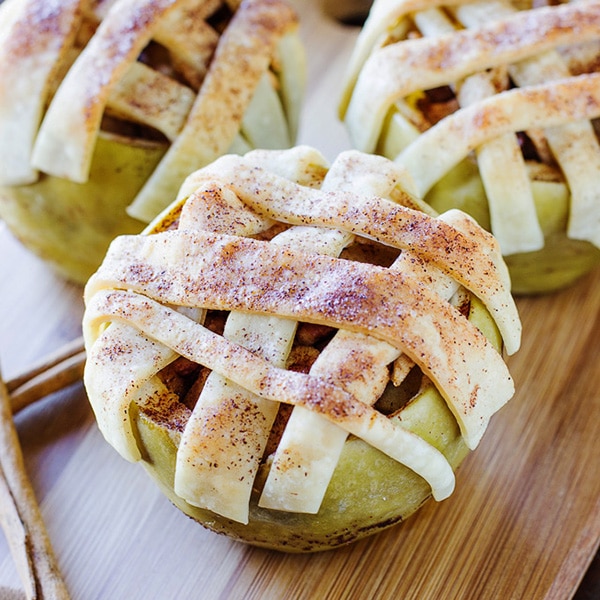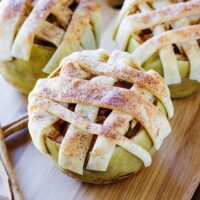 Leave a Review
Easy Baked Apple Pie Apples
These Easy Baked Apple Pie Apples have everything you love about a good apple pie, but just a lot cuter!
Print Recipe
Pin Recipe
Ingredients
6 Granny Smith Apples
½ Teaspoons ground cinnamon
¼ Teaspoon rum extract
¼ cup granulated sugar
1 Tablespoon light brown sugar, packed
1 package refrigerated pie crust
¼ cup pecans, chopped
2 Tablespoons unsalted butter, melted
cinnamon-sugar, sprinkled on top of pie crust
Instructions
Preheat oven to 375F degrees.

Slice the tops off four apples.

Using a large spoon or melon baller, carefully remove inner part of each apple. Peel the skins from remaining two apples and slice the apples thinly to use in apple pie filling.

In a large bowl, mix sliced apples with granulated sugar, brown sugar, ground cinnamon, pecans, and rum extract to make the apple pie filling.

Fill hollowed apples with prepared apple pie filling.

Using a pizza cutter, slice pie crust into even strips ( about 1/4") and lay in lattice fashion across the top of each apple. Trim excess pie crust around the edges with a knife.

Brush melted butter on top of pie crusts and sprinkle pie crusts with cinnamon-sugar.

Place apples in a high walled baking dish. Add about 1/4 cup of water to bottom of dish to just cover the bottoms of the apples. Cover with foil and bake for 20-25 minutes. Remove foil and return to oven for an additional 20 minutes. Apples are done when crust is golden brown along edges and apples are soft to slice.

Serve warm with vanilla ice cream and enjoy!
Notes
STORE: Apples may be stored in the fridge and reheated for up to 5 days, or frozen (pre-baked) and baked prior to serving.
Calories: 798kcal, Carbohydrates: 108g, Protein: 8g, Fat: 39g, Saturated Fat: 13g, Polyunsaturated Fat: 5g, Monounsaturated Fat: 17g, Trans Fat: 0.2g, Cholesterol: 15mg, Sodium: 454mg, Potassium: 431mg, Fiber: 10g, Sugar: 44g, Vitamin A: 328IU, Vitamin C: 13mg, Calcium: 48mg, Iron: 3mg
This is a Sponsored post written by me on behalf of Walmart Produce for Socialstars. All opinions are 100% my own.