Cinnamon Berry Muffins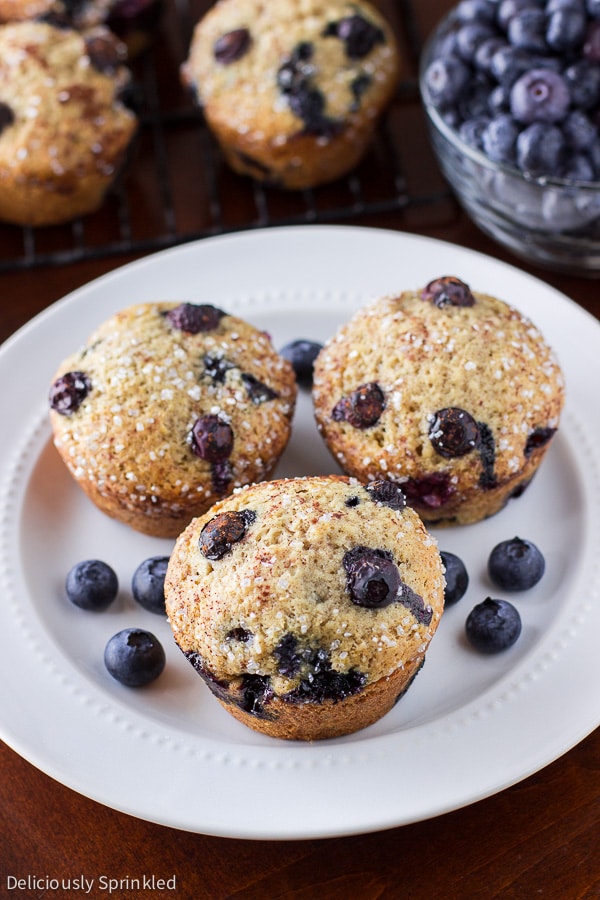 There is nothing better than a delicious muffin to go along side a cup of joe or a Berry Green Smoothie, if your a smoothie person, like me. And, I don't know if it's been super cold where you live this past week but here in Wisconsin it's been a HIGH temperature of -1 with a wind chill of -35 degrees…isn't that CRAZY!?
So with it being too cold to do much of anything the last couple days, I thought I would make some Cinnamon Berry Muffins. These muffins are like a traditional blueberry muffin but their kicked up a notch with ground cinnamon, which makes them the perfect comfort food on a cold, wintery morning. ❄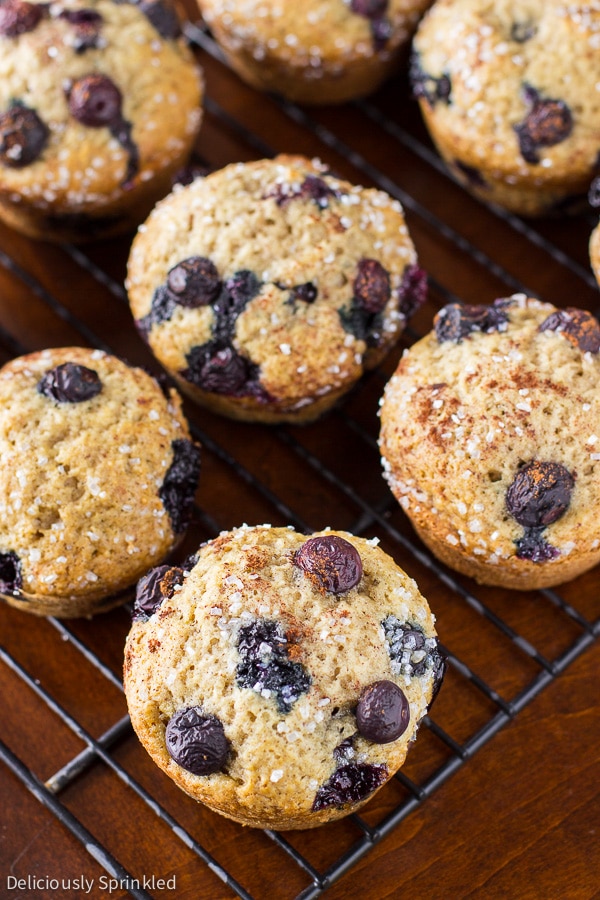 JUST A FEW BAKING TIPS BEFORE YOU START BAKING:
✔ I love using buttermilk in this muffin recipe because it makes these muffins super soft and tender, just how everyone loves them. But if you don't have buttermilk in your fridge, no worries. You can simply make your own homemade buttermilk with only two simple ingredients. All you will need is cow's milk and lemon juice. I have posted a step-by-step guide on how to make homemade buttermilk here, it's super simple!
✔ After you mix up the muffin batter and your ready to add the blueberries, be VERY careful not to mix them too much or you will end up with BLUE muffins because the blueberries bleed. So, what I like to do, is use a spatula and GENTLY fold the blueberries into the muffin mix.
✔ Before baking the muffins, I like to gently press about 2-3 blueberries into the top of each muffin and sprinkle them with more cinnamon and coarse sugar. This gives these muffins a bakery-style look, which makes them extra pretty!
STEP-BY-STEP GUIDE ON HOW TO MAKE THESE CINNAMON BERRY MUFFINS:

Yield: 15 Regular Muffins
Cinnamon Berry Muffins
Prep Time 10 minutes
Cook Time 20 minutes
Total Time 30 minutes
★ Make sure to read my BAKING TIPS above before you start baking!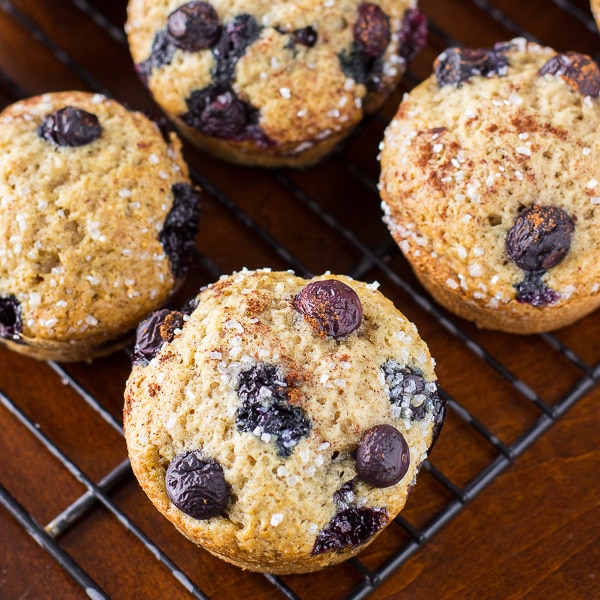 Ingredients
2 1/2 cups all-purpose flour
1 teaspoon baking soda
1 teaspoon baking powder
1 teaspoon ground cinnamon
1/2 teaspoon salt
1 1/4 cup brown sugar
1/2 (1 stick) cup unsalted butter, softened
1 large egg
2 teaspoons vanilla extract
1 1/2 cups fresh or frozen blueberries, plus 1/4 cup to press on top
2 teaspoons unsalted butter, melted
1/2 cup granulated sugar
2 teaspoons ground cinnamon
Instructions
PRE-STEP: Preheat oven to 350F degrees. Lightly spray 12 muffin cups with non-stick cooking spray or line with muffin liners.
STEP 1: In a medium bowl, whisk together flour, baking soda, baking powder, ground cinnamon and salt. Set aside.
STEP 2: In a large bowl, using an electric or stand mixer combine brown sugar, butter, egg, vanilla extract, and buttermilk, mix until combined.
STEP 4: Mix flour mixture until just combined. MUFFIN BATTER WILL BE THICK!
STEP 5: Gently, fold in blueberries.
MAKE THE CRUMBLE:
STEP 6: In a small bowl, mix together melted butter, sugar, and cinnamon until mixture becomes crumbly. Set aside.
STEP 7: Spoon batter into prepared muffin tins, filling them about 2/3 the way full. Sprinkle each muffin with the crumb mixture. Using the 1/4 cup of the blueberries you have leftover, press a few of them into the tops of each muffin.
STEP 6: Bake for 15-20 minutes or until a toothpick inserted in the center comes out clean. Let muffins cool for 5-10 minutes before enjoying!
Notes
*Store in an airtight container at room temperature for up to 5 days. Muffins can be frozen for up to 3 months.
*Don't have buttermilk!? No problem, you can make homemade buttermilk with just a few simple ingredients. Click here for my step-by-step guide and recipe on how to make homemade buttermilk!