Chocolate Peanut Butter Banana Smoothie Pops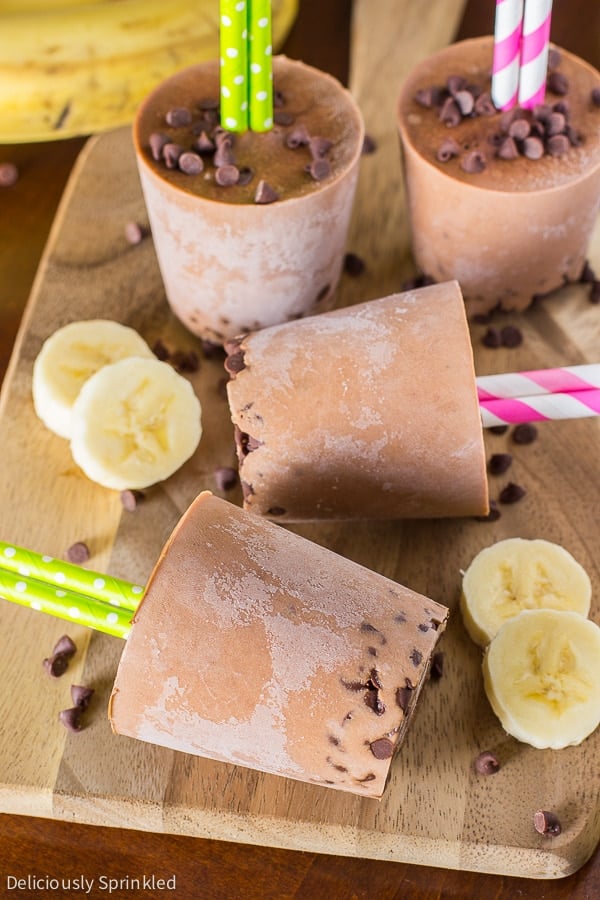 Spring is in the air! ☀ 
And that means warmer weather, flip flops, and enjoying a cool treat on a stick. But warmer weather also means, swimsuit season is near and it's time to snack a little healthier.
These super easy to make Chocolate Peanut Butter Banana Smoothie Pops are the perfect snack or on-the-go breakfast that are packed with everything you love about a smoothie in these fun, frozen treats on a stick and are perfect for the warmer weather ahead!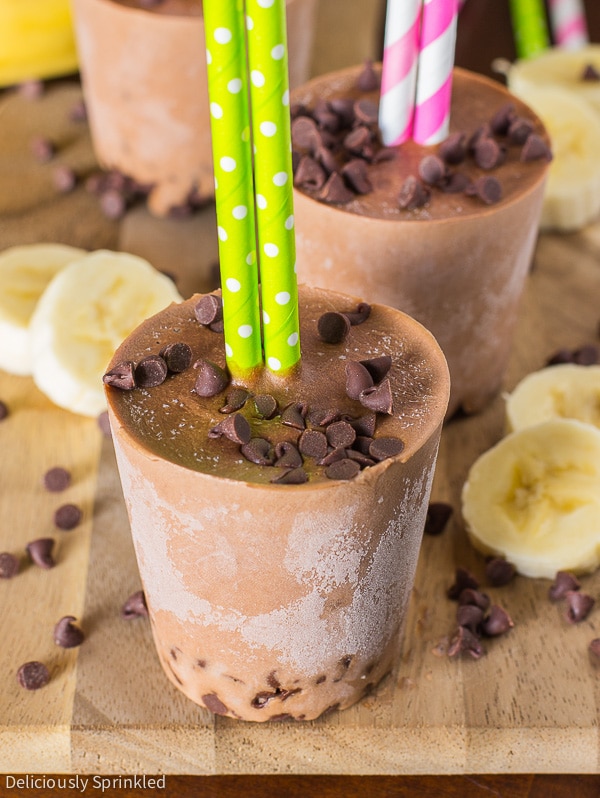 JUST A FEW TIPS:
✔ These smoothie pops take a little bit of planning ahead to make sure that they have enough time to freeze before your are planning on enjoying them. I like to make the smoothie pops the night before and leave them in the freezer overnight, which gives them plenty of time to freeze and be ready to enjoy for breakfast!
✔ I used  3 0z. paper cups to make these smoothies but you can use any fun popsicle molds that you have. I also have a TON of paper straws, so I decided to use paper straws as the "sticks" for these smoothie pops, you can also use regular wooden popsicle sticks.
★ If you do use paper straws, make sure that you use two paper straws for each popsicle, this makes them sturdy.
✔ I highly recommend that you use overly ripe bananas because they have just enough sweetness to really bring out the delicious banana flavor in these smoothie pops. If you use a ugly, brown bananas then these smoothie pops won't taste as good and no one likes brown bananas.
STEP-BY-STEP GUIDE ON HOW TO MAKE THESE CHOCOLATE PEANUT BUTTER BANANA SMOOTHIE POPS: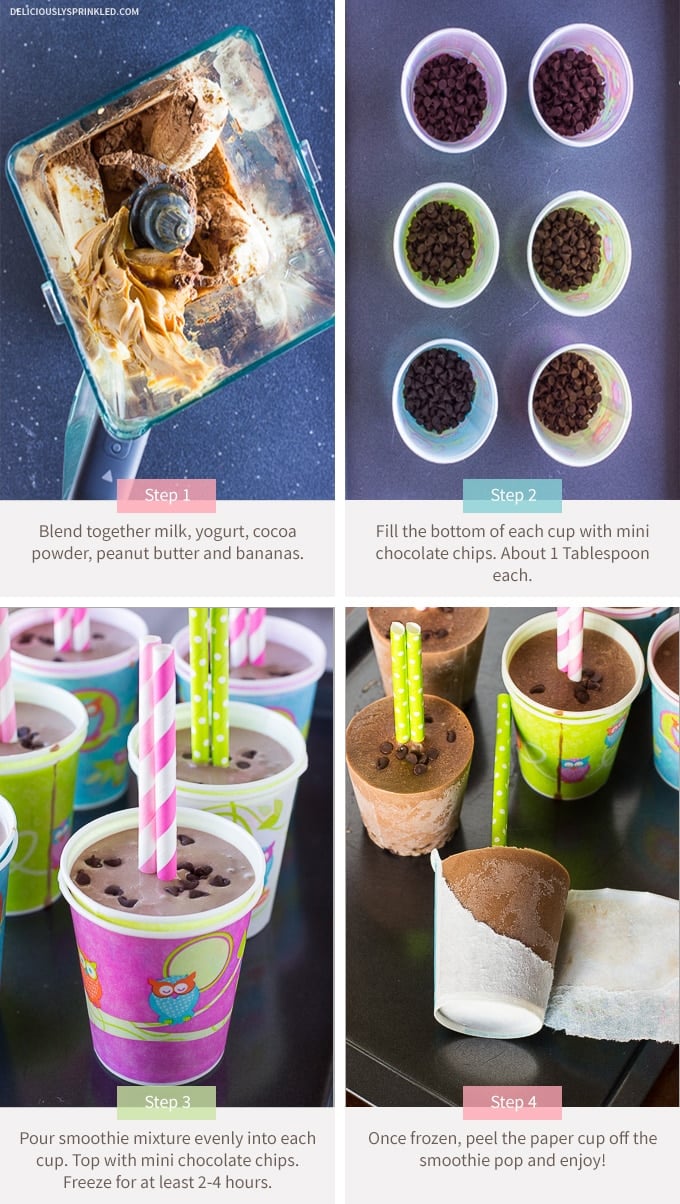 Yield: 6 Smoothie Pops
Chocolate Peanut Butter Banana Smoothie Pops
Prep Time 5 minutes

Cook Time 4 hours

Total Time 2 hours 5 minutes

★ Make sure to read my TIPS above before you start baking!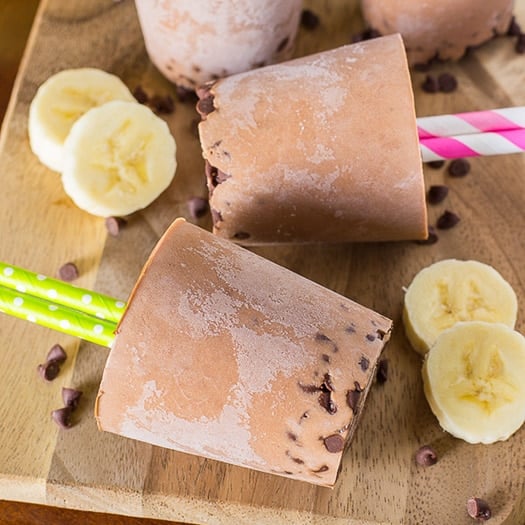 Ingredients
2 overripe bananas, peeled
1 cup milk
1 cup vanilla yogurt
1/4 cup creamy peanut butter
2 Tablespoons unsweetened cocoa powder
1/2 teaspoons vanilla extract
6 Tablespoons mini chocolate chips, divided
additional mini chocolate chips, for topping
12 paper straws or 6 popsicle sticks
Instructions
STEP 1: Add the milk, vanilla yogurt, peanut butter, cocoa powder, and vanilla extract to blender. Blend until smooth & creamy.

STEP 2: Place 6 paper cups onto a small baking sheet. Fill bottom of each cup with 1 Tablespoon of mini chocolate chips.

STEP 3: Pour smoothie mixture evenly into each cup. Sprinkle top of smoothie with a couple additional mini chocolate chips. Place in smoothie pops in freezer for at least 2-4 hours before serving.

 
BAKING TOOLS I USED FOR THIS RECIPE:
Check out more delicious Snack Recipes…
And try these S'mores Fudge Pops next!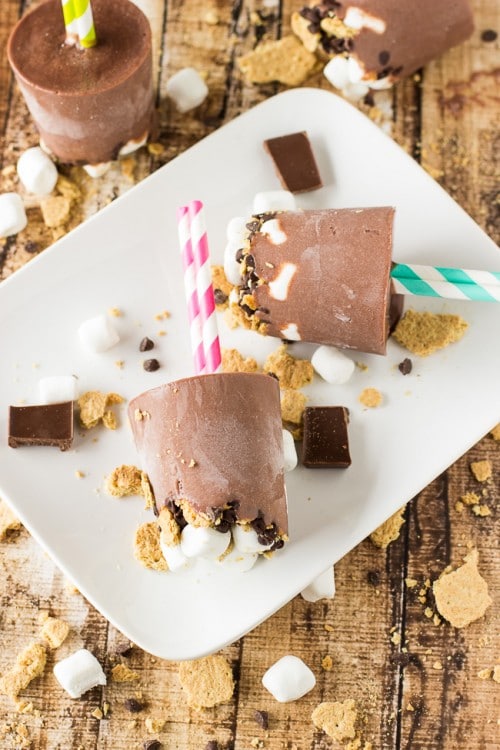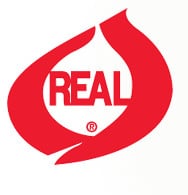 This is a sponsored post in partnership with REAL® Seal.  I'm thrilled to be partnering with them as a REAL® Seal Dairy Diva to share some of my favorite baking recipes. All opinions are my own as always. Thanks for supporting the brands that help make Deliciously Sprinkled possible!