Chocolate Nutella Cookies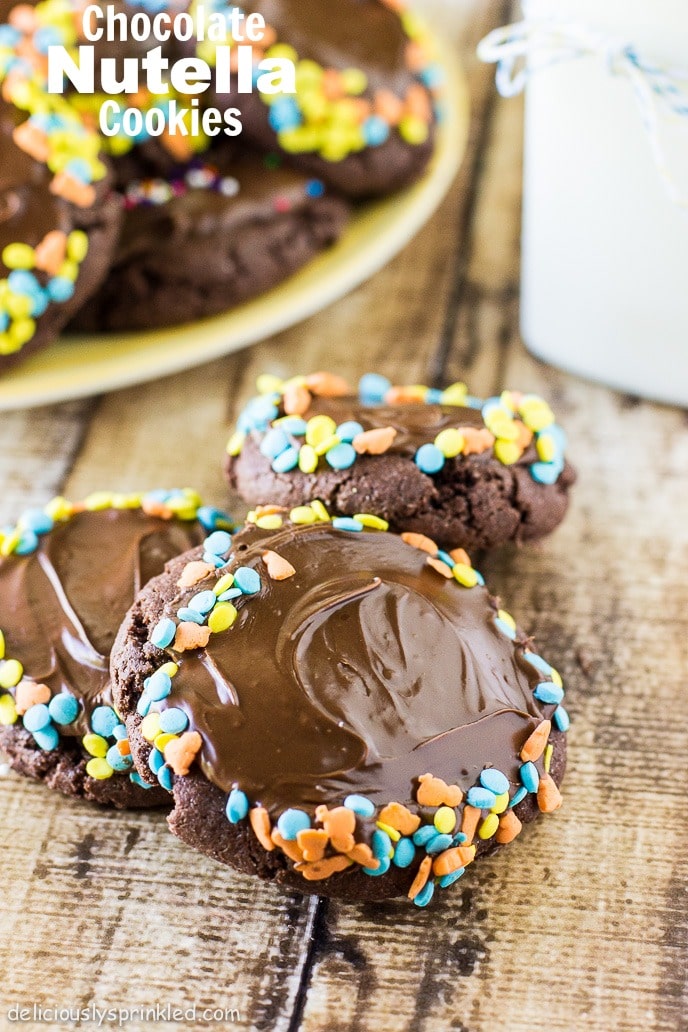 Can you believe it's going to be Father's Day this weekend already!? Time is just flying by way too fast, so in honor of Father's Day on Sunday, I thought I would share with you one of my Dad's favorite cookies, chocolate cake mix cookies. And because I love my Dad so much I added a spread of Nutella and SPRINKLES on top to make these cookies extra special for him on Father's Day!
As most of you know by now, I have a BIG sweet tooth and I can thank my dad for that. My dad is the dessert king, and I was his little dessert princess. Since I was little my dad would always take us out for ice cream after dinner, no matter how full we were from dinner! I remember times when I didn't eat all my dinner because I knew my dad was going to take us out for ice cream and I wanted to make sure I had enough room in my tummy for a triple scoop of vanilla ice cream with SPRINKLES!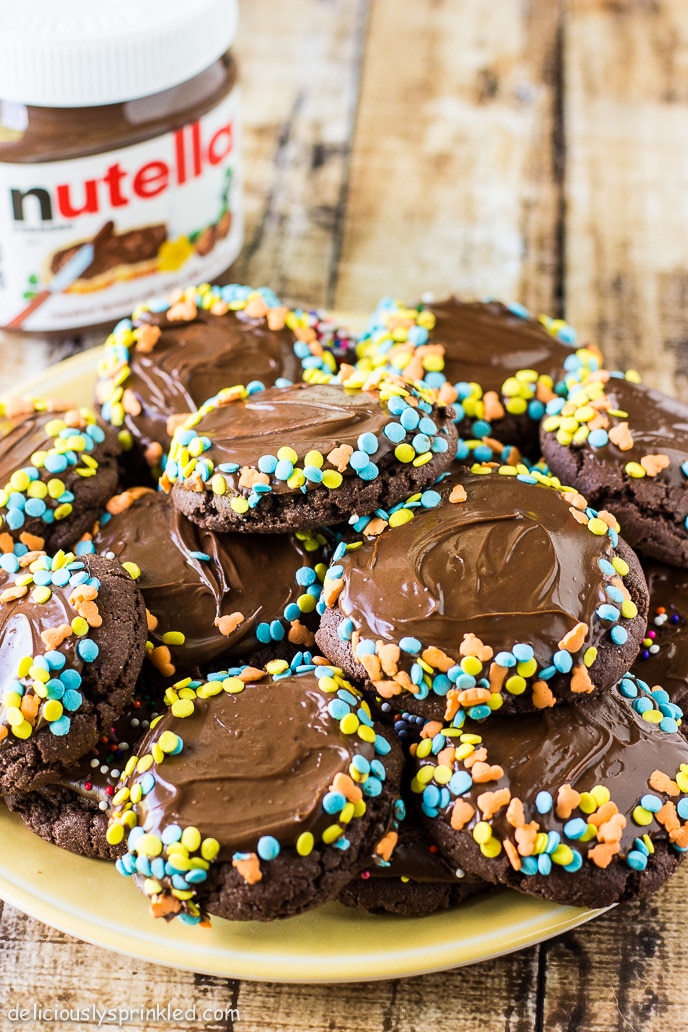 And to this day when I come home to visit my parents, my dad always takes all of us on a road trip to get an ice cream cone! So on this Father's Day I want to thank my dad for my big sweet tooth and most importantly my LOVE FOR SPRINKLES!
Ok, enough about my dad and let's talk about these delicious Chocolate Nutella Cookies that you should make for your dad/husband/brother or anyone really because they are so EASY to make, I think cake mix cookies are one, if not the easiest cookie recipe I make!
I made these cookies even more fun by spreading a generous amount of Nutella on them and rolling these cookies in SPRINKLES making them even more amazingly delicious! 🙂
Step-by-step on how to make these delicious Chocolate Nutella Cookies: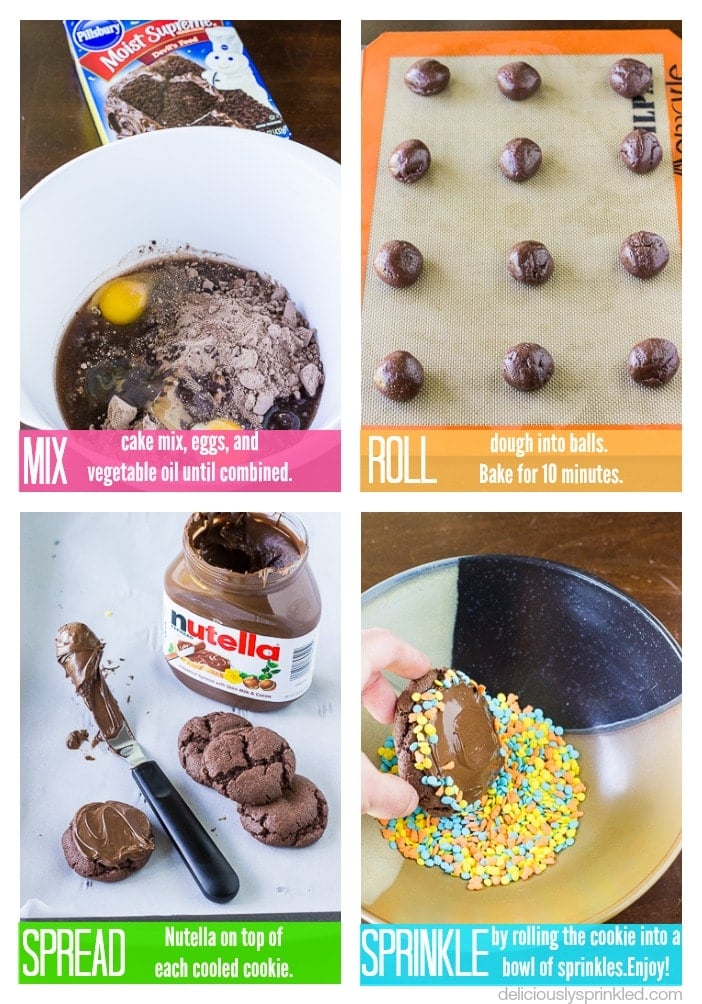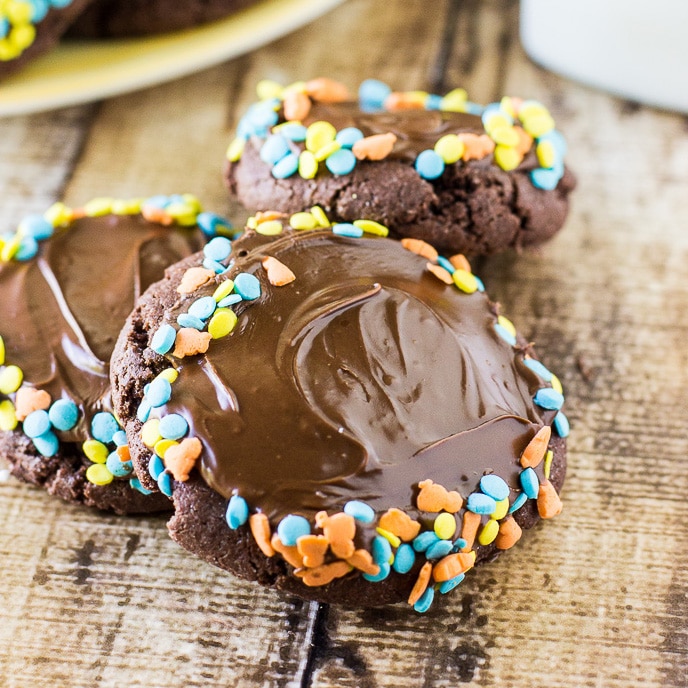 Yield: 2 Dozen
Chocolate Nutella Cookies
Additional Time 20 minutes
Total Time 20 minutes
Ingredients
1 box devils food cake mix
2 large eggs
1/3 cup vegetable oil
1 cup Nutella
sprinkles
Instructions
Preheat oven to 350F degrees. Line two large cookie sheets with parchment paper or silicone baking mats.
Using an electric or stand mixer, mix together the devil's food cake mix, eggs, and oil until combined.
Using a cookie scoop, scoop cookie dough on prepared baking sheet. Bake for 10 minutes.
Allow the cookies to cool on the baking sheet for 2 minutes and transfer to a wire rack to cool completely before spreading Nutella on top of cookies.
Once cookies have cooled, use a knife to spread a generous amount of Nutella on top of the chocolate cookies. Pour sprinkles into a small bowl and roll the outside of the cookies into the bowl of sprinkles and enjoy!

Nutella® hazelnut spread is a happy start to every day! Pick up a jar of Nutella in the spreads aisle and enjoy it with whole wheat toast, waffles, pancakes, strawberries, bananas and many other foods. Nutella. Spread the Happy™.
Disclosure: Compensation was provided by the makers of Nutella via Mode Media. The opinions expressed herein are those of the author and are not indicative of the opinions or positions of Nutella.