Chocolate Dipped Peanut Butter Cookies
Can you believe it, only one more week left until Valentine's Day, did you get your valentine something yet? If not, a plate of these crunchy, delicious peanut butter cookies dipped in white chocolate would make a perfect Valentine's Day treat that I think would be even better than any huge heart-shaped box of chocolates.
I love these cookies for anytime of the year, the chocolate peanut butter combination makes them a delicious comfort food cookie. I  used pure white chocolate to make these cute heart SPRINKLES I got at Target to make them look extra fancy for Valentine's Day.  Enjoy!
Yield: 2 Dozen Cookies
Chocolate Dipped Peanut Butter Cookies
Additional Time 45 minutes
Total Time 45 minutes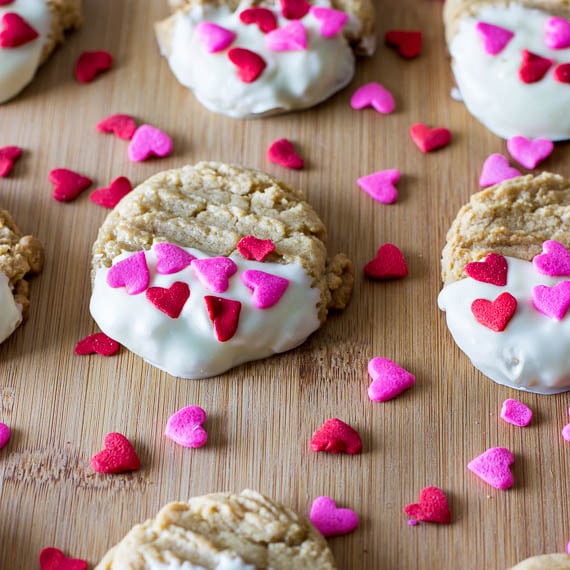 Ingredients
1 1/3 cups all-purpose flour
1 teaspoon baking powder
¼ teaspoon salt
1 cup + 2 Tablespoons creamy peanut butter
½ cup salted butter, softened
¼ cup granulated sugar
¾ cup dark brown sugar, packed
1 large egg
2 Tablespoons milk
1 teaspoon vanilla extract
1 cup peanut butter chips
½ cup granulated sugar (for rolling dough balls)
10 ounces white chocolate baking bars
sprinkles
Instructions
Preheat oven to 350F degrees. Line two large baking sheets with parchment paper or silicone baking mats. Set aside.
Whisk together the flour, baking powder, and salt in a large sized bowl. Set aside.
In a large mixing bowl, cream together the peanut butter and butter until creamy. Beat in the sugars until well blended. Beat in the egg, milk, and vanilla. Gently add butter mixture to the dry mixture, mixing both together until almost combined. DO NOT OVERMIX! Fold in peanut butter chips.
Using a cookie scoop, scoop dough into balls about 3 Tablespoons each. Roll each dough ball into the sugar and place onto prepared baking sheet. Press each ball with a fork to create a criss-cross pattern.
Bake for 11-14 minutes or until edges are lightly browned. Remove from oven and cool on baking sheets for 5-10 minutes. Transfer to a wire rack to cool completely.
In a small microwave safe bowl, melt the white chocolate in 10 second increments, stirring after each time until smooth. Dip half of each cookie into white chocolate and top with sprinkles. Allow the chocolate to set. *I placed my cookies in the refrigerator for 20 minutes.
Notes
*Store cookies in an airtight container at room temperature for up to 7 days.