Chocolate Crinkle Cookies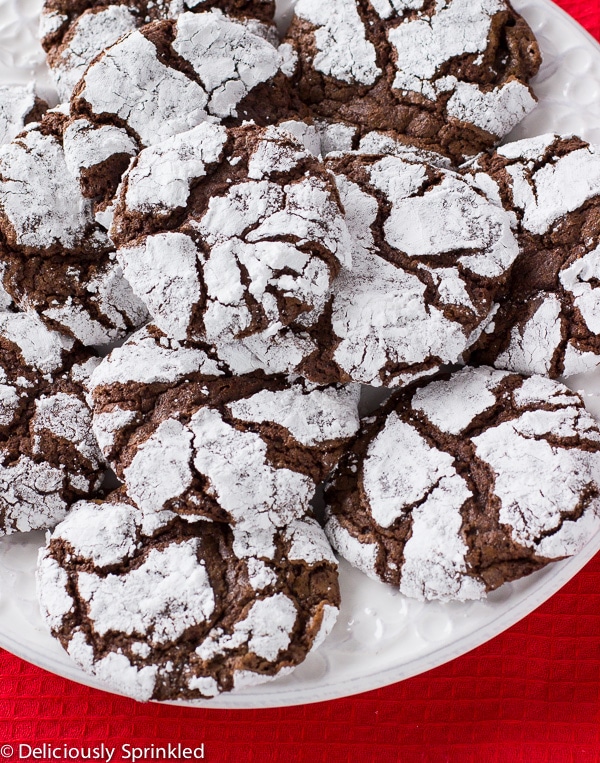 These Chocolate Crinkle Cookies are so perfect for the holiday season!
I mean come on, how pretty is that powdered sugar crinkle!? Not only are they pretty but they taste amazeballs. They have a slightly gooey inside with the edges being slight harder, kind of like a brownie. And the powered sugar crinkle makes them a Christmas cookie favorite or any time of the year for that matter!
To make these Chocolate Crinkle Cookies, I used my new Kenwood Chef Kitchen Machine! Seriously, it makes baking so easy. I highly recommend asking for one this Christmas or if you are like me, buy it for yourself this Christmas. Oh and speaking of gifts, these cookies would make the perfect gift! ♥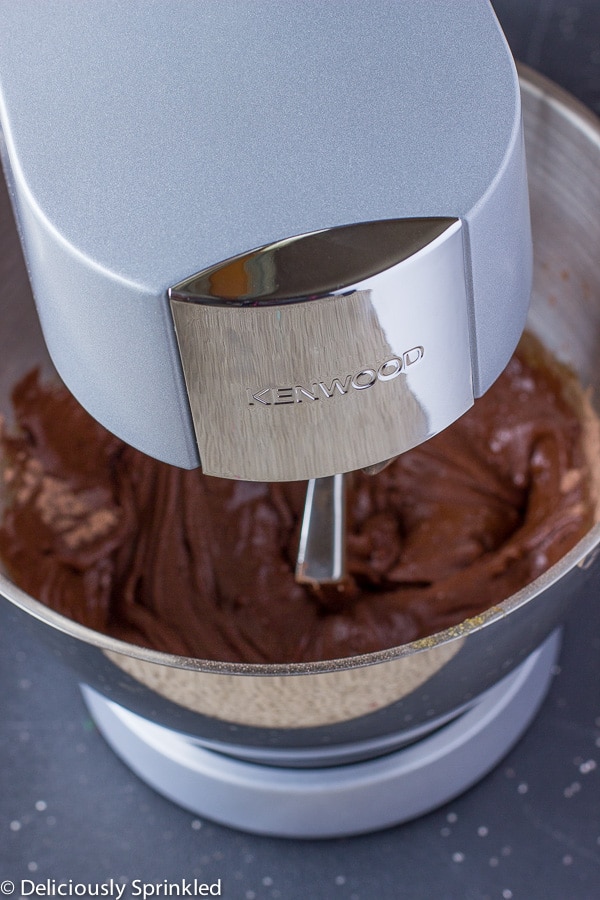 JUST A FEW BAKING TIPS:
✓ DON'T OVERMIX: With almost all my cookie recipes, I always make sure to remind you to not OVERMIX  the cookie dough. Meaning, when you mix the flour mixture into the wet ingredients, only mix them together until just combined…you should still see some flour in your mixing bowl.
✓ POWDERED SUGAR FADED!?: It is important to roll the dough in granulated sugar before coating them in powdered sugar. An extra coating of granulates sugar creates a barrier that keeps the powdery, fine-grained powdered sugar from dissolving and disappearing into the dough or melting when the cookies are baking.
✓ HOLIDAY GIFT IDEA: GET THE CHEF IN YOUR LIFE A NEW KENWOOD CHEF KITCHEN MACHINE:
Every three seconds, a Kenwood kitchen appliance is sold around the world. Kenwood is the #1 global leader in innovation and expertise in kitchen food preparation. Cooks around the world know the supreme performance, innovation and timeless design of Kenwood products.
A combination of up to 750 watts of turbocharged power and the professional-grade precision of Electronic Variable Speed Control puts the chef-inspired Kenwood Chef Kitchen Machine in a culinary class all its own.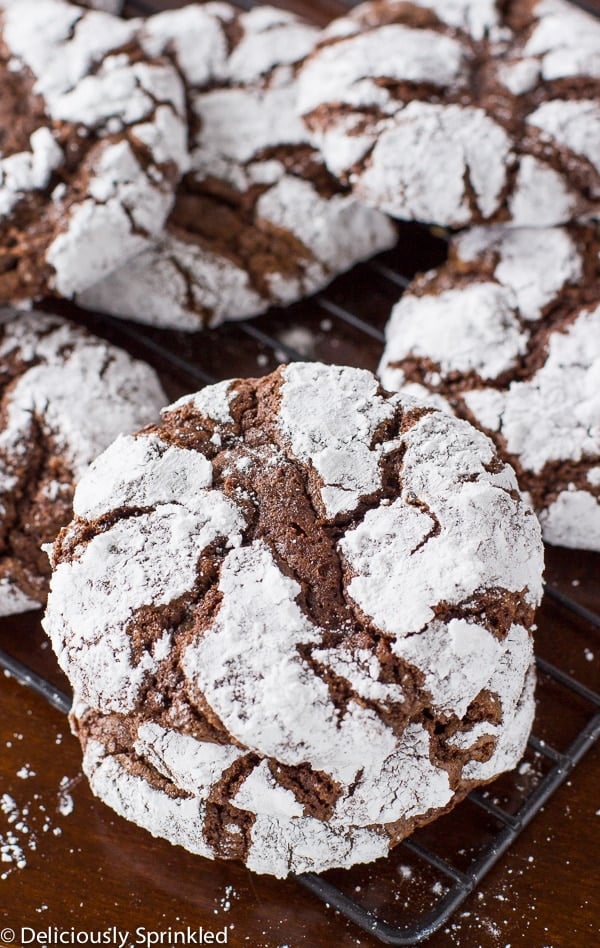 STEP-BY-STEP GUIDE ON HOW TO MAKE THESE CHOCOLATE CRINKLE COOKIES: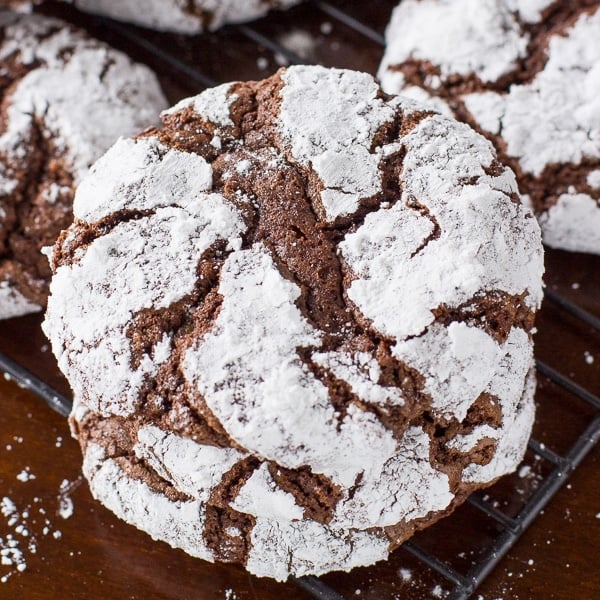 Yield: 20 Cookies
Chocolate Crinkle Cookies
Prep Time 10 minutes
Cook Time 12 minutes
Additional Time 8 minutes
Total Time 30 minutes
Ingredients
1 cup all-purpose flour
1/2 cup unsweetened cocoa powder
1 teaspoon baking powder
1/4 teaspoon baking soda
1/2 teaspoon salt
1 1/2 cups brown sugar
3 large eggs
1 teaspoon vanilla extract
4 ounces unsweetened chocolate
4 Tablespoons unsalted butter
1/2 cup granulated sugar
1/2 cup powdered sugar
Instructions
PRE-STEP: Preheat oven to 325F degrees. Line two large baking sheets with parchment paper or silicone baking mats. Set aside.
STEP 1: Whisk flour, cocoa powder, baking powder, baking soda, and salt together in a bowl.
STEP 2: In a large bowl, using a mixer, mix brown sugar, eggs, and vanilla extract together.
STEP 3: In a small bowl, microwave unsweetened chocolate and butter together until melted. Add to brown sugar mixture and mix until combined.
STEP 4: Add flour mixture and mix until just combined. Let dough sit at room temperature for about 10 minutes. Pour granulated sugar into a small bowl. Pour powdered sugar into another small bowl.
STEP 5: Using a cookie scoop/ice cream scooper, scoop dough into balls about 2 Tablespoons each. Drop dough balls into granulated sugar and roll to coat, dough will be sticky until it is completly rolled into the granulated sugar. Transfer dough balls to powdered sugar and roll to coat. Place dough balls onto prepared baking sheet.
STEP 6: Bake for 12 minutes. Let cool completely on wire rack before serving.
NOTES:
Notes
* STORE: Cookies will stay fresh for up to 7 days in an airtight container, stored at room temperature.