Chippy Oatmeal Raisin Bars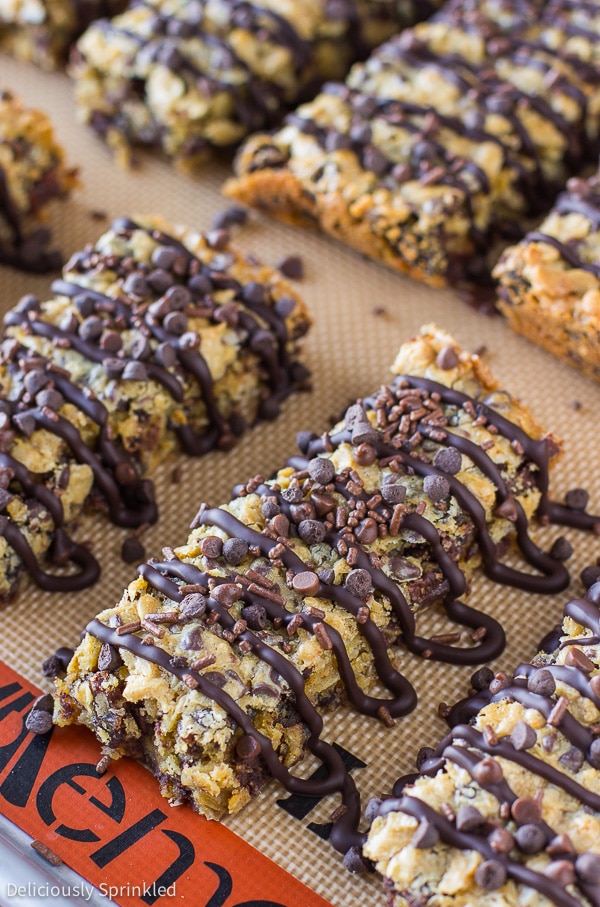 We are only in the second week of January and I don't know about you, but I'm kinda already sick of all the healthy snacks and smoothie recipes. Arn't you!? If so, then you are happy to see some chocolate back into your life. But if your still on the healthy kick…that's ok too, because these Chippy Oatmeal Raisin Bars are made with oatmeal and raisins, which in my book are a healthy food!
These Chippy Oatmeal Raisin Bars make a perfect afternoon snack, dessert…or both. To make these bars I started with my favorite oatmeal bar recipe, and to make theses bars not so boring, I added mini chocolate chips, and raisins (to keep it somewhat healthy). I also drizzled each bar with melted chocolate and chocolate SPRINKLES to make these bars even more delicious!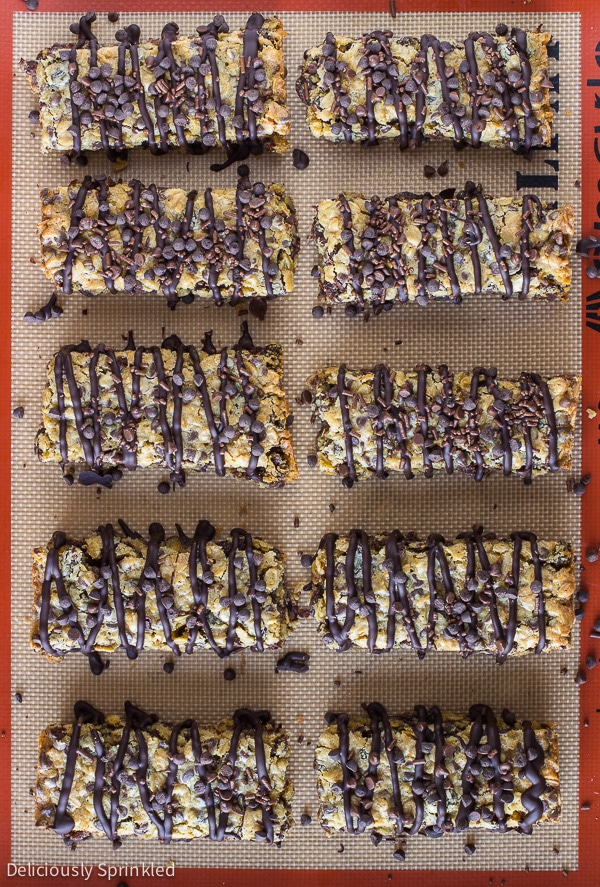 JUST A FEW BAKING TIPS:
✔  IMPORTANT: To make these bars your butter NEEDS to be softened! So about an hour before your ready to make these bars, set 3/4 cup (12 Tablespoons) of butter onto your kitchen counter to soften to room temperature. But if you forget…no worries, I explain my butter softening trick next.
✔ BUTTER TIP: If you forget to set out your butter ahead of time, here is a trick to soften your butter QUICKLY. First, cut your butter into small chunks (see Step 1 photo below). Then place the butter into the microwave for 5 SECONDS, no longer then that because you don't want your butter to be melted or even slightly melted..just softened. And that's it, your ready to starting mixing up these bars!
✔  If you want to keep these bars somewhat healthy, you can leave them plain and not drizzle them with chocolate and sprinkles, they will still be just as delicious!
STEP-BY-STEP GUIDE ON HOW TO MAKE THESE CHIPPY OATMEAL RAISIN BARS: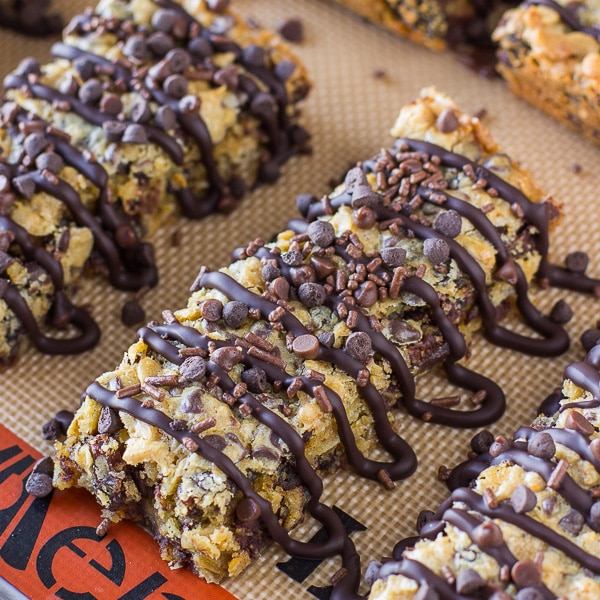 Yield: 10-12 Bars
Chippy Oatmeal Raisin Bars
★ Make sure to read my BAKING TIPS above before you start baking!
Prep Time 10 minutes
Cook Time 30 minutes
Total Time 40 minutes
Ingredients
1 cup brown sugar
2 large eggs
1 1/2 teaspoons vanilla extract
3/4 cup all-purpose flour
2 cups oatmeal
3/4 cup raisins
4 oz. semi-sweet chocolate baking bars, melted
chocolate sprinkles, for topping
Instructions
PRE-STEP: Preheat oven to 350F degrees. Line a 9x13 inch baking pan with aluminum foil leaving enough overhang on the sides and spray with non-stick cooking spray. Set aside.
STEP 1: Using an electric or stand mixer, cream together brown sugar, butter, eggs, and vanilla extract until creamy.
STEP 2: Mix in the flour, until combined.
STEP 3: Stir in mini chocolate chips, oatmeal, and raisins until combined.
STEP 4: Press mixture into prepared pan. Baked for 25-30 minutes or until the edges are slightly brown. Let cool completely before cutting them into rectangles or squares.
STEP 5: Drizzle melted chocolate on top of each bar and sprinkle with mini chocolate chips and chocolate sprinkles.
Notes
*Store bars in an airtight container at room temperature for up to 1 week.
BAKING TOOLS I USED TO MAKE THESE BARS:
Check out more delicious Bars Recipes…
Try these Trail Mix Peanut Butter Bars next!