Cherry Chocolate Chip Bars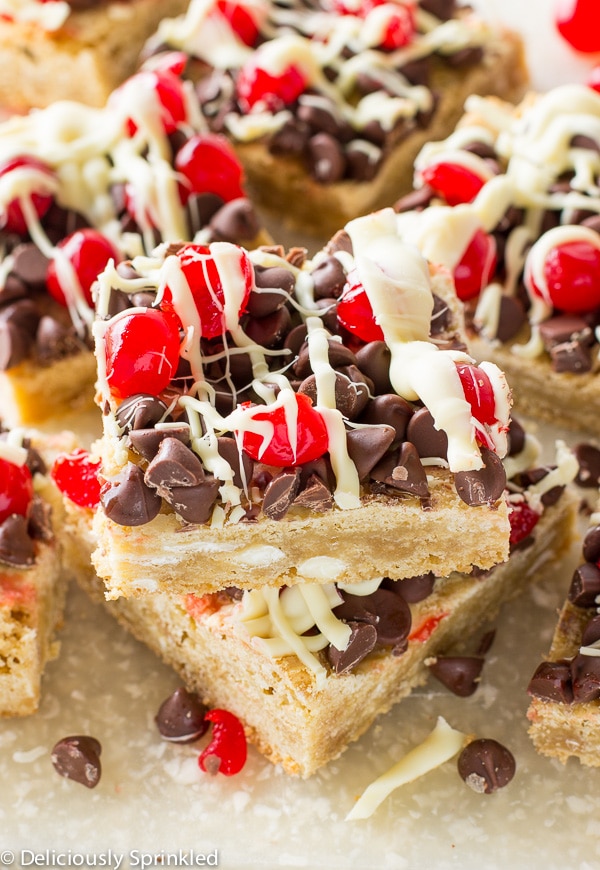 I have the BEST. BAR. RECIPE. for all of you today!
Seriously, these Cherry Chocolate Chip Bars are loaded with milk chocolate chips, chopped maraschino cherries and drizzled with white chocolate. They taste like my favorite ice cream flavor, Ben & Jerry's Cherry Garcia but in a bar form. And thanks to my new Kenwood Chef Kitchen Machine these bars were super easy to make.
I can't wait to bring these to the holiday party we are going to tomorrow, I know everyone is going to LOVE them! ♥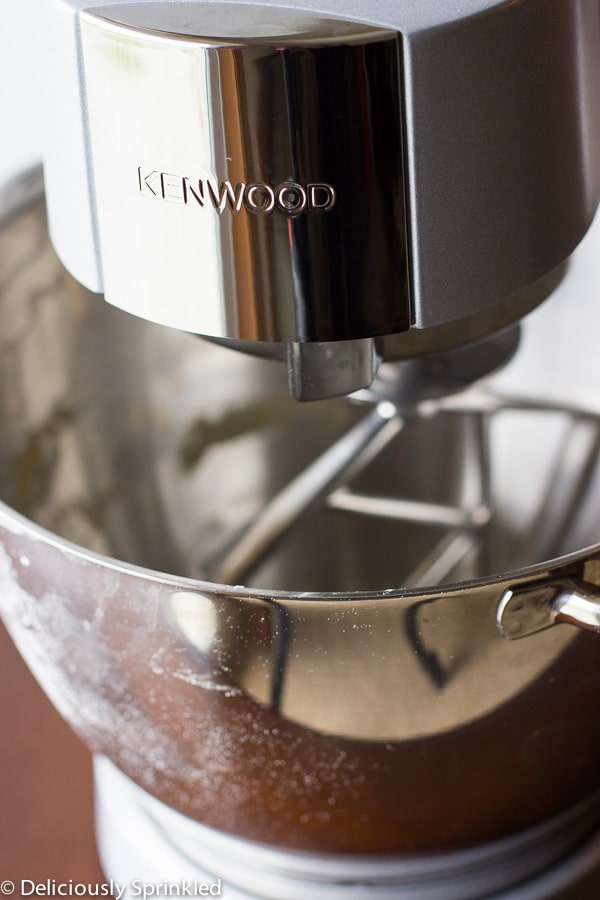 JUST A FEW BAKING TIPS:
✓ LINE YOUR BAKING PAN: To make it super easy for you to cut these bars into squares, line your 13×9 inch baking pan with aluminum foil, leaving enough overhang on the sides and spray the foil with non-stick cooking spray. Once the bars have cooled lift the bars out of the pan, folding down the aluminum foil sides. Use a sharp knife to cut these bars into squares and enjoy!
✓ CHOCOLATE CHIPS: I used milk chocolate chips, but you could use dark chocolate chips or semisweet chocolate chips.
✓ HOLIDAY GIFT IDEA: GET THE CHEF IN YOUR LIFE A NEW KENWOOD CHEF KITCHEN MACHINE:
Every three seconds, a Kenwood kitchen appliance is sold around the world. Kenwood is the #1 global leader in innovation and expertise in kitchen food preparation. Cooks around the world know the supreme performance, innovation and timeless design of Kenwood products.
A combination of up to 750 watts of turbocharged power and the professional-grade precision of Electronic Variable Speed Control puts the chef-inspired Kenwood Chef Kitchen Machine in a culinary class all its own.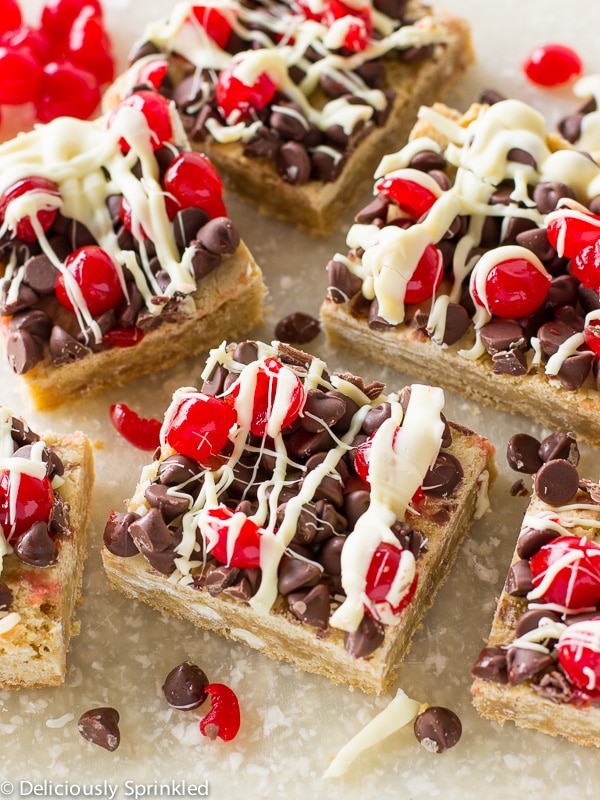 STEP-BY-STEP GUIDE ON HOW TO MAKE THESE CHERRY CHOCOLATE CHIP BARS:

Yield: 25 Bars
Cherry Chocolate Chip Bars
Prep Time 25 minutes
Cook Time 20 minutes
Total Time 45 minutes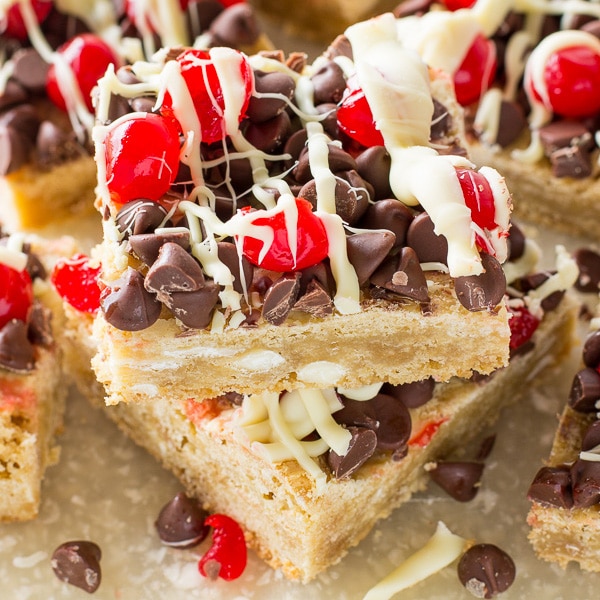 Ingredients
1 cup granulated sugar
1 cup packed brown sugar
2 large eggs
1 Tablespoon vanilla extract
2 1/4 cups all-purpose flour
1 1/2 teaspoons baking powder
1/4 teaspoon salt
1 1/2 cups white chocolate chips
1 cup milk chocolate chips
1 jar maraschino cherries
4 oz. white chocolate baking bar, melted
Instructions
PRE-STEP: Preheat oven to 350F degrees. Line a 13x9 inch baking pan with aluminum foil and spray with non-stick cooking spray. Set aside.
STEP 1: In a saucepan cook and stir both sugar and butter over medium heat until melted and smooth. Remove from heat.
STEP 2: Pour sugar mixture into large mixing bowl. Add eggs, one at a time, beating until combined. Beat in vanilla extract.
STEP 3: Add flour, baking powder, and salt. Mix until just combined.
STEP 4: Stir in white chocolate chips.
STEP 5: Spread batter in prepared pan. Bake for 20 minutes. Let cool slightly.
STEP 6: Top with milk chocolate chips and cherries. Drizzle melted white chocolate over top. Let set and cut into squares.
NOTES:
Notes
* STORE: In an airtight container at room temperature for up to 1 week.