Cake Batter Funfetti Bars
Valentine's Day is only two days away and I am really excited about Valentine's day this year, not because of the flowers, candies and romantic dinner. But tomorrow we are meeting my whole family "up north" in Eagle River, WI to go snowmobiling for the weekend. We all haven't gone snowmobiling together since I was in high school.
And my family will be enjoying these delicious Cake Batter Funfetti Bars along side a mug of hot chocolate after a fun day of snowmobiling. The ingredients for these bars are simple, all you need is a box of Betty Crocker yellow cake mix, one egg, butter, white chocolate chips, sweetened condensed milk and of, course SPRINKLES! I used Valentine's day SPRINKLES but you can use any colored sprinkles you would like, just not nonpareils sprinkles!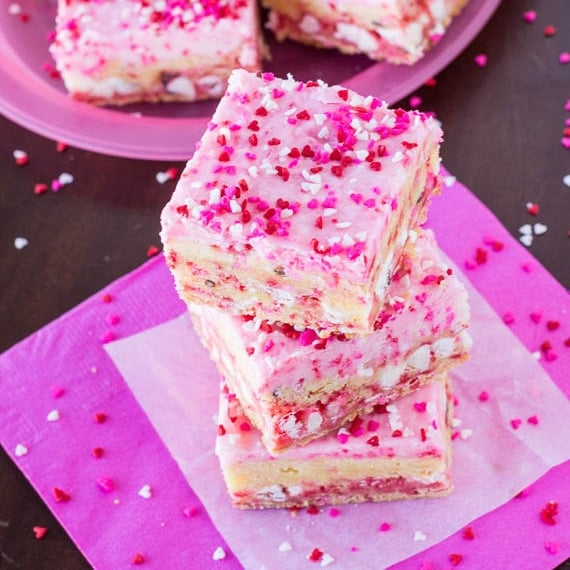 Yield: 12 Bars
Cake Batter Funfetti Bars
Additional Time 30 minutes
Total Time 30 minutes
Ingredients
1 yellow cake mix
1 egg
2/3 cup sprinkles, divided
1/2 cup sweetened condensed milk
1 cup white chocolate chips
3-4 cups powdered sugar, SIFTED
¼ teaspoon table salt
1 tablespoon vanilla extract
4 tablespoons milk or heavy cream
3 drops pink food coloring
sprinkles, for topping
Instructions
Preheat oven to 350F degrees. Line a 9x9 pan with foil and spray with cooking spray.
Using an electric or stand mixer add yellow cake mix, butter, and egg. Mix until dough forms. Fold in 1/3 cup sprinkles.
Press about 2/3 of the dough into the bottom of the prepared pan. Sprinkle with white chocolate chips and remaining 1/3 cup sprinkles. Pour sweetened condensed milk over the top. Separate remaining dough into small balls and evenly space over the top of the bars. Press down to flatten.
Bake bars for 30 minutes. Cool completely.
For the Frosting:
Mix the softened butter on medium speed with an electric or stand mixer. Beat for about 3 minutes until smooth and creamy. Add powdered sugar, cream, vanilla extract, pink food coloring and salt. Increase to high speed and beat for 3 minutes. Frost cooled bars and cut into squares.