Butternut Squash and Sausage French Bread Pizza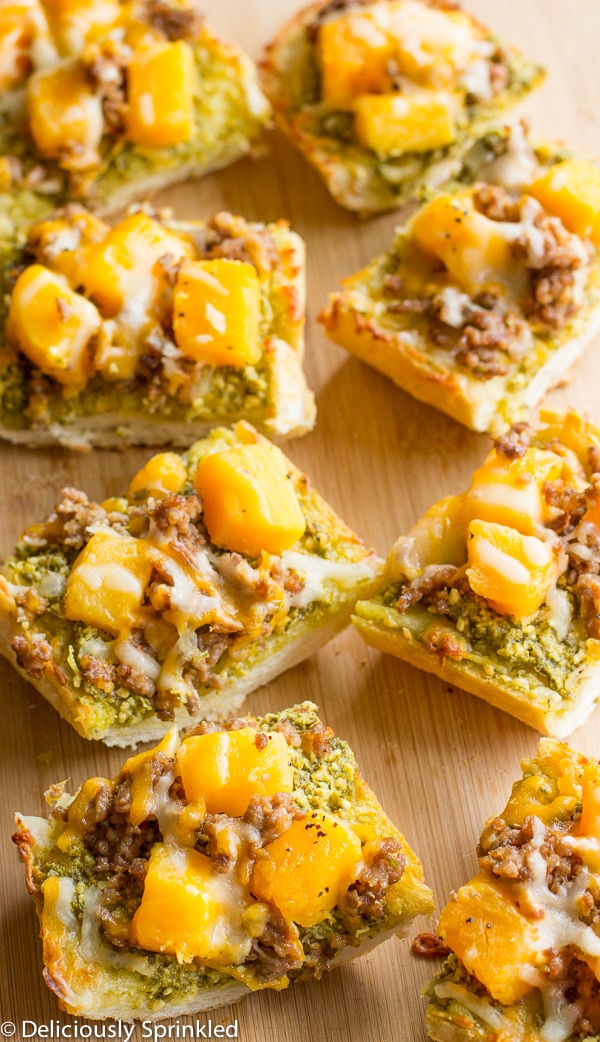 Happy Thanksgiving Week!
I'm switching it up today and giving the butter & sugar a little break. Last weekend, my friend invited us all over for a Friendsgiving, it was so FUN! So when she asked me what I would like to bring I said, I think this year I'm not going to bring a dessert, I'm going to bring an appetizer instead ( I think she was a little shocked! LOL).
So I decided to make this AMAZING Butternut Squash and Sausage French Bread Pizza. How yummy and gorgeous does that look!? I usually make this french bread pizza with ground beef, but today is all about switching things up, so instead of using ground beef I used Johnsonville Italian Sausage which gave this french bread even more delicious flavor.
And as always, this Butternut Squash and Sausage French Bread Pizza is super easy to make and perfect for any holiday party. Enjoy & I hope you all have a wonderful Thanksgiving! ♥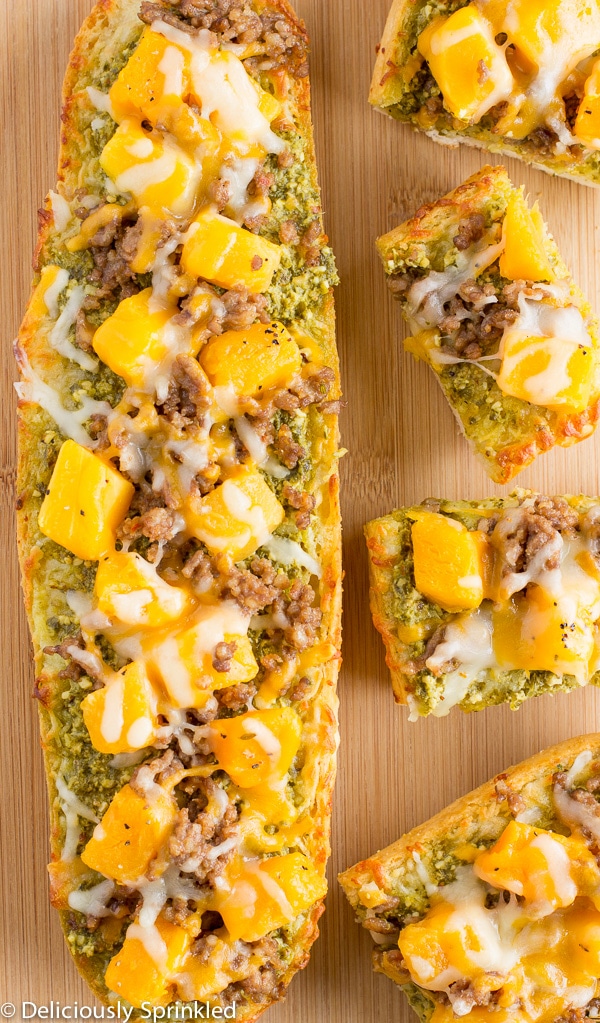 JUST A FEW BAKING TIPS:
✓ CHEESY FRENCH BREAD: To make this recipe super simple, I just bought frozen cheesy garlic bread but you could make your own french bread. I just like to keep it simple.
✓ PESTO SAUCE: I like to use a pesto-parmesan sauce for an even more cheesy flavor.
✓ MAKE AHEAD: You can make this bread ahead of time and right before your ready to serve it just sprinkle some cheese on top and bake it in the oven for 8-10 minutes.
STEP-BY-STEP GUIDE ON HOW TO MAKE THIS BUTTERNUT SQUASH AND SAUSAGE FRENCH BREAD PIZZA:

Yield: 2 loafs
Butternut Squash and Sausage French Bread Pizza
Prep Time 10 minutes
Cook Time 50 minutes
Total Time 1 hour
Ingredients
drizzle of olive oil
pinch of salt/pepper
1 frozen  cheesy garlic french bread loaf, cut in half length-wise
1 cup shredded cheese
Instructions
PRE-STEP: Preheat oven to 400F degrees. Line 2 baking sheets with foil or silicone baking mat.
STEP 1: Toss butternut squash with a couple drizzles of olive oil and a pinch of salt/pepper. Roast in the oven for about 25-30 minutes or until tender. Remove and set aside to cool slightly while you prepare the rest.
STEP 2: Bake the french bread according to package instructions.
STEP 3: In a non-stick pan over medium heat, brown italian sausage until golden brown; remove from pan and set aside.
STEP 4: Spread pesto sauce evenly over each half of the toasted french bread.
STEP 5: Top with butternut squash and italian sausage.
STEP 6: Add shredded cheese. Bake for 8-10 minutes or until the cheese is melted. Cut into slices and enjoy!
This is a sponsored conversation written by me on behalf of Johnsonville. The opinions and text are all mine.