The Best Brownie Recipe
The Best Brownie Recipe- these homemade brownies are thick, chewy, fudgy and topped with chocolate chips & walnuts!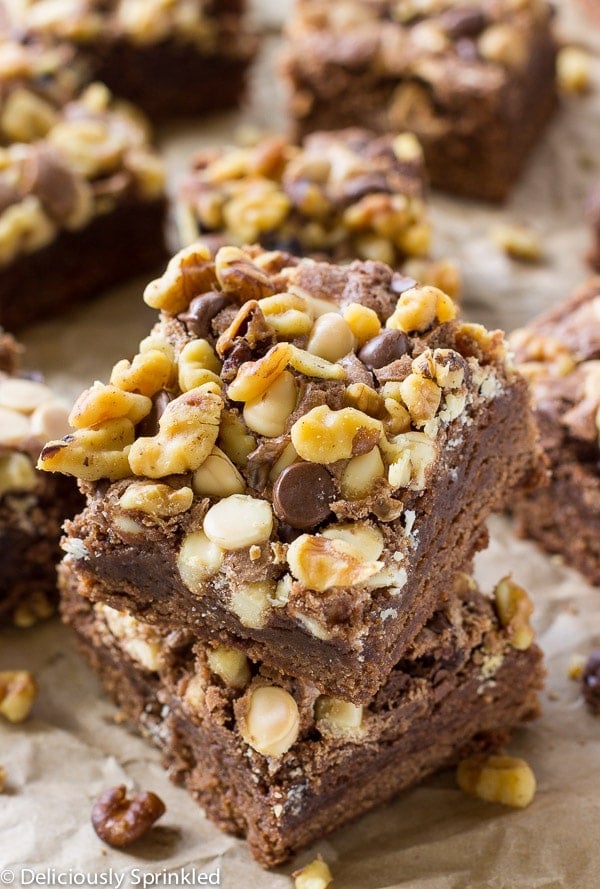 Move over brownie mix from a box, these homemade brownies are the best brownies ever. ❤
It has taken me a LONG time to come up with the Best Brownie Recipe. I'm so excited to share these delicious brownies with you today because fall is right around the corner and that means it's time to get back to baking.
I always tell my family that September-December is my "busy" season because all I do is bake. And what better way to kick off this year's baking season with this easy brownie recipe.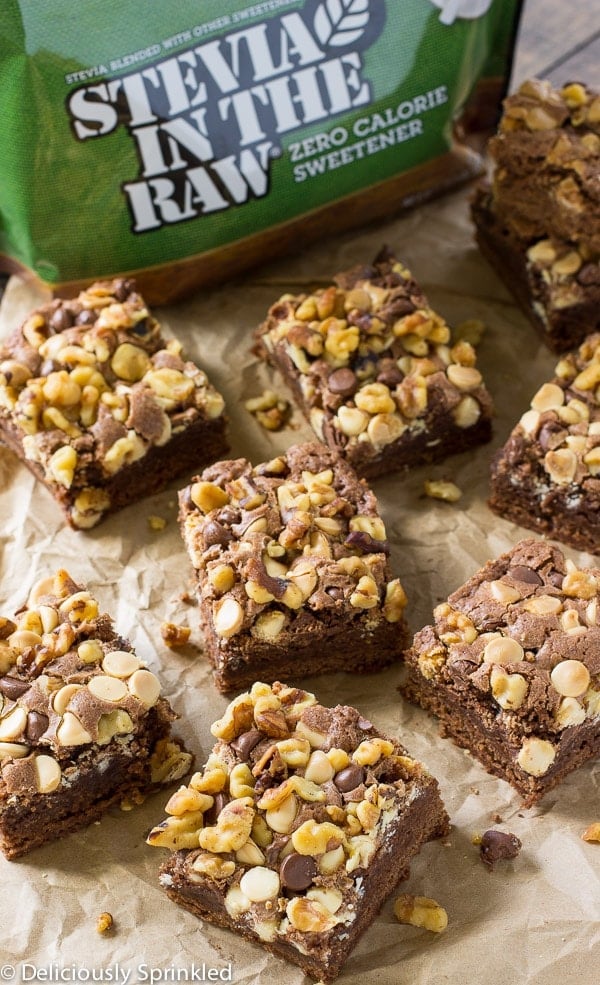 The awesome thing about this brownie recipe is that you'll never need another brownie recipe ever again.
You can use this recipe to make all different kinds of brownies like…
Just to name a few.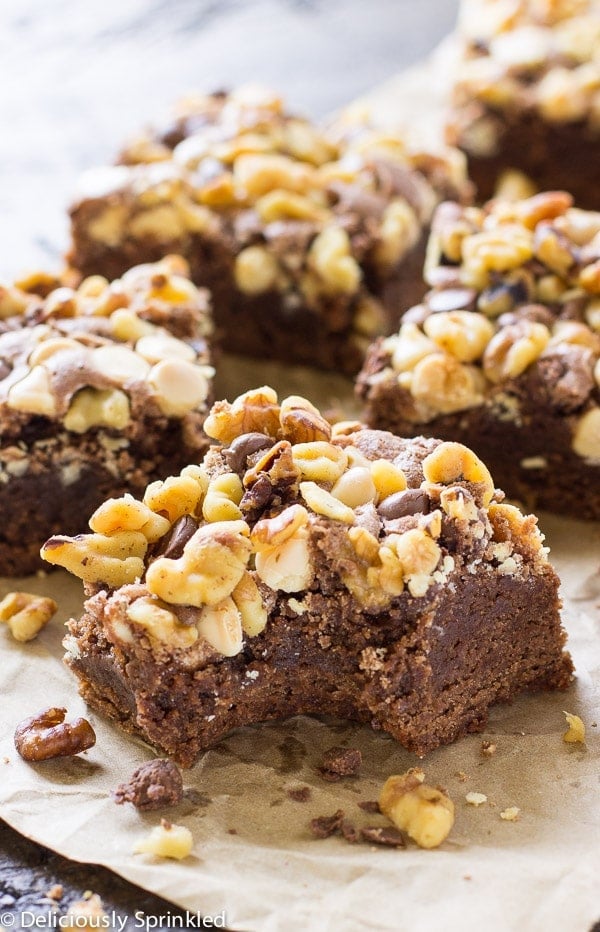 WHY I LOVE USING STEVIA IN THE RAW® FOR BAKING
ZERO-CALORIE SWEETENER: Stevia In The Raw® is a zero-calorie sweetener. It contains an extract from the sweet leaves of the stevia plant which means that I save up to 700 calories for every cup of sugar that is swapped out for Stevia In The Raw® Bakers Bag.
 CUP FOR CUP: Stevia In The Raw® Bakers Bag measures cup for cup with sugar so I  can easily use it in all of my favorite recipes to reduce sugar and calories – no conversion from sugar to Stevia In The Raw® necessary.
 JUST AS SWEET: Stevia In The Raw® Bakers Bag is formulated so that 1 cup has the same sweetness as 1 cup of sugar.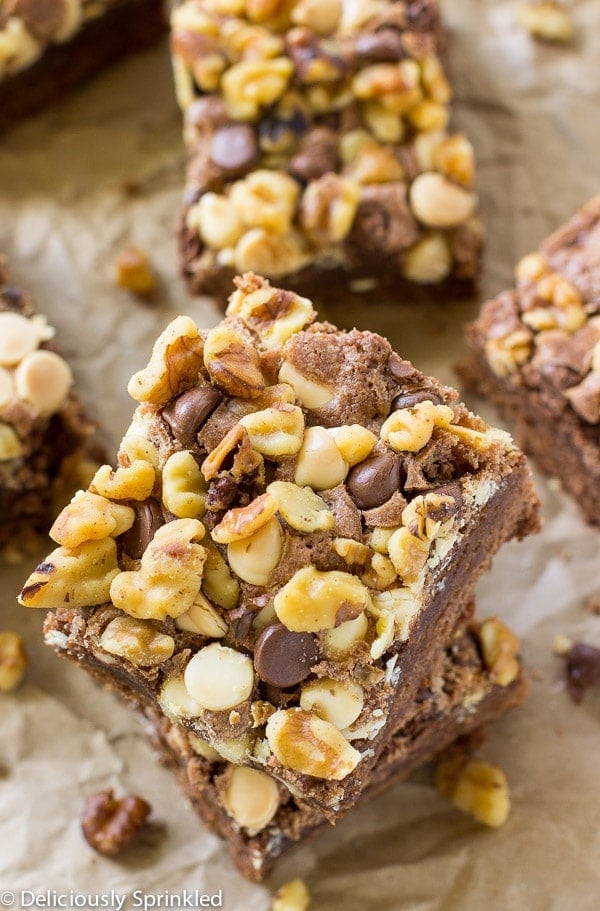 HOW TO MAKE BROWNIES
 LINE YOUR BAKING PAN: First things first, line your 13×9 inch baking pan with aluminum foil, leaving enough overhang on the sides. Spray the foil with non-stick cooking spray.
 DON'T OVER MIX THE BROWNIE BATTER:  This is super important because if you overmix the brownie batter, you will have super dense, not so delicious brownies. So when you add the dry ingredients (flour, cocoa powder, baking soda and salt) to the creamed mixture (butter, sugars, eggs and vanilla), you only want to mix it until just combined meaning the second you don't see anymore flour you want to stop mixing. ????
 EASIEST WAY TO CUT BROWNIES: Once the brownies have cooled, lift the brownies out of the pan, folding down the aluminum foil sides. ????Here's the trick, I like to use a pizza cutter like this one to cut my brownies evenly but if you don't have a large pizza cutter, you could also use a sharp knife.
???? If You Love This Brownie Recipe, Try These Homemade Brownies too…
Peanut Butter Cup Brownies ????
S'mores Brownies ????
Mint Chocolate Chip Brownies ☘
Yield: 20 Brownies
The Best Brownie Recipe
Prep Time 10 minutes
Cook Time 35 minutes
Total Time 45 minutes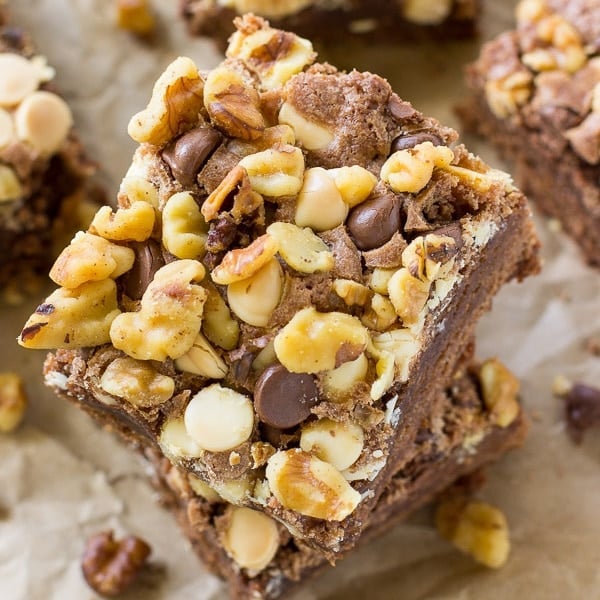 Ingredients
1 cup unsalted butter, softened
1 1/2 cups granulated sugar
1 1/2 cups Stevia In The Raw®
6 large eggs
1 Tablespoon vanilla extract
2 1/4 cups all-purpose flour
1/2 cup baking cocoa powder
1 teaspoon baking powder
1/2 teaspoon salt
1 cup white chocolate chips
1 cup milk chocolate chips
1 cup chopped walnuts
Instructions
PRE-STEP: Preheat oven to 350F degrees. Line 13x9 inch baking pan with foil, leaving a 2-inch overhang on two sides; coat the foil with cooking spray. Set aside
STEP 1: Using a electric or stand mixer, cream butter and sugars together.
STEP 2: Add eggs and vanilla.
STEP 3: In a medium bowl, combine flour, cocoa powder, baking powder and salt.
STEP 4: Add dry ingredients to creamed mixture and mix until just combined. DO NOT OVERMIX!
STEP 5: Pour brownie batter into prepared pan. Top with chocolate chips and walnuts.
STEP6: Bake for 35-40 minutes or until a toothpick inserted into the center of the brownies comes out clean. Let cool before cutting brownies into squares.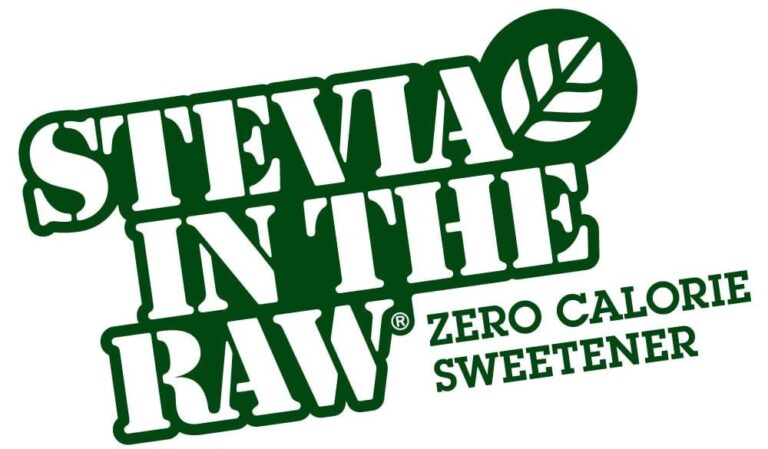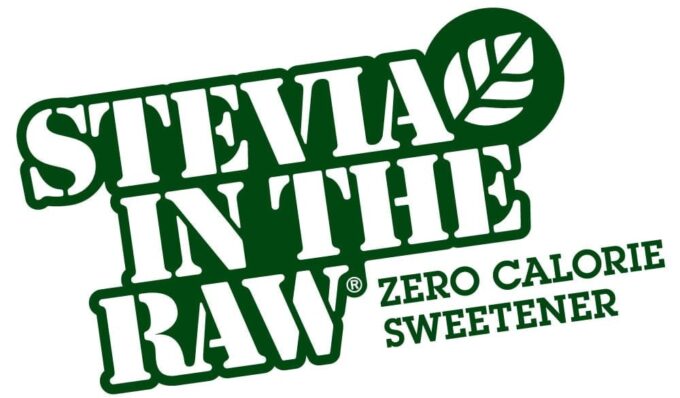 Follow In The Raw® On Social Media
In The Raw® website
      In The Raw® Facebook
     In The Raw® Instagram
  In The Raw® Pinterest
This is a sponsored conversation written by me on behalf of In The Raw®. The opinions and text are all mine.